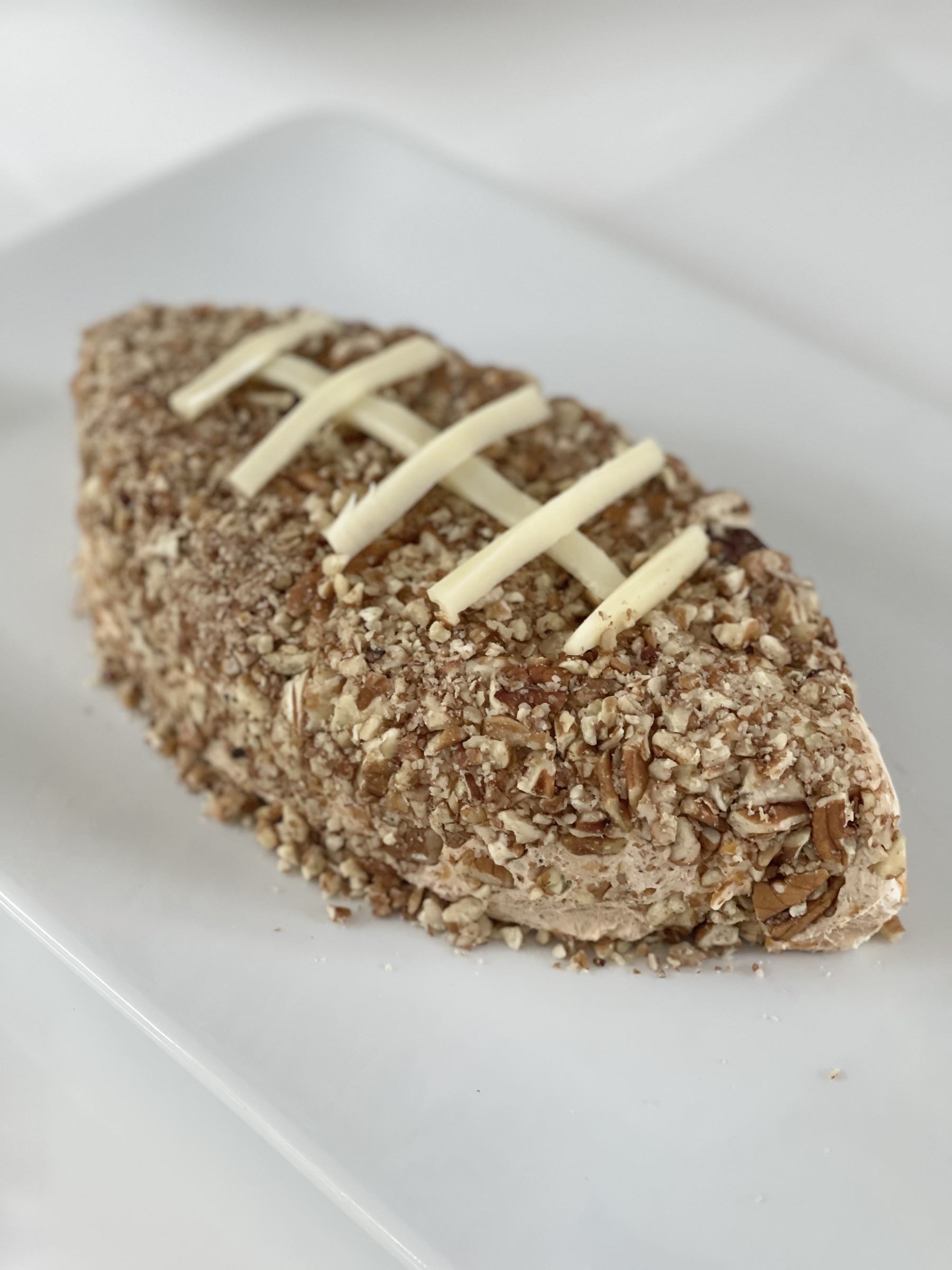 06 Feb

Super Bowl Sunday
Football Sunday
I have a few recipes planned for Super Bowl Sunday. Very easy and casual; comfort food that can be enjoyed over a period of time before, during and after the game! I am not a huge football fanatic but my husband loves football. I plan on enjoying some of the game but mostly the half time show and commercials! Hope you enjoy these recipes!
Xoxoxo
D
Football Shaped Cheese Ball
This cheese ball is formed in the shape of a football to go along with the theme of the Super Bowl and bring a bit of fun to the cheese board. I made this cheese ball recipe at Thanksgiving in the shape of a pumpkin. Check out the Thanksgiving post HERE.  I decided to make this recipe again and make the cheese ball into the shape of a football. When I made it at Thanksgiving, I looked around for a cheese ball recipe that I thought would be great, but ended up coming up with my own spice recipe and it was a hit! The recipe is below and also how to make it into the fun, football shape!
Watch the Video Link Here: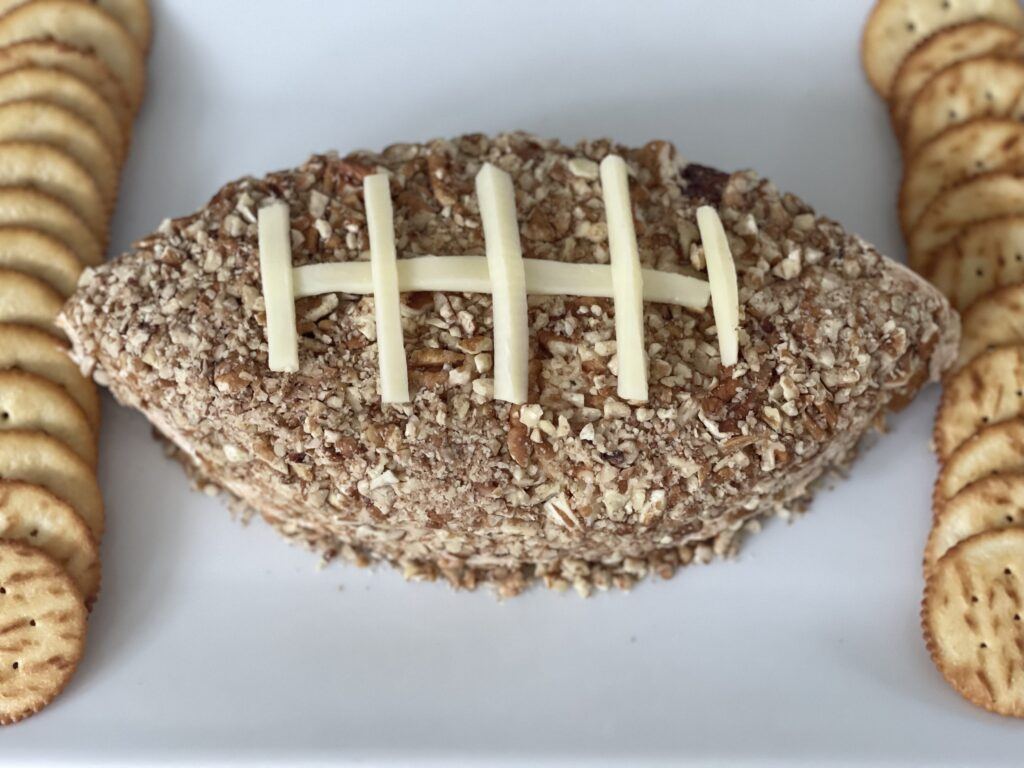 Cheese Ball Recipe
This cheese ball recipe can be adjusted to make it your own!
You may have someone allergic to pecans / nuts or don't want to use pecans or nuts. Here are a few other ideas for the topping to create the brown football color:  Everything But the Bagel Seasoning, Bacon Bits, crush Ritz type crackers into coarse crumbs OR omit Paprika in the recipe and then sprinkle generously on the outside of the cheese ball.
2 – 8 oz packages of cream cheese, softened
1 – 4 oz package of herbed goat cheese (basil, thyme, oregano, etc), softened
8 oz shredded cheddar cheese
2 tsp paprika
2 tsp cumin
1/2 tsp cayenne pepper (less or more, if desired)
1 Tbsp garlic powder
1 Tbsp onion powder
1 tsp sea salt
1/2 tsp ground black pepper
1 cup shelled pecans, chopped
Combine the cream cheese, herbed goat cheese, shredded cheddar cheese, paprika, cumin, cayenne pepper, garlic powder, onion powder, sea salt and black pepper in a bowl. Mix well with a spatula or spoon.
Have plastic wrap on the counter and roll the cheese mixture onto the plastic wrap. Fold the plastic wrap over the cheese mixture and secure. Begin to knead or pound the cheese mixture into a football shape in the plastic wrap.
Allow it to set in the refrigerator for at least 1 hour or until firm or overnight.
Take another strip of plastic wrap and place on solid surface. Pour the chopped pecans in the center of the plastic wrap. Carefully, unwrap the chilled football shaped cheese ball and turn it face down onto the chopped pecans.
Start to fold the plastic wrap around the football shaped cheese ball and mold the pecans into the sides and front of the cheese ball. You do not need to cover the bottom of the cheese ball with the pecans.
Place the Pecan-Covered Football Cheese Ball face-up on a platter or cheese board to serve.
Cut strips of American or mozzarella cheese to make your "laces" of the football. (I used a single serve string-cheese mozzarella stick)
Serve with crackers, pretzel sticks, veggie straw chips, carrots, celery or other veggies.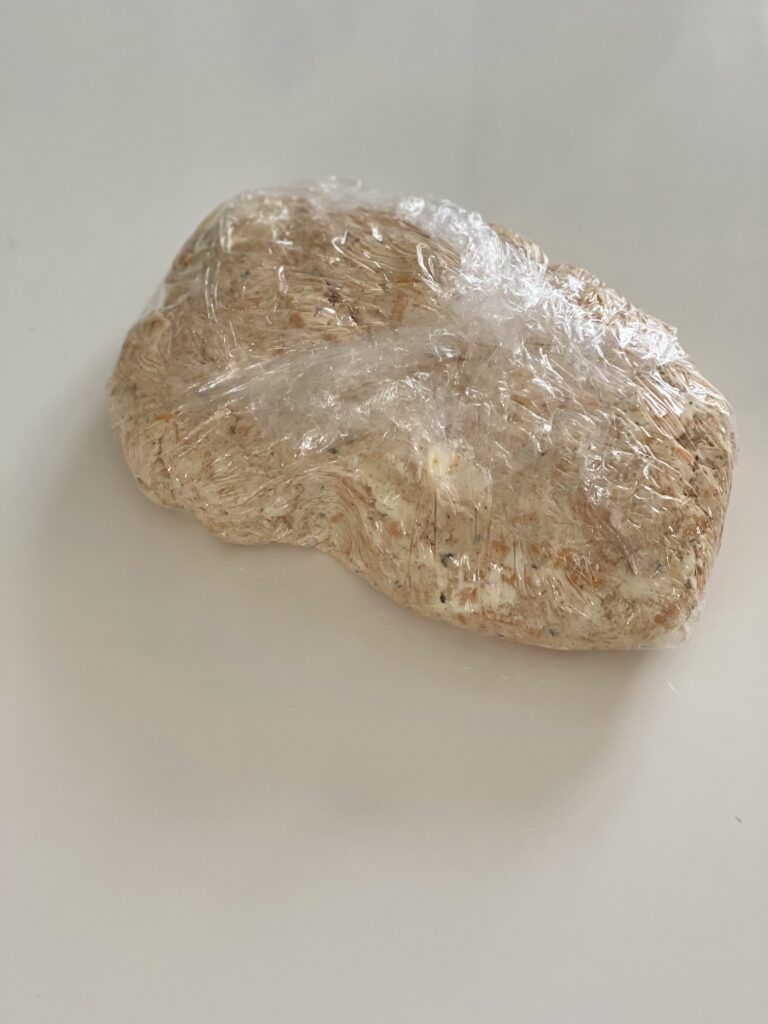 White Chicken Chili (& Vegetarian Chili Option)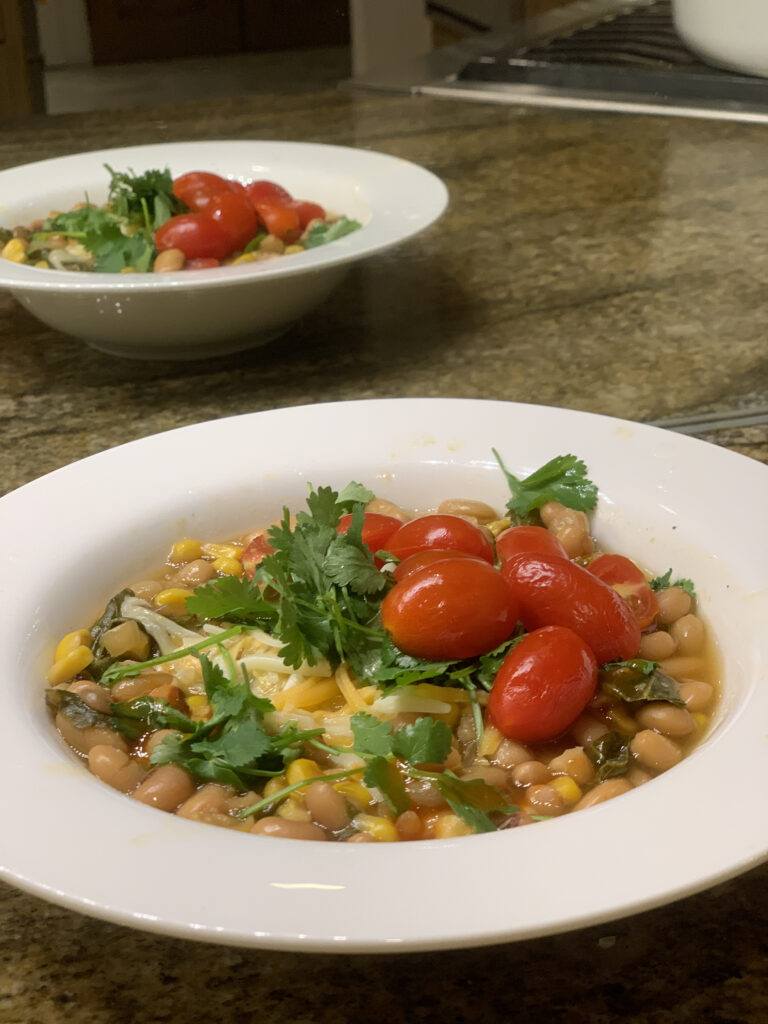 I've made this recipe for years and it's always a hit!
To make this into a vegetarian recipe, omit the chicken broth and use vegetable broth instead.
Also, omit the chicken breast. Other vegetarian options are to add chickpeas or another type of bean.
Enjoy!
1 Tbsp vegetable oil
2 medium onions chopped, approx 1 cup
2 cloves garlic, finely chopped
4 cups of chicken broth, more if needed, if it reduces while cooking
2 Tbsp chopped cilantro or 1/2 tsp ground coriander if Cilantro is not available (I like to add both)
1/2 lime, juiced
1 tsp ground cumin
1/2 tsp dried oregano leaves
1/4 tsp red pepper sauce, or more, if desired
1/4 tsp coarse sea salt
Black pepper to taste
1 can (15-16 oz) whole kernel corn, drained & rinsed (or pkg of frozen corn)
1 can (15-16 oz) Great Northern beans, drained & rinsed
1 can (15-16 oz) butter beans, drained & rinsed
2 cups chopped cooked chicken breast
Heat vegetable oil over 4-quart Dutch oven over medium heat.
Cook onions and garlic in oil, stirring occasionally, until onions are tender.
Stir in remaining ingredients except chicken. Bring to a boil, then reduce heat.
Simmer uncovered for 20 minutes. Stir in cooked chicken and simmer until hot.
Serve with various toppings.
Accessorizing your chili is part of the fun.
Setting up different toppings can make this a fun experience for everyone to create their own recipe.
Ideas for toppings are:
Shredded cheese
Sour cream
Diced tomatoes
Sliced cherry tomatoes
Salsa
Sliced avocado
Chopped green onions
Chopped cilantro
Lime wedges
Red pepper sauce
Tortilla chips


Deviled Egg Footballs
This was my first time making these fun Deviled Egg Footballs!! So, these definitely are not perfect…but they're still delicious! I would love to purchase decorating tips and pastry bags eventually because that would come in handy making the laces of these tiny deviled egg footballs! These were so much fun to make and can't wait to make these again next Fall during football season!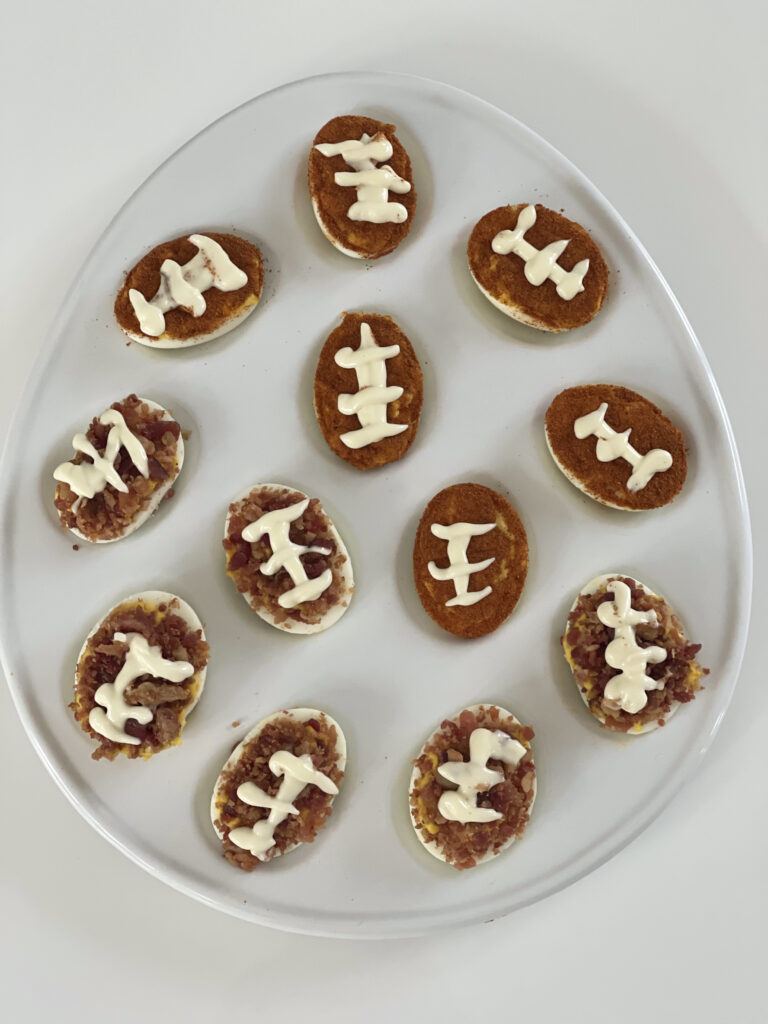 6 large eggs boiled, peeled and halved
1/4 cup mayonnaise, plus 1-2 Tbsp more for decoration
1 tsp yellow mustard
1/4 tsp salt
1/4 tsp pepper
paprika
5 slices of bacon, cooked, finely crumbled (I bought a pre-made package of bacon bits)
Remove yolk from eggs; Crumble yolks in bowl from each egg half.
Add the mayo, mustard, salt, pepper to the yolks.
Mash gently and thoroughly with a fork until combined, smooth and creamy. If the mixture is too dry, add another Tbsp of mayo.
Fill the mixture into a zip baggy and cut a small corner for the "tip" to pipe the mixture into the egg white halves.
Pipe the mixture into the egg white halves and then cover with bacon bit crumbles.
Press bacon bits into the egg to form into the football shape.
Spoon 1 Tbsp of mayonnaise into a small zip top bag.
Snip off a very small corner for the tip. (I made the mistake of cutting a little too large so make it tiny!)
Pipe a straight line of mayo down the center, lengthwise, of each egg.
Add 3-4 shorter lines of mayo going across the lengthwise line to create the football laces.
To make these Vegetarian "Deviled Footballs"
Omit the bacon bits as the topping.
Pipe the mixture into the egg white halves and then cover evenly and generously with paprika or ritz crumbs.
Spoon 1 Tbsp of mayonnaise into a small zip top bag.
Snip off the tip leaving a small opening.
Pipe a straight line of mayo down the center, lengthwise, of each egg.
 Add 3-4 shorter lines of mayo going across the lengthwise line to create the football laces.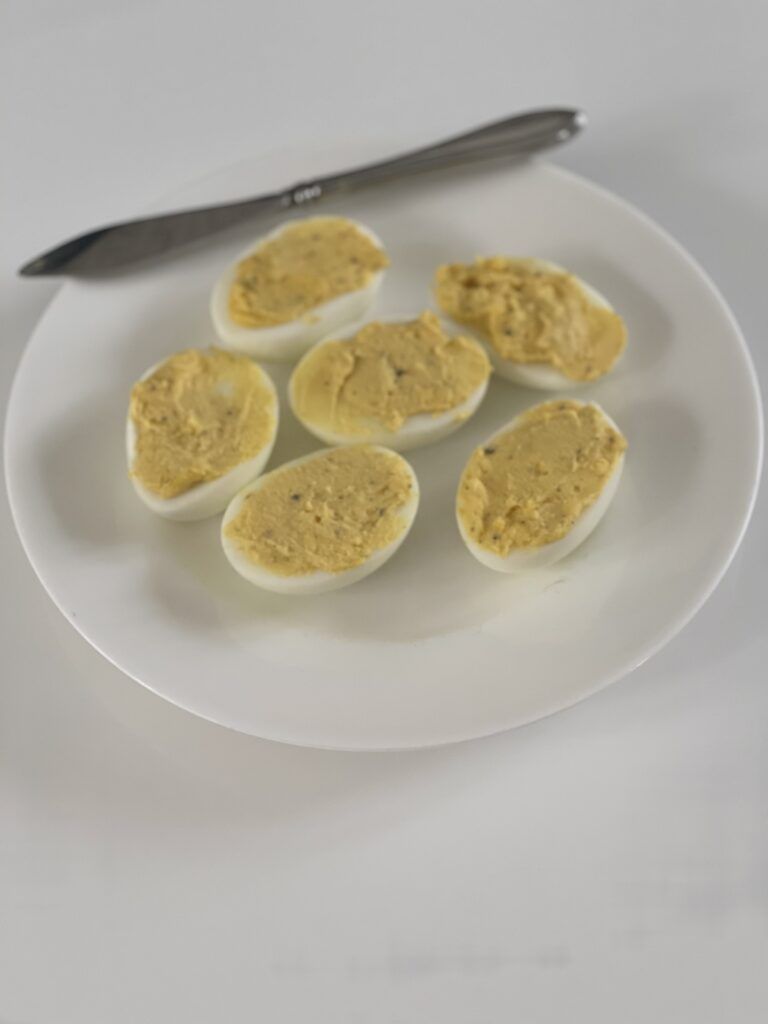 The Deviled Eggs can be made ahead of time and even overnight! To keep them easily in the fridge, place a toothpick in each deviled egg half. Then, take plastic wrap and cover the front and side of the eggs and platter. The toothpicks give it room so that the deviled eggs don't get smooshed. Keep refrigerated.


Hard-Boiled Eggs
Some say to let the eggs sit for 10-11 minutes and then some say up to 12 minutes.
Transfer the cooked eggs to a bowl of ice water to stop the cooking.
Let sit 2-5 min.
Peel eggs.
The Egg Timer
If you like handy kitchen tools, the Egg Timer is great for finding the right doneness to your eggs. Just place the timer in the pot at the same time along with your eggs. The timer will lighten in color from the outside edge in. When the color reaches the desired mark, you know your eggs are cooked right where you want them! The Egg Timer will change its color back to the original color when cooled. So simple and makes boiling eggs a breeze!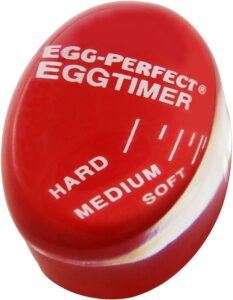 Here are few Egg Timers to choose from:
A Quick & Easy Way to Peel Boiled Eggs!
I just saw a new way to help peel eggs….Pour the water out of the pot that the eggs were cooked in. Place the eggs back in the empty pot. Put the lid on and shake the eggs in the pot to crack the eggs. Do not over shake the eggs in the pot, but enough to begin the cracking of the shells. Then peel the eggs! They are already started for you and this makes it so much easier and quicker!
Watch the Video Link Here
QUICK & EASY WAY TO PEEL BOILED EGGS
QUICK & EASY WAY TO PEEL BOILED EGGS
How to Make a Football Shaped Cheese Ball