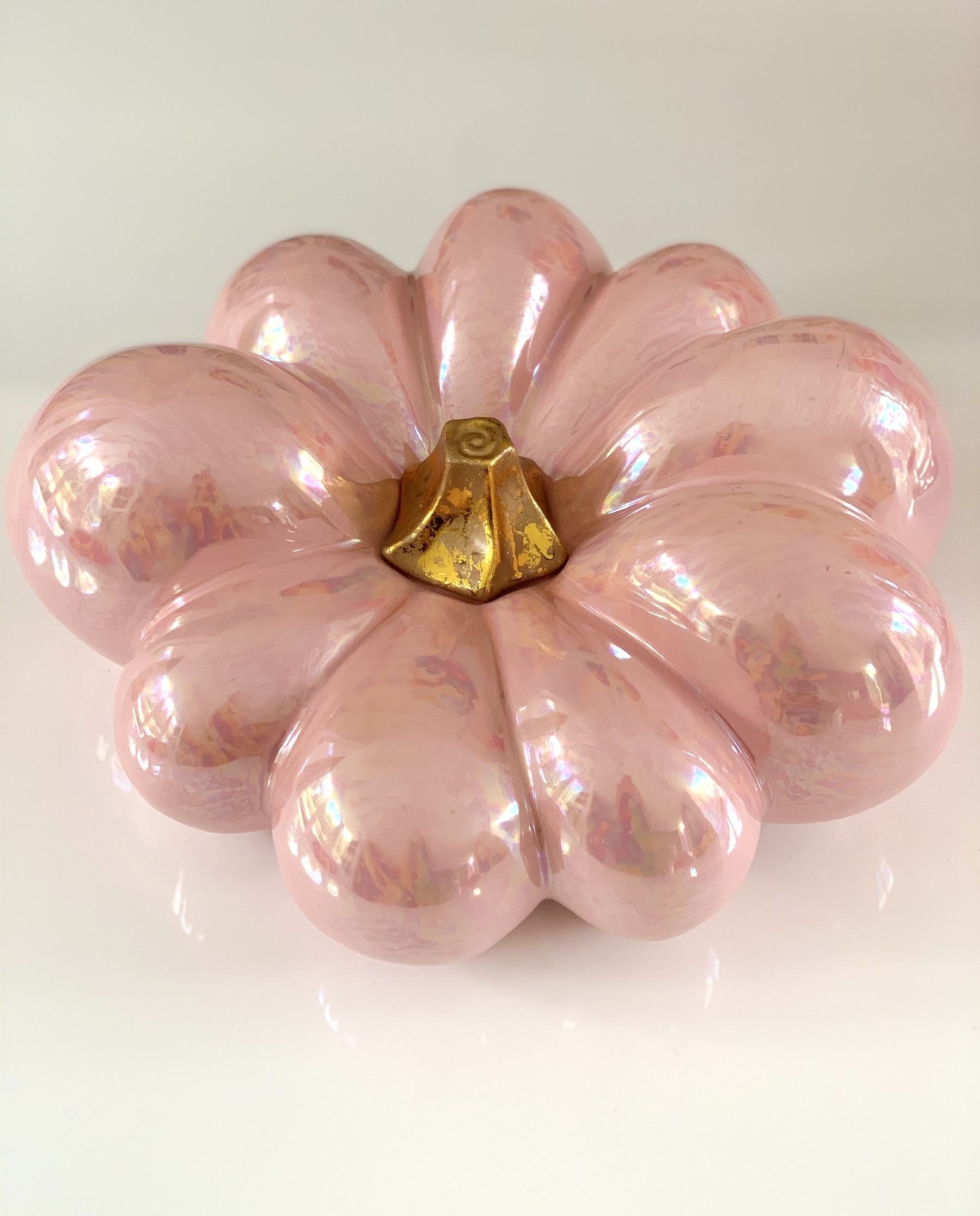 26 Nov

Happy Thanksgiving
Happy Thanksgiving 
What a year! But there is still so much to be thankful for even in 2020! I wanted to share some recipes that I made for Thanksgiving and was hoping to share these prior to Thanksgiving day, but life has been a hectic with our Sweet Pea. She is doing well now though! Hope you all have a wonderful, safe and healthy Thanksgiving!
Xoxoxo
D
Pumpkin Cheese Ball
So it's not actually a cheese ball with pumpkin in it, but the cheese ball is formed in the shape a festive pumpkin…makes it fun for Thanksgiving! I looked around for a cheese ball recipe that I thought would be great, but ended up coming up with my own and it tastes so good! The recipe is below and also how to make it in to this fun Pumpkin shape!

Cheese Ball Recipe
This recipe can be made your own and adjusted as you like. Chopped pecans can be added, but we have someone in our family with a nut allergy and am going to omit for the recipe.  I also think for Christmas, coating the cheeseball with chopped dried cranberries would add a beautiful, red festive color.
2 – 8 oz packages of cream cheese, softened
1 – 4 oz package of herbed goat cheese (basil, thyme, oregano, etc), softened
8 oz shredded cheddar cheese, divided
2 tsp paprika
2 tsp cumin
1/2 tsp cayenne pepper (or less if desired)
1 Tbsp garlic powder
1 Tbsp onion powder
1 tsp sea salt
1/2 tsp ground black pepper
Combine the cream cheese, herbed goat cheese, 6 ounces of the shredded cheese, paprika, cumin, cayenne pepper, garlic powder, onion powder, sat and pepper in a bowl. Mix well with a spatula or spoon.
Use the remaining 2 ounces of shredded cheese to stick on the outside of the cheese ball or you can omit this and cover with another ingredient…Ideas are: Everything But the Bagel Seasoning, chopped dried cranberries, pecans, herbs or any other idea!
Have plastic wrap on the counter and roll the cream cheese onto the wrap. Fold the plastic wrap over the cream cheese mixture and secure. Begin to knead or pound the cream cheese into a ball in the plastic wrap.
Take 3 thick rubber bands and place them around the cream cheese ball to create indentions in the cream cheese as it sets in the refrigerator for at least 1 hour or until firm or overnight.
When ready to serve, take the rubber bands off and carefully unwrap the plastic wrap. Place the Pumpkin Cheese Ball on a platter or cheese board to serve.
 Stick a pretzel, veggie stick, or the stem of a green pepper in the top middle of the ball to make a stem. Serve with veggie straw chips, ritz crackers, pretzels or carrots, celery or other veggies.
I wanted to try this around Halloween, but thankfully Thanksgiving still has a Pumpkin theme! I am just getting around to trying this cute Pumpkin cheeseball now!





Roasted Brussels Sprouts with Grapes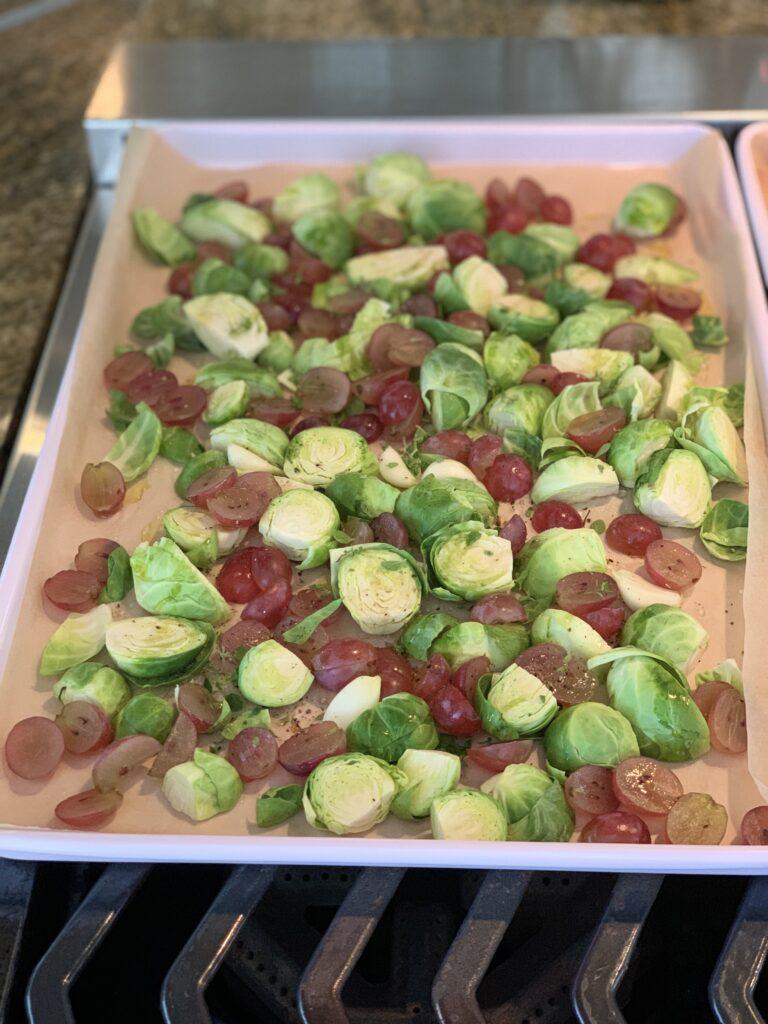 I have made this recipe for years and it is always a hit!
8 cups of Brussels sprouts approximately, ends cut, then halved & quartered, if larger
24 oz organic red grapes, no seeds
2 Tbsp Extra Virgin Olive Oil
4 Tbsp fresh thyme
coarse salt and freshly ground pepper to taste
2 tsp balsamic vinegar
1/2 cup walnuts, toasted and coarsely chopped
Heat oven to 450 degrees.
On 2 rimmed baking sheets, toss Brussels sprouts and grapes with oil and thyme.
Season with salt and pepper.
Roast, until caramelized and tender, about 20 minutes.
Drizzle each tray with 1 teaspoon vinegar and scrape up any caramelized bits with a wooden spoon.
Toss in walnuts.


Honey Butter
Simple, quick and easy and adds a little extra special flavor to rolls or biscuits for the holidays!
3/4 unsalted butter, softened, room temp
1/4 cup honey
3 Tbsp confectioners' sugar (optional)
1/4 to 1/2 tsp salt (optional)
In a small bowl, mix unsalted butter and honey until smooth.
You can add salt here and also if you want to make the butter creamier, add the confectioners' sugar here.
I started mixing with a spatula and then with a spoon. A hand mixer would also work well here.
Can be left at room temperature for up to 2 days.
Store in a covered container in the refrigerator for up to 2 weeks.
Spread the Honey Butter at room temperature on rolls or biscuits right out of the oven!

Cranberry Relish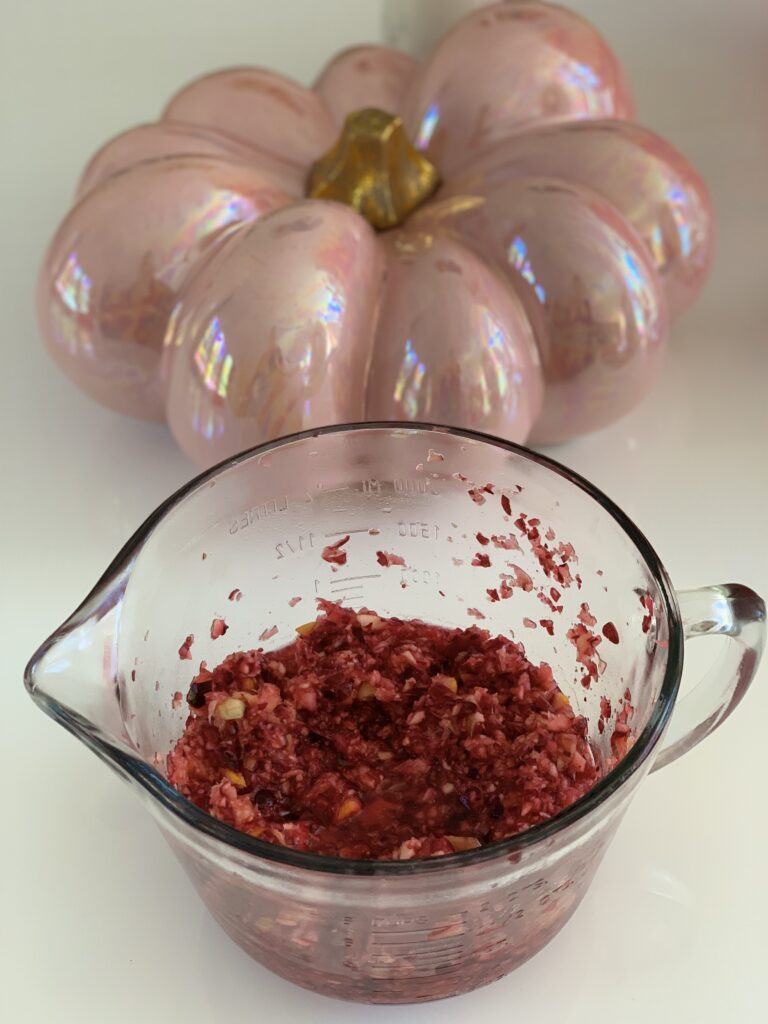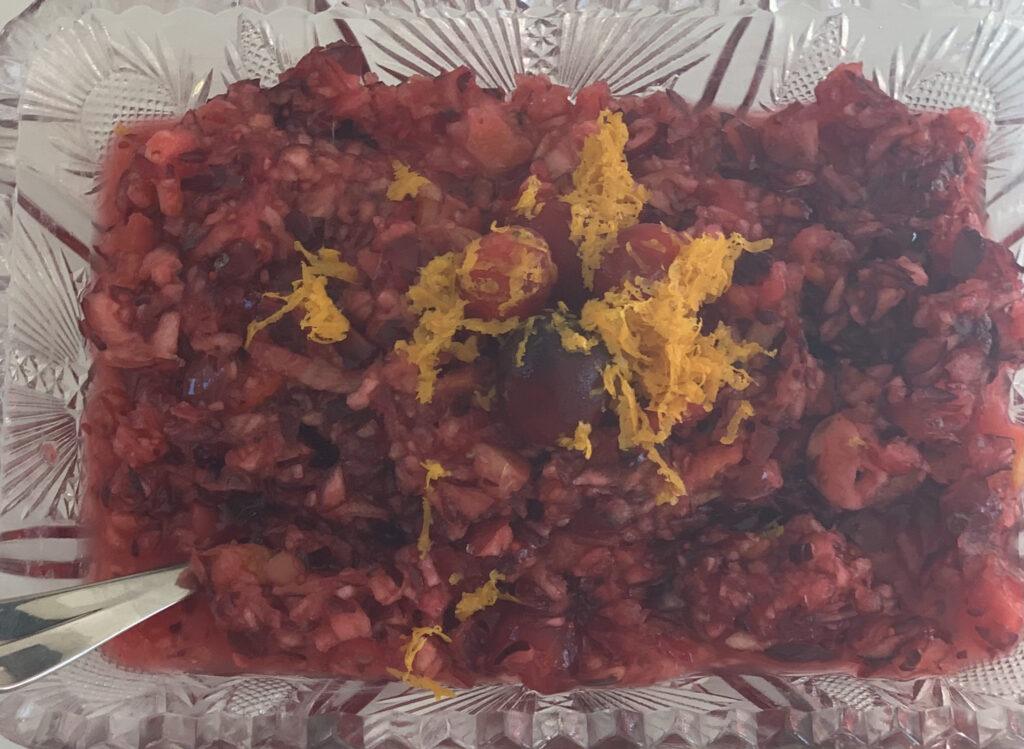 It's not the normal cranberry jellied rings that are usually on our table for the holidays, but it is fresh and delicious and both tart and sweet!
I added a couple of 'secret' ingredients to this recipe and hope you give this a try!
12 oz fresh cranberries
1 apple, cored, cut into quarters
1/2 of an orange including the peel, ends trimmed off and seeds removed
Pink pineapple chunks…a regular pineapple will work, too!  (I used about 4 pineapple chunks, you can adjust more or less)
1/2 to 1 tsp of cinnamon powder
Keep a few cranberries for garnish and zest the other half of the orange for garnish
Place the cranberries in a food processor and pulse until coarsely chopped. Transfer the cranberries to a bowl.
Add the apple to the food processor and pulse until finely chopped. Add the apple to the bowl with the cranberries.
Add the orange to the food processor and pulse until finely chopped. Add the orange to the bowl of the mixed ingredients.
Add cut pineapple chunks to the food processor and pulse until chopped. Add the pineapple to the bowl of mixed ingredients.
Add cinnamon powder.
Add the sugar to the bowl and stir to combine. Cover the bowl and refrigerate for at least one hour or up to 3 days.
Serve, garnished with cranberries and orange zest if desired.
Grandmother's Pear Salad Recipe
A Southern Recipe for the Holidays
1 can of pear halves
mayo
cheddar cheese, shredded

Drain the can of pears. If you want, rinse the pears for less syrup and pat dry.

I used a deviled egg tray to place the pear halves….but traditionally arrange the halved pears on a plate that has lettuce leaves on it.

Place about 1 tsp of mayonnaise on the center of the pear half.

Then top with cheddar cheese.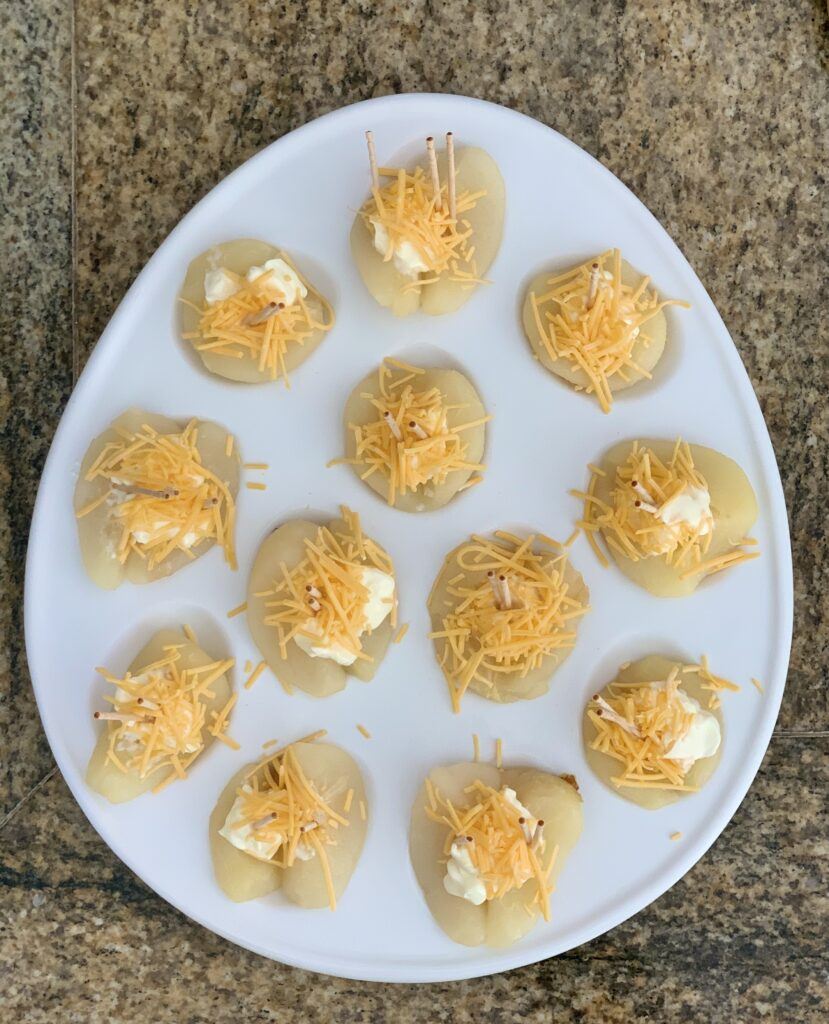 Deviled "PUMPKINS"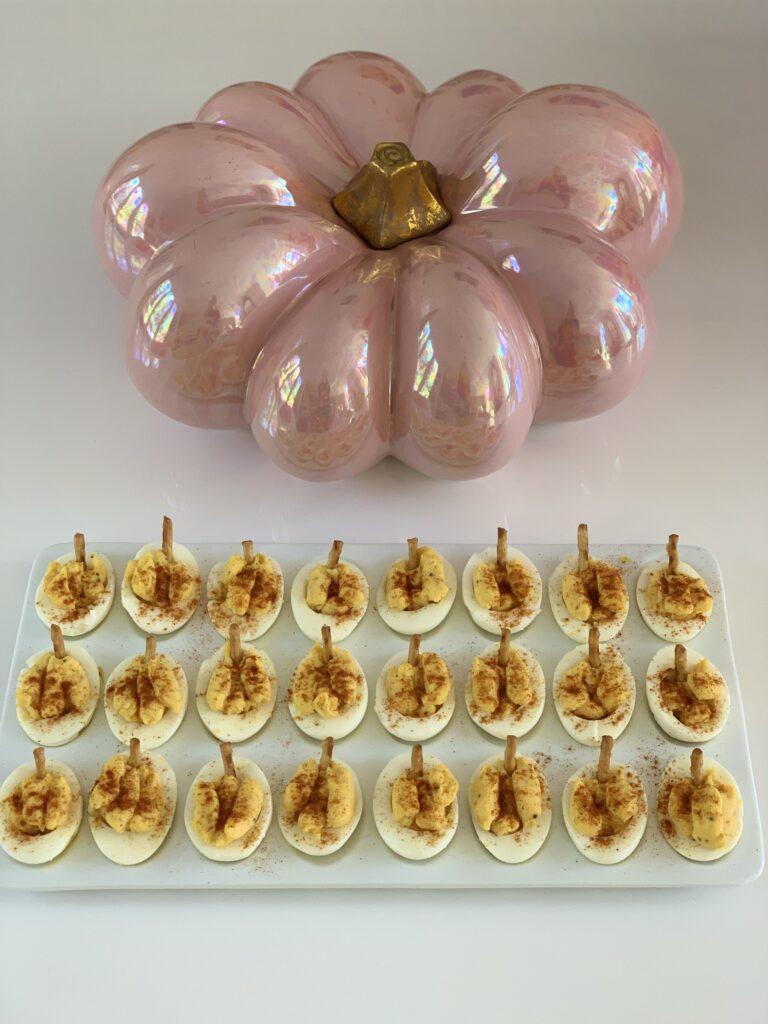 Grandmother's Deviled Eggs
1 dozen eggs boiled, peeled and halved
1/3 cup mayonnaise
1 tsp yellow mustard
1/4 tsp salt
1/4 tsp pepper
paprika
Remove yolk from eggs; Place yolks in bowl from each egg half
Add the mayo, mustard, salt, pepper to the yolks
Mash gently and thoroughly with a fork until combined
Fill the mixture back into the white egg halves
Sprinkle paprika on top of each
Serve
To make these look more like "Deviled Pumpkins", either pipe the mixture into the egg white halves in a row of 3 "ridges" and then sprinkle paprika over them.
OR
Spoon or pipe the mixture into the egg white halves and then sprinkle paprika covering the yolk mixture. Use a sharp paring knife to make ridges down the paprika-dusted yolk to look like ridges of a pumpkin.
Add a "stem" at the top by using either pretzel sticks, chives or anything else that can serve as a stem for your Deviled Pumpkins.
Serve


Hard-Boiled Eggs
Some say to let the eggs sit for 10-11 minutes and then some say up to 12 minutes.
Transfer the cooked eggs to a bowl of ice water to stop the cooking.
Let sit 2-5 min.
Peel eggs.
The Egg Timer
If you like handy kitchen tools, the Egg Timer is great for finding the right doneness to your eggs. Just place the timer in the pot at the same time along with your eggs. The timer will lighten in color from the outside edge in. When the color reaches the desired mark, you know your eggs are cooked right where you want them! The Egg Timer will change its color back to the original color when cooled. So simple and makes boiling eggs a breeze!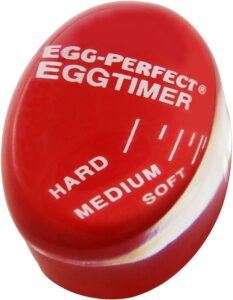 Here are few Egg Timers to choose from:
A Quick & Easy Way to Peel Boiled Eggs!
I just saw a new way to help peel eggs….Pour the water out of the pot that the eggs were cooked in. Place the eggs back in the empty pot. Put the lid on and shake the eggs in the pot to crack the eggs. Do not over shake the eggs in the pot, but enough to begin the cracking of the shells. Then peel the eggs! They are already started for you and this makes it so much easier and quicker!
Watch the Video Link Here
QUICK & EASY WAY TO PEEL BOILED EGGS
More kitchen tools I like to cook eggs with: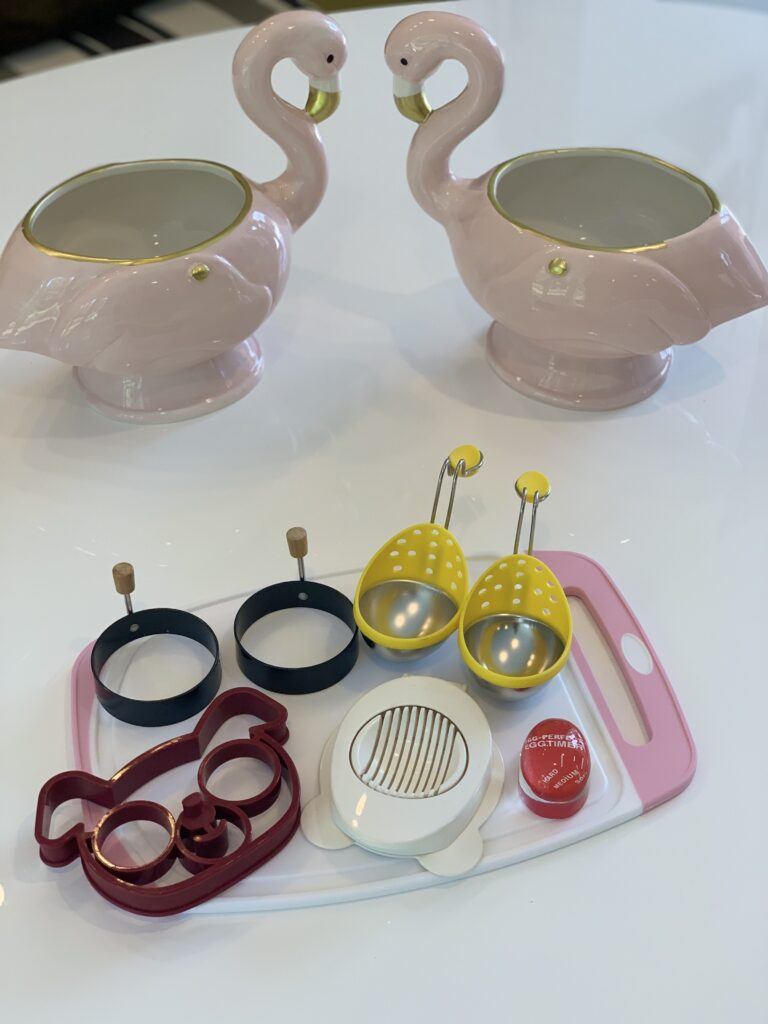 I also love to use these glass bowls in my kitchen and come in handy for many uses! Here are a few options for these online:
Set of 8 Glass Prep Mixing Bowls in Two Sizes
Set of 7 Glass Bowl Sets in Two Sizes
Set of 3 Nesting Glass Bowl Set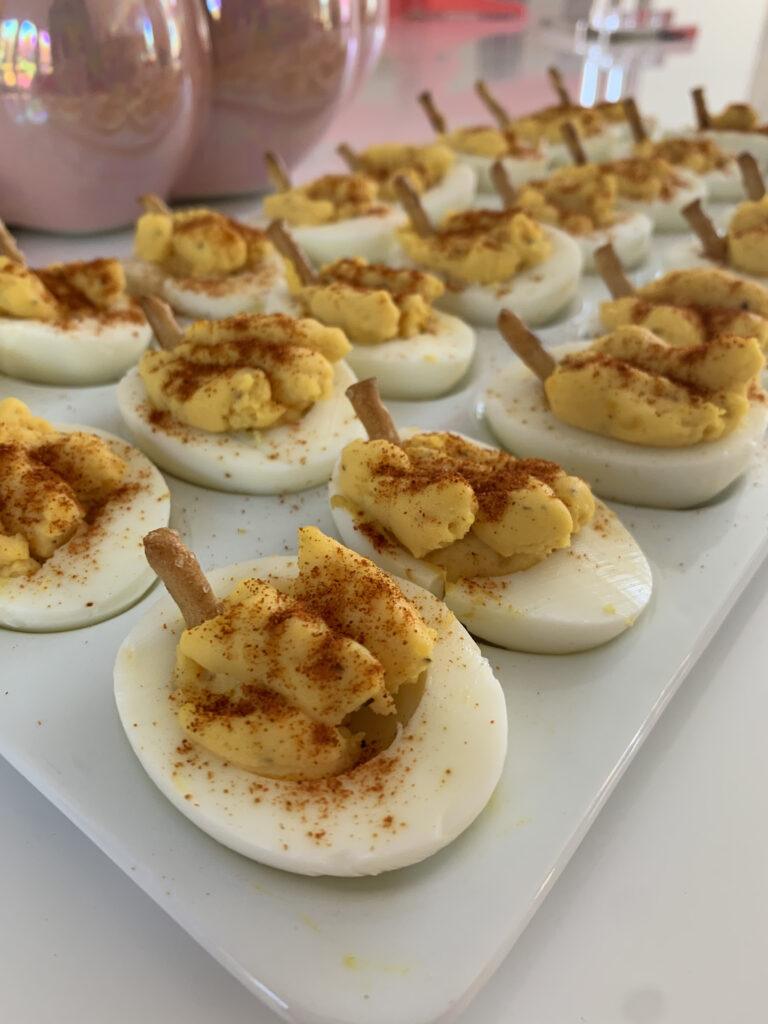 Happy Thanksgiving!
QUICK & EASY WAY TO PEEL BOILED EGGS