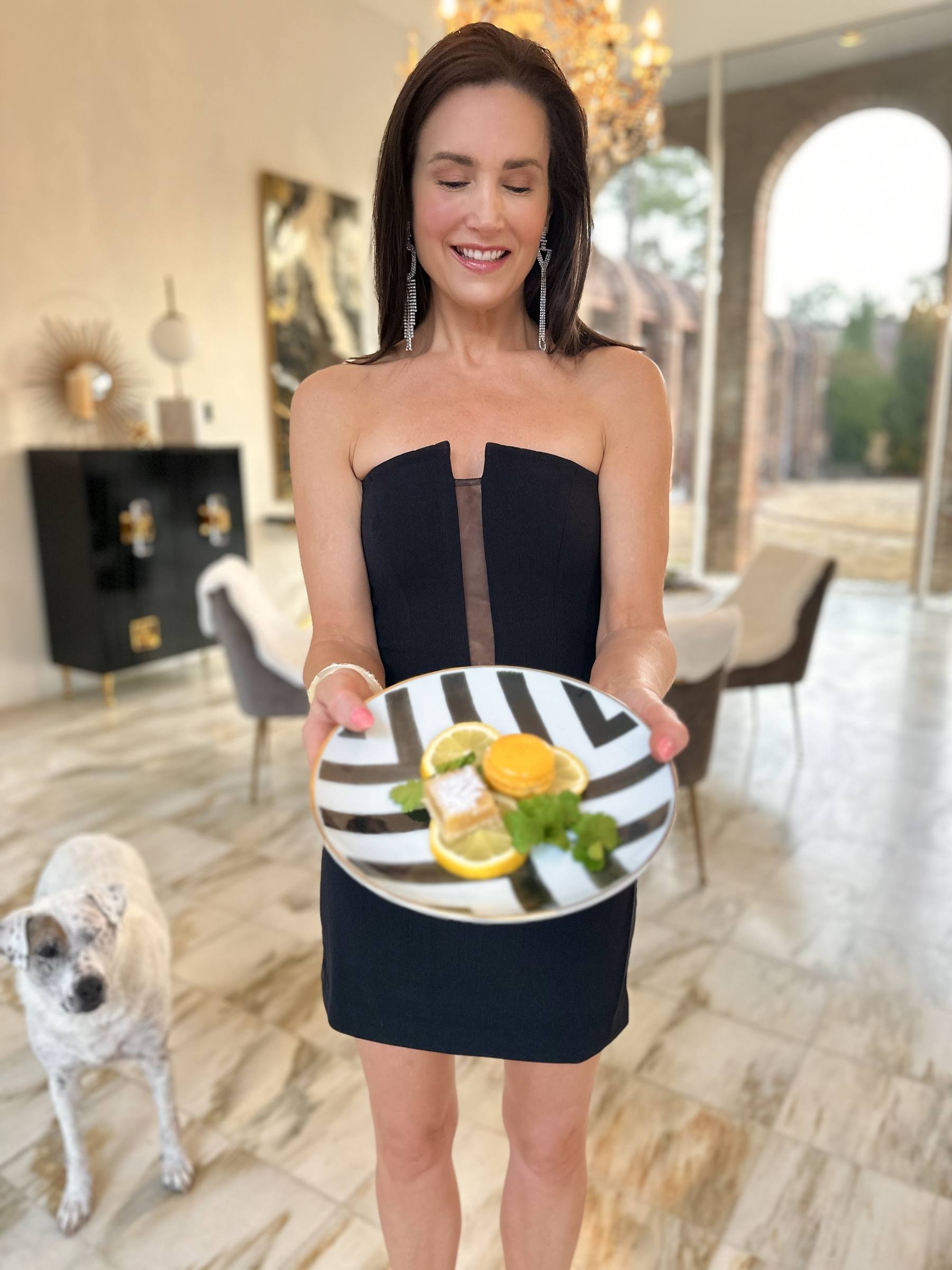 02 Mar

Spring Tablescape
Black+White Spring Tablescape 
Are y'all excited about Spring weather?
I can't wait for Spring! 🌸 We're getting a glimpse of spring weather right now & it's so beautiful. Spring weather brings more gatherings, dinner parties, outdoor time…enjoying beautiful weather and flowers!
Now that we're back in town, and also finishing up a renovation that's been going on the past 8 months, I'm ready to host a dinner party! Below are ideas for this Black & White Tablescape with Citrus details. Hope it inspires you to gather a group at your table!
Also, Click here for my 
Instagram
 to see the latest posts and stories of the Black+White unique
Vista Alegre
items I used for this tablescape!
Happy Spring!
Xoxoxo
D

Black + White
Black + White Spring Tablescape
Black+White is one of my fav color combinations especially for a dining table. It brings classic-sophistication, but also a modern vibe. Obsessing over ALL the bright neon citrus colors lately and I want to combine these for the table setting.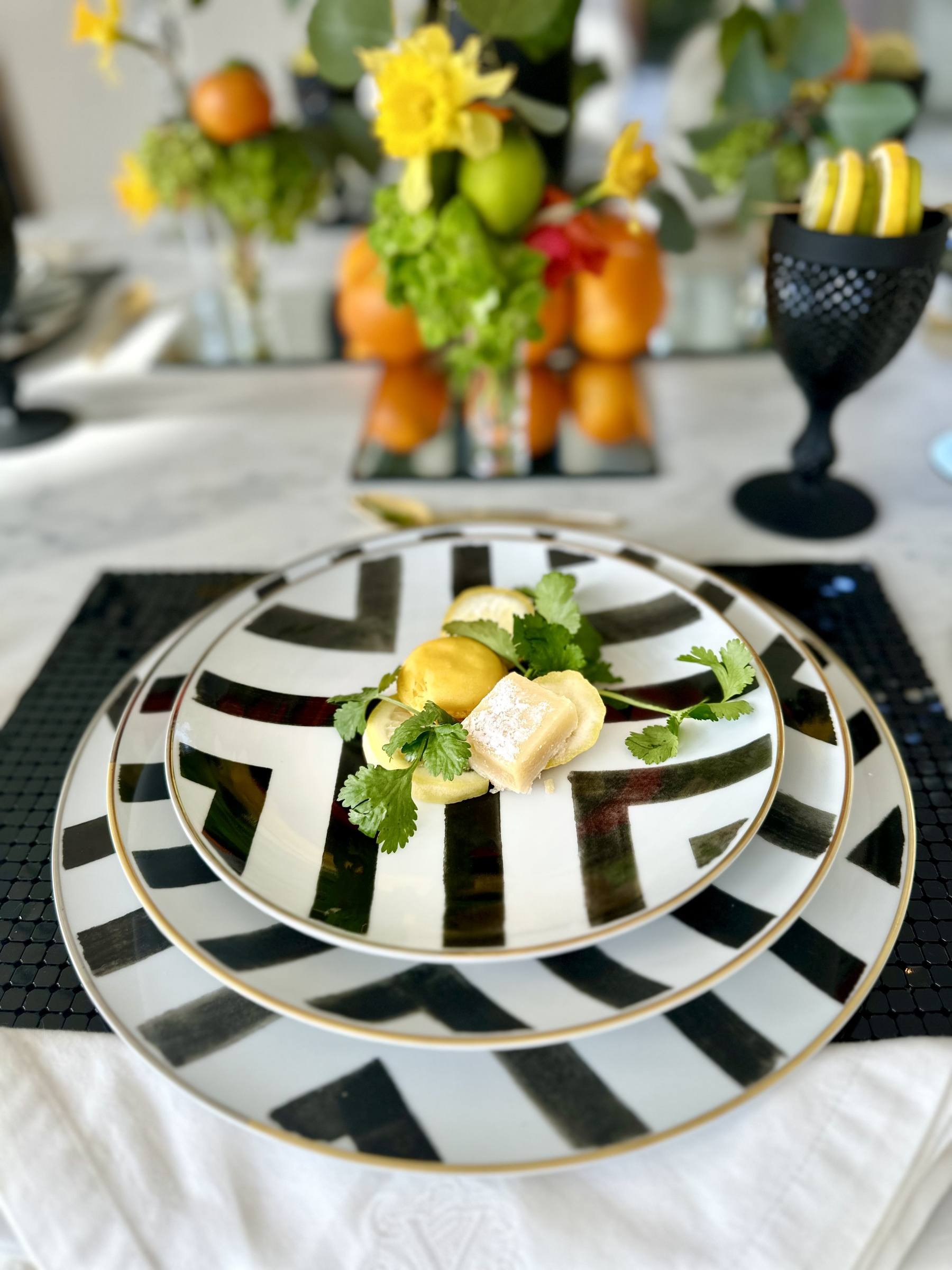 Found modern, chic, black + white stripe Charger, Dinner and Dessert plates by @vistaalegre_us + Christian Lacroix. They're trimmed with both gold & platinum. Love the dual metallic gold + platinum trim on these plates that allows me to mix both elements for the tablescape.
The plates truly stand out on a table!
Sol y Sombra Charger Plates, Click HERE
Sol y Sombra Dinner Plates, Click HERE
Sol y Sombra Dessert Plates, Click HERE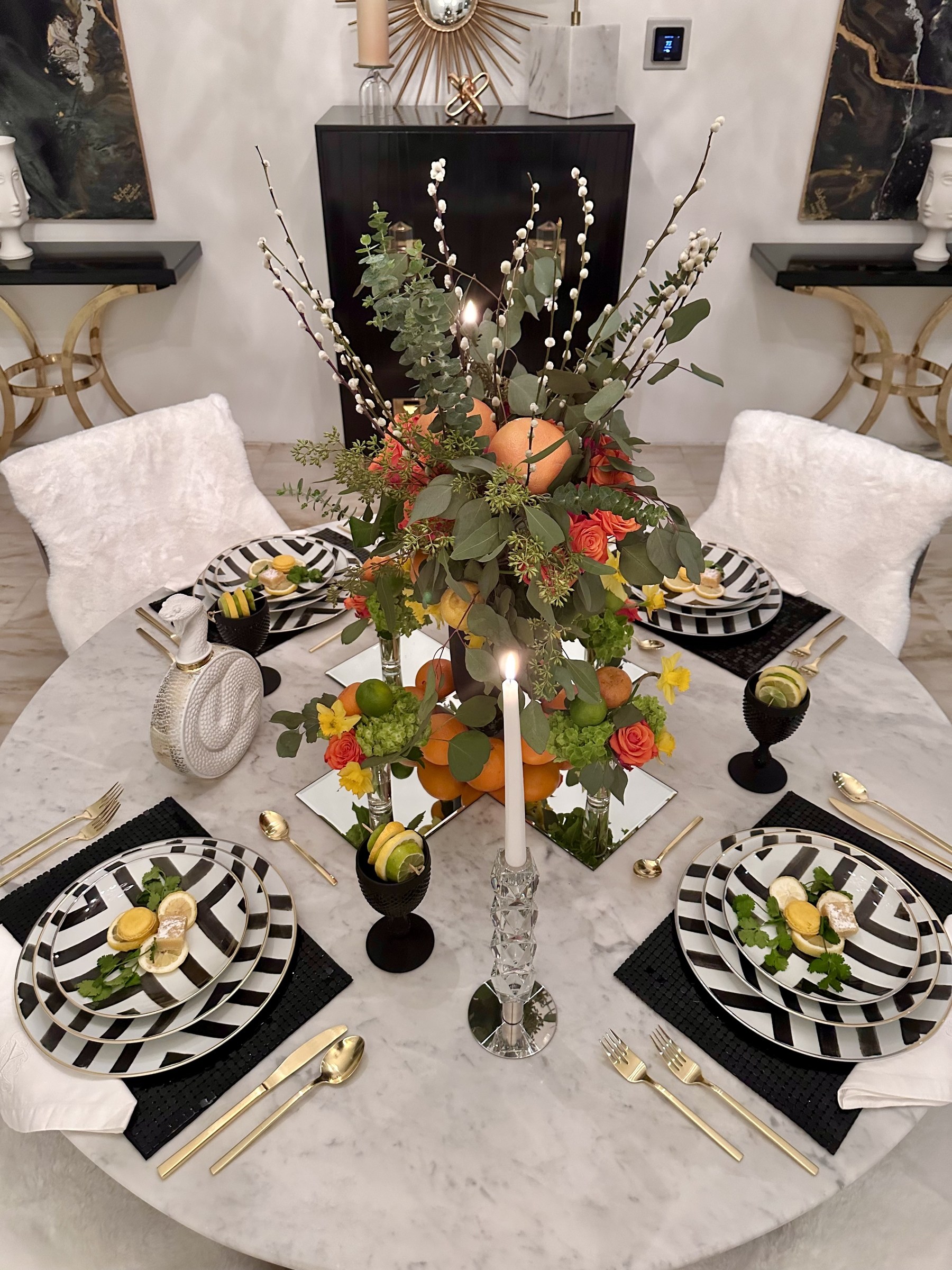 The Centerpiece
Citrus Centerpiece + Jet Black Case with Small Vase
The Centerpiece is a beautiful patterned black glass case with small vase + gold trim.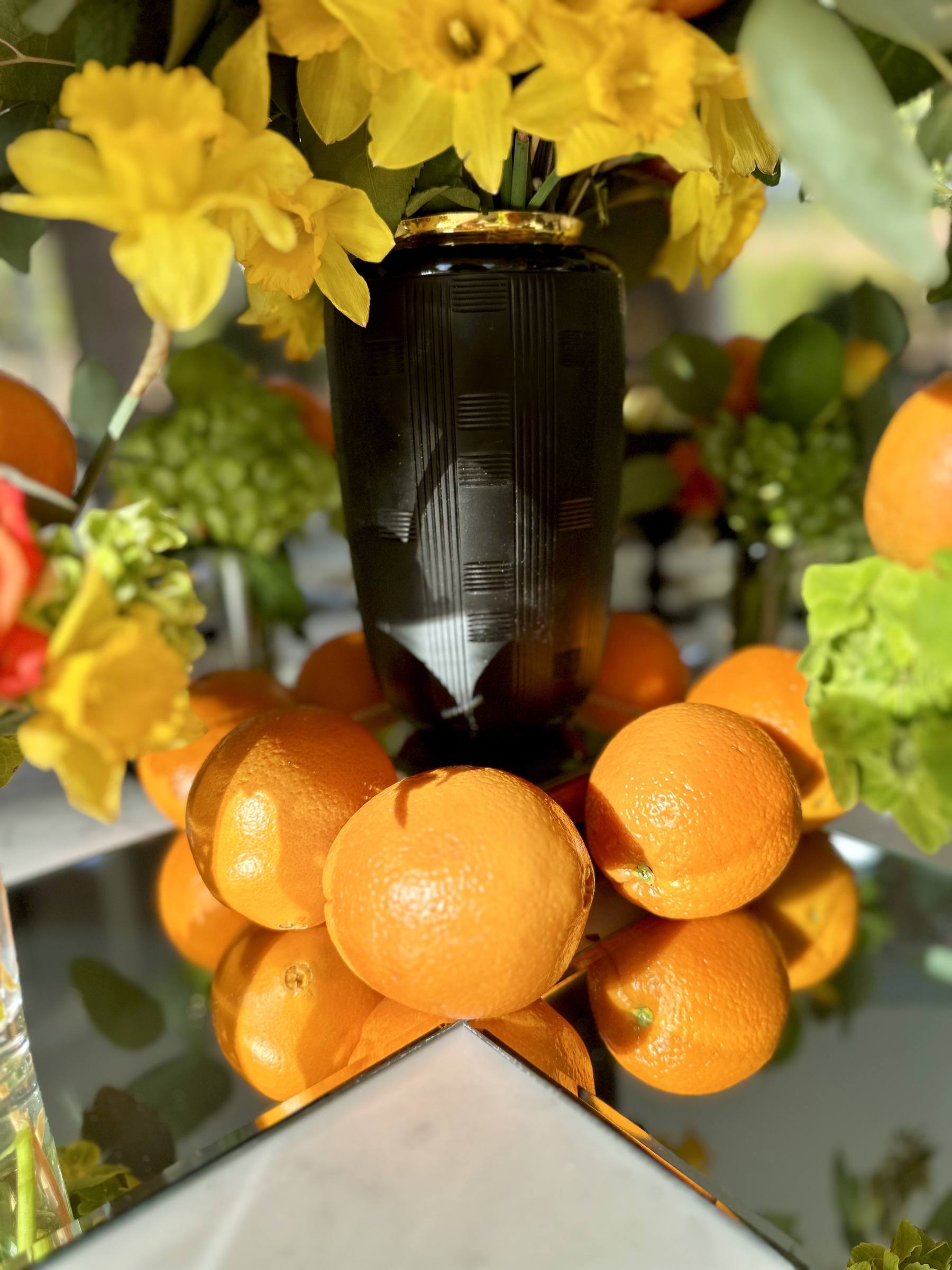 Thankful for this time of year with all of the daffodils blooming in our yard. I cut daffodils then added orange-colored roses, eucalyptus and willow for height.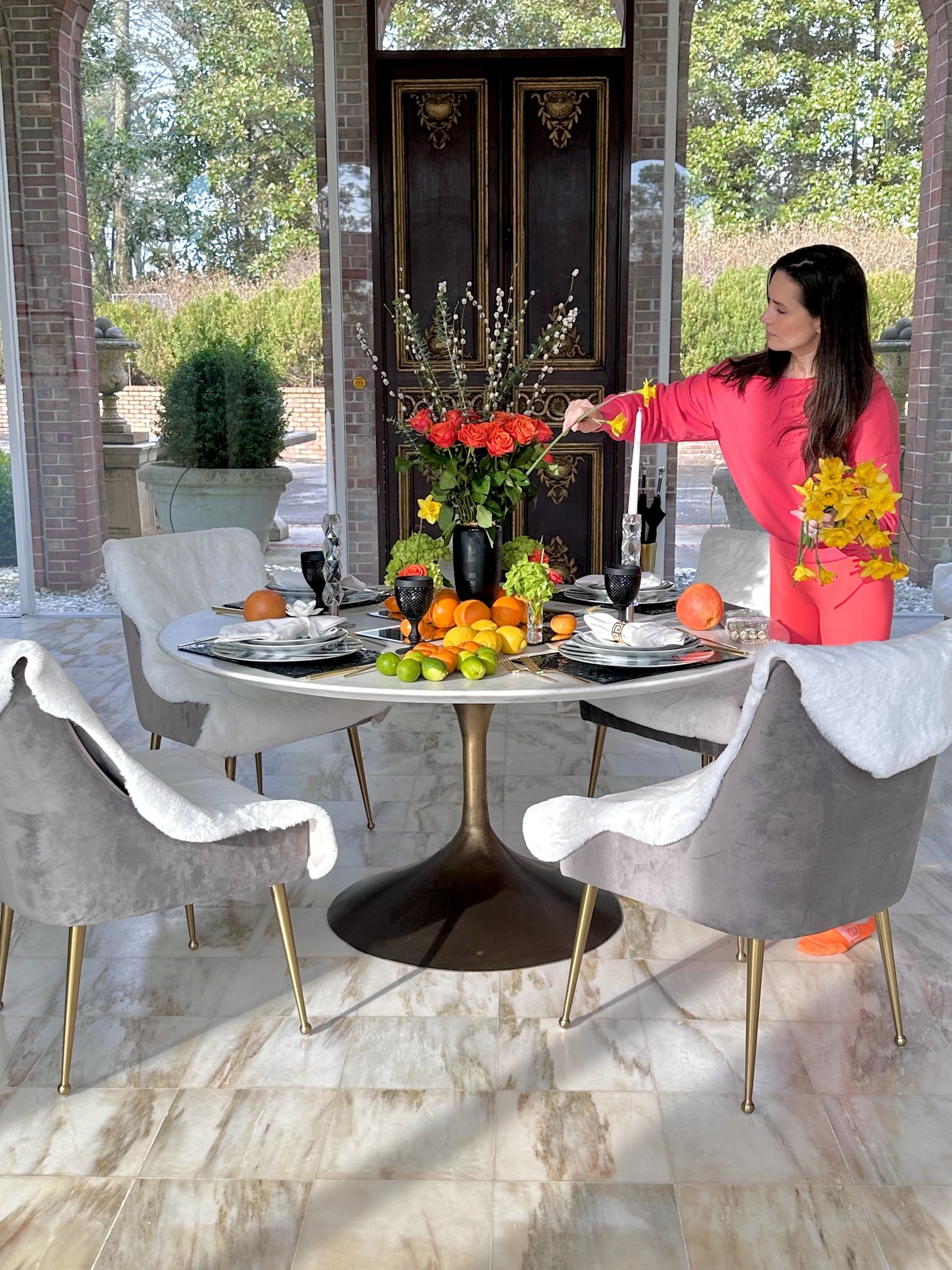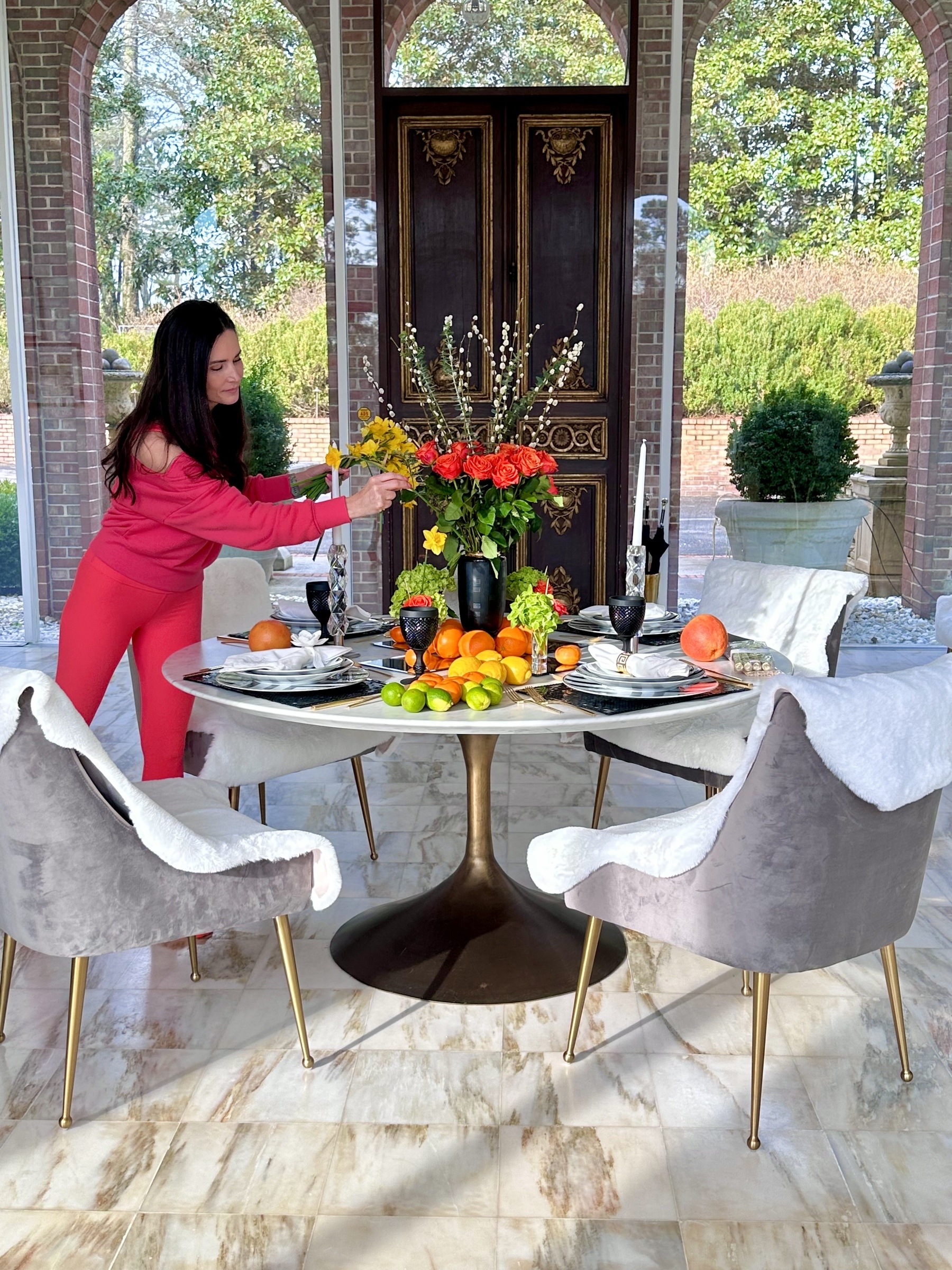 To tie the colors all together, I added fresh lemons, tangerines and grapefruits with tall bamboo skewers into the arrangement & oranges at the base on top of mirrored squares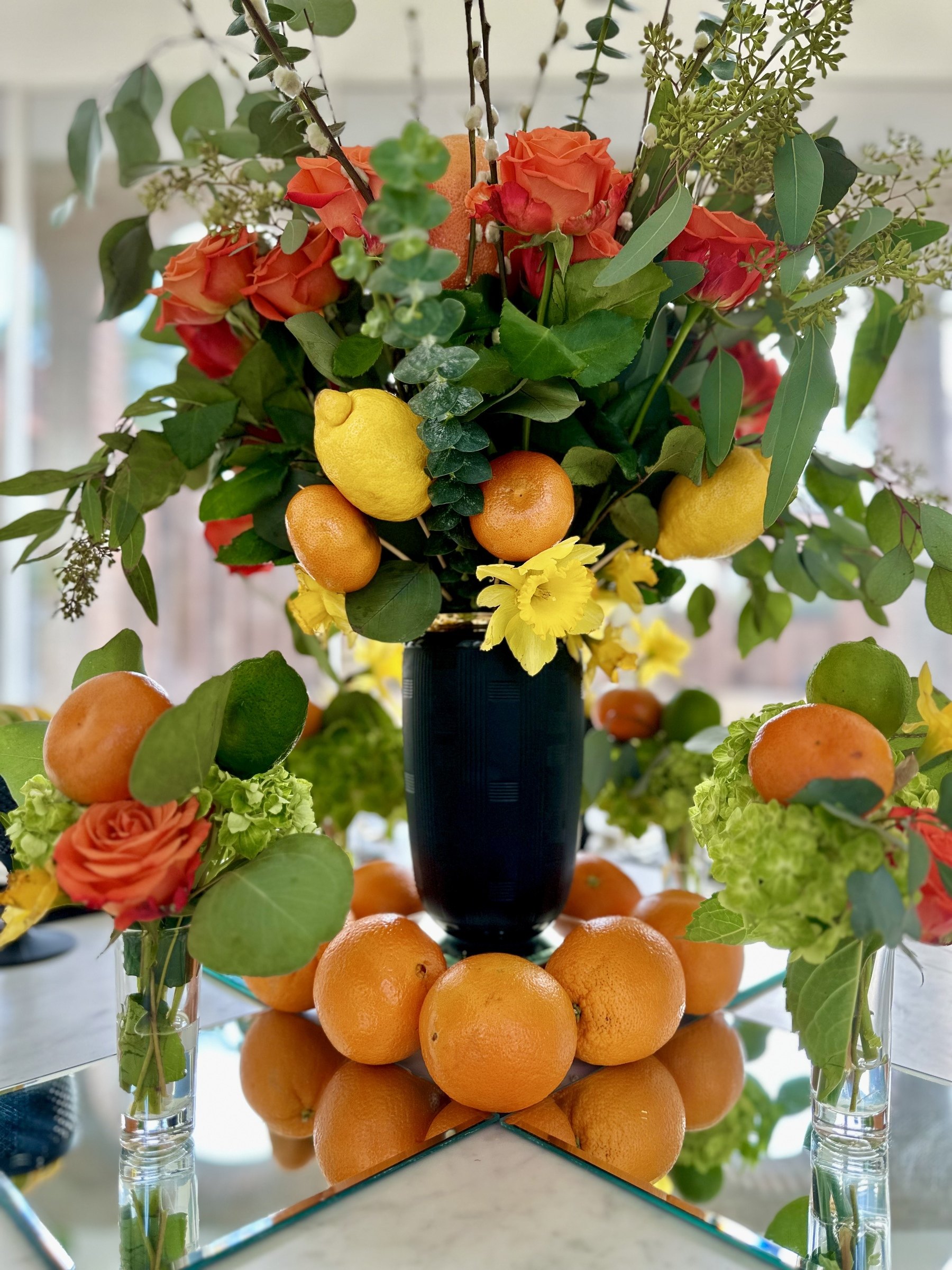 The Goblets
Bicos Bicolor Frosted Black Goblets
The frosted black Bicos Bicolor Goblets really pop on the table. Filled them with sparkling water, then with a skewer of sliced lemons and limes across the top of the goblet.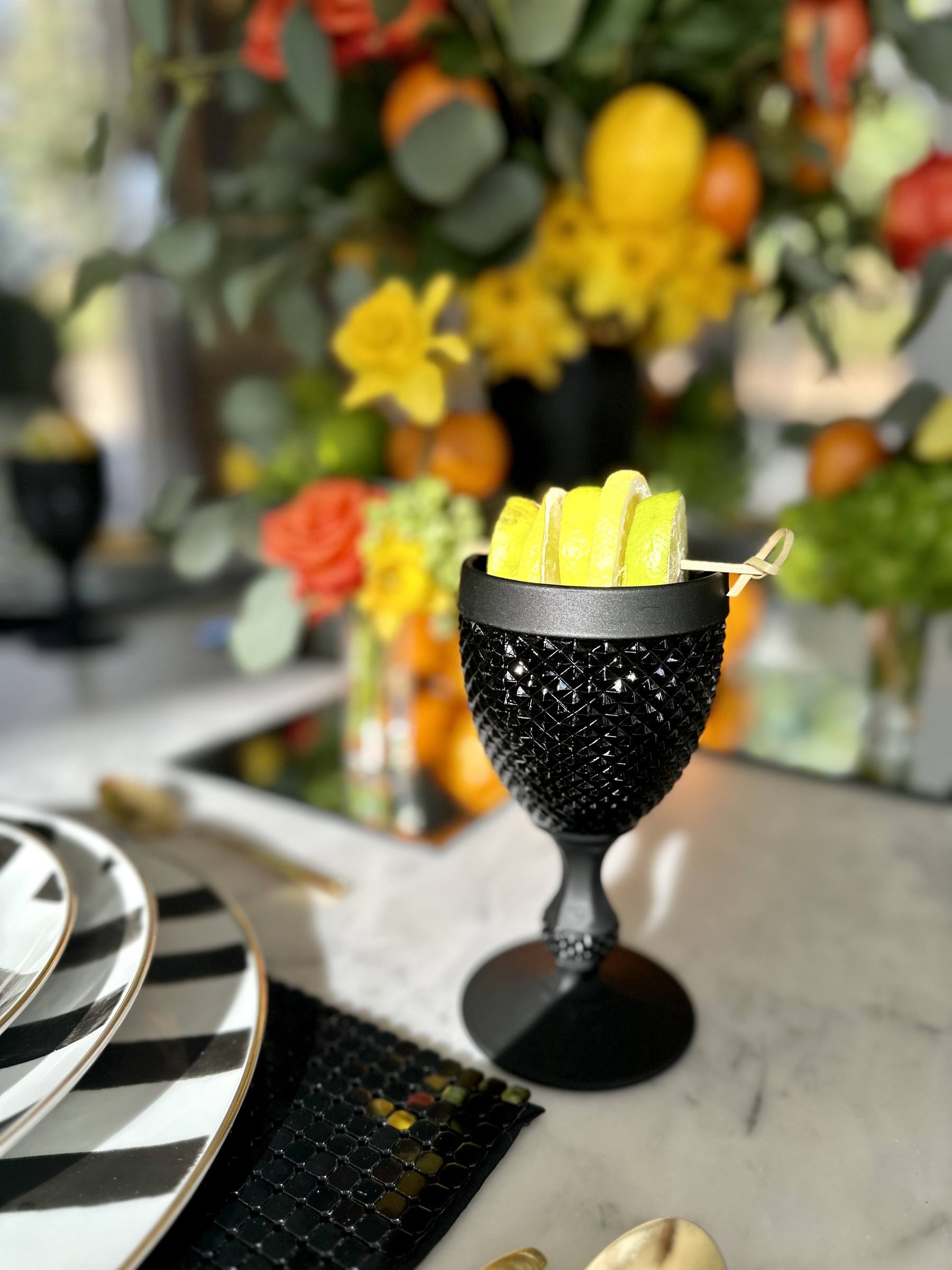 The Candlesticks
Diamanti Candlestick with Metal Foot
Flanked each side of the table with a silver footed Diamanti crystal diamond-shape candlestick. They add so much glamour to the table!
Click HERE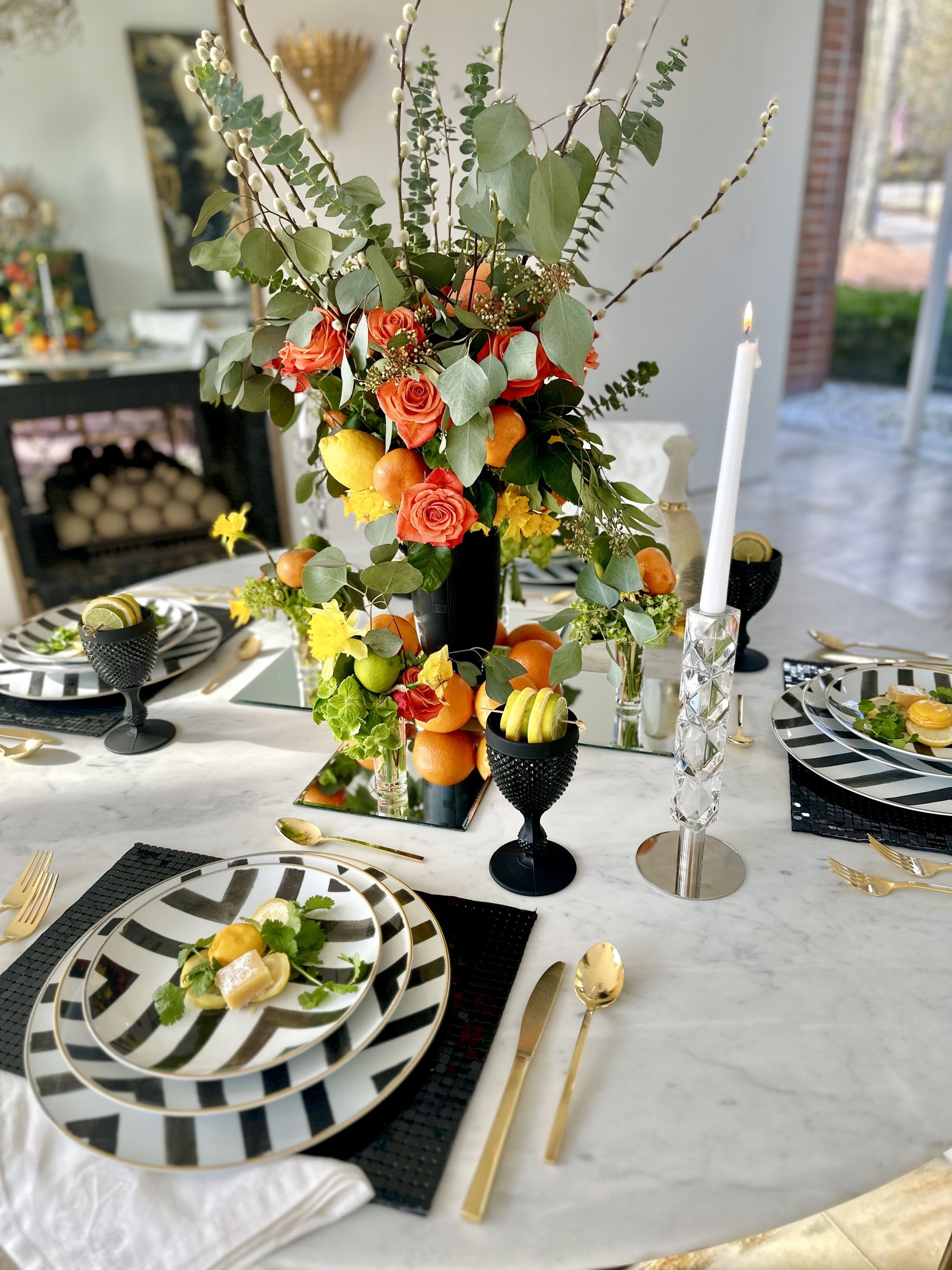 Poison Bottle
To finalize the look, this
Poison Bottle
is a unique and cool addition and conversation starter to the table. A beautiful container to add wine or another spirit. This porcelain snake bottle is detailed with textured scales and hand painted with gold scales on the sides.
Click HERE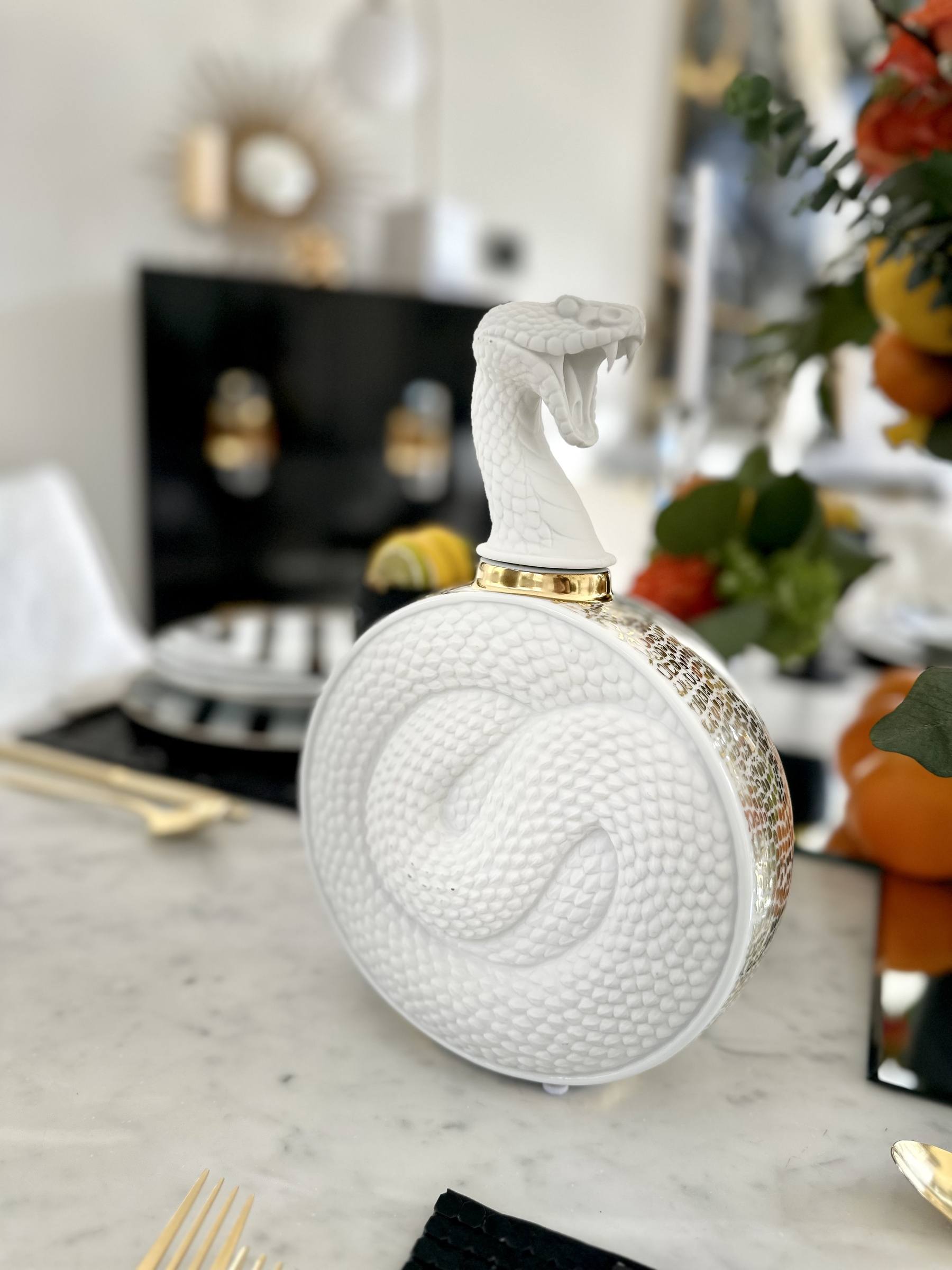 Check out my Instagram posts and stories (IG:
danielleyancey
)for more of the Black+White Tablescape and of the unique & modern Vista Alegre items I used!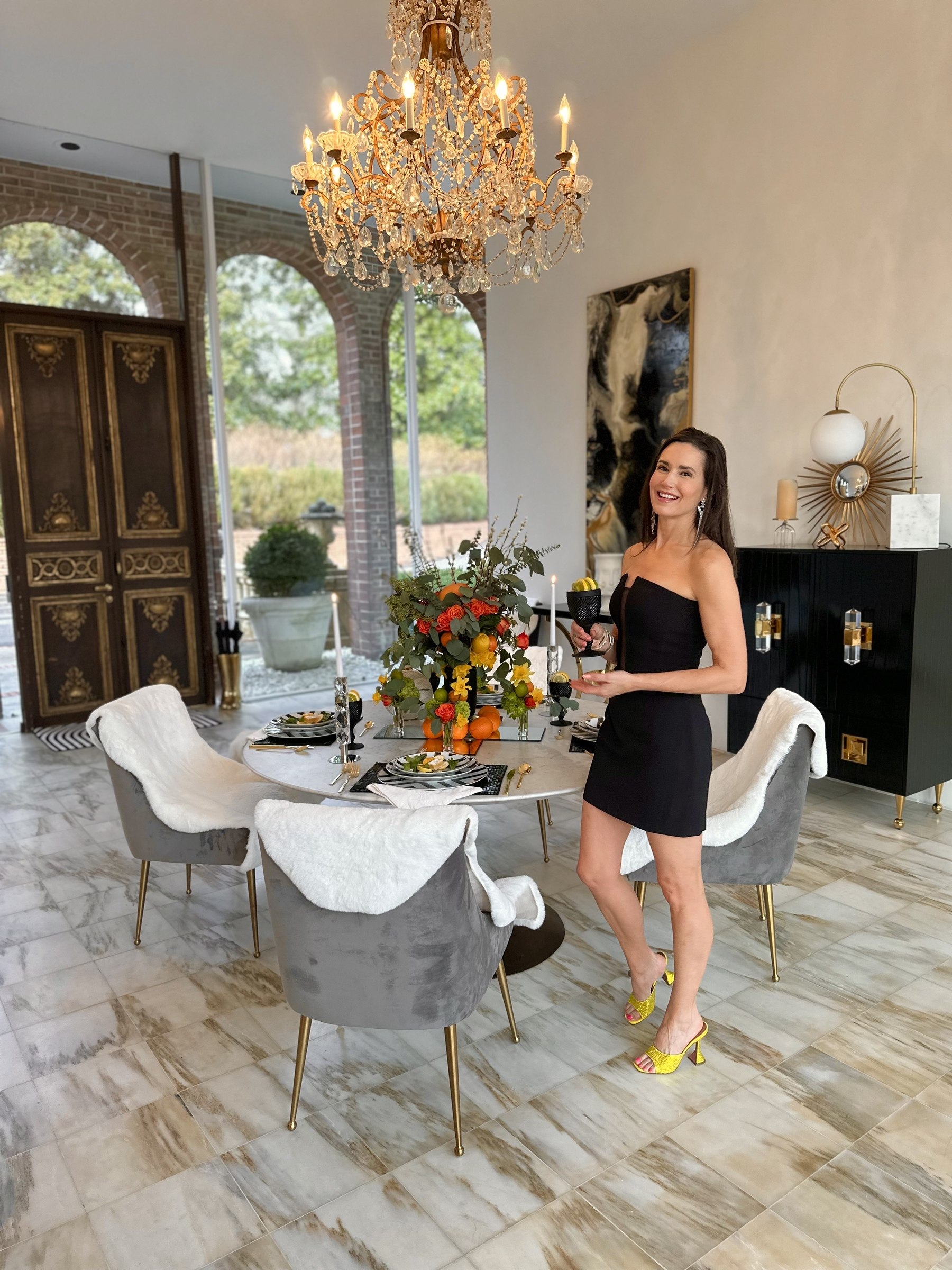 Happy Spring!