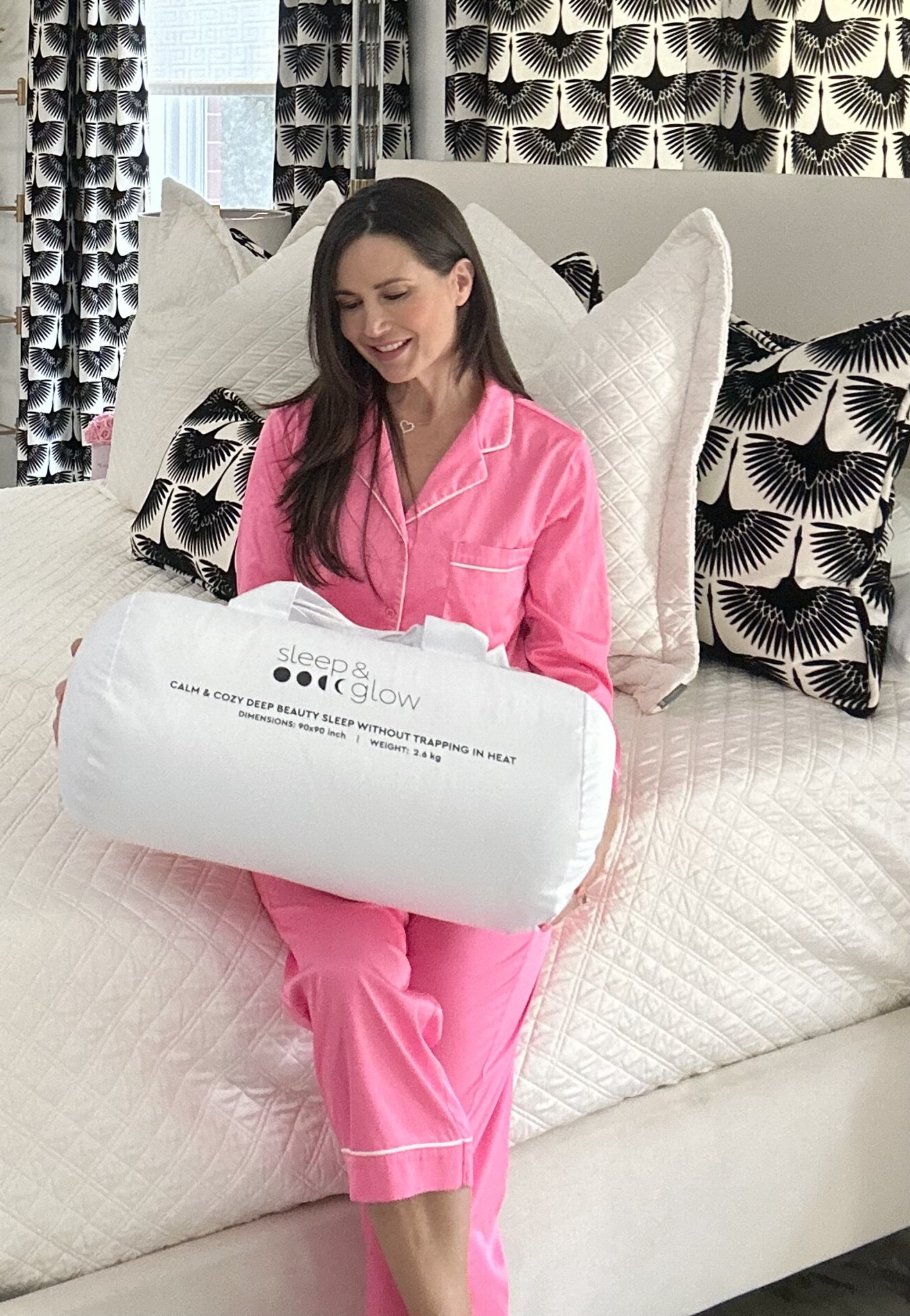 10 Nov

Hot Sleepers, This Blanket is For You!
Night Sweats Keeping You Up at Night?
It's frustrating to wake up hot and sweaty in the middle of the night and then not be able to get back to sleep. And even sometimes having to get up and change your pajamas because you have sweat through them.  Makes for a long night and long next day, right?!
Many of my girlfriends that are in their 40s say that they do not sleep well.  I'm also one of them! Ever since I went into menopause in my late 30s, I just don't have the same sleep as I did before.
Sleep is not only crucial for great mental health but also physical health too. Good sleep repairs cells and the appearance of our skin, helping to prevent inflammation, wrinkles and even fat production and also helps stimulate muscle growth. I want to get as much quality sleep as I can now!
I found a new blanket that helps me stay cooler at night in a really innovative way. Sleeping cooler means sleeping sounder and deeper each night!
Xoxoxo
D


How to stay cool while you sleep but also stay cozy!
At night do you do any of the following?
Stick your hands and legs out from under the covers?
Flip your pillow to the cold side?
Sweat through your pajamas and wake up soaked?
Toss and turn and can't find a comfortable position?
A Solution for those who get Hot at Night is the Ventilated Blanket!
Sleep&Glow's innovative blanket has Mesh Ventilation Panels to help heat and moisture escape as you sleep but still provide warmth and comfort simultaneously without being overheated.
The blanket's ventilated mesh panels create a microclimate under the blanket with a smart air circulation system to help you sleep more soundly, giving you a more healthy, high-quality sleep with recovery. Also, giving you Better Beauty Sleep!!

HOW DOES THE BLANKET WORK?
Breathable filler ensures warmth and comfort
The outer cover is made of cotton satin and is comfortably soft to the touch
Mesh ventilation panels effectively draw away excess heat and moisture
Creates the perfect microclimate for sleep and supports optimal body temperature all night long

Overheating at Night is one of the Main Reasons for Poor Sleep Quality
How Overheating Affects Your Beauty Sleep
Uncomfortable and constantly wake up
Not producing melatonin (the beauty and youth hormone) and not reaching deep sleep in Stages 3 & 4
Don't get enough rest and wake up tired

Get Better Beauty Sleep at a Cooler Temp
DEEP SLEEP PROMOTES PRODUCTION OF MELATONIN AND COLLAGEN
Do you want to wake up more refreshed each morning, feeling and looking rested?
Getting better and deeper sleep allows you to produce melatonin naturally (the sleep and beauty hormone) and helps slow the aging process and improves skin regeneration.
Deeper sleep also produces collagen naturally for your skin to be more elastic and helps smooth out wrinkles and even helps to prevent them from forming.
Using this Ventilated Blanket is an easy way I can achieve a better and deeper sleep each night for my body!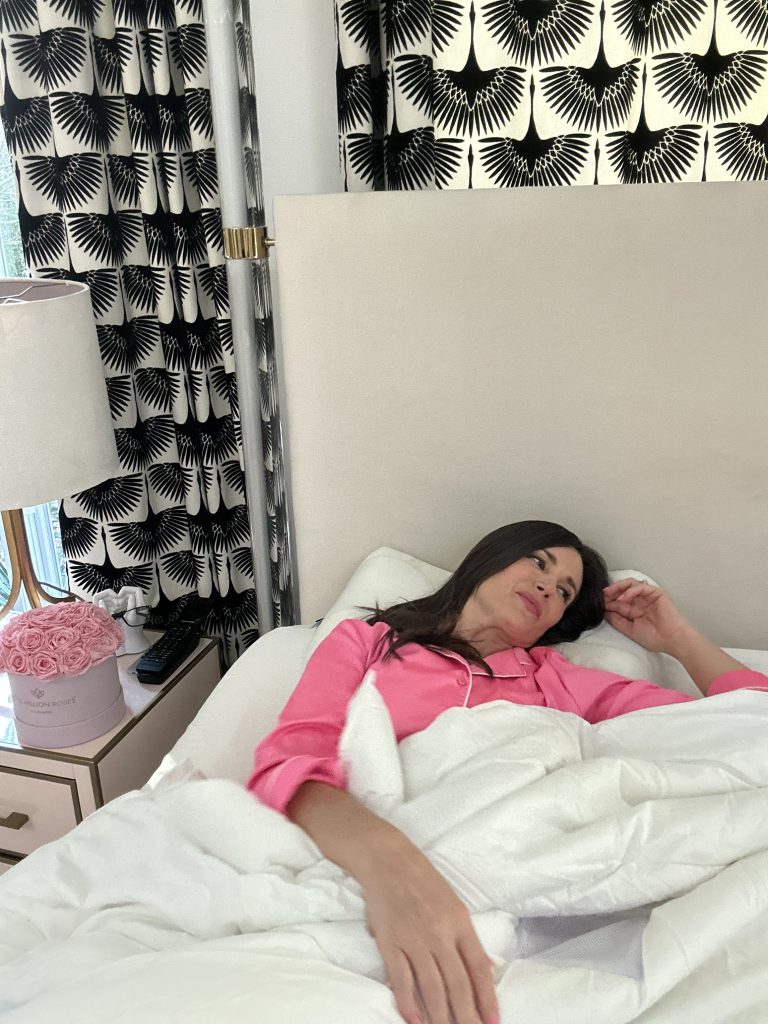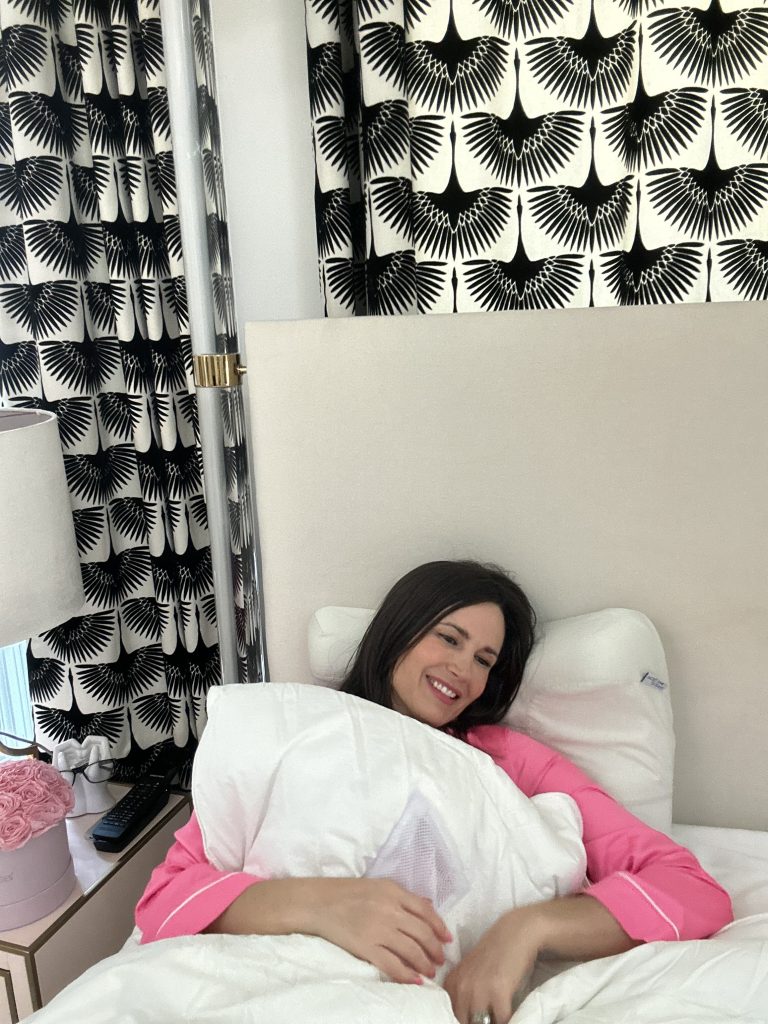 Sleep at a Cooler Temp & Stay Cozy
Despite the blanket's breathability and ability to stay cooler, the blanket is also cozy!
The blanket is not super thick and also is not super thin either! It has a nice weight to it and gives you the feeling of a cozy blanket ensuring warmth and comfort while you wrap yourself in it. But the mesh panels allow the blanket to release the heat and moisture so that you do not overheat! What a wonderful idea!!!
The high-quality blanket is of pure cotton satin and has a natural filing that is soft against your skin.
This blanket can be used alone or with a duvet cover.
You Can Wash Your Blanket
I have my bedding in layers. Starting with my sheets and then the Ventilated Blanket, then our decorative coverlet and then also our protective blanket on top for all of Trooper's hairs!  The Ventilated Blanket can be used with or without a duvet cover and I have mine without a duvet cover. I turn back the blanket and coverlet where Trooper is not laying to keep those covers off of me and just sleep with the sheet and the Ventilated Blanket.
I love that this Ventilated Blanket can be used in every season. Whether it's in the summer or winter, it will continue to regulate the heat and moisture; keep you cool but still cozy!
AND…it's Machine Washable! Just follow the washing directions on the label and toss the blanket in the washing machine. It is easy to clean, wash and dry!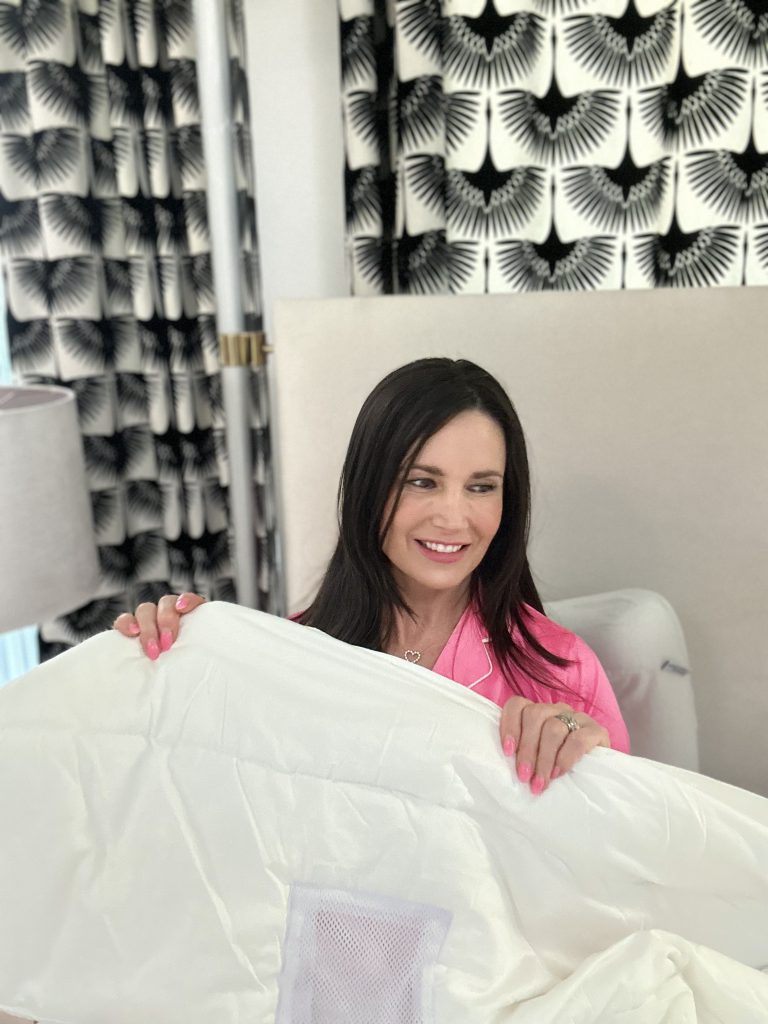 Sleep&Glow's Black Friday Sale will be Nov 10 – Nov 24, 2023
THE PROMO CODE WILL BE ACTIVE FROM NOVEMBER 10 – 24, 2023
✨✨✨✨
Giving 15% OFF on all Sleep&Glow products site-wide
✨✨✨✨
Sleep&Glow never does discounts and has now organized the biggest sale of the year!

✨✨✨✨

15% off all Sleep&Glow products by using this promo code at checkout…

✨✨✨✨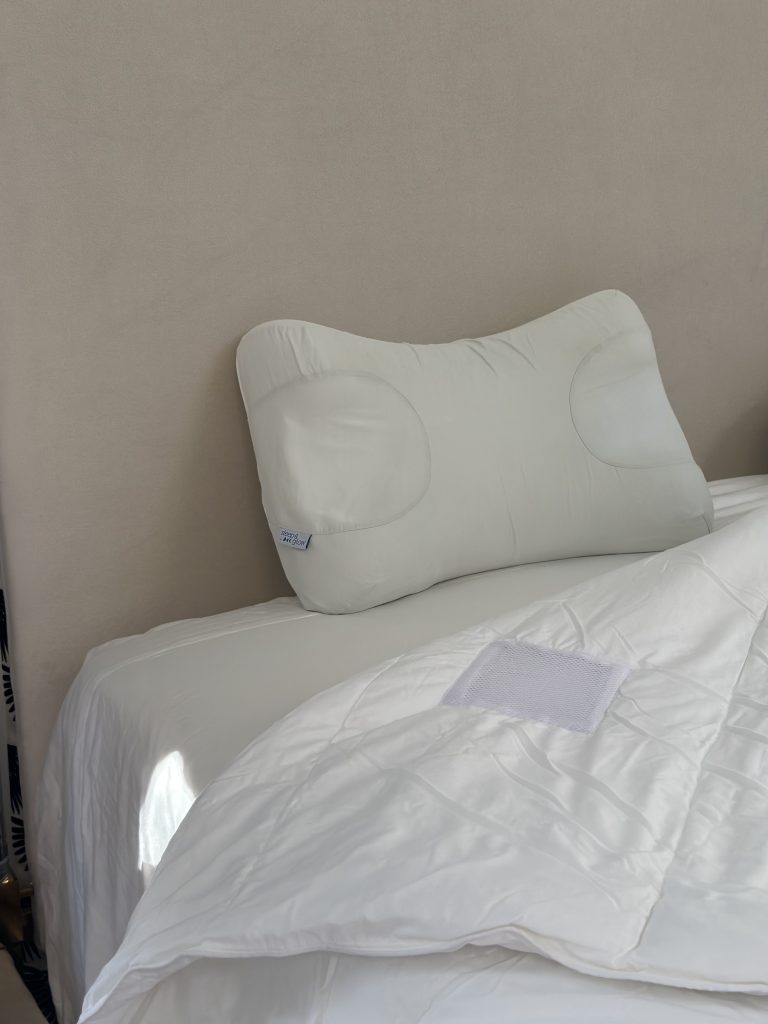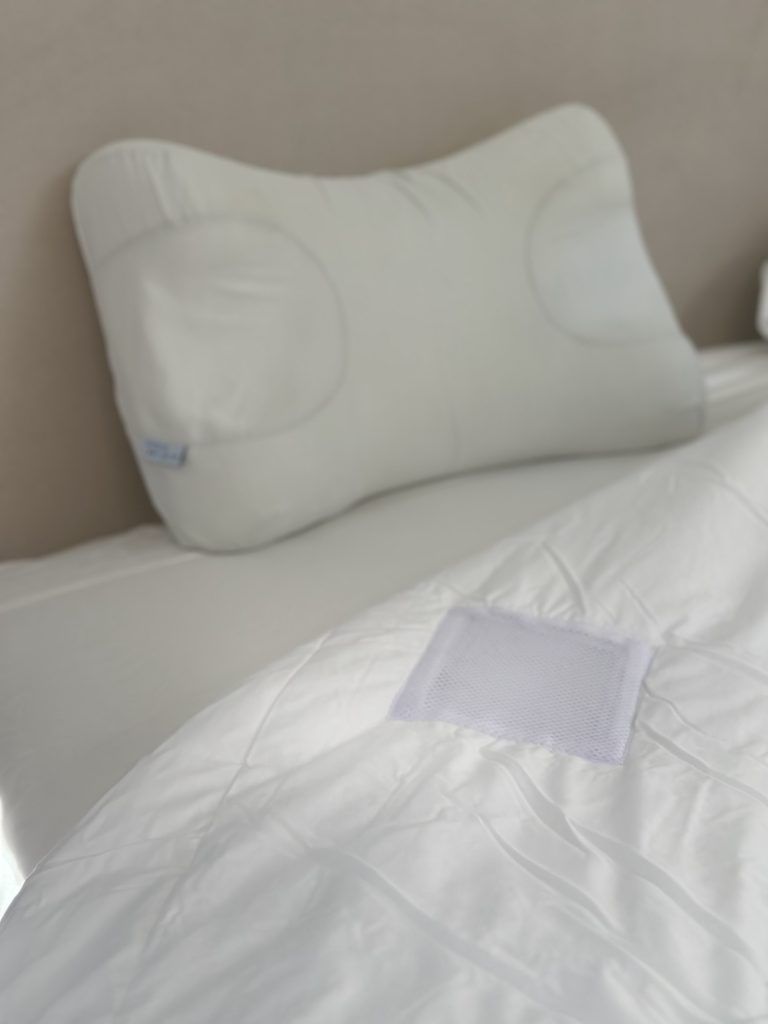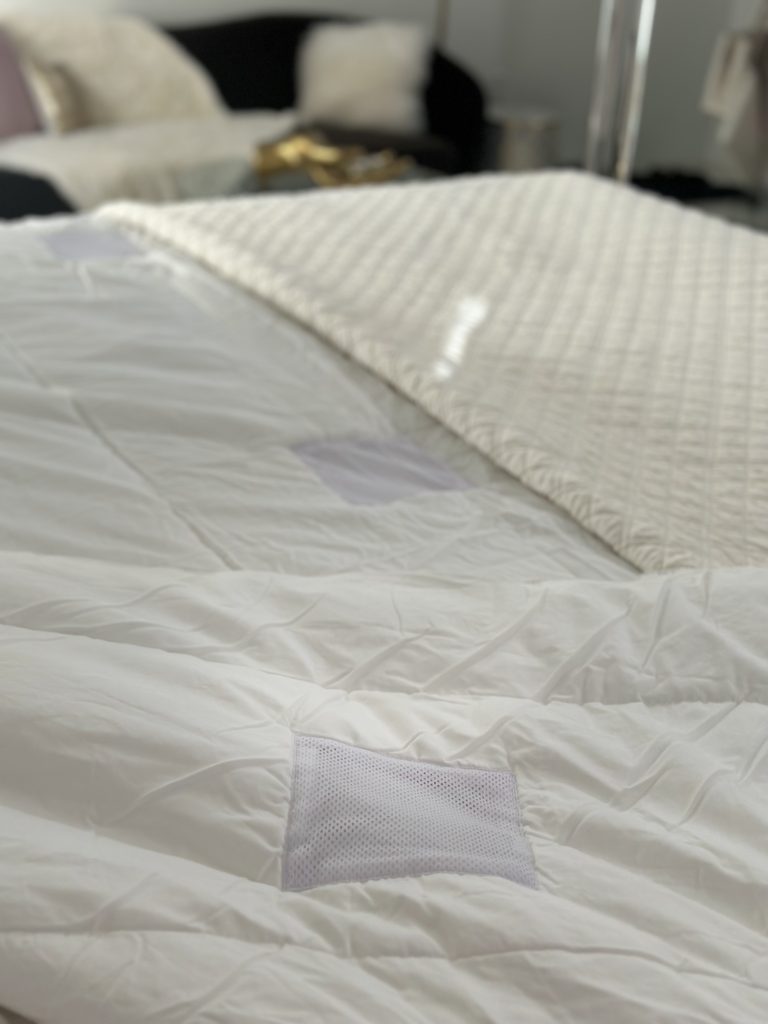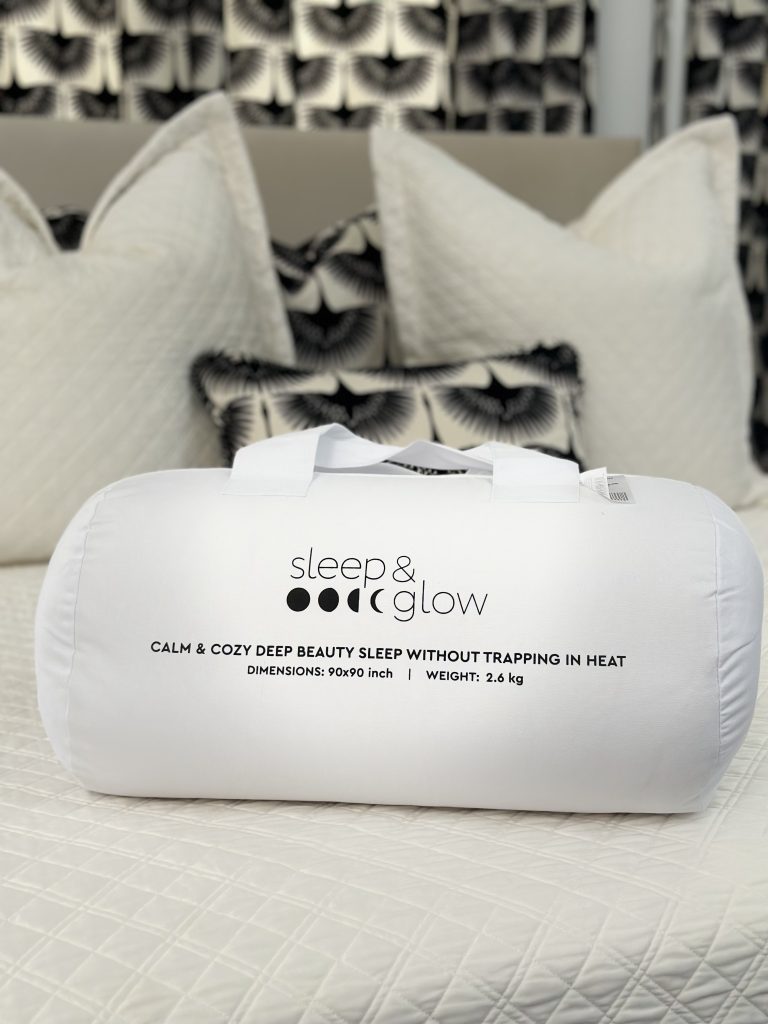 ✨✨✨✨
✨✨✨✨
✨✨✨✨
✨✨✨✨
✨✨✨✨
✨✨✨✨

I'm obsessed with my Sleep&Glow pillow.  Since I have been using the pillow, I have slept better, eliminated my previous neck pain and don't have sleep creases or puffiness when I wake up in the morning. This has been one of my favorite investments for myself and call it my Beauty Sleep Pillow!!
And now Sleep&Glow has introduced the Omnia Copper Skin Defense Pillow. This new pillow is reinforced by the innovative and technological copper pillowcase where copper threads are woven into the Tencel pillowcase, preserving all the natural strength of the copper molecule.  And this antibacterial effect won't come out in the wash, unlike fabrics with copper infusion/ionization.
Now Sleep&Glow has made the Omnia pillow even more beneficial!
3 scientific beauty benefits from the properties of copper:
Copper reduces skin inflammation and rashes by preventing harmful bacteria and other organisms from spreading
Provides a strong anti-acne effect: copper prevents acne by killing "Propionibacterium acne", an acne-causing bacteria that lives on the face
Reduces wrinkle depth: copper stimulates the production of collagen (the main protein responsible for skin smoothness and elasticity).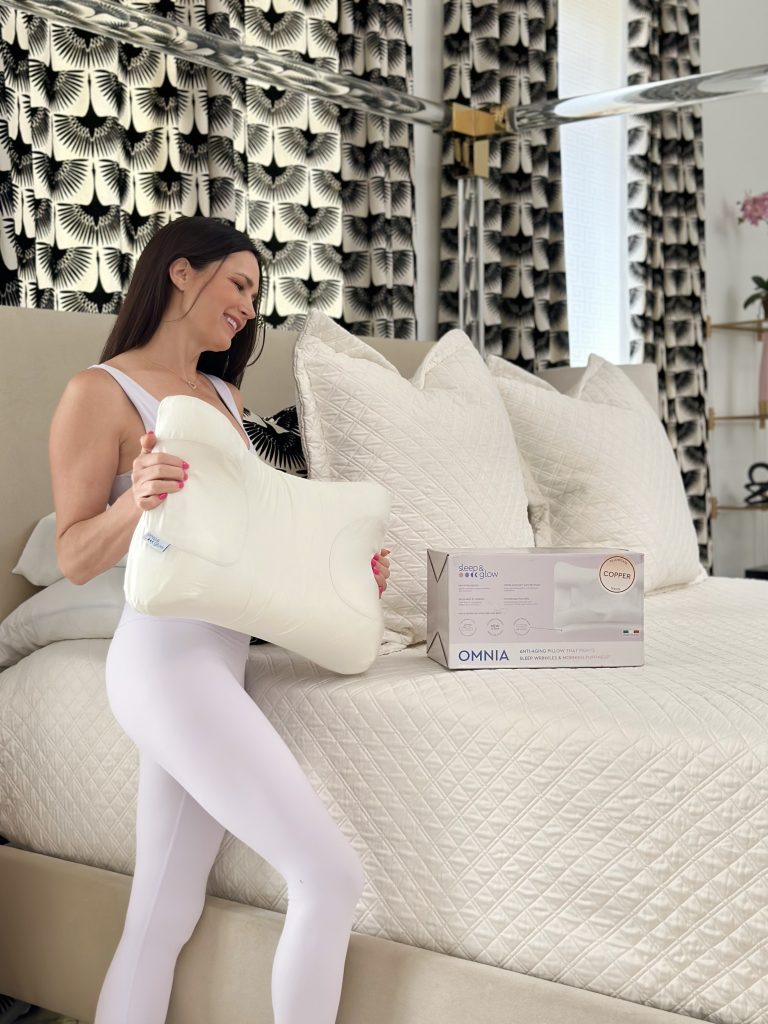 ✨
Did you know that when you sleep on a regular pillow, your skin can become stretched and compressed, creating morning puffiness and sleep wrinkles?
✨
I sleep naturally on my side and it was causing permanent deep lines & facial indentions on my face.
When I started sleeping on the Sleep&Glow Omnia pillow over a couple of years ago, I began noticing a difference. Since using this pillow, I wake up with a fresher face AND without deep sleep creases on the sides of my face, nose, cheeks and under my eyes.
Fights and helps prevent night sleep wrinkles, fine lines & morning puffiness.
Helps stimulate production of collagen.
Reduces skin inflammation and rashes by preventing harmful bacteria from spreading.
Helps keep your skin looking younger and refreshed.
Provides your neck, spine, and body the healthiest sleep position and helps eliminate neck pain & stiffness.
Long-Term investment.
Saves money on skincare.
Pillow will last 5 years.

The special design and shape of the Omnia pillow reduces contact of your face on the pillow and prevents and fights sleep wrinkles and morning puffiness.



The "top-to-bottom" picture of me below shows the difference of sleeping on my Sleep&Glow Omnia Copper Skin Defense Pillow and then on a regular pillow. The top picture shows my neck straight and the side of my face not smooshed and creased. But then in the bottom picture, my neck is more curved and not straight and my skin closest to the pillow shows being compressed against the pillow. I had vertical lines on both side of my face between my nose/cheeks from sleeping on my side for so many years.

The past couple of years, I've seen a difference sleeping on the Sleep&Glow pillow. The deep sleep creases & wrinkles that I had are not as pronounced anymore from all of the years I had been sleeping on a regular pillow.
✨✨✨✨
Get 15% off all Sleep & Glow products by using this promo code at checkout…
✨✨✨✨
Danielle15%
✨✨✨✨
I love my Omnia Copper Skin Defense pillow by Sleep&Glow so much that I travel with it. It's a must to travel with now! I went on a couple of trips without it and ended up not sleeping well and then woke up with sleep creases on the side of my face that lasted for over an hour after I woke up!  So, I decided to start traveling with my Sleep&Glow pillow and it makes such a difference now!