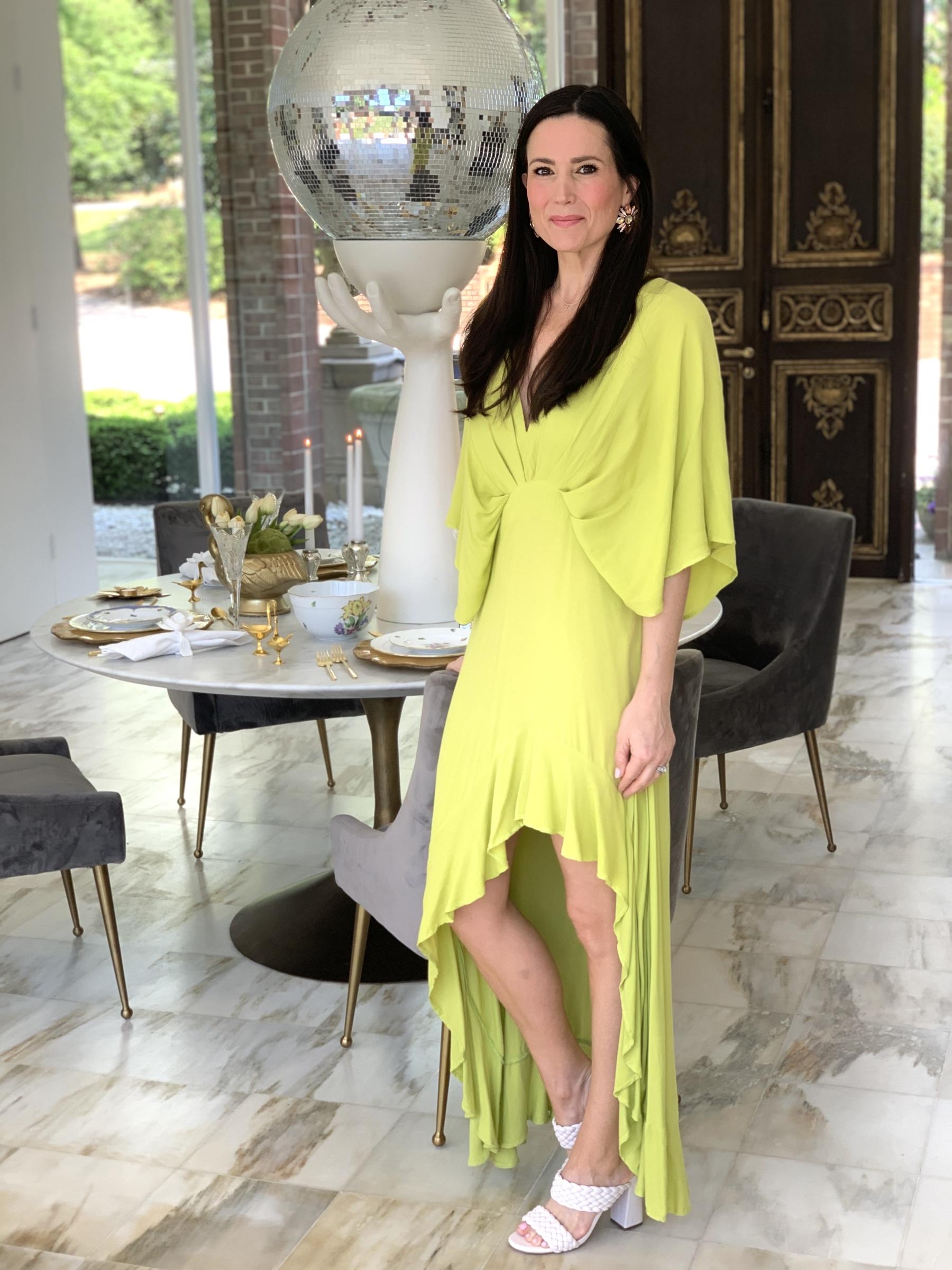 09 Apr

Easter and Passover Table Setting Ideas
Setting the Table for this Holy Week
Our table is set to get in the spirit of this holiday and to enjoy. ???  I hope that y'all are doing well and staying healthy at this time.  As Bart and I will be home this Easter holiday I still wanted to put out decorations to celebrate even if it's just Bart, me and the pups! ? I made "twin" Boxwood Bunny Wreaths for our front double-doors and they were fun to make and also super easy! Another recent blog post shows the supplies and step by step on how to make a Bunny Wreath for your front door.
Below are a few ideas for place settings for this holiday week to inspire ideas for your table! Wishing my family and friends a Happy Easter even though we are not together this year. Also, to my friends that are celebrating Passover and wishing them a wonderful holiday!
Xoxoxo
D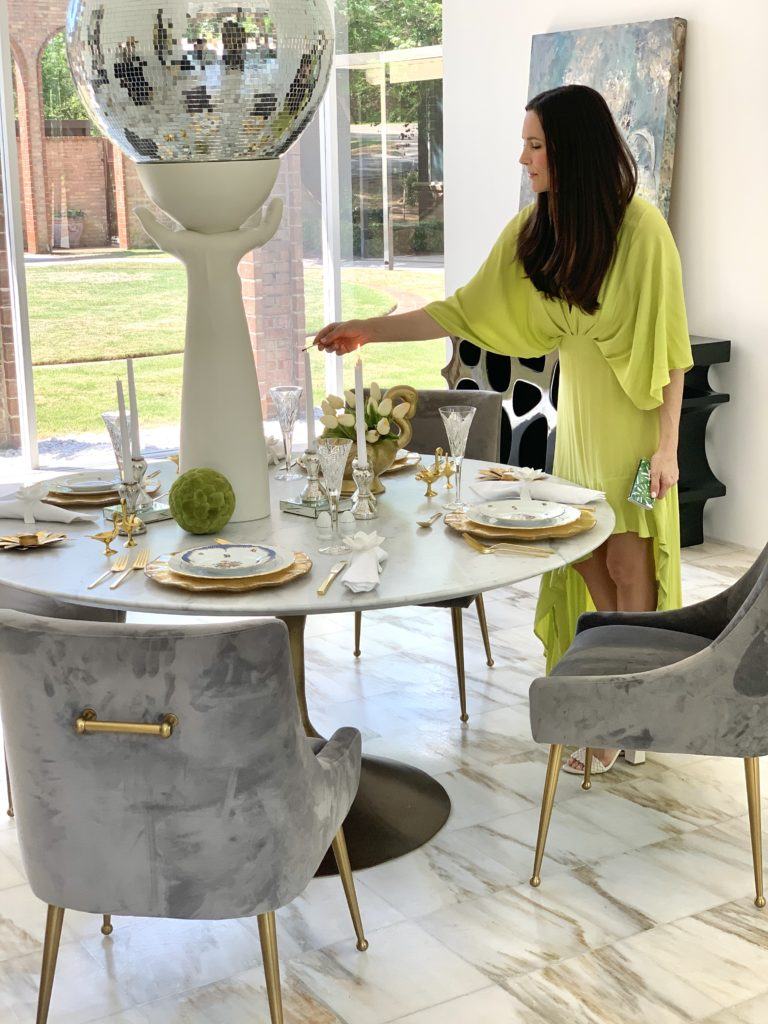 Our home decor is a mix of metallics of both gold and silver. I continued with this theme on the dining room table.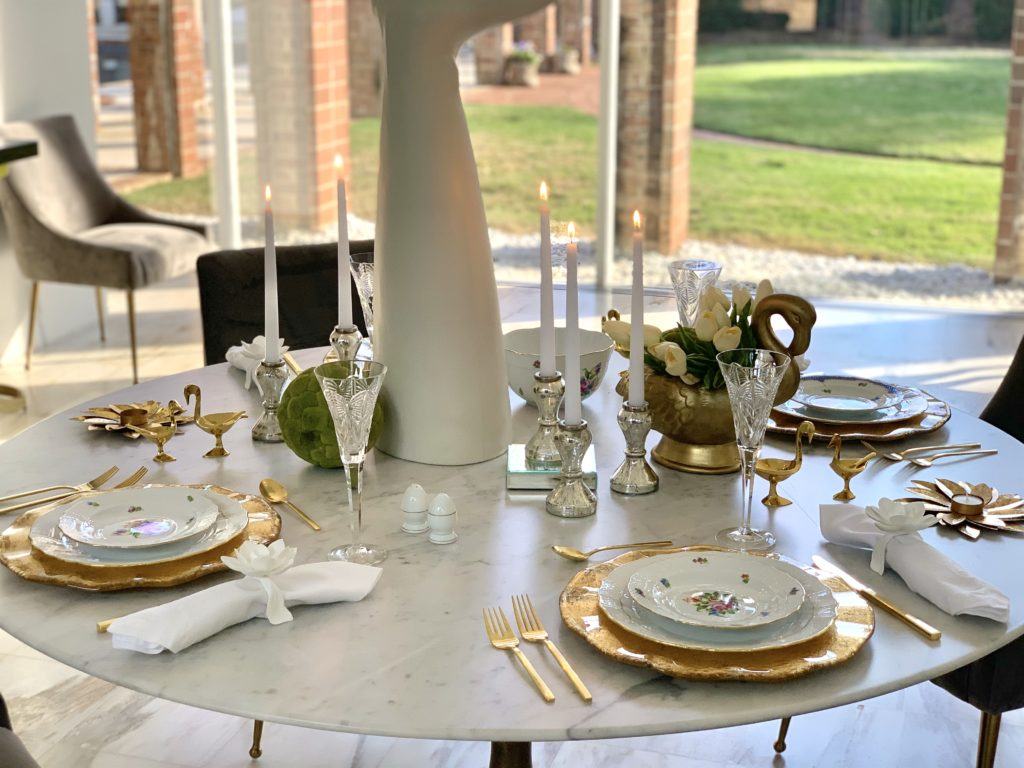 Gold leaf wavy chargers are underneath our Herend Golden Edge and Printemps china. I added gold flatware with the setting and mixed in our Waterford Crystal Millennium Toasting Flutes.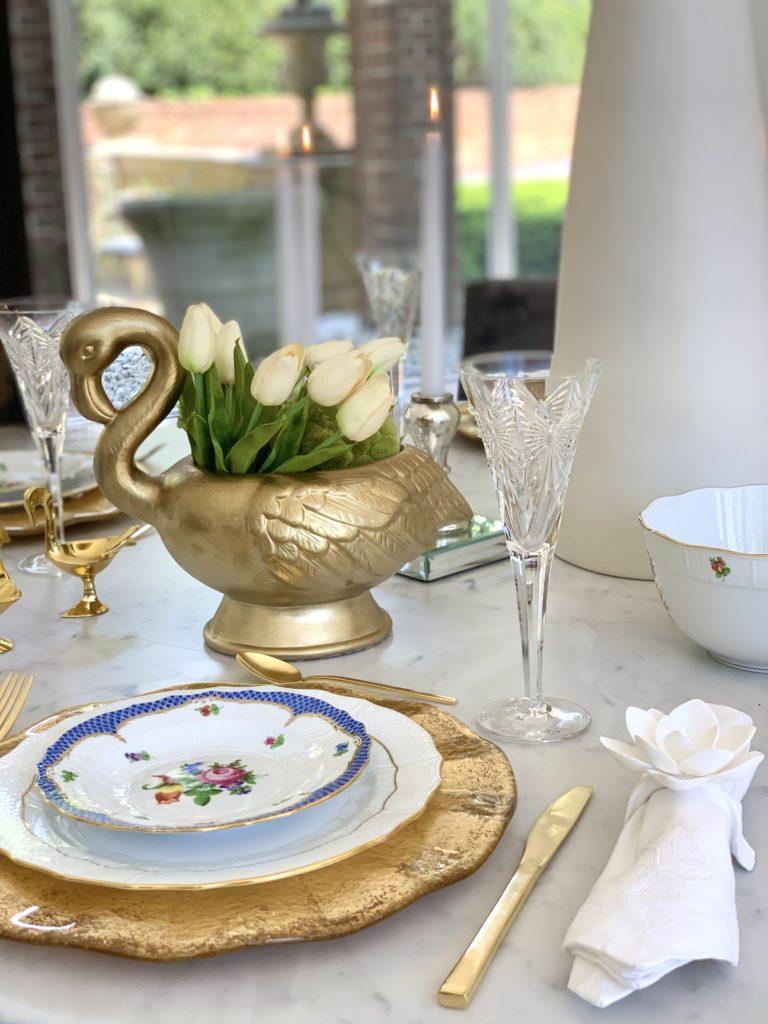 The smaller brass swans and the larger gold swan serve as unexpected objects on the dining table. The larger gold Swan was a purchase a couple of years ago from CB2. It can be used as a vessel to hold flowers but also can be used as a small punch or soup bowl. I placed faux tulips and a moss ball in the gold swan to add a floral note to the table.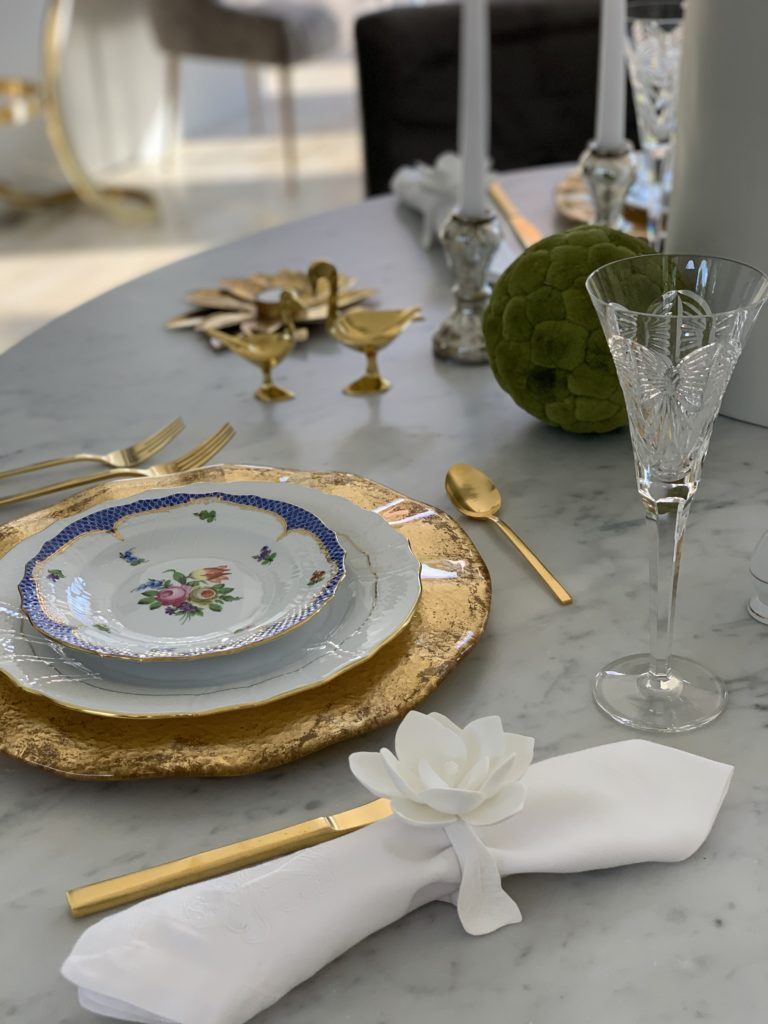 Another larger moss ball is placed opposite to the gold swan bowl to bring a small amount of green to that side of the table. The small brass swans are salt and pepper cellars that I purchased from Jonathan Adler a couple of years ago but are no longer available, but found something similar below.
A larger Jonathan Adler Brass Bird Bowl is available HERE

I found these white Magnolia napkin ring holders that are made of china from Ballard Designs. They are very delicate and fragile which makes them so special to use for Easter. I love the magnolia napkin rings paired with our white napkins that are embroidered with the letter "Y". These napkins were given to us as a wedding gift almost 17 years ago. Our 17th wedding anniversary is also this Easter Sunday! Much to celebrate this Sunday, April 12th!
Click HERE for the Magnolia Napkin Rings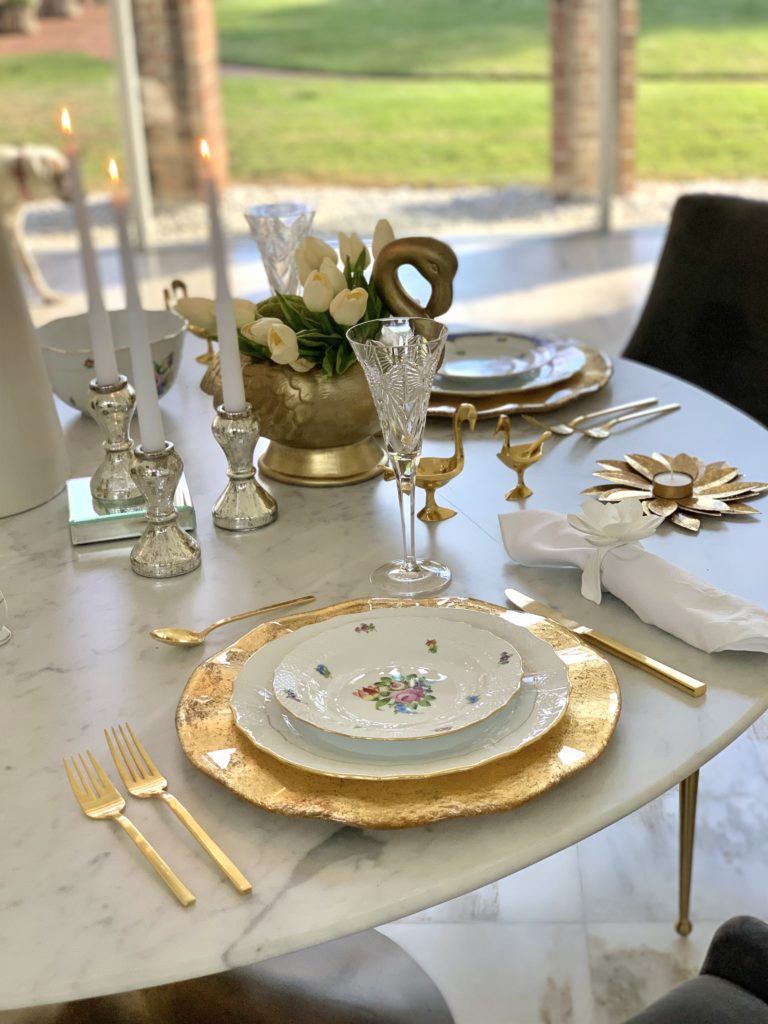 Candles always add a bit of ambiance to a table setting. I used simple white dripless taper candles in silver mercury glass candleholders.
Click HERE for unscented, dripless white taper candles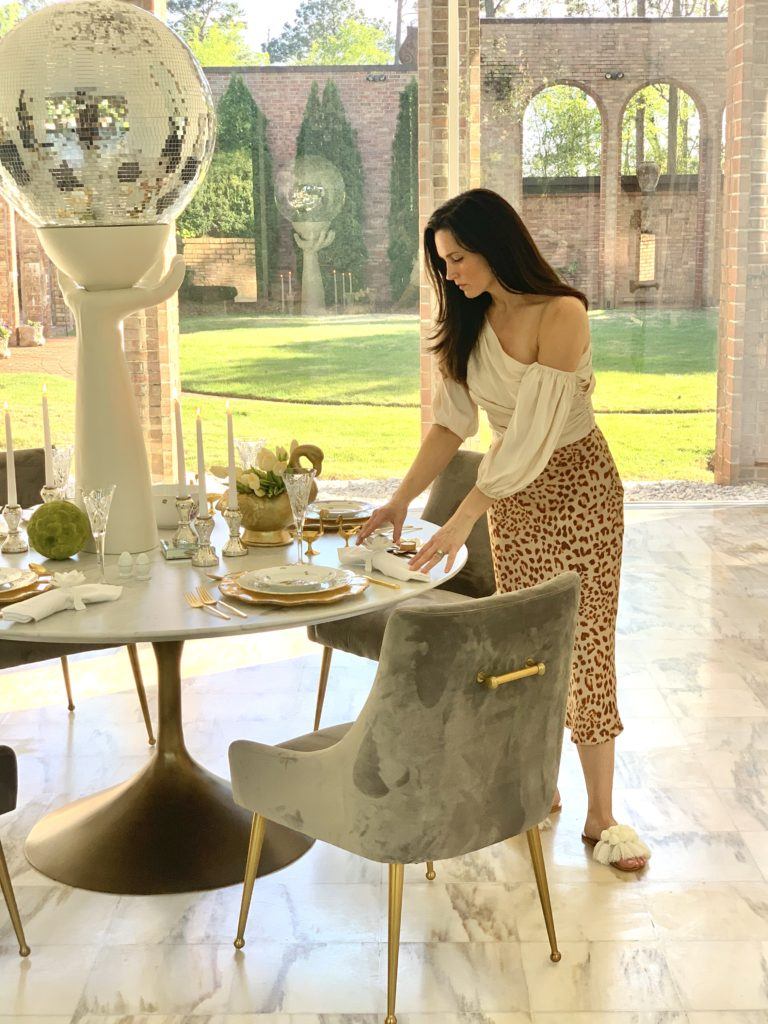 Pop of Pink on our Kitchen Island to Brighten & Bring a Bit of Spring Cheer!
I've been dreaming of fresh pink peonies! But faux peonies will take the place of real ones right now! For Easter, I set up our kitchen counter with place settings to add color and happiness to the kitchen. The ivory placemats have gold metallic polka dots on them and a metallic pink charger sits on top of these.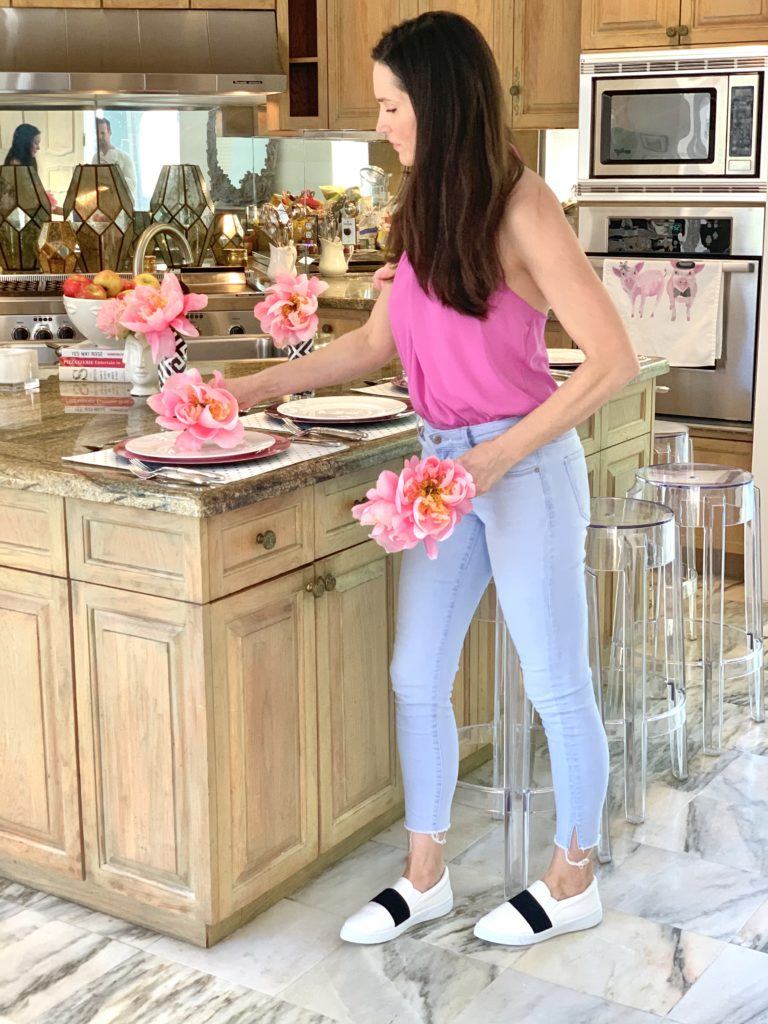 I love the simplistic white dinner plate of our Wedgwood White china because you can add anything with these for any occasion or holiday. Faux pink peony napkin rings serve as accents on the white dinner plates and complement the pink metallic chargers underneath. This adds a feminine touch as well as adding a little playfulness. Our everyday flatware is placed with this setting.
Click HERE for the stainless flatware.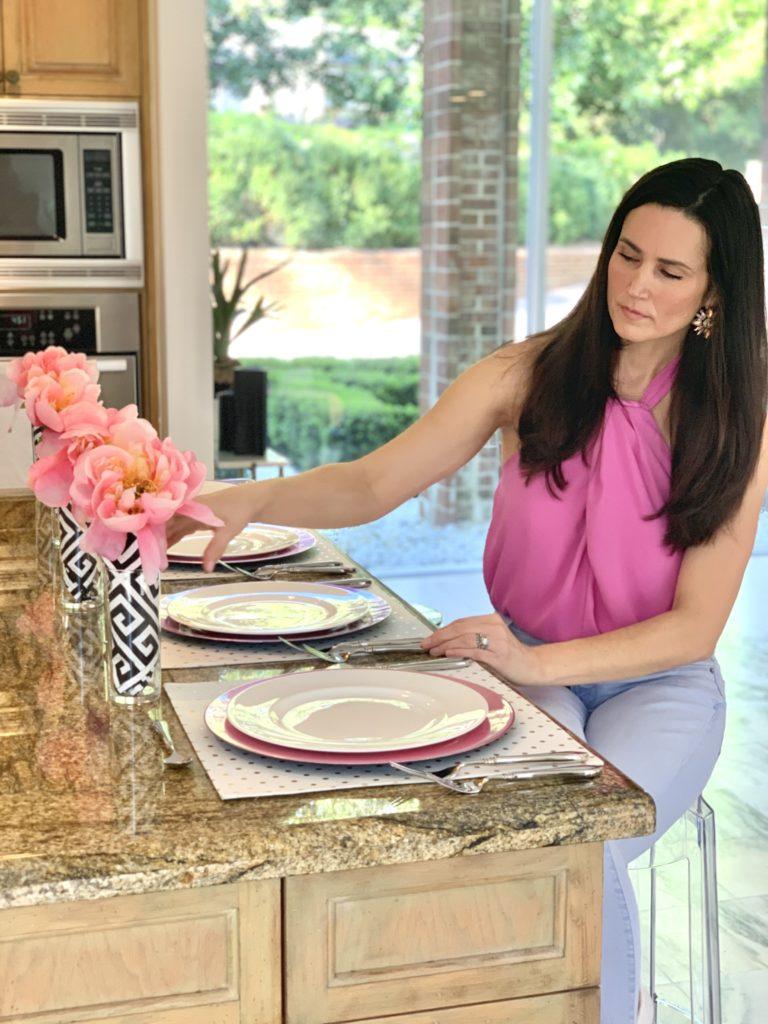 The Black and White Greek Key napkins are one of my favorites. I rolled each napkin into a slender juice glass and tucked another faux pink peony napkin ring into the glass. ???  Anything unexpected and dramatic brings a little fun to a table setting. I also really like the contrast of the Bright Pink with the Black & White Greek Key napkins.
Click HERE for Black & White Greek Key Napkins.
Click HERE for Pink Faux Peony Napkin Rings.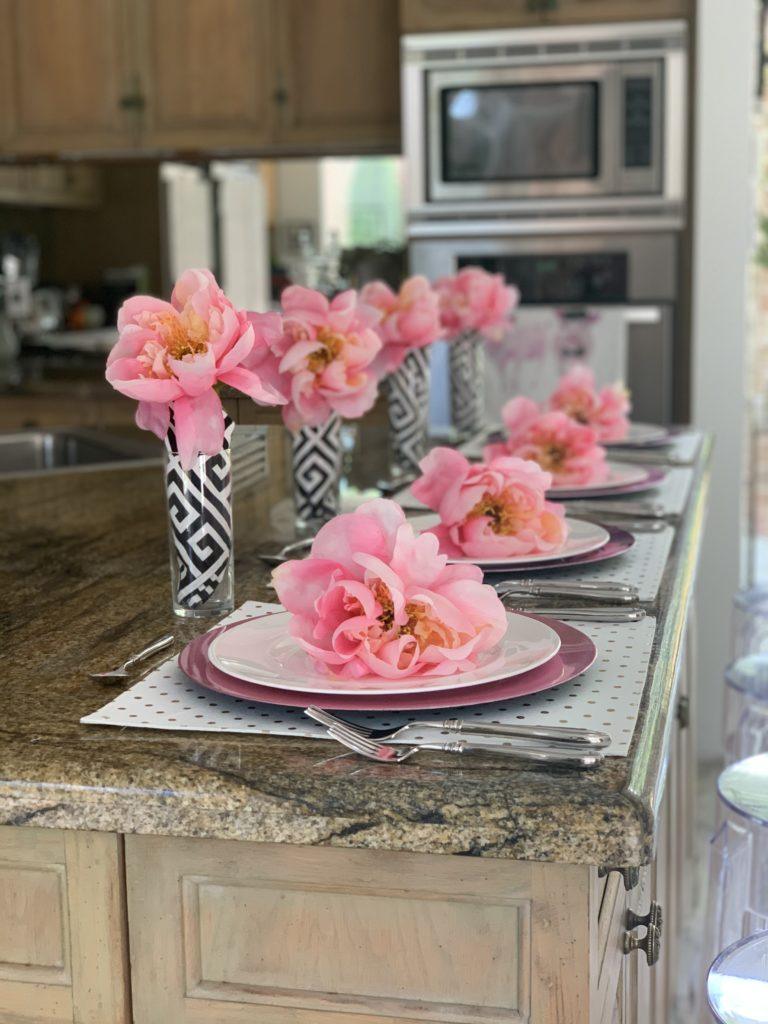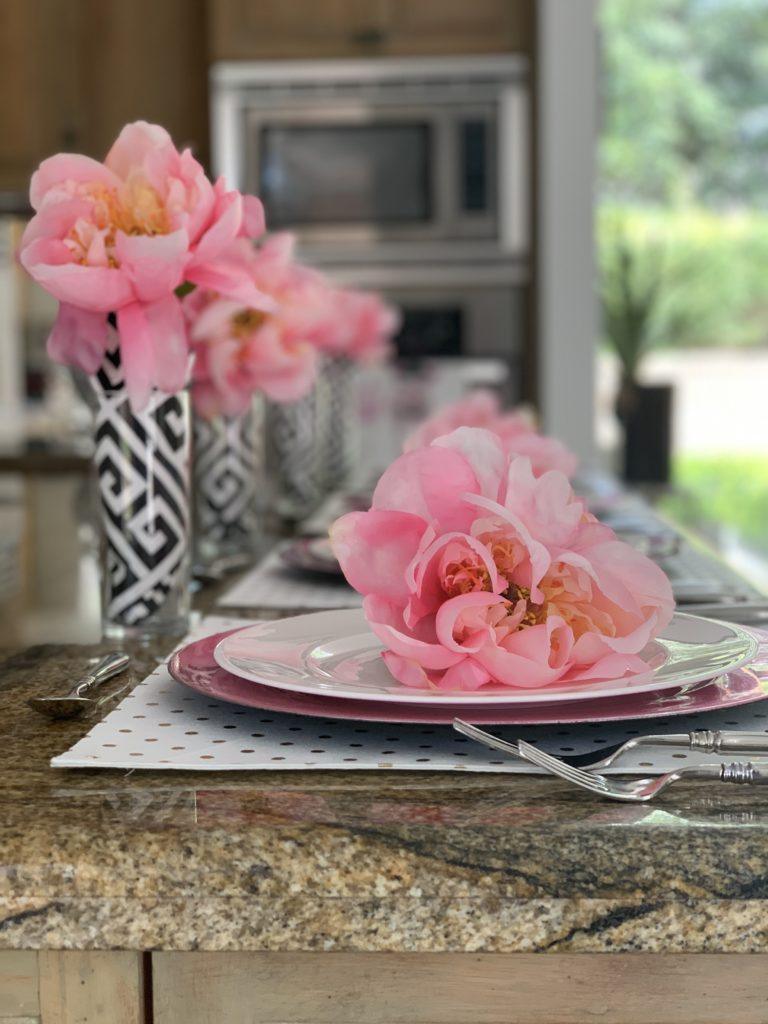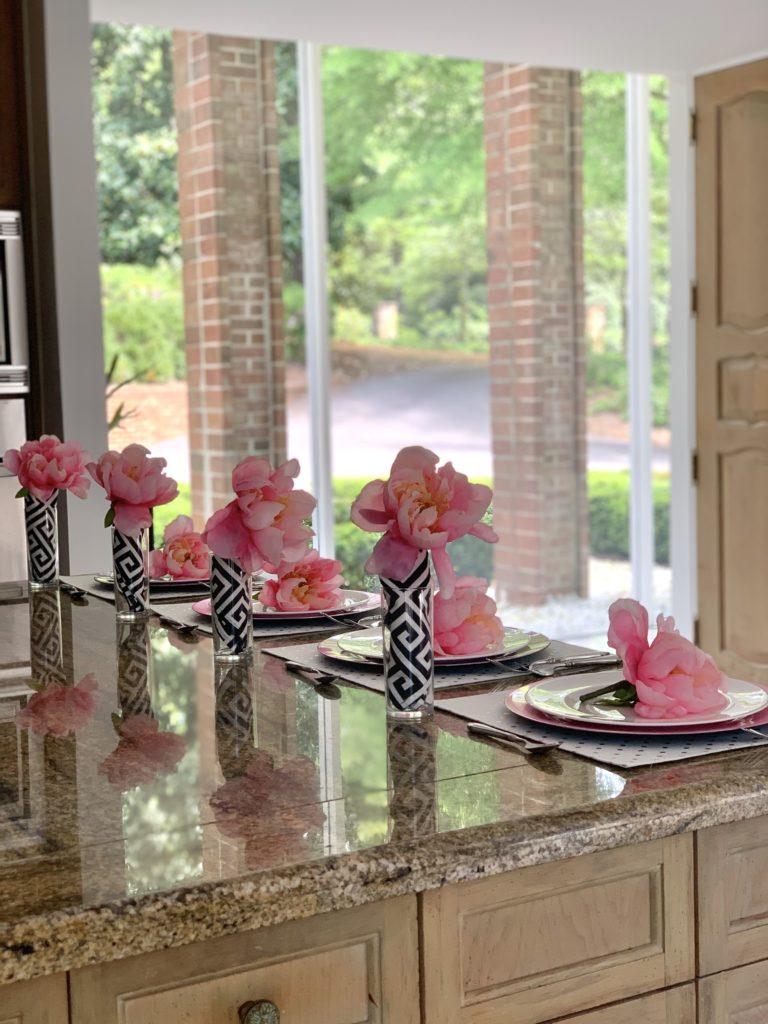 The Kitchen Table
Our Kitchen Table is decorated with softer, lighter pinks along with more metallic gold and white.
Click HERE for Gold Flatware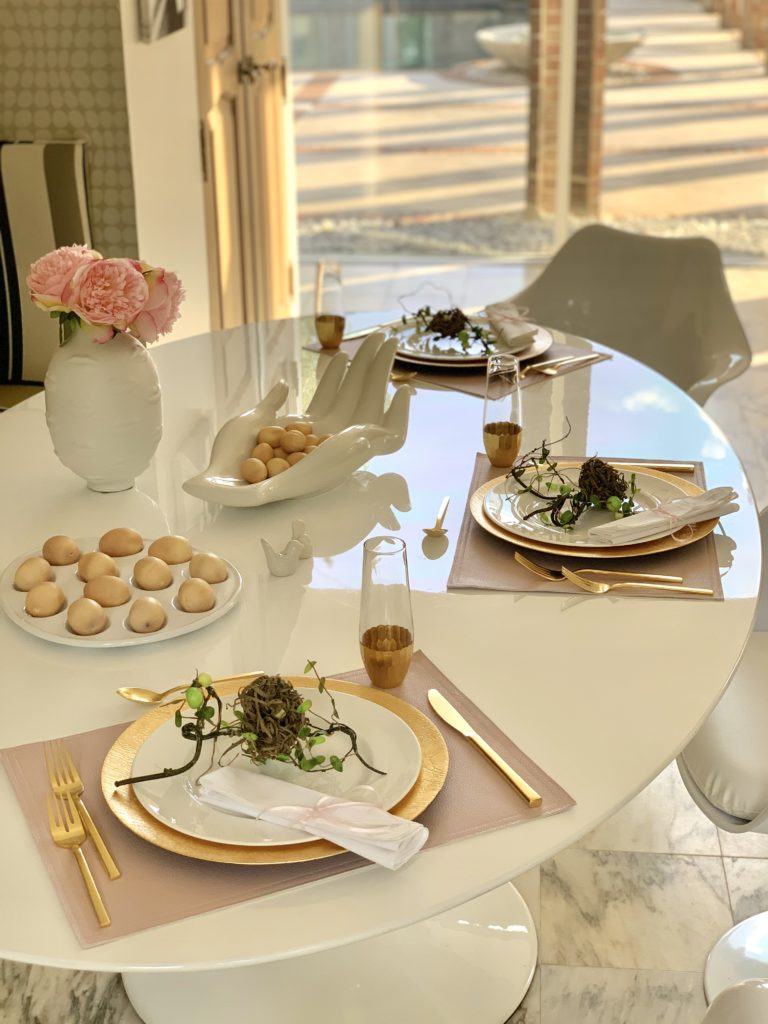 Pink Faux Leather Placemats are underneath the setting and you can find them HERE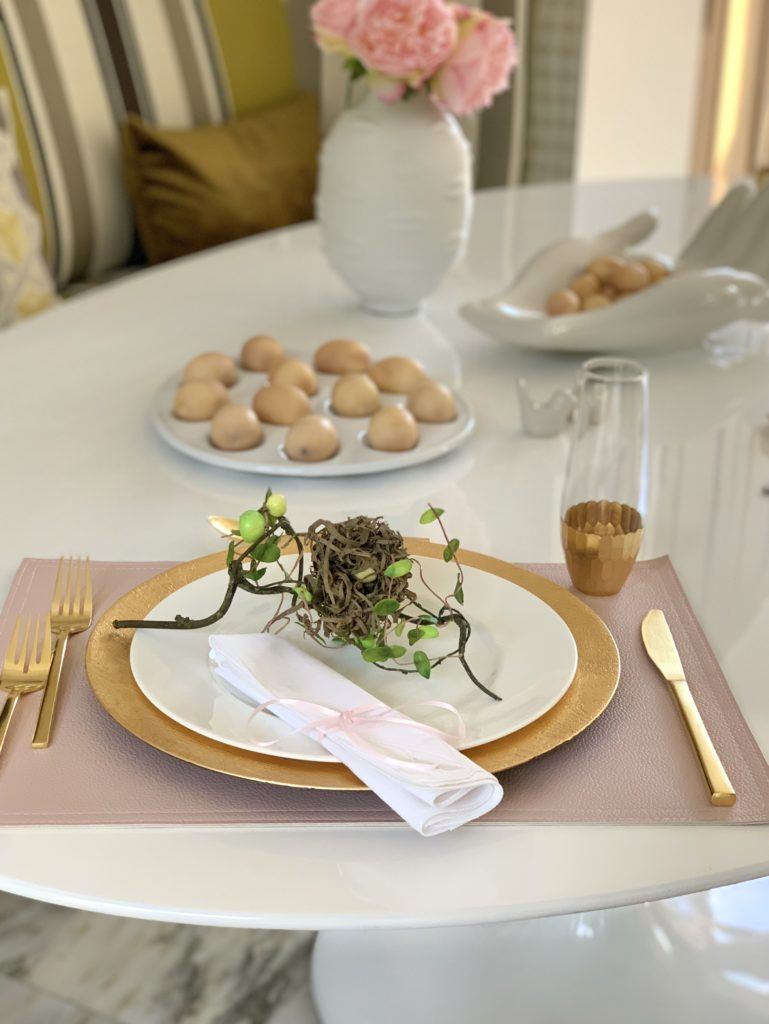 On top of the placemat sits a gold wooden textured metallic charger and the Wedgwood White dinner plate again. I added a vine and nest with egg decoration on top of the plate. The linen napkin is folded and tied with a small pink ribbon bow.
Click HERE for the Wooden Textured Gold Charger
Click HERE for bird salt & pepper shakers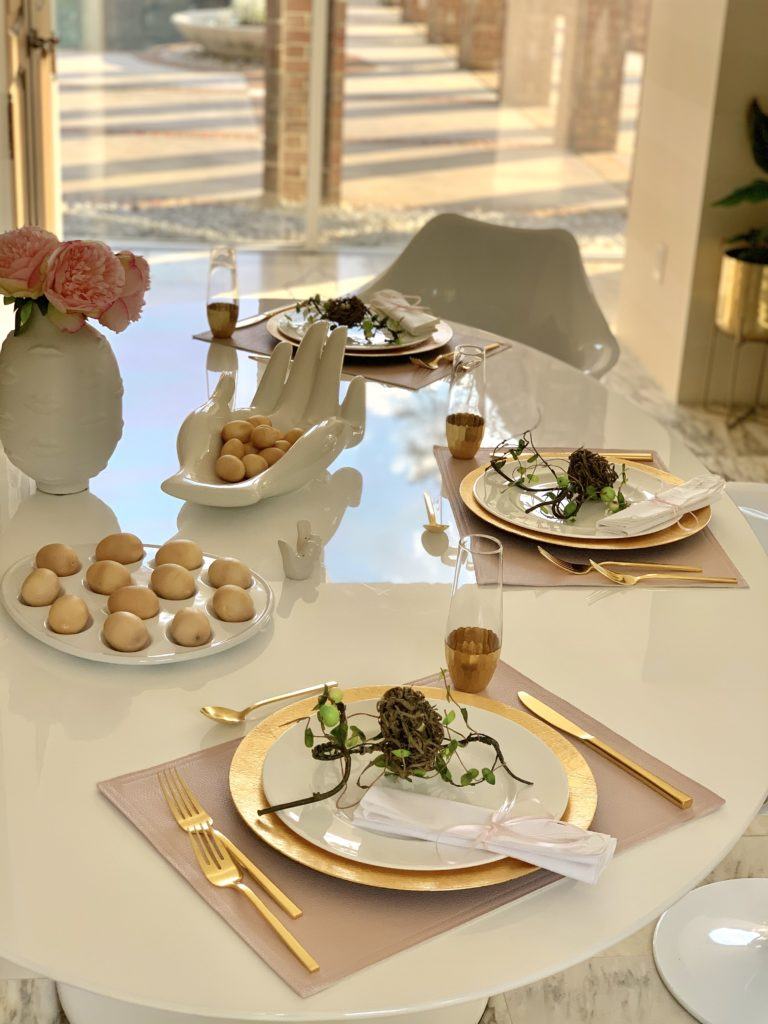 A simple centerpiece of a vase with faux pink peonies and then faux eggs in a porcelain hand from Jonathan Adler and a deviled egg platter.
Click HERE for a dozen faux eggs
Click HERE for faux pink peonies
Click HERE for the Jonathan Adler hand bowl