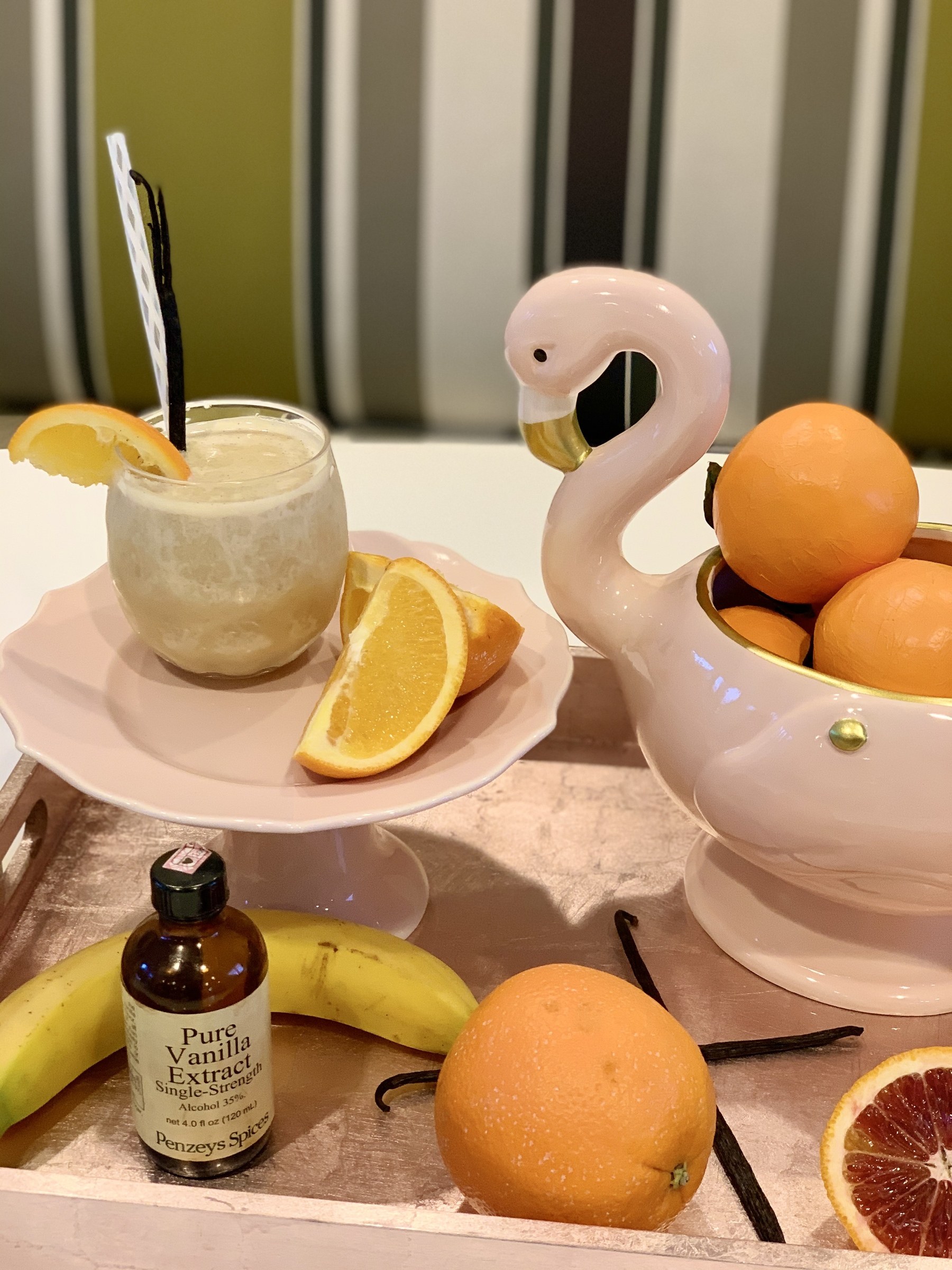 13 Jan

Dreamsicle Creamsicle Smoothie
Dreamsicle Creamsicle
I had a craving this week for a Vanilla Smoothie after my heated yoga class and wanted to try a new recipe for one that included a boost of Vitamin C! I wanted this smoothie to be heavy on a yummy vanilla flavor but also be packed full of healthy ingredients to help boost my immunity for this time of year!
Xoxoxo
D
Immunity Boosting Smoothie
Smoothies are easy to make and don't have to be from a complicated recipe.  They can be super simple with a few ingredients and still be really nutritious and help boost your immunity! Smoothies can include exactly what you want and crave. There are endless combinations of smoothie ideas…adding or subtracting from recipes to make them your own. Protein-packed smoothies are a great way to start your day for breakfast, perfect for after a workout and even for a quick pick me up between meals.
This healthy smoothie is packed full of vitamins and antioxidants that inlcude:
Vitamin C
Fiber
Potassium
Did you know Vitamin C helps protect your body against immune system deficiencies? It also helps fight free radicals and promotes new cell growth.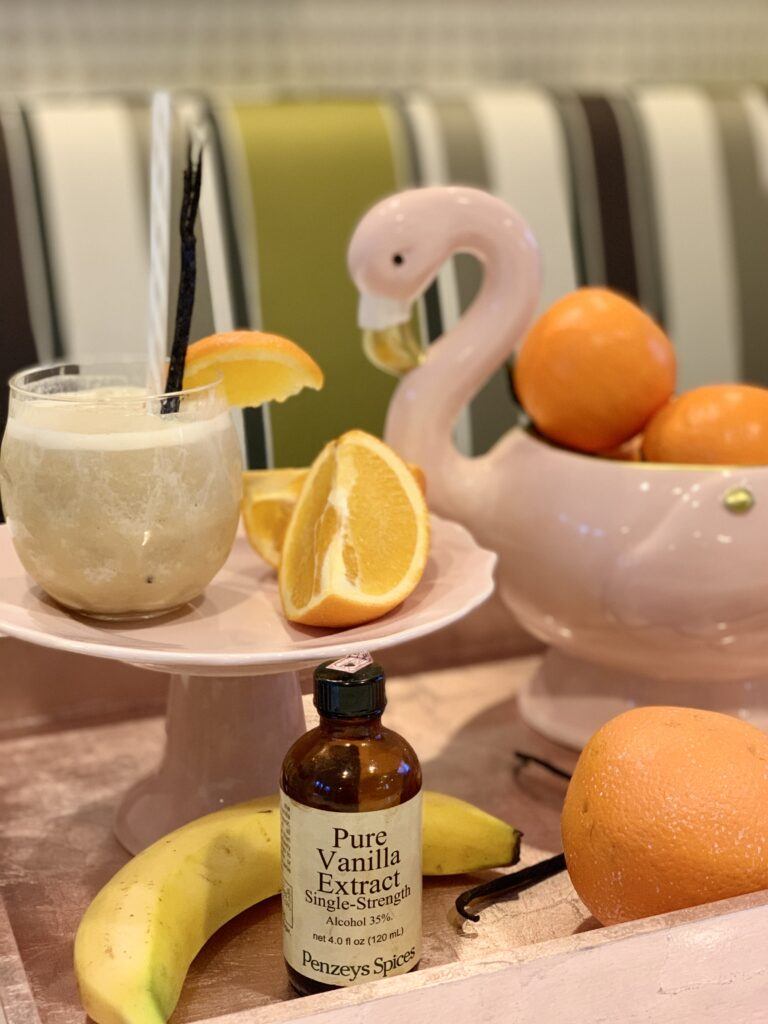 Protein Packed Smoothies have numerous benefits:
Can help curb your appetite, hunger and cravings
May help increase metabolism
May help build muscle
May help manage your weight, lose weight and shed fat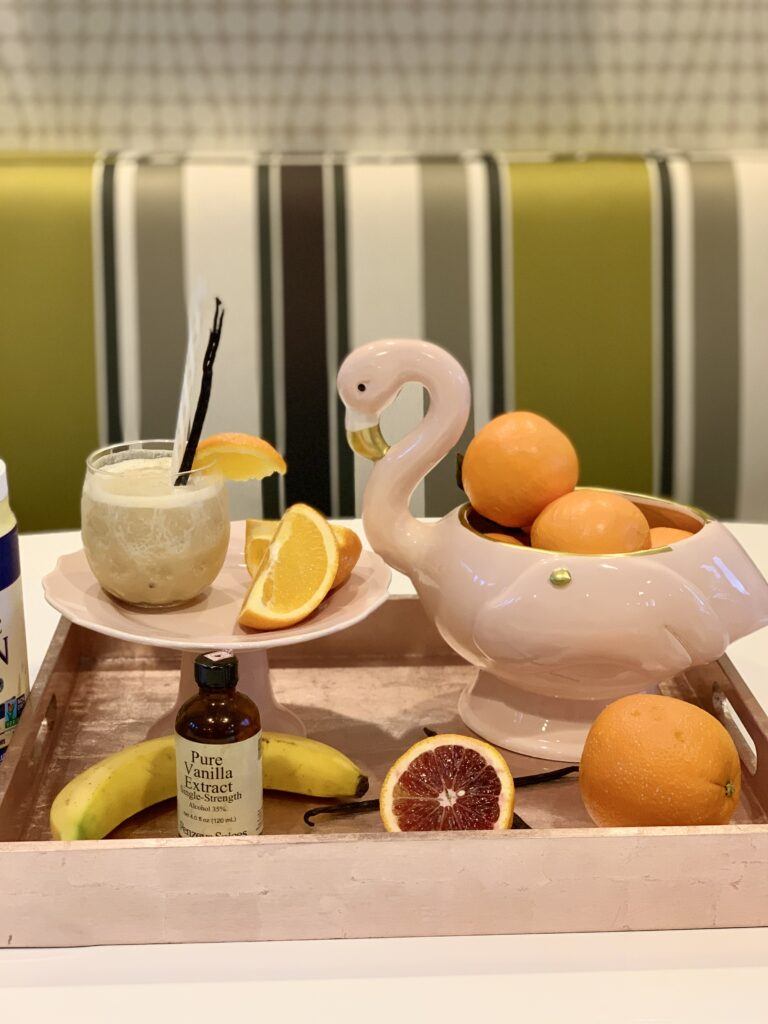 Smoothies are easy and quick!
If you're in a hurry, all you need is about 5 to 10 minutes to put together a delicious and healthy protein-packed smoothie!
TIP – Frozen Bananas
I like to keep a container of frozen bananas in the freezer for quick smoothies.  I hate throwing out over-ripe bananas and this gives them another purpose for later. They are super easy to prepare. Just peel the bananas, cut them into slices or sections, put them into a freezer-safe container and freeze!
Frozen bananas help to thicken your smoothie and add more texture to it. Adding more ice to your smoothie can water it down or make it slushy.

Vitamix Blender
My Vitamix Blender has been a useful tool in the kitchen. I just bought it a little over a year ago and am so happy I did. I am looking forward to using it more for smoothies, but also for soups and other recipes I have found on their website.
Click HERE to check out the different options of Vitamix blenders.  My Vitamix blender pictured above is the Ascent A3500.
This LINK will take you to the Vitamix Loyalty Rewards Program to become a Rewards Member.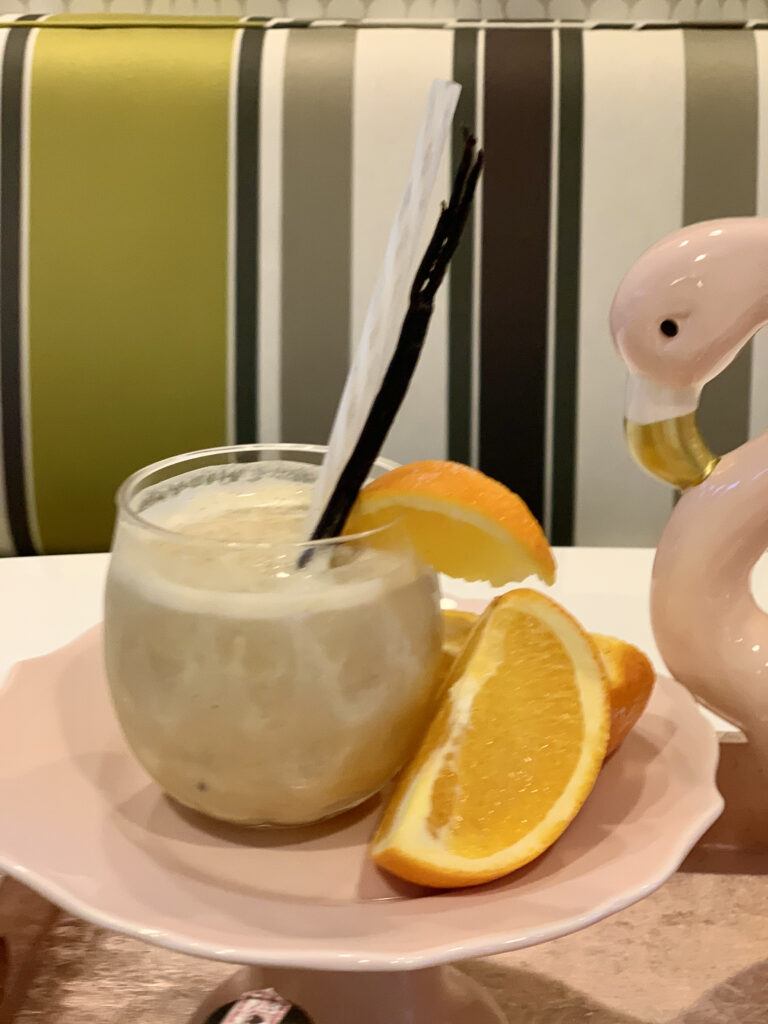 ?????????????????????????????????????????????
Dreamsicle Creamsicle Smoothie
Dreamy Vanilla Smoothie with an addition of fresh oranges.
The orange in this smoothie is subtle…just a hint along with the yummy vanilla! The taste of orange can be amped up though and then the vanilla can be taken down a level if you prefer! It really all depends on what your preference.
In this smoothie, the banana serves as a creamy bind and the taste of the vanilla with the subtle orange flavor outweighs the banana flavor.
I like to add Nutritional Yeast to my smoothies because it also acts as a thickener. If you've never tried it, nutritional yeast comes in the form of flakes, granules or powder and has a cheesy, nutty flavory. It can usually be found in the spice section or bulk section of grocery stores.  Nutritional yeast is versatile to use with many different foods. It's low in calories and sodium and is also fat-free, sugar-free, gluten-free and vegan. I like to add it to smoothies or on top of veggies, salads or popcorn. 1 Tbsp contains 2 grams of protein and also contains many B vitamins, other trace minerals and antioxidants including glutathione.
Dreamsicle Creamsicle Smoothie – 2 servings
1 orange, peeled, seeded & quartered
1 frozen or fresh banana
2 cups organic unsweetened vanilla almond milk
2 scoops organic vanilla plant-based protein powder
2 Tbsp nutritional yeast
2 Tbsp orange juice
2 tsp pure vanilla extract
1 Tbsp honey
2 tsp cinnamon powder
1 tsp turmeric
sprinkle of black pepper
1 cup ice
Feel free to swap ingredients to whatever you have on hand or delete ingredients!
Other milks can be used instead of almond milk: oat milk, coconut milk, regular milk, etc.
If you want to add even more orange flavor to this smoothie, add 1 cup of orange juice instead of 2 Tbsp and add the zest of one orange.
To take this Vanilla smoothie to the next Vanilla level, split a vanilla bean down the center and scrape the vanilla seeds into the blender along with the ingredients. WOW! The vanilla beans will make this smoothie look so gourmet and taste divine!
Vitamin C helps increase the absorption of Iron. So, if you want to toss in a handful of Kale, Spinach or another Iron-Rich Green to your smoothie, this will enrich your body with Iron and make this smoothie even more nutritious!
Place all ingredients in to the blender and blend until smooth.
I love using my Vitamix to blend smoothies because it is powerful enough to blend the frozen bananas and break down fruits and veggies.
If you want your smoothie to be thicker, add more ice. Less ice will make the smoothie more liquid.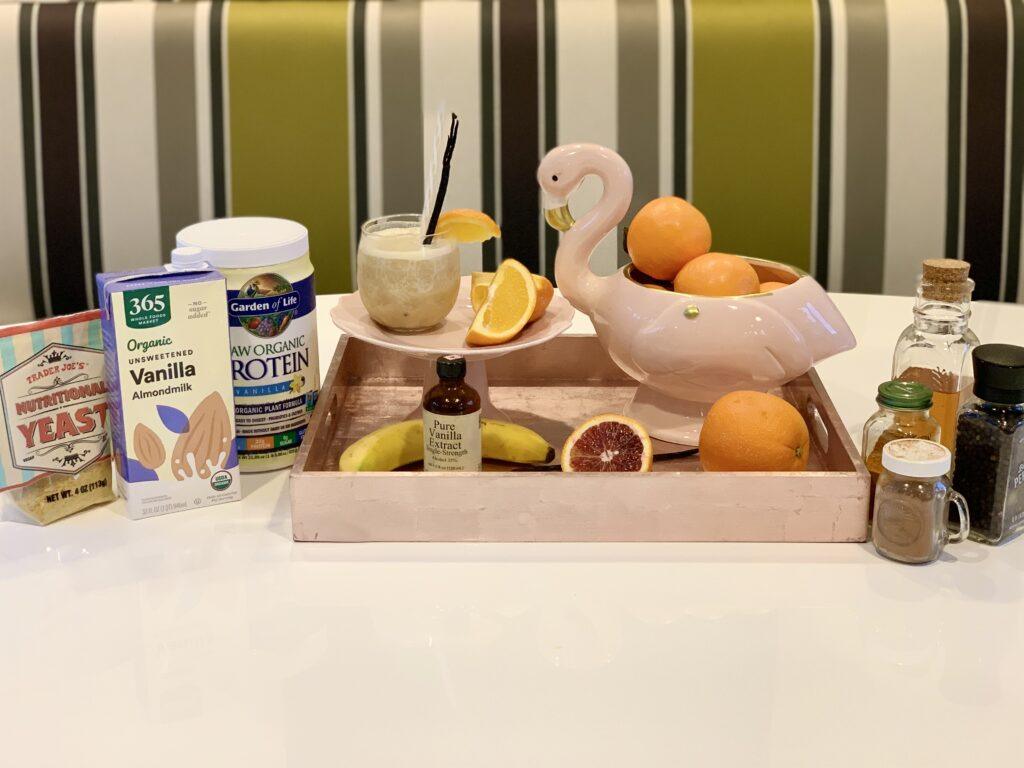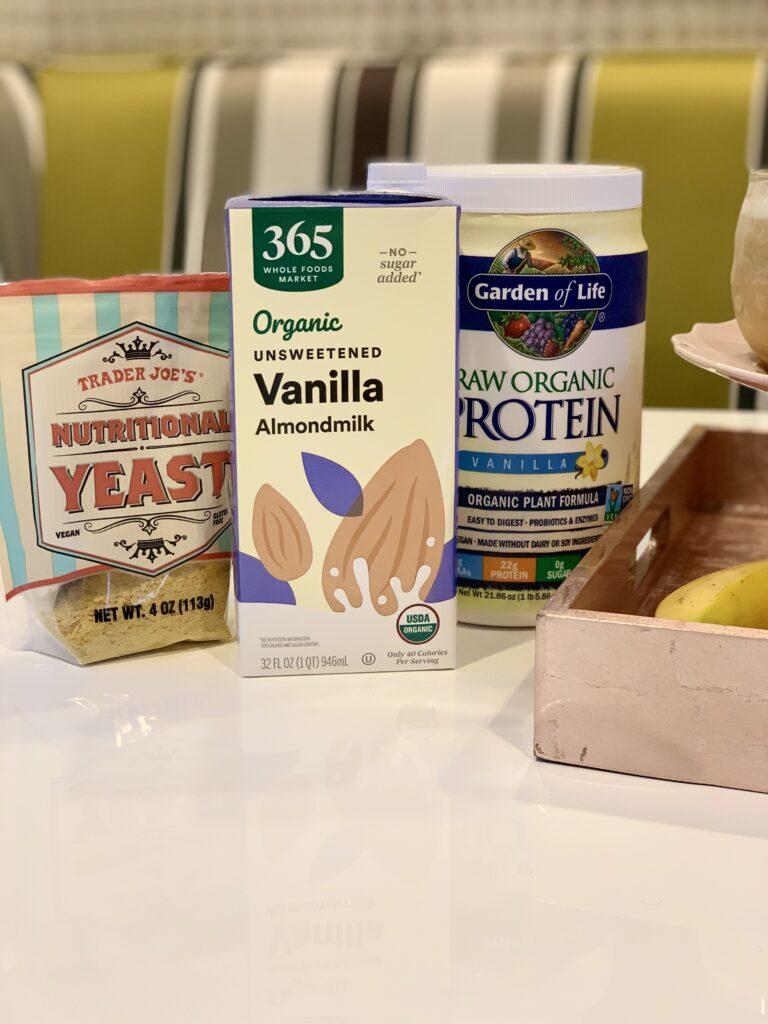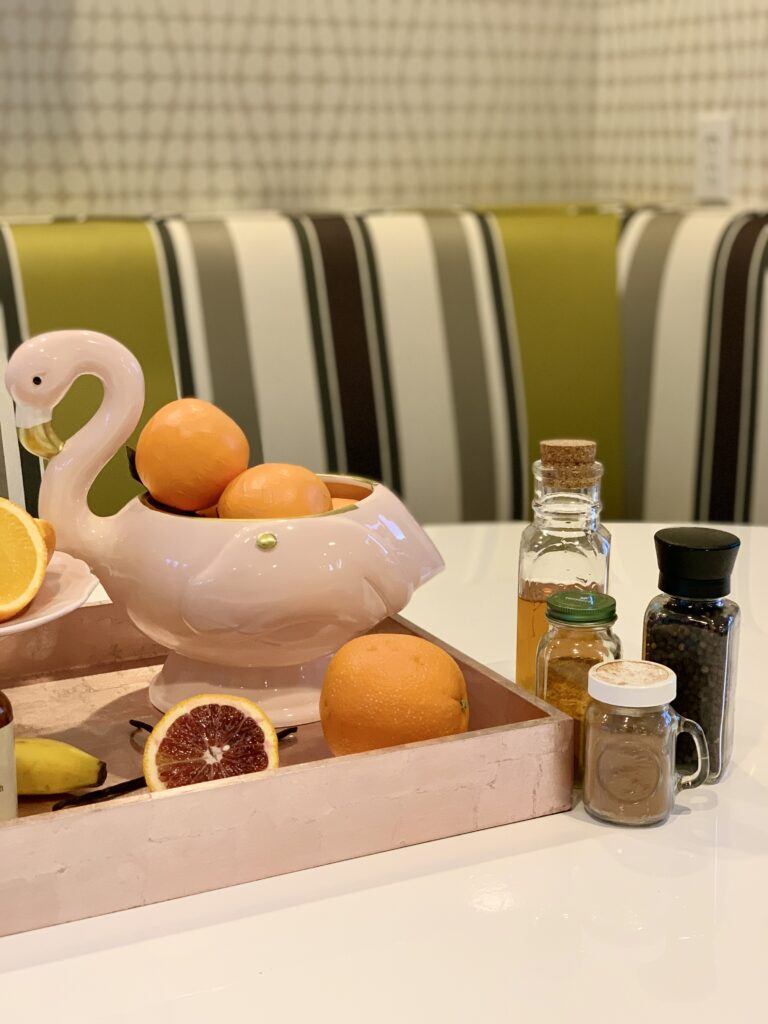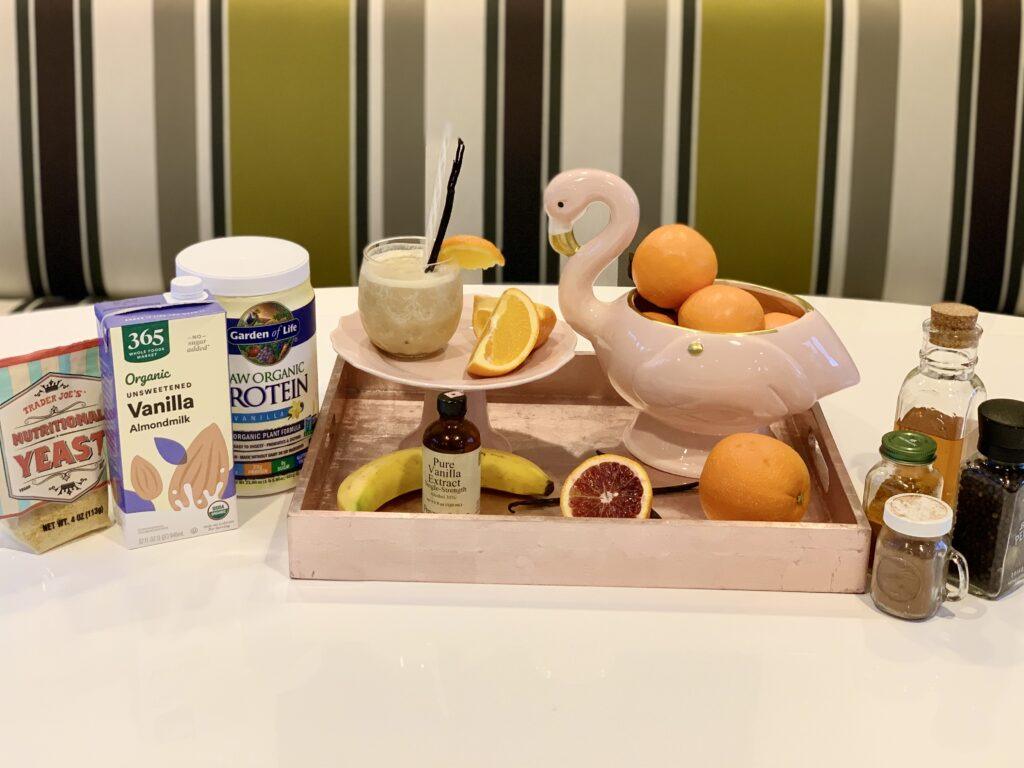 Dreamsicle Creamsicle Protein Smoothie