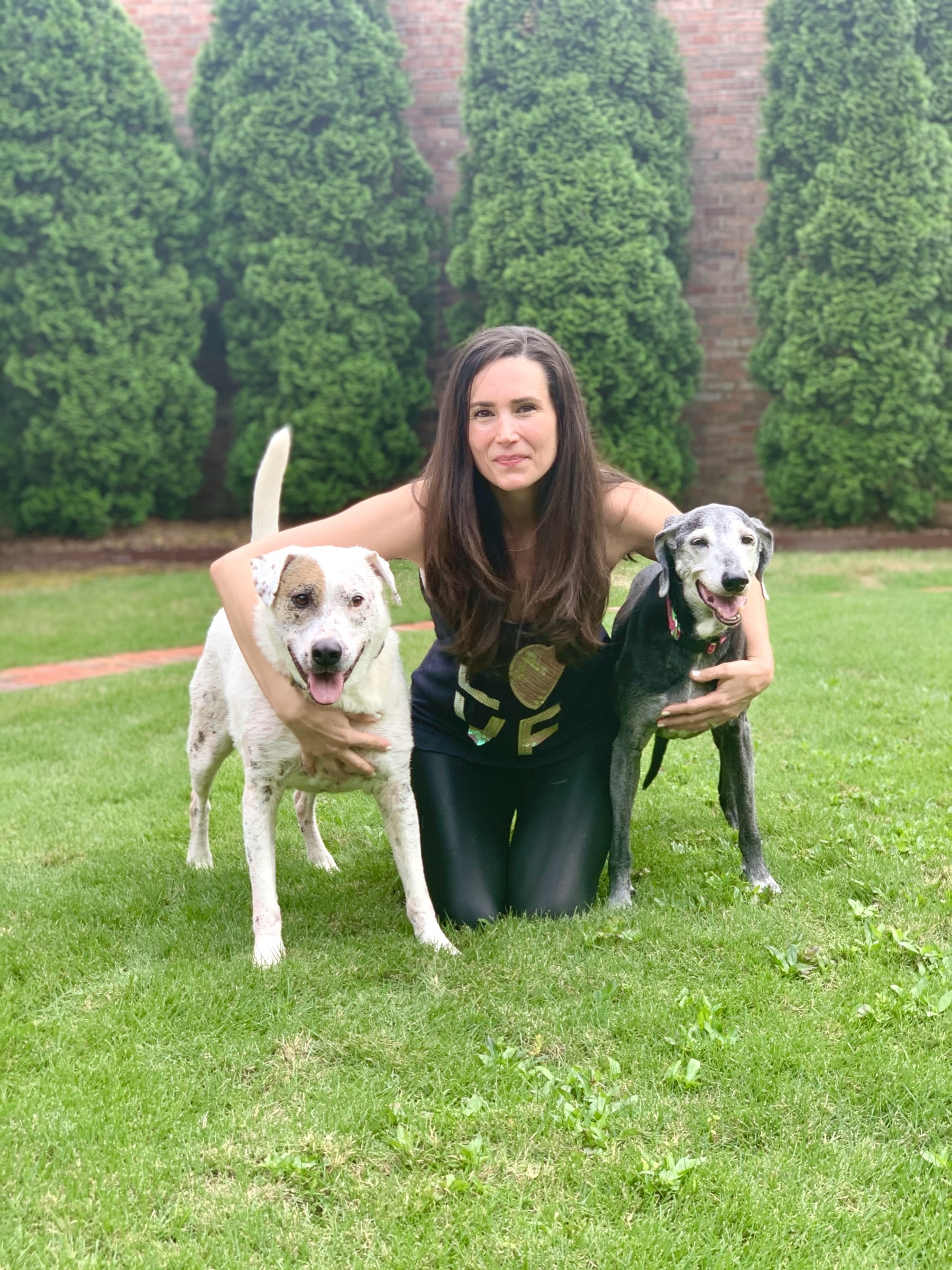 19 May

The Best Things in Life are Rescued
Get Your Pups Ready for National Rescue Dog Day
National Dog Rescue Day is Wednesday, May 20th, and Bart and I have been blessed with the sweetest rescue dogs that all have special rescue stories. We've had Sweet Pea for almost 15 years now and she was found along with her other sibling pups in a cardboard box along with the mommy dog sitting beside the box on the side of the road. Our youngest dog, Trooper, is also a rescue that I found on the side of the road in a terribly sad condition, starved with no hair, and we've had him in our family almost 6 years now. We had a third dog, Willie, that was also a rescue from Hurricane Katrina and was almost 15 years old when we lost him a little over a year ago from an enlarged heart.
They're all very special and each rescue story is unique. They each hold a very special place in our hearts and are part of our family. There are so many dogs, cats and other pets still waiting to be adopted into a forever, loving family. I hope that this may reach someone who is looking for that special pet and will consider adopting from a shelter, humane society or rescue organization.
Xoxoxo
D
The picture below was taken of all three of my dogs Christmas of 2018 before Willie passed away at the end of January in 2019. I am so thankful to have this picture of all three of them together with me. (Picture taken by Mary Margaret Smith Photography)

There are many pets in need of a Forever Home.
Here are 5 Ways to Search for a Pet to Rescue
Visit your local Animal Shelter or Humane Society to see pets that are available
Look on local Animal Shelter or Humane Society websites and view pictures of pets that are available to adopt
Locate a Breed Specific Rescue Organization online, view the animals they have up for adoption and submit an application to adopt
Find Rescue groups on Social Media and follow them to see pets that are available to adopt
Click on Pet Finder to begin a search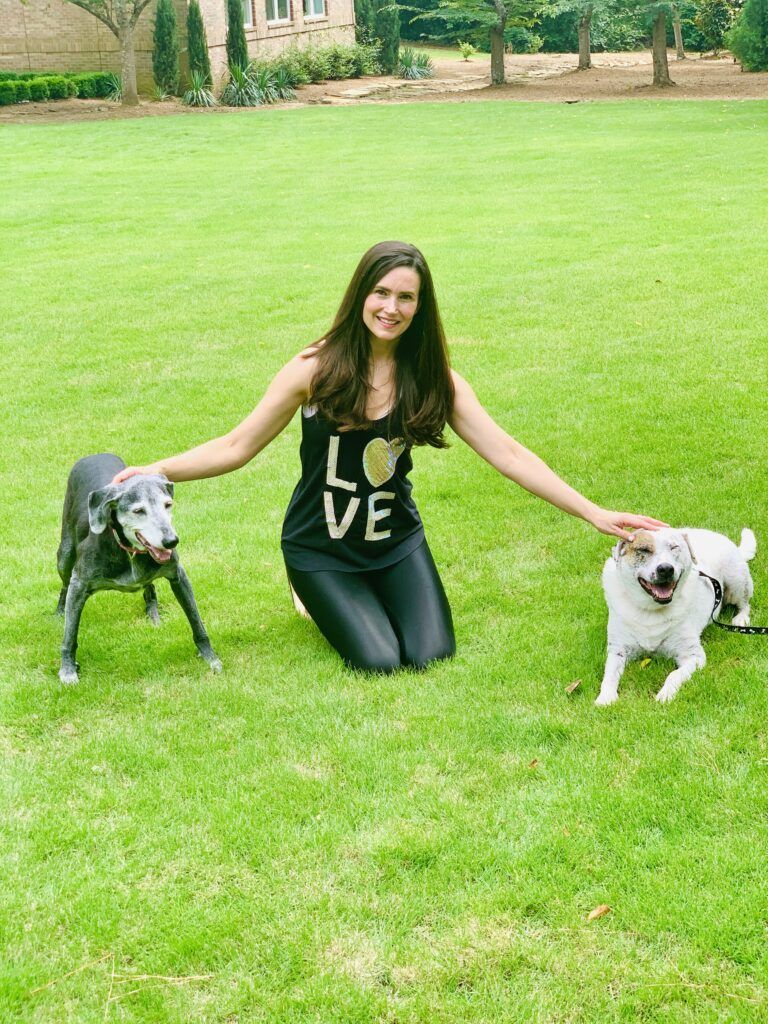 Animals are not only a provide a connection (and unconditional love) between person to animal, they bring connection from person to person. A pet can help bring a strong connection in your home between your family members, your neighbors, your friends, your community. Pets are so impactful!
There is scientific evidence that pets are good for your health, both mentally and physically!
According to the CDC, Interacting with animals has been shown to decrease levels of cortisol (a stress-related hormone) and lower blood pressure because they give us companionship. Other studies have found that animals can reduce loneliness, increase feelings of social support, and boost your mood.
Interacting with animals has been shown to decrease levels of cortisol (a stress-related hormone) and lower blood pressure. Animals can reduce loneliness, increase feelings of social support, and boost your mood.

4 Ways to Help Support Your Local Animal Shelter
Not everyone is able to have a pet. There are many reasons that someone may not be able to care for one: the financial expenses, the home or apartment may not allow a pet, or it maybe that there is not enough time to give to a pet due to a job or travel.  But, here are 4 other ways to help your local animal shelter, humane society or rescue organization:
DONATE TIME – Volunteering your time can help the dogs, cats and other animals and also the people that work at these organizations: walking the dogs, grooming the cats, helping to organize donations, cleaning, etc.
DONATE YOUR SKILLS – If you have certain skills that are needed at a shelter, this could be a way to help animals get adopted faster or help the facility with another skill that may be a financial burden for them. Ex – If you are a skilled photographer, taking professional photographs of adoptable animals could help them get adopted faster with higher quality photographs and help get their pictures onto their website or social media outlets faster.
DONATE TO THE SHELTER WISH LIST – Many animal shelters need cleaning products, paper products, towels, blankets, pet food, grooming supplies, shampoo, used dog toys, dog beds and so many other items. Looking on their website and finding their "wish list" could help them continue with their daily tasks to care for these animals.
DONATE A PLACE IN YOUR HOME – Fostering can be a very rewarding thing for both the pet and you. It can give this pet the feeling of safety and love, both of which they may not have felt before. This gives the pet a chance to relax in a home environment instead of being in a shelter environment that can be overwhelming and stressful until they're adopted. Donating a place in your home and becoming a foster will help lift their spirits as well as your own.

To highlight animal shelters and rescue groups I have supported and/or been involved with, I am linking their websites here:
Greater Birmingham Humane Society
HASRA, Heart of Alabama: Save, Rescue, Adopt
Weimaraner Rescue of the South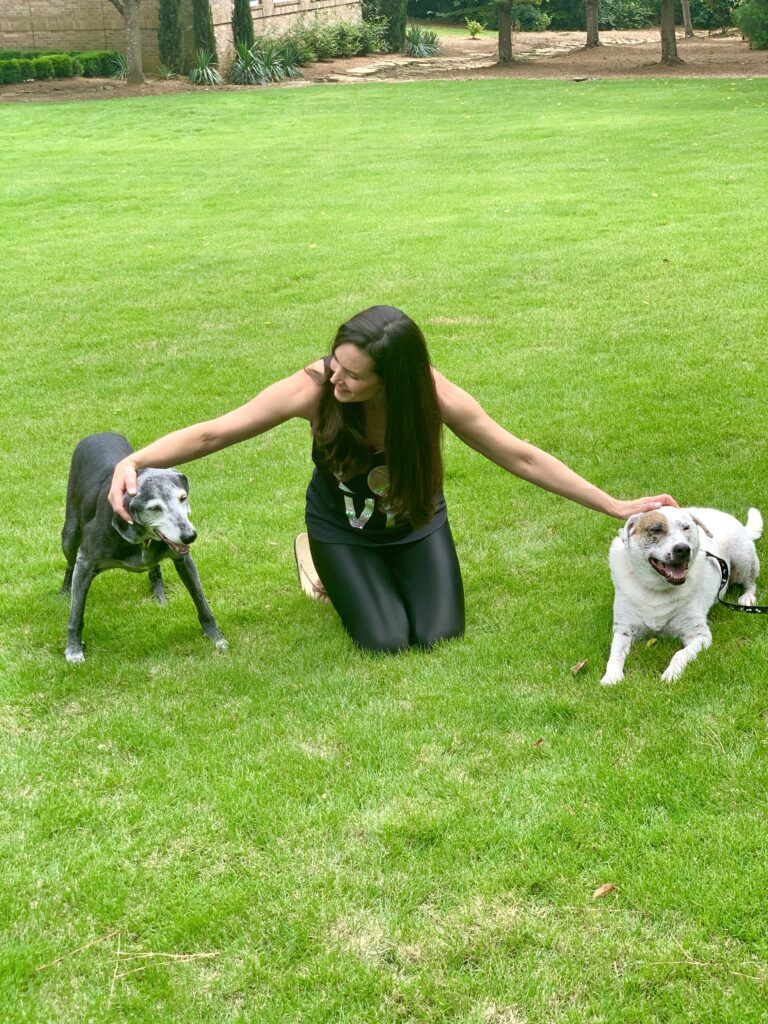 Add a Stylish Collar to Your Pet for National Rescue Dog Day
A stylish collar for your pet can be a lot of fun to choose. It maybe their personality that directs you to a certain color or print or it could be a certain season, holiday or occasion that you want to coordinate their collar with. I think putting a new collar on my pups gives them a little pep in their step because they get a little extra special attention and doting over.
Our pups have worn Jazzy J Designs dog collars for years now. There are always so many adorable ones to choose from.  Sweet Pea and Trooper are wearing the same collars in the pictures below called "The Best Things In Life Are Rescued", but with different colored background webbing. Sweet Pea is wearing the green background color and Trooper is wearing the blue background color. This collar comes in Pink, Red, White, and Purple. Below are two links for the Red and White Collar.
"The Best Things In Life Are Rescued" Dog Collar in Red from Jazzy J Designs
Click HERE
"The Best Things In Life Are Rescued" Dog Collar in White from Jazzy J Designs
Click HERE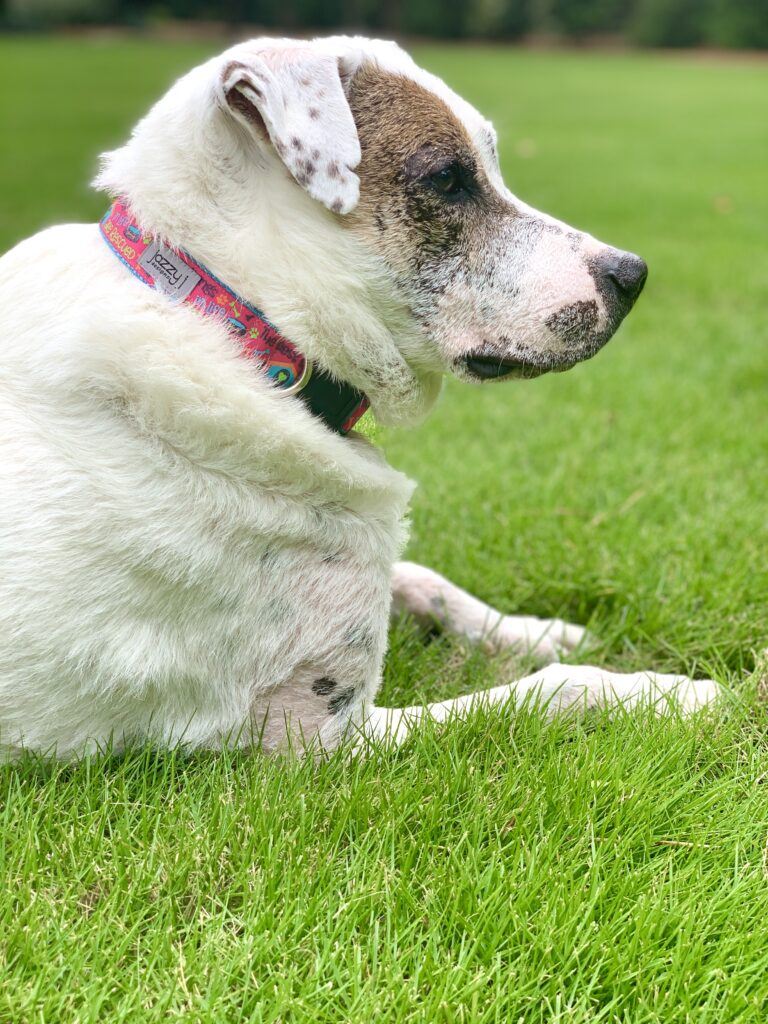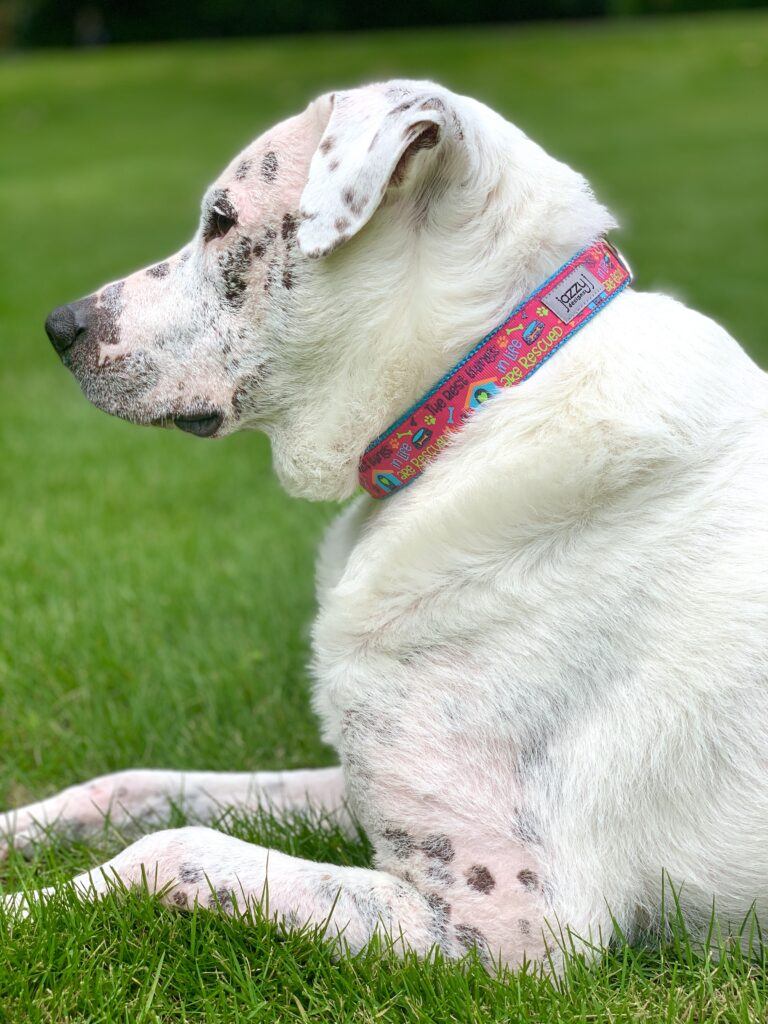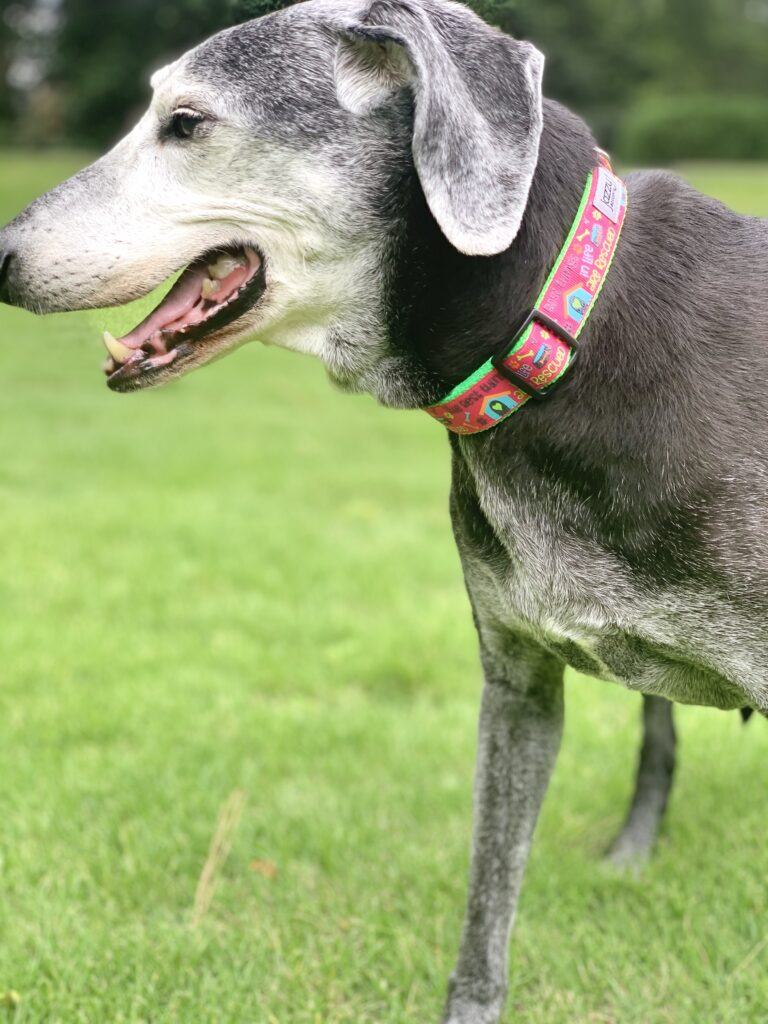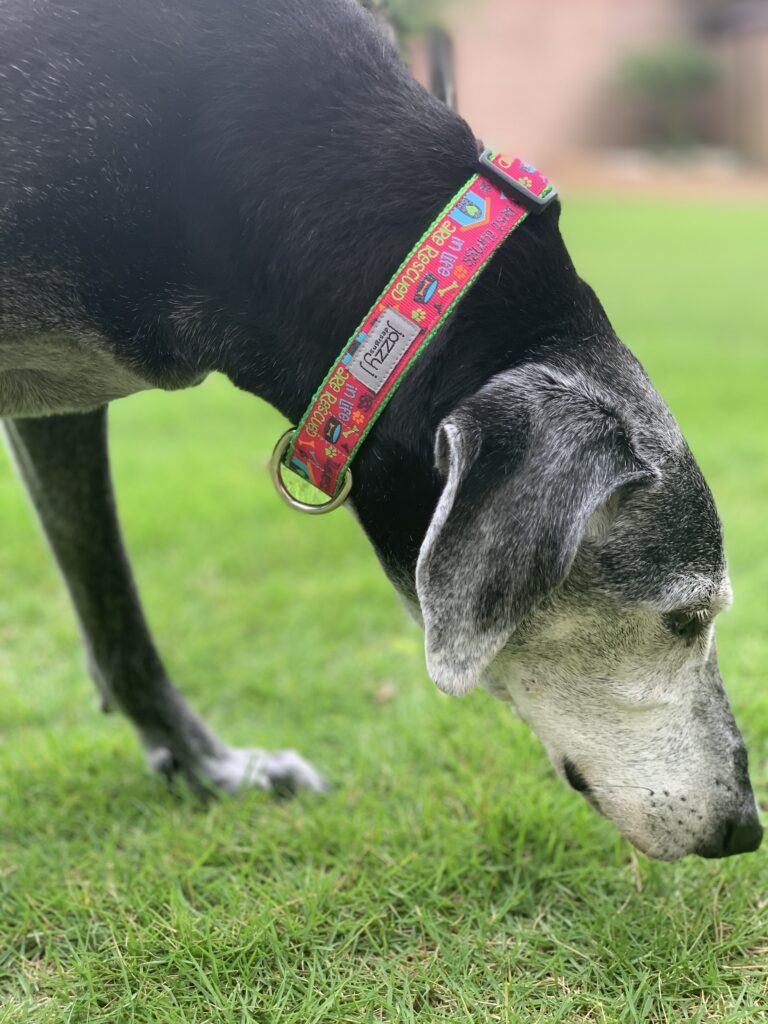 View all of the many stylish, colorful and fun Collars and Accessories available from Jazzy J Designs HERE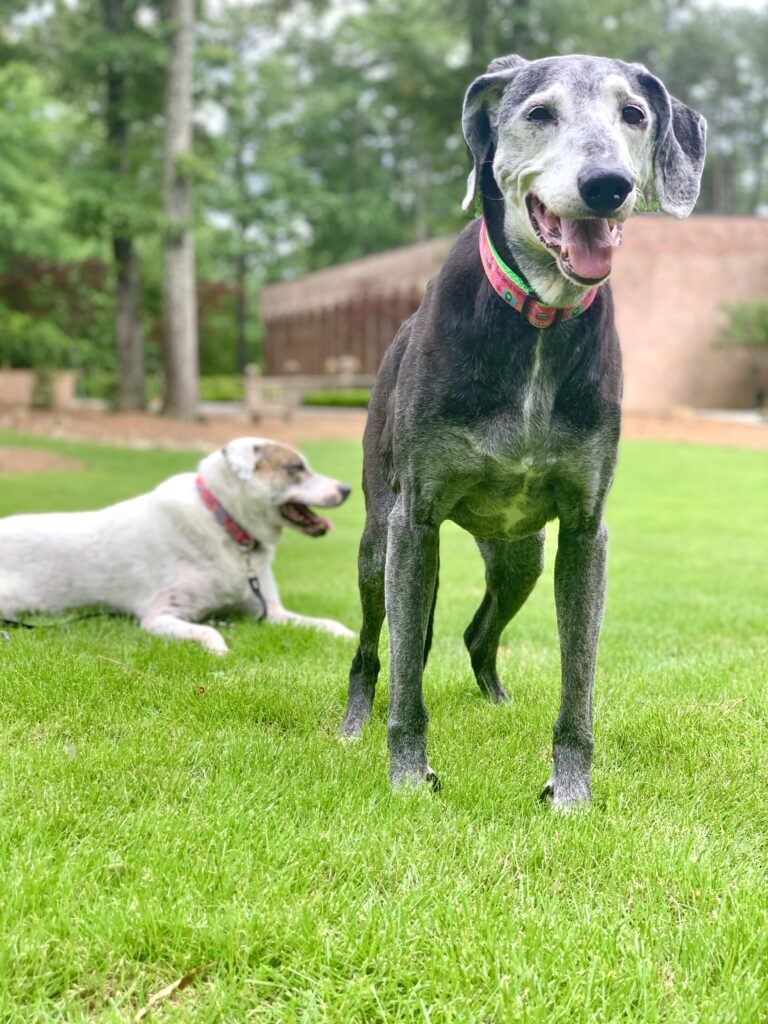 Choosing a Collar for your Dog by  Jazzy J Designs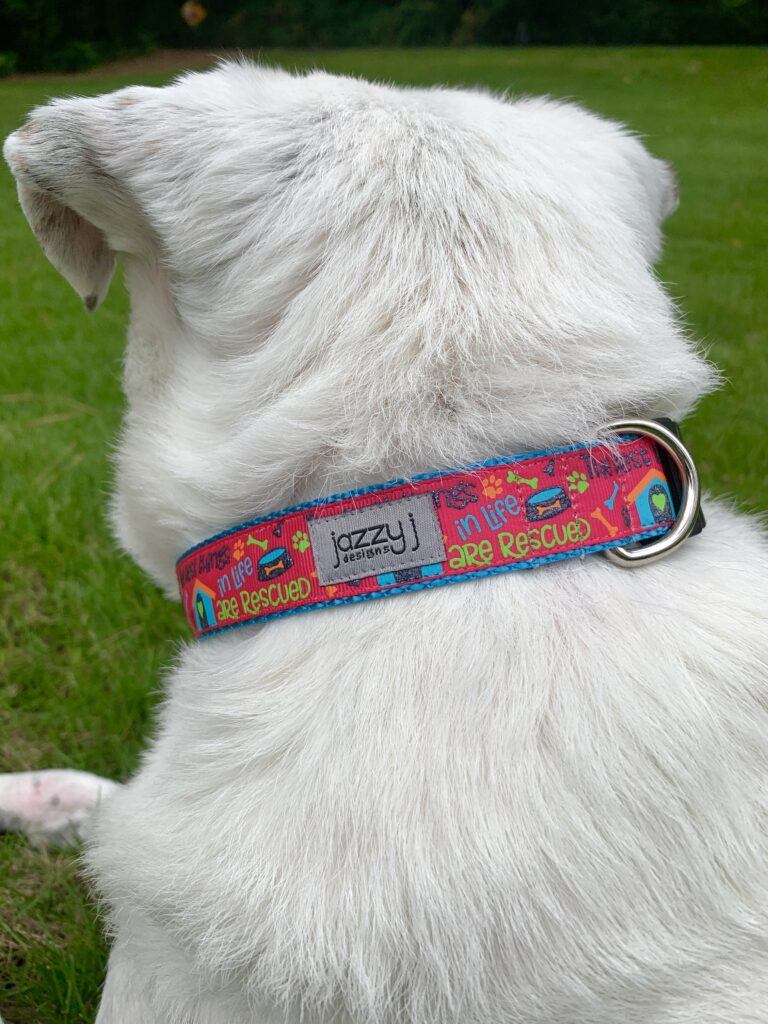 First you will need to size your dog's neck using a flexible measuring tape and then add 2 more inches. When your dog has their new collar on, you should be able to put two fingers between the collar and their neck.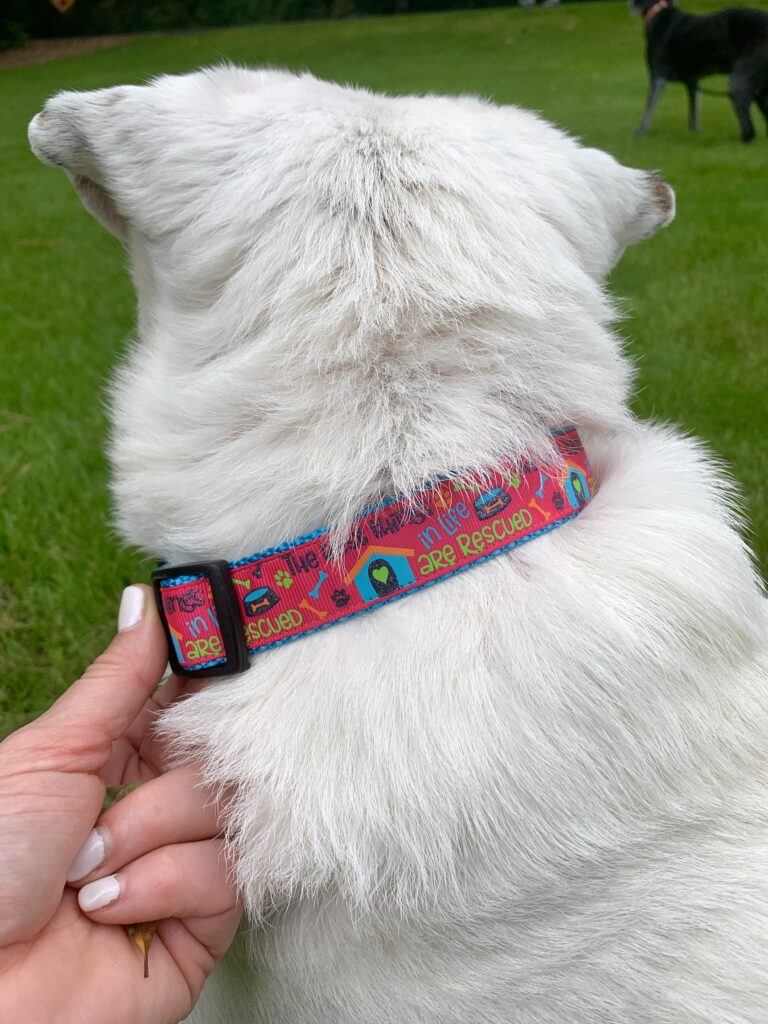 There are a variety of collars to choose from for your pet including many different materials, colors, prints and clasps. Nylon dog collars are a very common type of pet collar and there are usually many colors and grosgrain ribbon patterns to choose from.
Jazzy J Designs has many great features for their dog collars below:
Grosgrain ribbon on a heavy weight nylon webbing, for structure and durability
Infinity stitching at stress points, to ensure the collar's strength and pup's safety
Side release comfort buckles, for owner's convenience and dog's security
Heavy duty welded D-rings, guaranteed to never pull apart
Adjustable triglide sliders, for a perfect custom fit
And they are Machine Washable! Lay collar flat to dry – will last for years!
Getting dogs to pose for pictures is sometimes not the easiest thing to do…..here are a couple of funny outtakes from our photoshoot by their Daddy today.