15 May

Style Your Outdoor Patio

Complete the Look of your Patio with Stylish Outdoor Decor
The Patio Refresh has been done! Cleanup of our patio and courtyard was a challenge but happy it is complete. Adding stylish decor to these areas will bring an extension of your indoors to your living space outdoors.  It makes the patio and outdoor area personalized and cozy to enjoy more.  We've really been enjoying sitting on our patio watching the hummingbirds, working from home with an outdoor office :), and eating our dinner on our covered porch every night.
Xoxoxo
D
11 Ways to Add More Style to Your Patio
Accessories and Decor are an extension of your style! Stylish, glam and fun accessories are a perfect way to refresh your Outdoor Patio!  Personalize your space with decor accessories that fit your personality and can flow from inside your home to your outdoor patio, too!
Add more style to your Outdoor Patio with these 11 Outdoor Accessory Ideas:

1.  Outdoor Rug
 An outdoor rug can immediately command a space with style. It can especially make a larger space feel cozy. Both in small and large patio spaces, a rug also brings the feeling of comfort and ties the space together.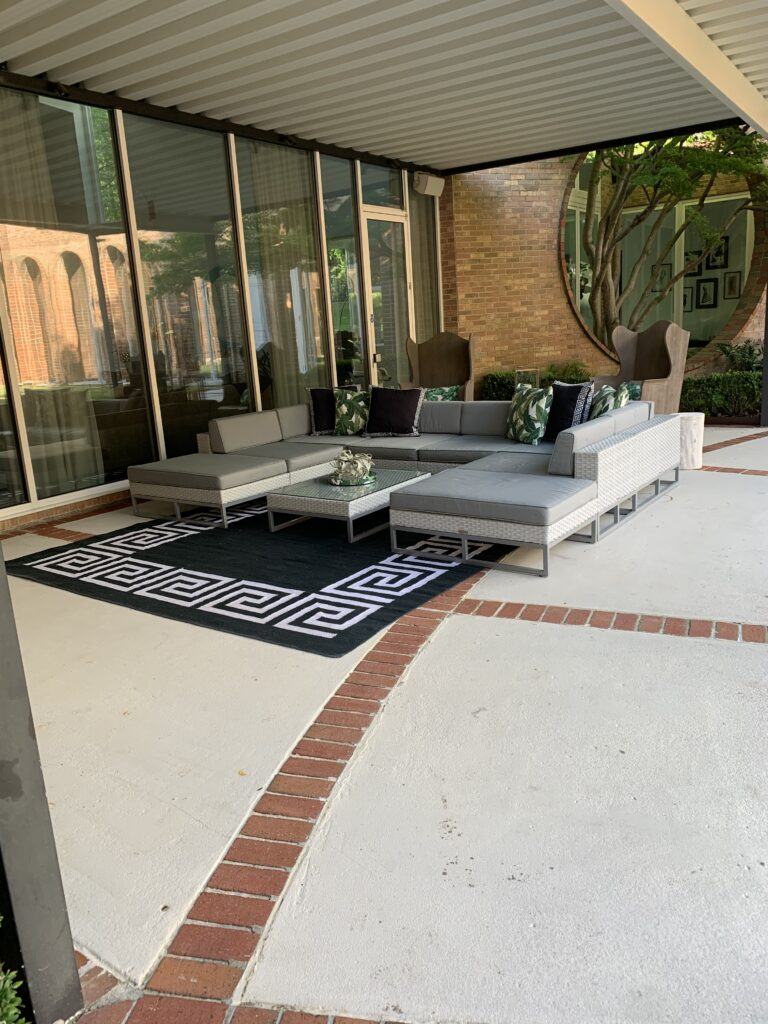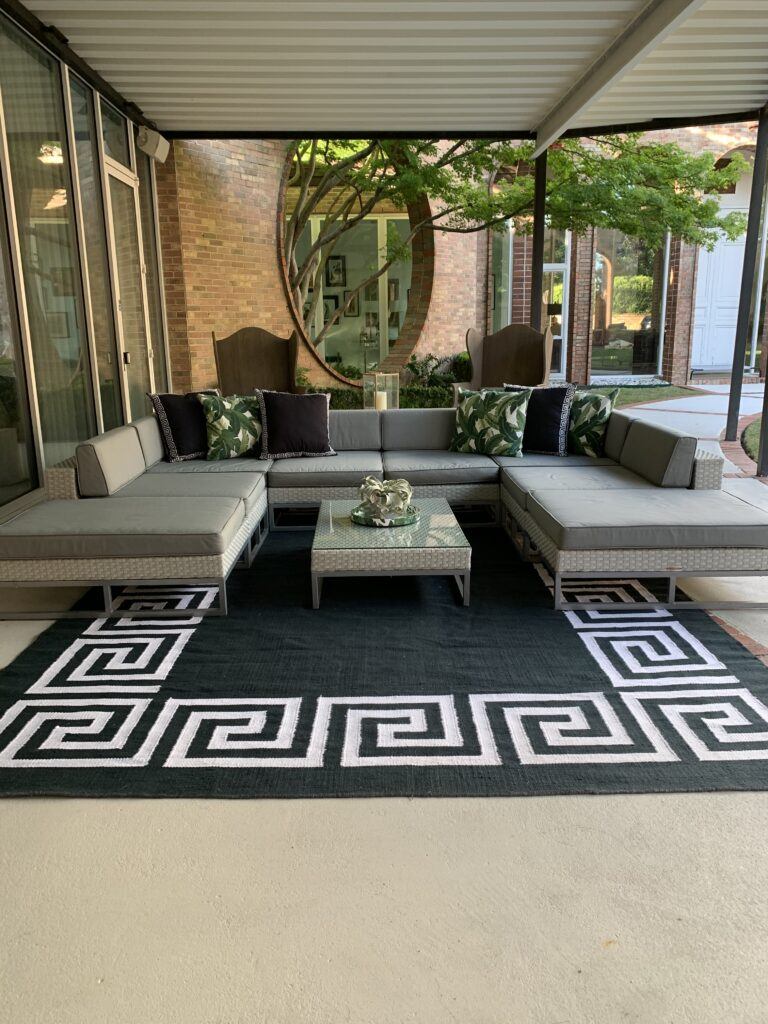 2.  Patio Umbrella
An umbrella can be a way to add a pop of color or decor style to your area as well as serve as a cooler, shaded area on sunny days. You can make this very simple or go all out with a contrasting pop of color over a seating area or table.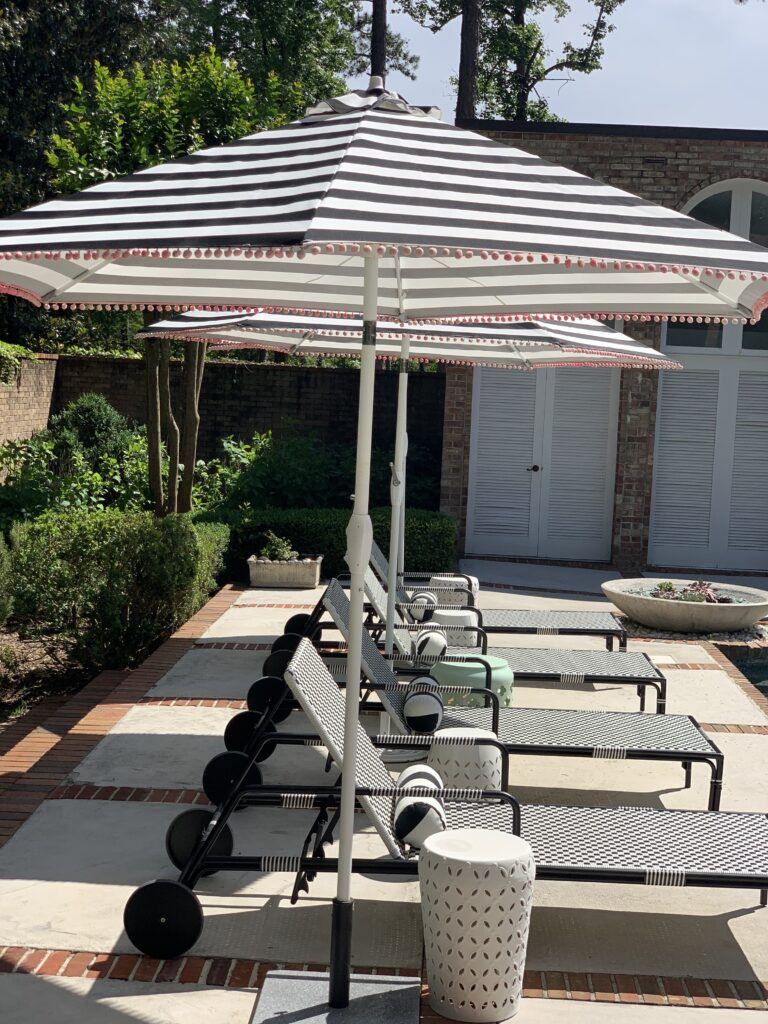 3.  Coffee Tables & Side Tables
Smaller tables help complete the look of chairs, a sofa or lounge seating. They serve as a place to rest something on and also add a bit of stylish decor to the area.

4.  Decor Pillows
Decor Pillows can provide style and comfort for any seating. They're a perfect way to add and change the look of a space with texture, pattern or color. They're also an inexpensive way to update and replace annually, if needed, due to weather or wear and tear.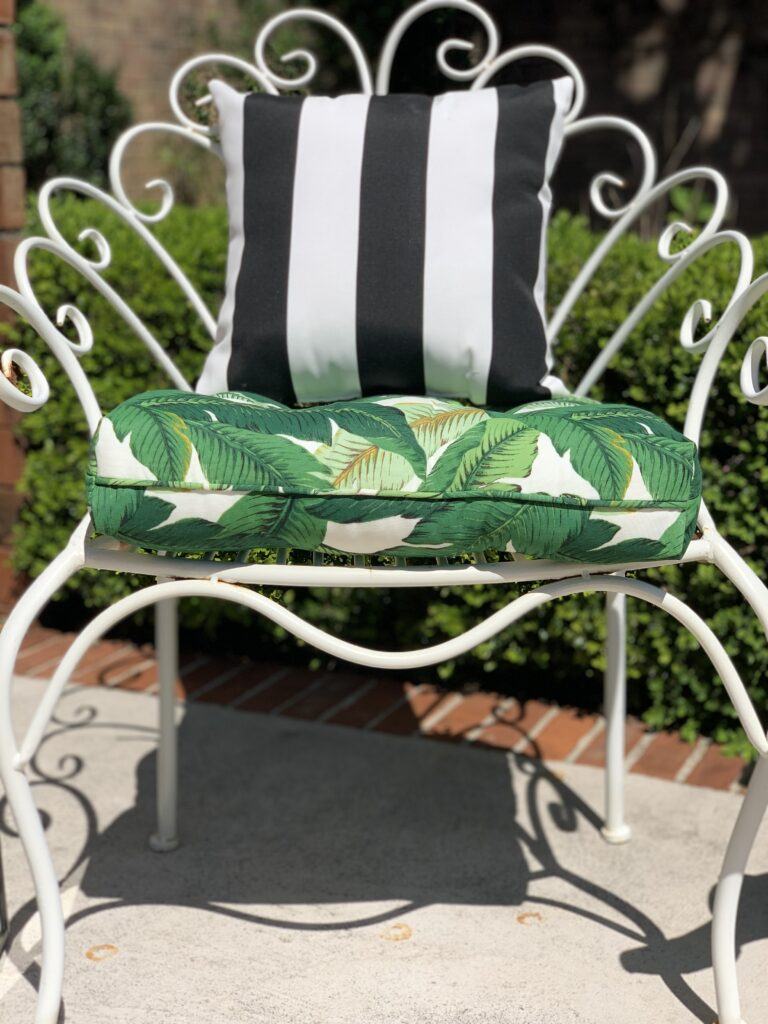 5.  Throws
Not only do throws provide style to a chair, sofa or sectional, they also provide comfort and warmth on those cooler nights. A throw can be another way to incorporate a complementing texture, pattern or color to the space.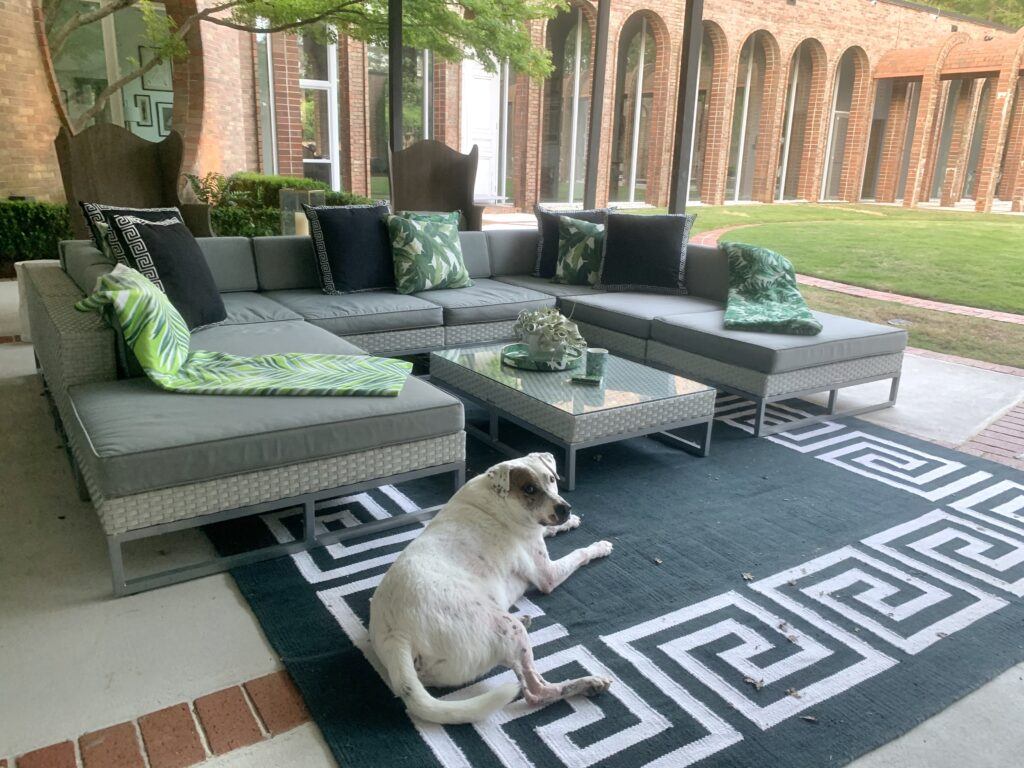 6.  Plants
Using Plants and planters gives a space life and color and serve as decor also. Succulents are a wonderful plant for the summer months. They will last without the reminder of always watering. I planted assorted succulents in our large containers by our pool and in multiple smaller containers and pots on the patio. I also planted a few Banana Trees to coordinate back to the Banana Leaf print pillows and cushions we have. A potted lavender plant is placed on our bistro table to enjoy the fragrance while sitting and enjoying coffee in the morning and watching the hummingbirds going to their feeders. There are a few climbing rose plants nearby in our courtyard on focal walls as well as petunia blooms trailing over the sides planters near our gates.





7.  Lanterns
Lanterns bring a nice touch to patio areas when entertaining or enjoying a meal outside. A candle lit in lanterns will add ambience. Sometimes I have found using a battery operated pillar candle is helpful sometimes to turn on and off when needed. I have many lanterns placed in corners on the patio next to seating areas and also on a coffee table.







8.  Decorative Mirror or Architectural Ironwork
A mirror or architectural piece of ironwork can bring a dramatic touch and interest to a wall on your patio. A mirror also adds reflected light and can visually expand an area especially if you have a smaller patio. For the outdoors, making sure your framed mirror is weatherproof, maybe in an all-weather zinc or galvanized material.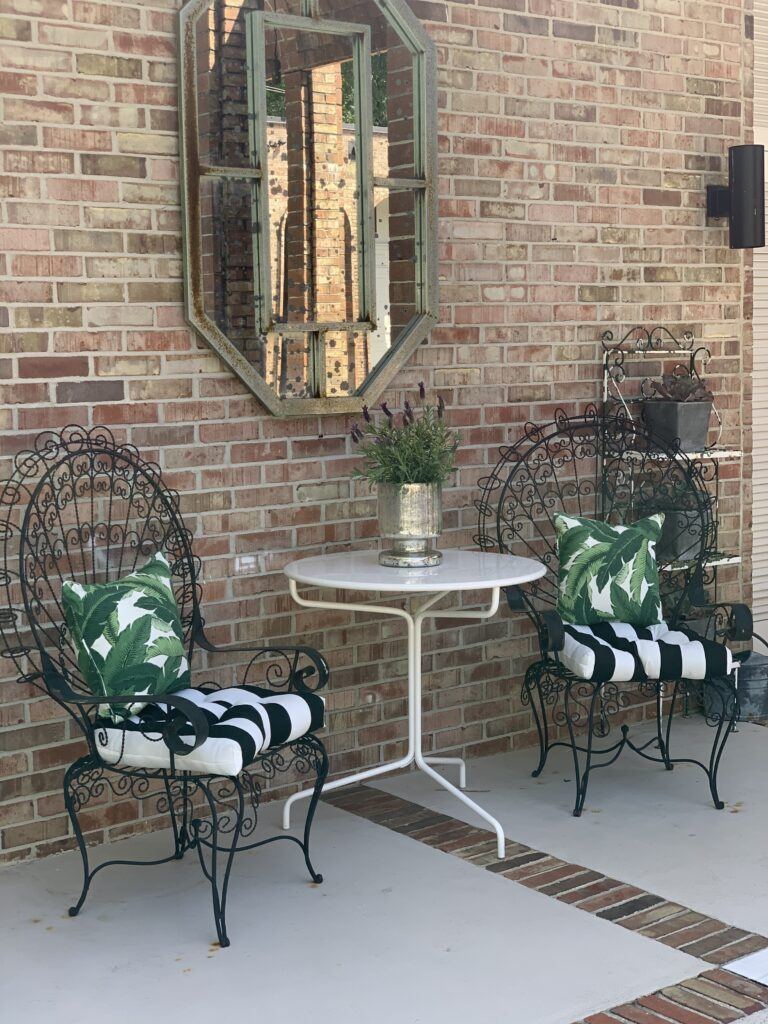 9.  Lamps
I have a rechargeable lamps that I use on tables at night. Instead of turning on all of the outdoor lights on our patio, these lamps make it a bit more cozy. Or if you have a covered patio area, bring a floor or table lamp to add to the area and create that cozy feel.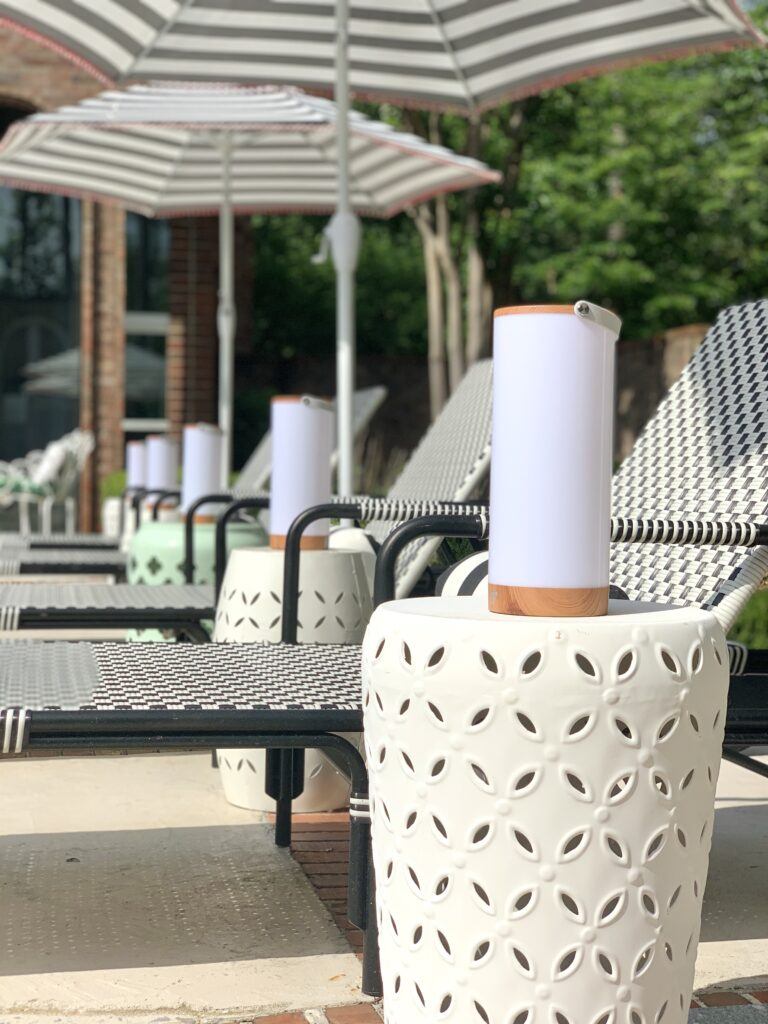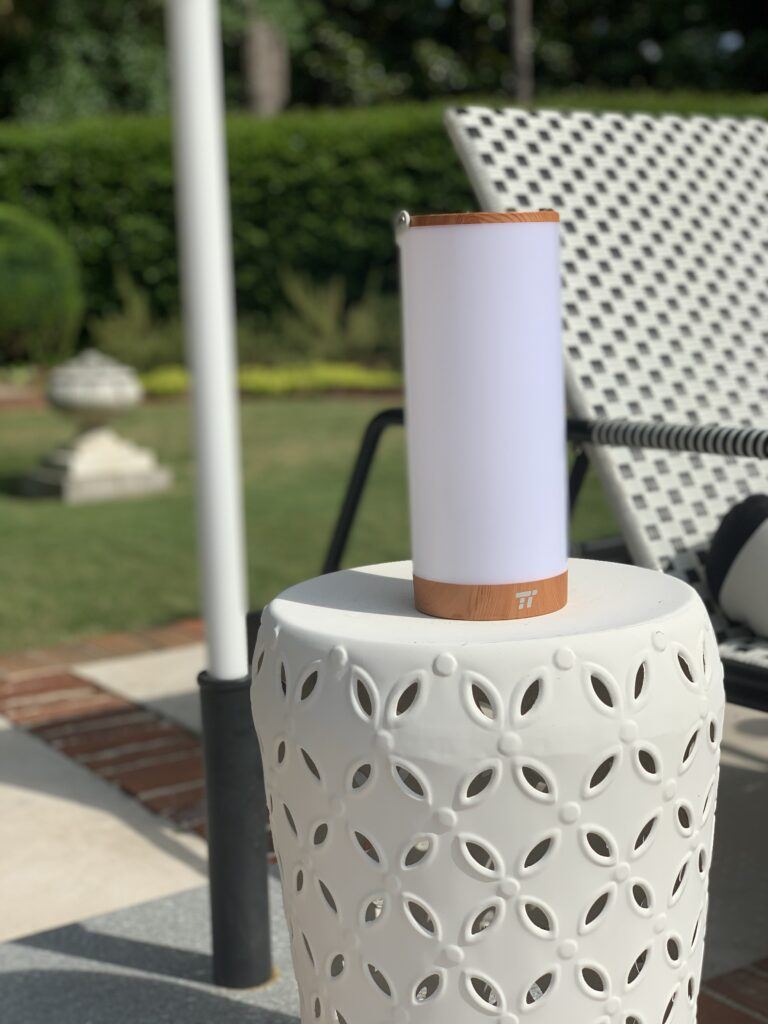 10.  Decorative Serving Tray
I have a Banana Leaf print tray on our coffee table with a plant on top of it. It adds a pop of color and style to the table and can also be a piece to serve with when entertaining. The Banana Leaf print tray ties back in with the banana leaf print on some of the decor pillows throughout the outdoor areas.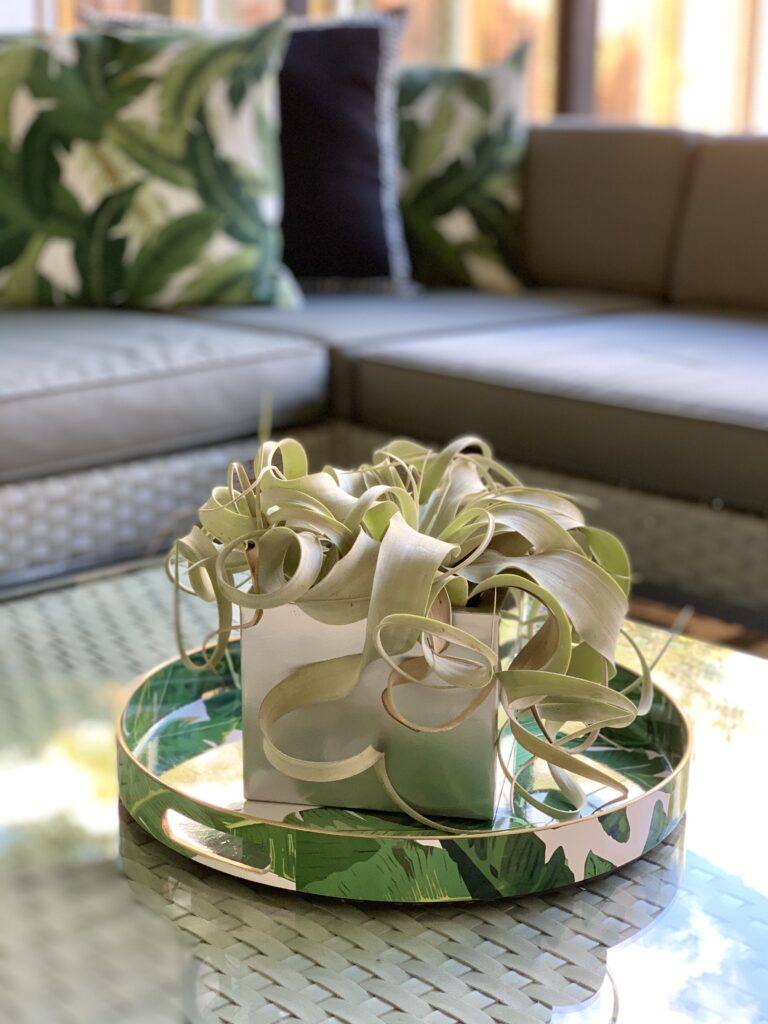 11.  Flowers or Greenery in a Vase
Flowers or Greenery in a Vase – Add freshly cut herbs, banana leaves, magnolias, hydrangeas, roses or other flowers from your garden to add a beautiful touch to any table on your patio.