12 May

Seating Areas for Your Outdoor Oasis
Refresh Your Patio for
Spring & Summer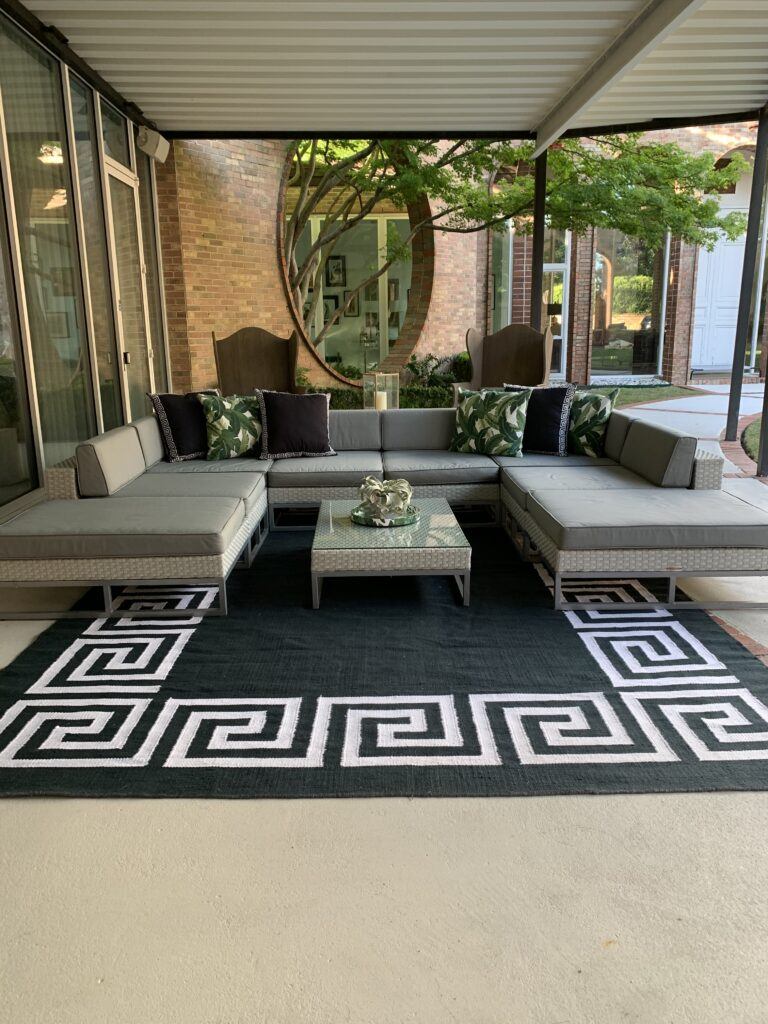 Now that we are into this beautiful Spring season and past all of the major April rains and the pollen, I wanted to give our courtyard patio a refresh to enjoy this Spring and Summer. I started with a wash down of patio surfaces and also tables, chairs and other seating areas, cushions and pillows. This was a major project but it's finished.  All of the seating areas are now ready to use and enjoy. Hoping this will give you inspiration to create your own outdoor space to enjoy also!
Xoxoxo
D
The process of cleaning up the patio is not my favorite part, but it must be done! Since we've had really beautiful and cooler Spring weather recently, being outdoors cleaning was really pleasant and made this outdoor project a little more fun.  We had our sectional set covered during the winter, but there were still leaves, dirt, pollen and even some areas that needed to be cleaned with bleach to remove mildew spots.
I have always said to really clean and reorganize, I need to make a bigger mess first! Cushions were removed and cleaned individually. Decor Pillows were put through the washing machine. The sectional sofa base was hosed off and then wiped down with bleach to remove dirt and mildew. Side tables and coffee tables were cleaned off and wiped down. The rug had been in storage over winter, but still needed to be vacuumed. Below are pictures of the cleaning in process.




5 Tips to Create Seating Areas for your Outdoor Oasis
Seating is essential for an outdoor space. Whether you have a large backyard patio or a smaller patio, you can create an outdoor space to feel cozy and casual. You can easily create a dreamy outdoor space by breaking up your patio seating into smaller areas. Whether you have this space to enjoy for yourself or enjoy with smaller or larger gatherings, this will help guide you to enjoy this space even more.
1.  Add a Dining Area
Give a new perspective to your everyday routine and bring your everyday meals outdoors to enjoy. Set up a dining area to enjoy a few meals outdoors during the week. Whether it's a large table for a big gathering or a smaller table for yourself or you and a loved one, you can create a separate area on your patio for sitting down to enjoy a meal.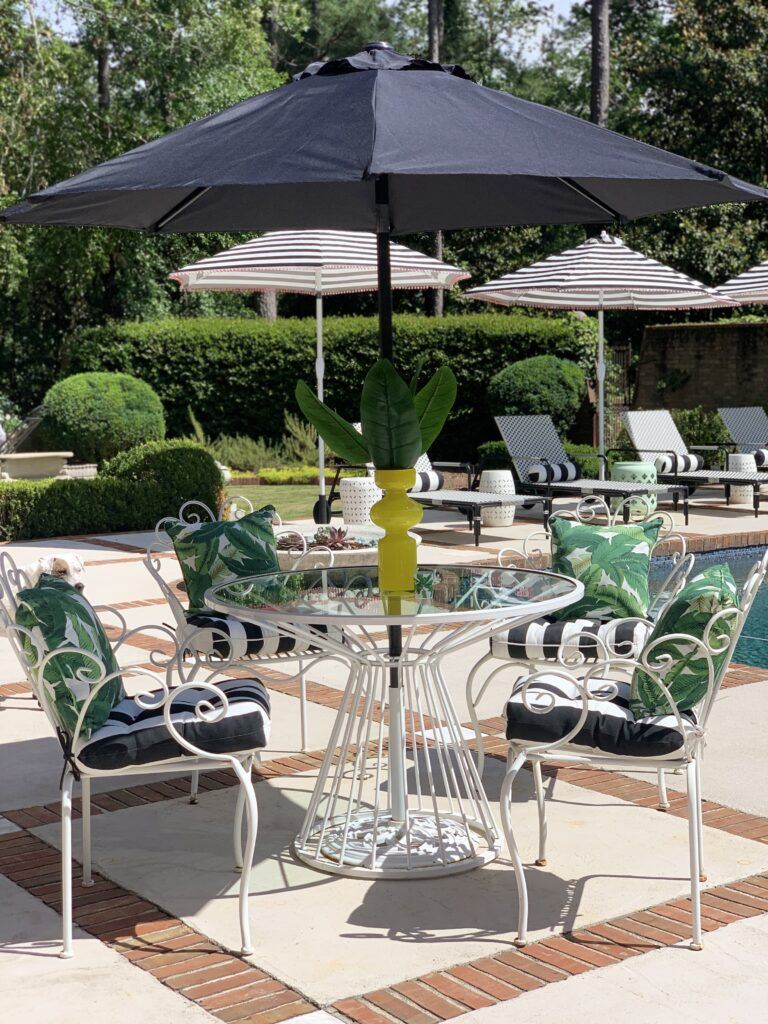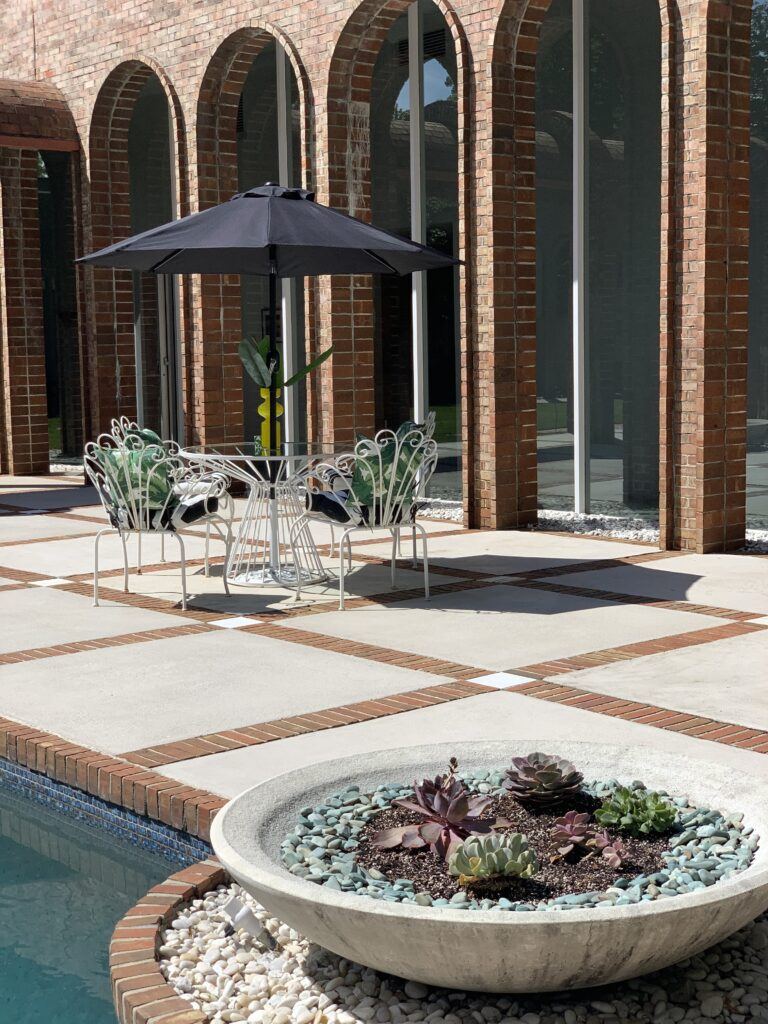 2.  Set up a Conversation Area or Outdoor Living Room
Bring a weatherproof outdoor sofa together with a couple of chairs or even a sectional sofa to create a casual, comfortable and relaxing space to enjoy and entertain family and friends.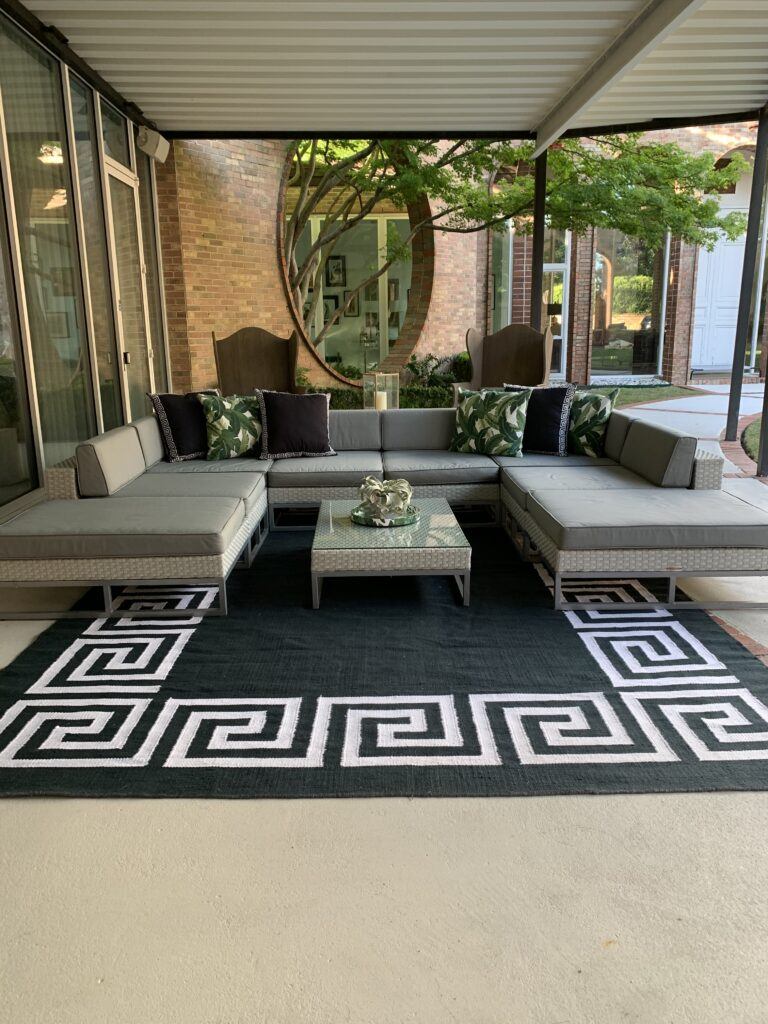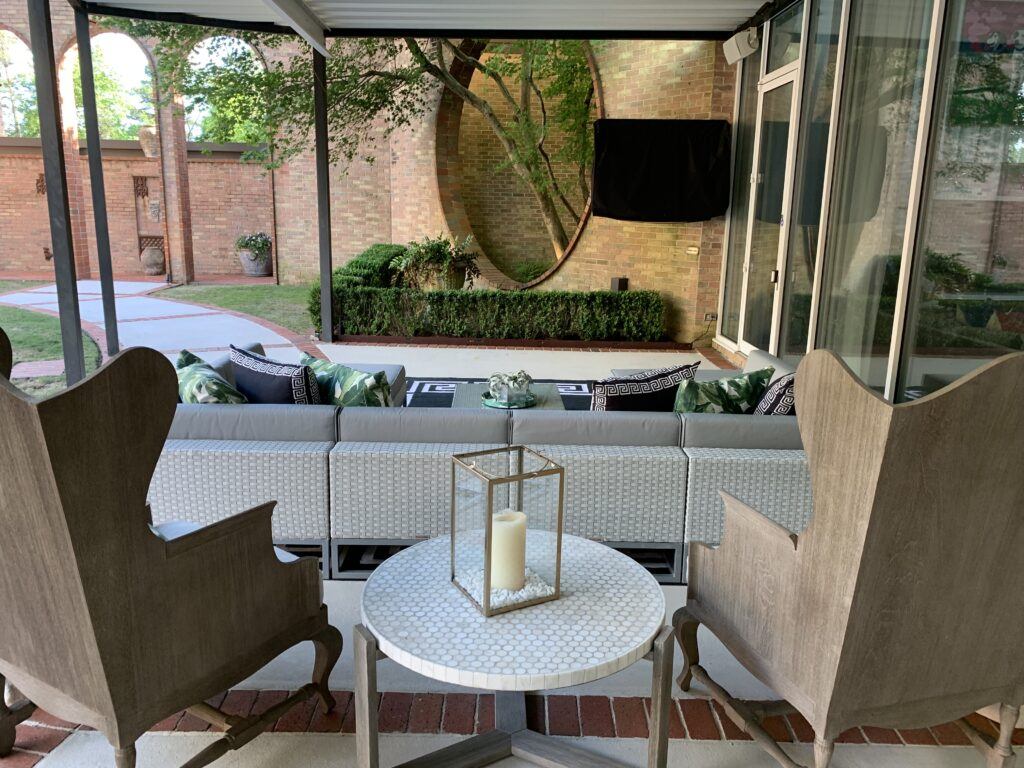 3.  Make a Coffee or Cocktail Nook
Bring a couple of chairs together to a nook and enjoy your coffee outdoors in the morning or even in the evening with a cocktail or glass of wine. Adding a bistro table or small side table is a welcome addition.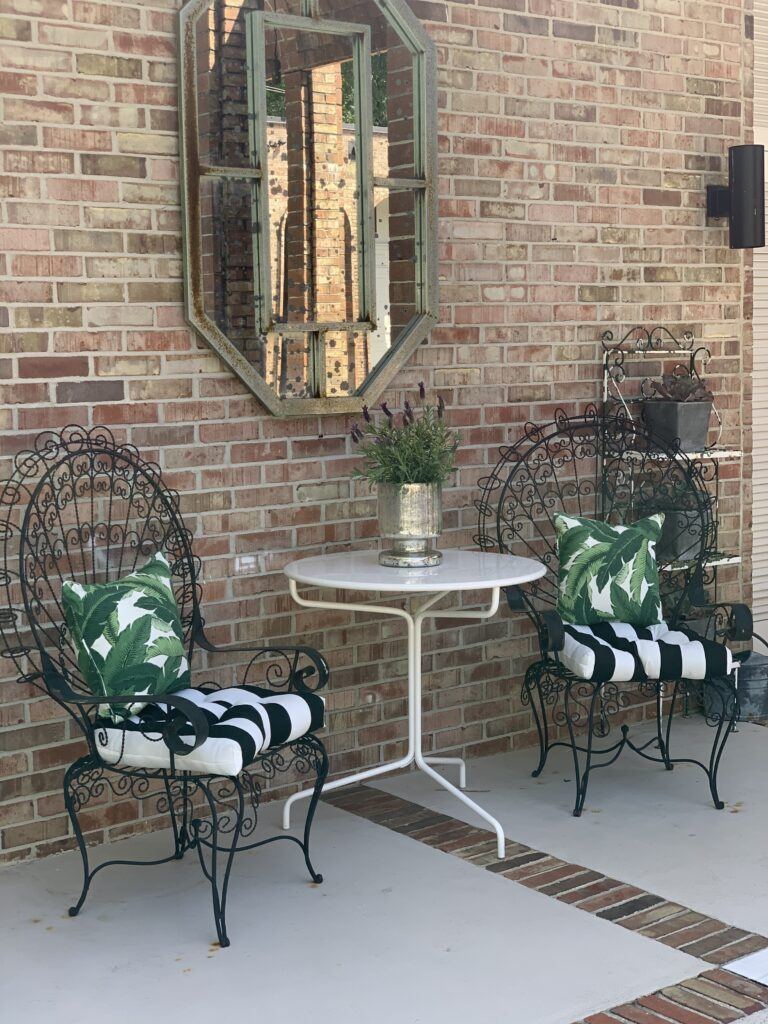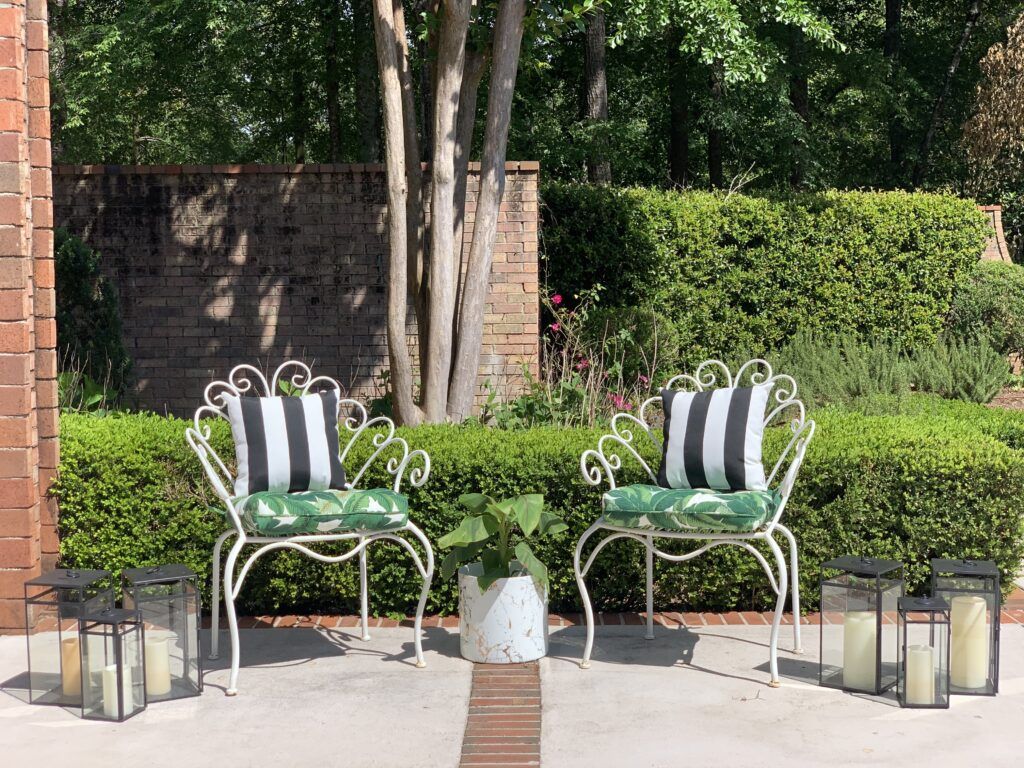 4.  Add a Bench to a Quaint Spot
Make a Quiet Corner a perfect spot to add a stylish bench to enjoy the outdoors. I love listening to our wind chimes in a tree that's near this corner nook. This is a calming spot and also a great place to enjoy a book. Or if you have always wanted a Hanging Chair, add one to a corner spot of your patio with comfortable cushions and pillows. Add a side table and even an ottoman to make this a perfect spot to curl up and take a nap!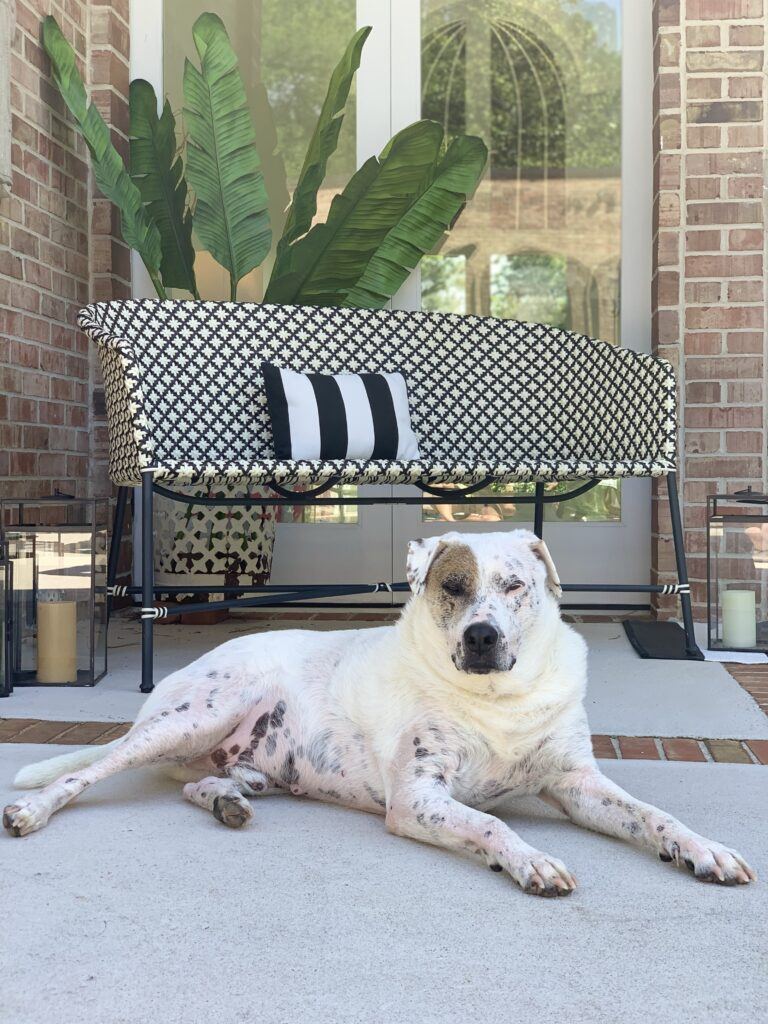 5.  Add Seating by the Pool or a Fire Pit
If you have a pool, create an area with reclining lounge chairs and side tables in between them. Add umbrellas for style and comfort. Lounge chairs serve as an area to entertain when sitting out by the pool during the day but also for an evening gathering by the pool. If your patio does not include a pool and you've always wanted a Fire pit (either small or large), place this in a central area or a corner and place chairs around it to enjoy for gatherings with family and friends.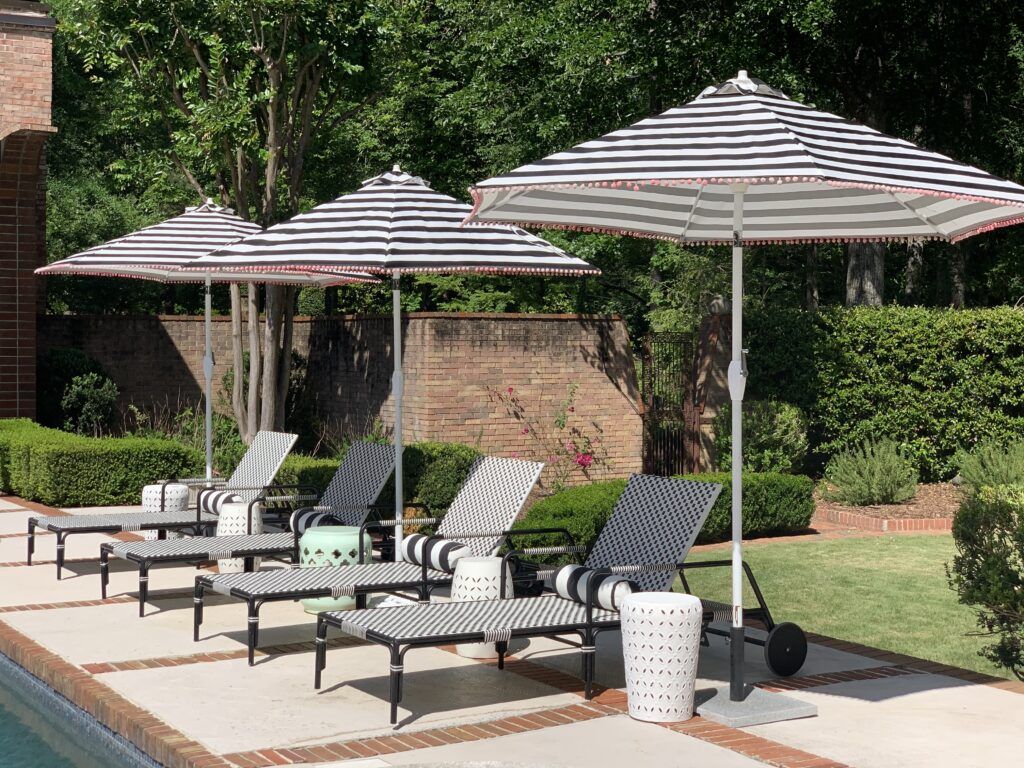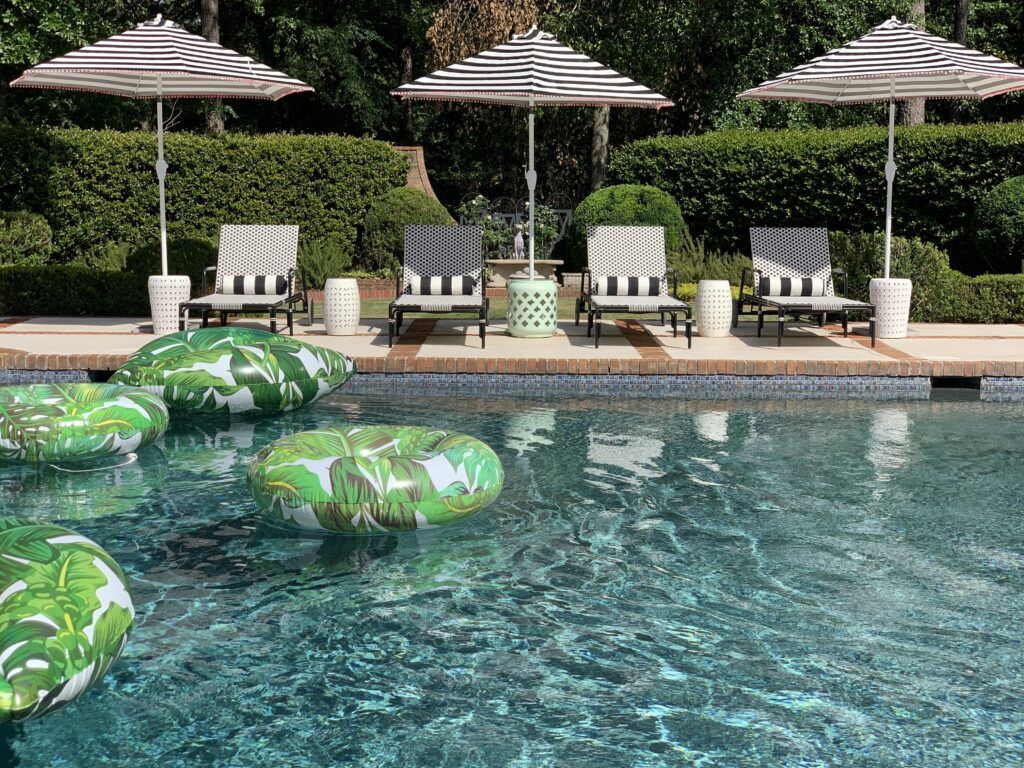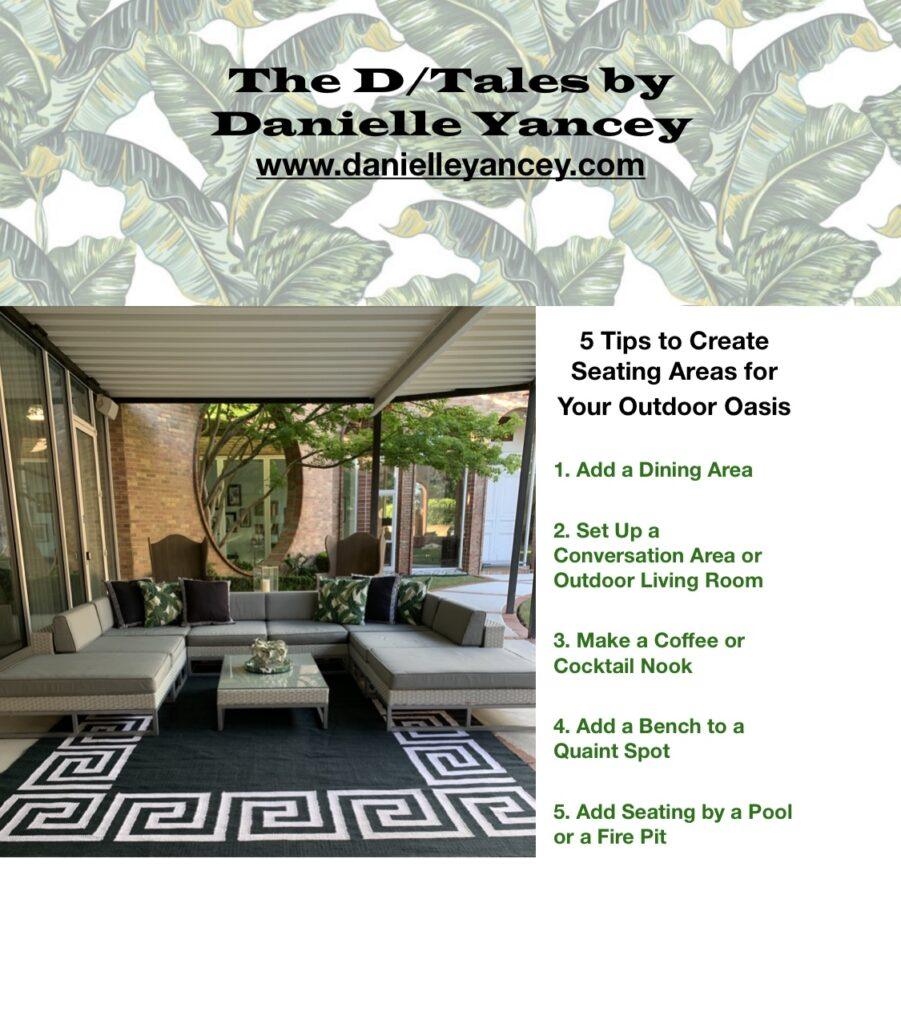 Mix and Match Outdoor Seating
Decorating is an extension of your style and there is no right or wrong! It's your personal taste and unique style. How boring it would be if we all had the exact same style and looks. I love to get inspiration from many sites and people. Tips, ideas and pictures are just a way to inspire and give ideas to come up with your own looks. I prefer layering in different furniture pieces within our home and also on the exterior of our home on our patio instead of having pieces that all come from one matching set.
4 Ways to Mix and Match
Patio Furniture & Seating
1.  Similar Colors that Blend – Using the same color in different furniture pieces can tie the pieces together. Although our patio dining chairs and table are not from the same retailer, they mixed well with each other both being white. Choosing furniture of the same color way, hue or tone can also be an option, allowing them to be similar and flow together in the same color way. Usually the key if you have more than one color is to stick with three and coordinate those three colors throughout.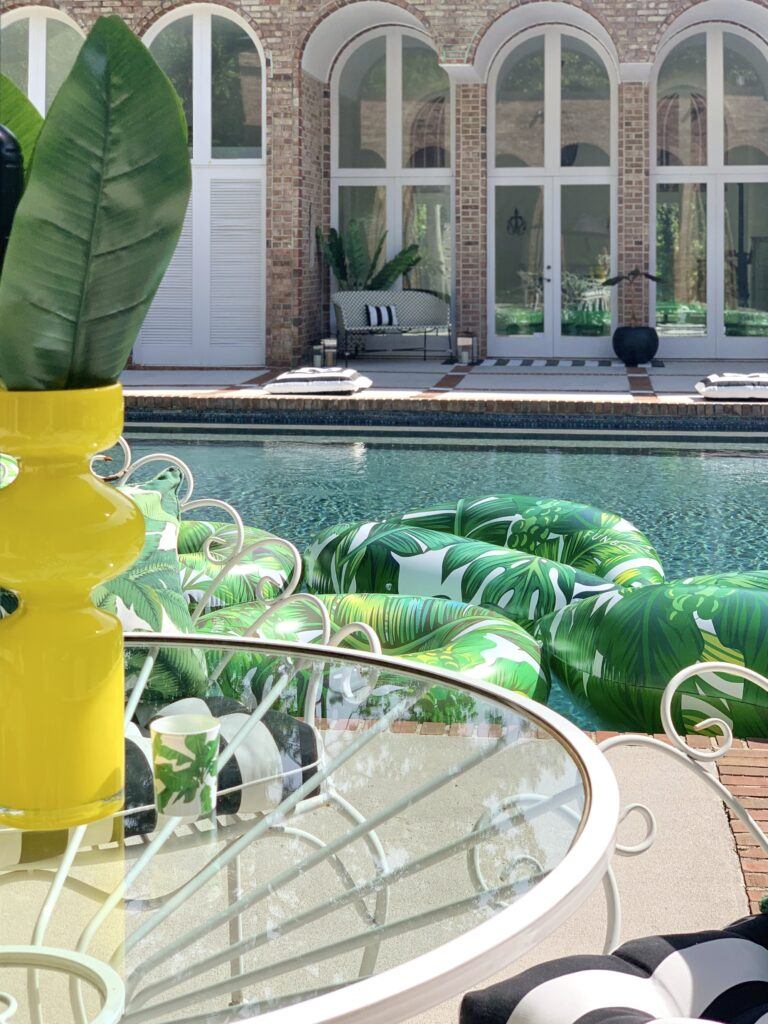 2.  Mix a Few Materials – Pair some of the same materials together. Having similar materials throughout can bring a cohesive look. With our patio dining chairs and table again, they were both white metal and mixed well together. Another example is our patio sectional set that is an all-weather wicker material. We had purchased this when moving into our home but still had these tall teak chairs from our previous home. The colors worked well together in their surroundings with the reddish-brown brick exterior of our home, brown columns of the covered patio and the concrete floor. I tried to play off the colors that were in this covered patio area to tie the furniture pieces together.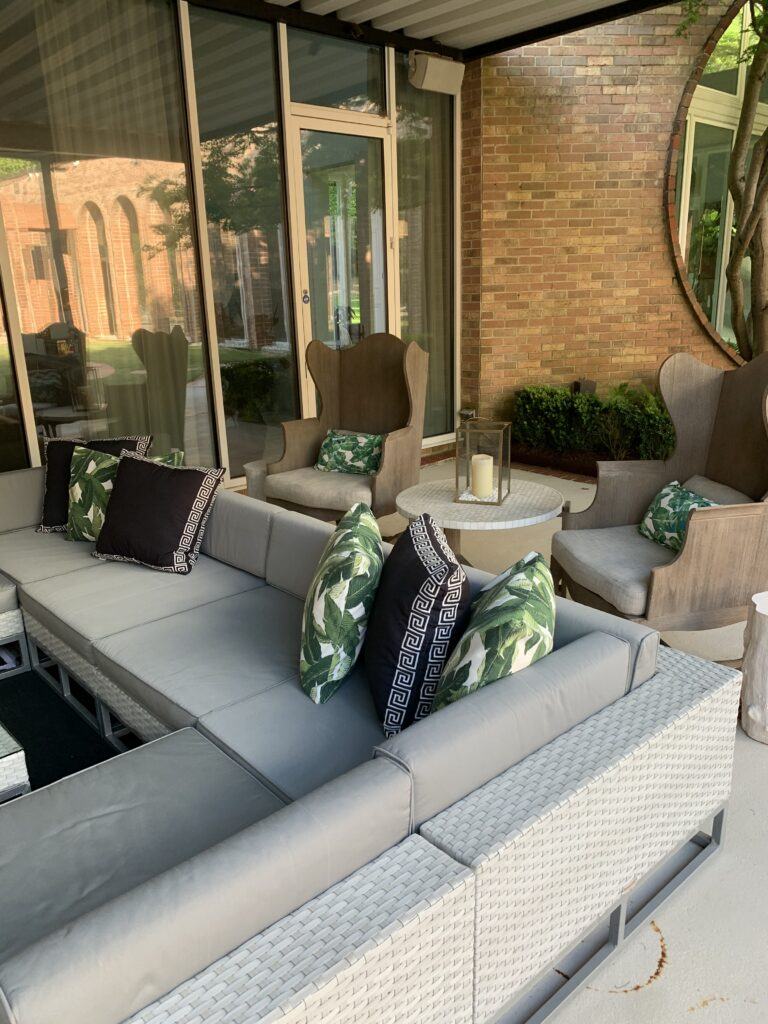 3.  Design Styles – Bringing similar style furniture pieces together along with mixing in unique and interesting pieces that complement will help create a unified look. Our home is a mix of styles of old and new: Hollywood glam, modern, along with antique and architectural features. It was a challenge at first when we moved in and it has evolved over the past few years. On our patio, there is a mix of painted white metal furniture along with vintage black iron peacock chairs, black and white all-weather wicker, grey all-weather wicker, weathered teak and marble. It's all different, but mixes well together to give interest.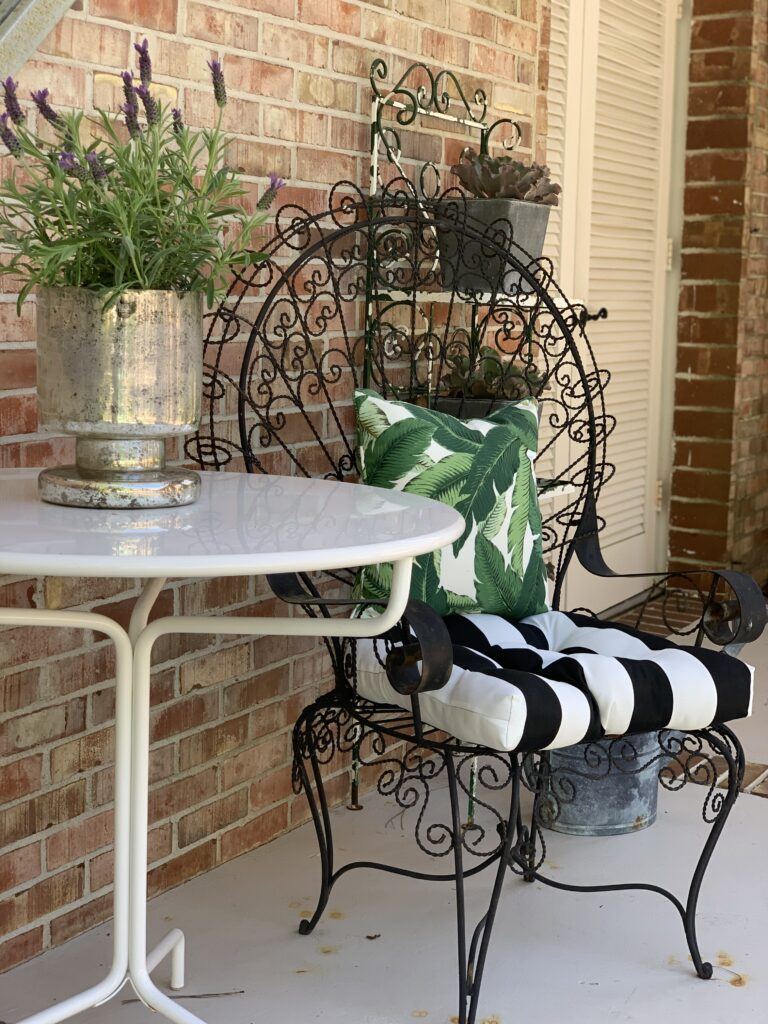 4.  Furniture Layout – Our furniture groupings are not all together in the same area, but are close enough to be able to flow and coordinate as their own "rooms". The groupings are meant to focus on that specific spot or area. We have a dining area on one side the pool, reclining lounge chairs on the far side of the pool, and on a few corners of the pool, there are nooks to sit and enjoy. Our covered patio area is set away from the pool and that space is created as it's own "room" to enjoy sitting, lounging and watching tv.