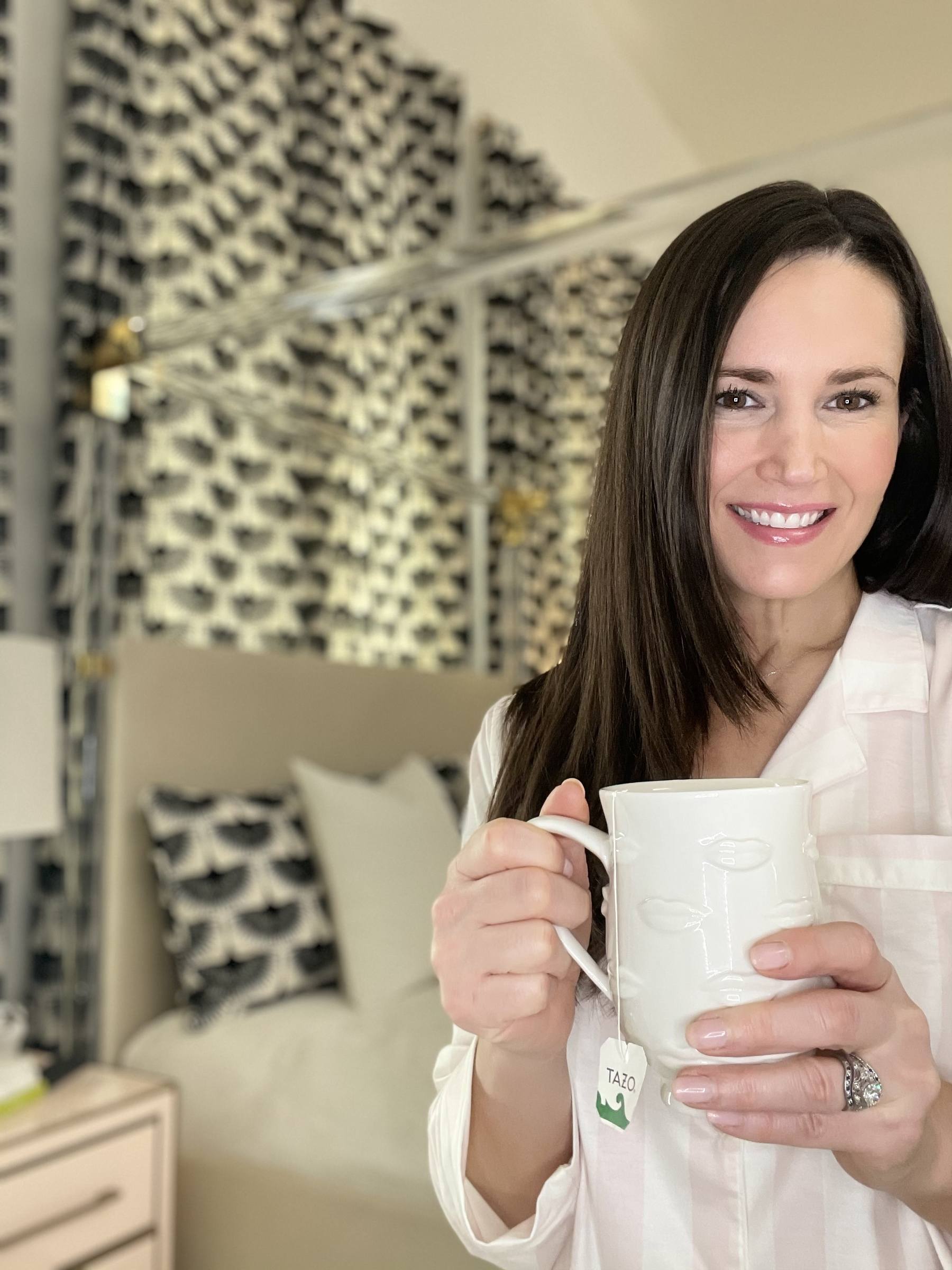 03 May

How I Found Better Sleep
Want to Get Better Sleep & Feel Younger?
I didn't sleep well for almost six years! After going through different fertility treatments and surgeries in my 30's, my body changed and went through menopause early. Menopause for me was a real struggle with many hot flashes, night sweats and very little sleep. Now at almost 45, I've noticed my skin beginning to change. I want to do what I can to prevent wrinkles and I've noticed some wrinkles are forming on my face from the pillows that I sleep on!  I researched different products to help me sleep better, sleep cooler and also help reduce wrinkles and aging while sleeping. I wanted to share a few with you below!
Xoxoxo
D
Did you know that when you sleep on a regular pillow, your skin can become stretched and compressed, creating morning puffiness and sleep wrinkles?
I recently found a pillow that can help fight sleep wrinkles because of its design and shape. I have tested the OMNIA pillow for over two weeks now and see a difference on my face when I wake up. I have a fresher face and without sleep creases!  I don't have the line indentions on both sides of my face by my nose and cheeks and also under my eyes. I sleep naturally on my sides and this causes facial indentions that are forming permanent deep lines in my face. I sometimes wake up from sleeping on my back and it hurting my lower back and then turn back to sleeping on one side.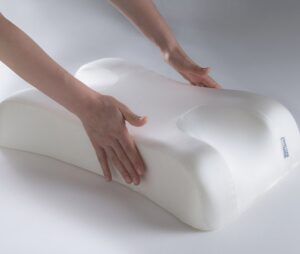 The Sleep & Glow OMNIA Beauty Pillow is a long-term investment, that helps people look refreshed in the morning, fight night wrinkles, fine lines, morning puffiness and neck pain. The Sleep & Glow Omnia Beauty Pillow helps save money in the long-run on skincare needs.
Sleep & Glow OMNIA Beauty Pillow's awesome benefits include:
✨ Fights and helps prevent night sleep wrinkles, fine lines.
✨ Helps keep your skin looking younger.
✨ Helps prevent and reduce morning puffiness.
✨ Helps with better sleep.
✨ Saves money on skincare.
✨ Pillow will last 5 years.
✨ Developed in collaboration with cosmetologists, orthopedists and sleep specialists.
✨ NEW 3D contoured anatomical shape minimizes skin indentation when you sleep.
✨ "Extra Comfort" Top Quality Memory Foam with improved memory material adjusts to your face, neck, and shoulders.
✨ Provides your neck, spine, and body the healthiest sleep position and helps eliminate neck pain & stiffness.
✨ Internal foam layer to adjust pillow height.
✨ Comes with 1 standard, tailor-made Sleep&Glow pillowcase (top of the pillowcase is 100% Tencel, natural fabric, made of eucalyptus fiber).






The top "top-to-bottom" picture of me is sleeping on my Sleep & Glow Omnia Pillow. But then in the bottom "top-to-bottom" picture, my skin closest to the pillow shows my skin being compressed against the pillow. I have vertical lines on both side of my face now between my nose/cheeks from sleeping on my side for so many years. I have seen a difference with sleeping on the Sleep & Glow Omnia pillow already each day. The sleep line wrinkles are not as pronounced already.
Sleep & Glow has also developed the PILLOW BRA, which helps fight skin creases and cleavage wrinkles when sleeping on your side.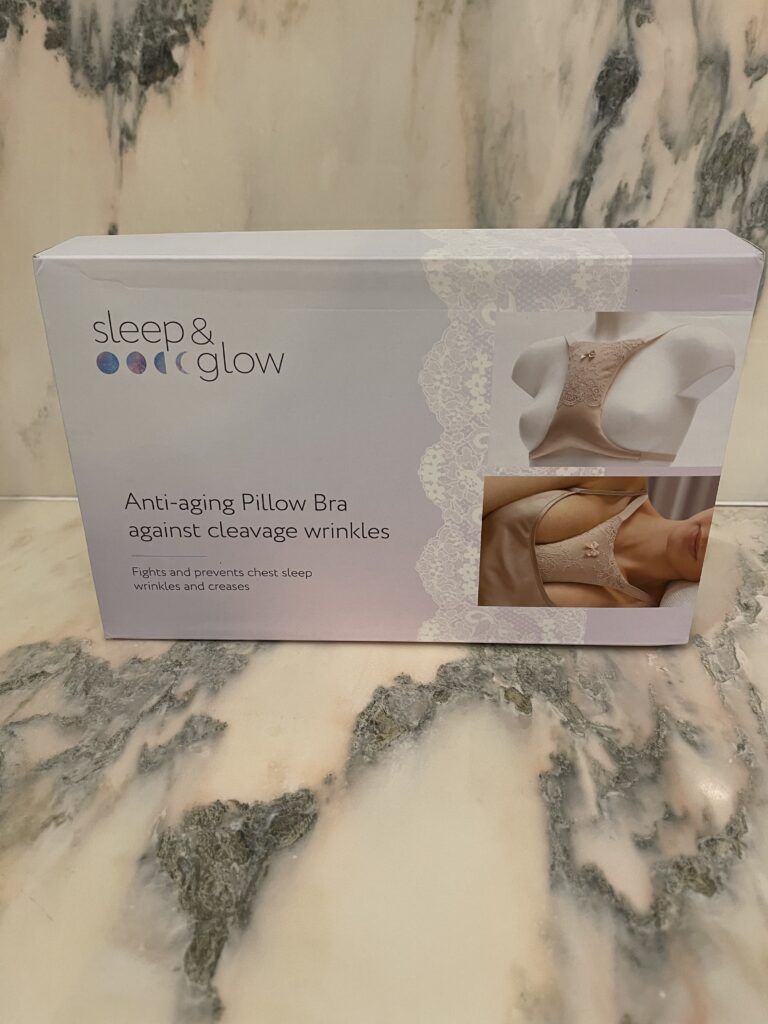 Sleep & Glow Pillow Bra's awesome benefits include:
✨ Fight skin creases and cleavage wrinkles when sleeping on your side
✨ Keeps your form for better sleep
✨ Made of premium materials: natural silk & lace from the outside, cotton from the inside. Filling is tiny foam balls to ensure air circulation.
✨ Adjustable straps and smart cut to be suitable for up to 2X US size.
✨ Packed in a beautiful box and wrapping paper – an ideal gift for you, your mom, aunts, girlfriends!
There is a special buy on both the Omnia Beauty Pillow and the Pillow Bra linked HERE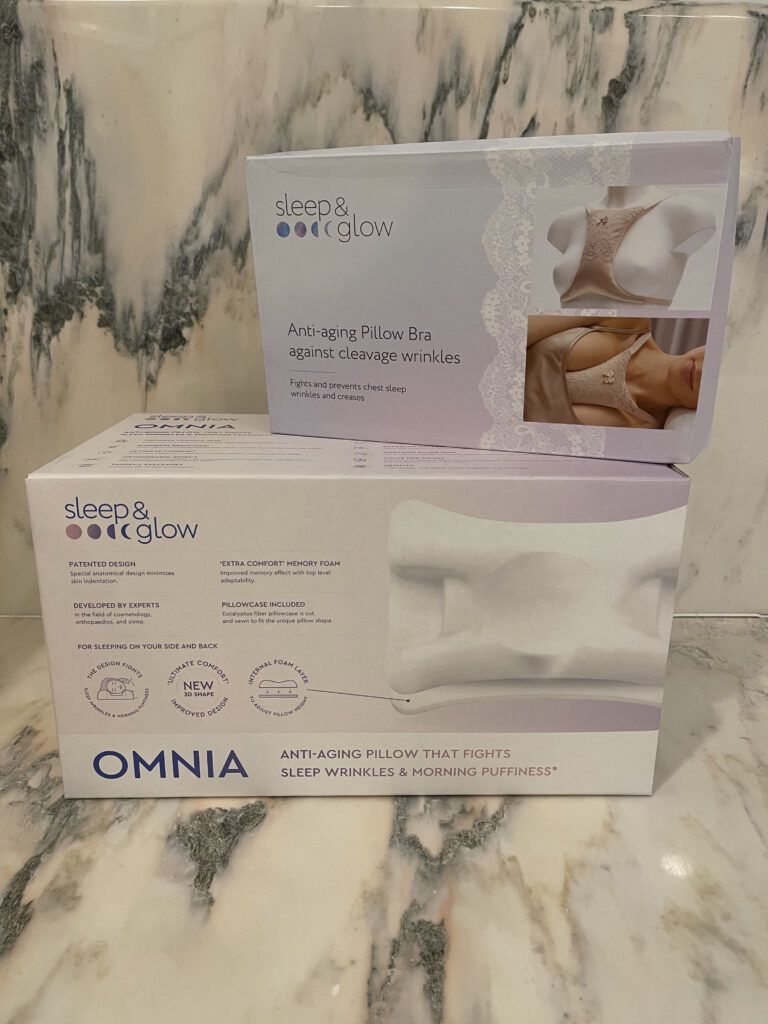 Get $10 off Sleep & Glow Beauty Pillow or Pillow Bra by using promo code…
Danielle10
✨✨✨Mother's day is on May 9th.✨✨✨
✨✨✨The Sleep&Glow pillow would be an awesome present!✨✨✨
The Silk Pillowcase

I've been using a washable Silk Pillowcase on my pillows for years and see a difference in my skin and hair. I use one now over my new Sleep & Glow Omnia Pillow, too!  
This oh-so comfortable Silk Pillowcase is not only a little bit of luxury to sleep on, but also it helps prevent you from getting "bed head" hair and also saves your hair from breakage! Wash the silk pillowcase on delicate. You can purchase a gentle silk formulated wash to care for your silk pillowcase to keep them in great shape!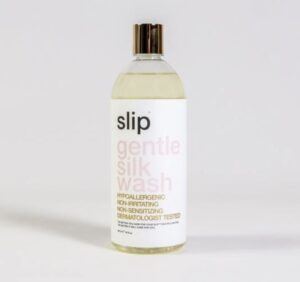 How Often Should You Change Your Pillows?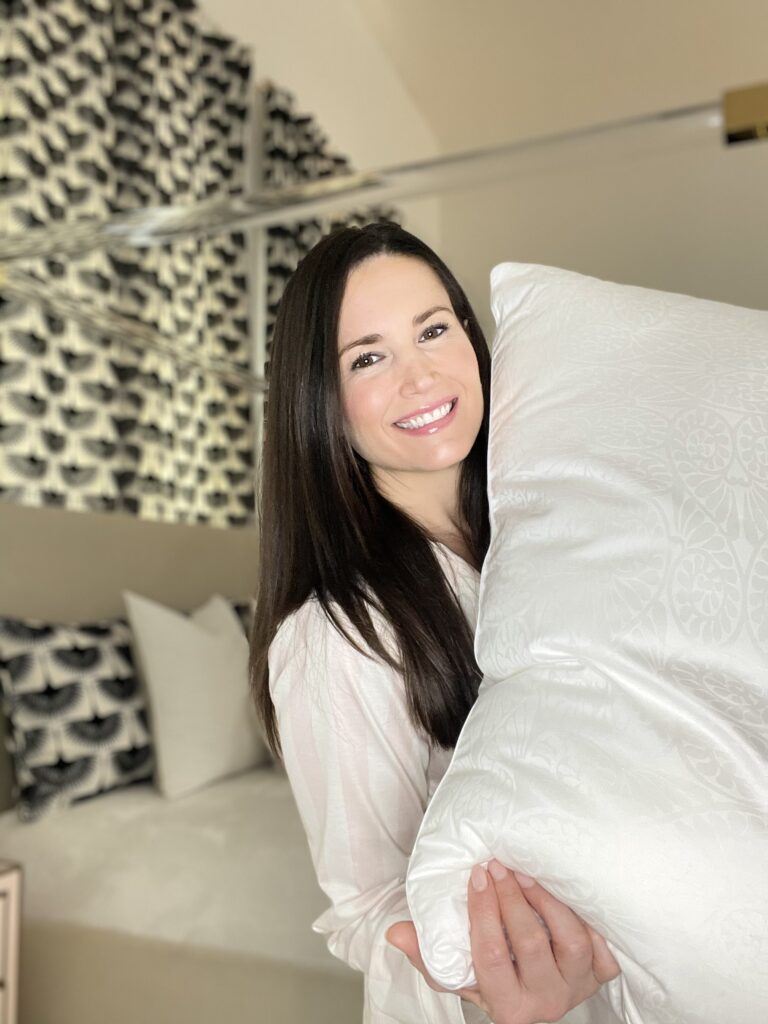 I wrote a recent Blog Post on changing out regular pillows and how often. You can read the "PILLOW TALK" blog post HERE and find out more on changing your regular pillows yearly! 
????????????????????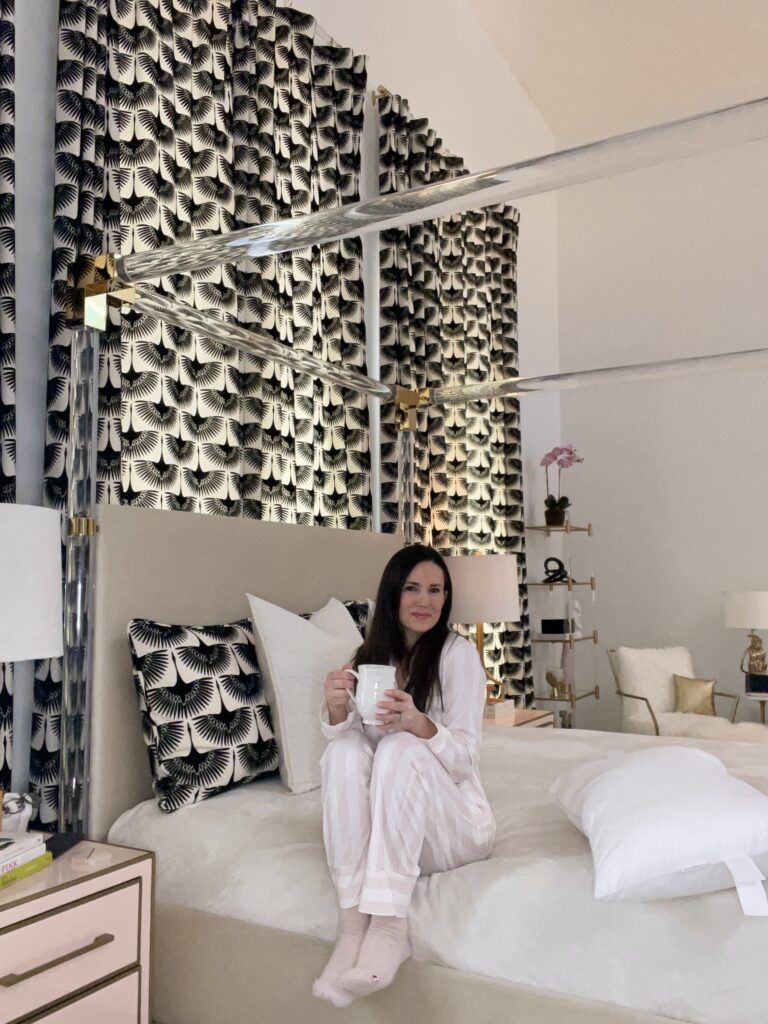 ChiliSleep Ooler Sleep System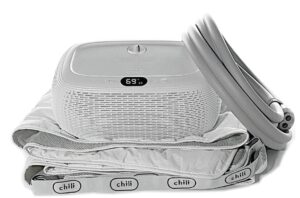 After a few years of hot flashes and night sweats, I tried sleepwear with technology that said it was "cooler". I have tried different sheets that said they were cooler. The only thing that really helped with sleeping with just a top sheet. Sometimes I would get really hot and then sometimes I would get cold and need a blanket all within a short window of time.  So, that kept me waking up each night, trying to cool off from being hot and then trying to get warm again to fall back asleep. I did not get good sleep for years! I tried keeping a fan by the bed and even tried a fan called the "Bed Fan" where the top part of the fan slides under the covers to direct cool air directly into the bed. The only problem with the Bed Fan was…the covers would slip in front of the fan overnight and it would then just blow air above the bed.
When I finally decided to begin taking estrogen and progesterone, it helped tremendously with hot flashes and with night sweats….BUT it did NOT eliminate them! I was still getting hot at night and waking up many times to take the cover off.  I started to research how to sleep cooler a year ago and found this amazing product!!

OOLER Sleep System with Chili Cool Mesh™
The OOLER Sleep System is ChiliSleep's most advanced and most luxurious sleep system with a hydro-powered thermal range that operates from 55-115°F (13-46°C). It includes a reversible hydronic pad, control unit(s) and OOLER app for sleep schedules.  This Ooler Sleep System is great for one or two sides of the bed. If you want to enjoy these upgraded features for just one side of the bed, you can do that! But, if you want two separate sleep systems because you and your spouse or partner enjoy sleeping with two different temperatures, you can optimize your perfect sleep temperature on each side of the bed!!!


If you have a spouse or partner, do you ever disagree over the  temperature of the room before or while sleeping???  This Sleep System can solve the battle over the thermostat!!
Bart and I have the Dual King Ooler Sleep System so we both have the Sleep Systems on each side of the bed. That way I can turn mine down to 60 degrees or lower on nights I am really hot in the summer or even turn my system up to 100 degrees in the winter when I am first getting in the bed and my feet are cold.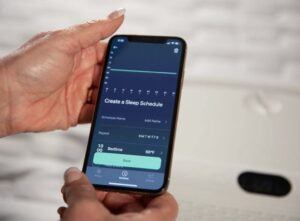 There is an app to download and you can create a daily schedule to have your Ooler Sleep System turn on before your bedtime. That way it is able to cool or heat your side of the bed before you even get into it. In the winter, I set my sleep schedule on my app and have my Ooler Sleep System come on and heat the bed to 95 degrees, so that when I get into it is nice and cozy! Then, I set the temperature to lower every 30 minutes and then stay at 66 degrees overnight. Then, I schedule the temperature to go back up in the morning so that I will naturally wake up on my own. Right now for the Spring, I start my Ooler Sleep System to warm the bed around 80 degrees when I first get into the bed. It then begins to lower gradually and set at 63 degrees for the rest of the night. I've found that I need the lower temperatures overnight in the Spring and also in the Summer to sleep well.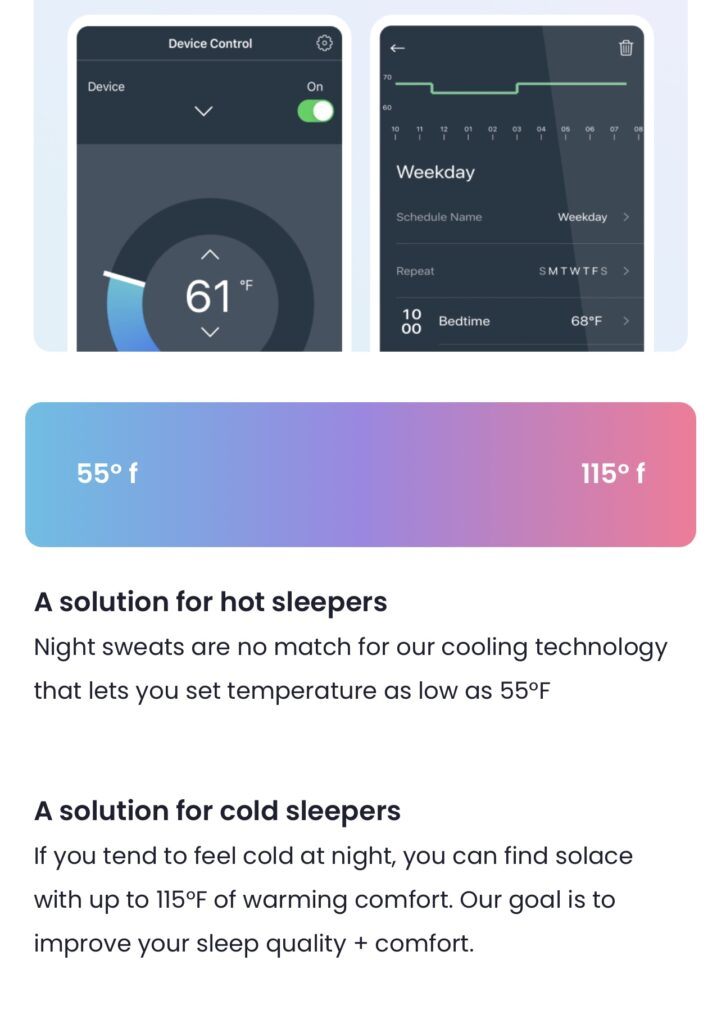 Enjoy temperature-controlled comfort on any mattress with the Ooler Sleep System.
A solution for hot sleepers – If you have night sweats, the cooling technology allows you to set temperature as low as 55°F.
A solution for cold sleepers – If you feel cold at night, you can find warming comfort and set temperature up to 115°F.
 ChiliSleep's goal is to improve your sleep quality + comfort.
Being cooler while sleeping not only keeps you sleeping but can also up to double your deep sleep.
The ChiliSleep Systems are definitely a luxury but I've found it's worth it to be able to sleep better and help control being so hot overnight. Bart gets hot when he sleeps also and he has loved his Ooler Sleep System on his side of the bed this past year. When we travel now, we both miss our Ooler!! I don't sleep as well when I'm not at home.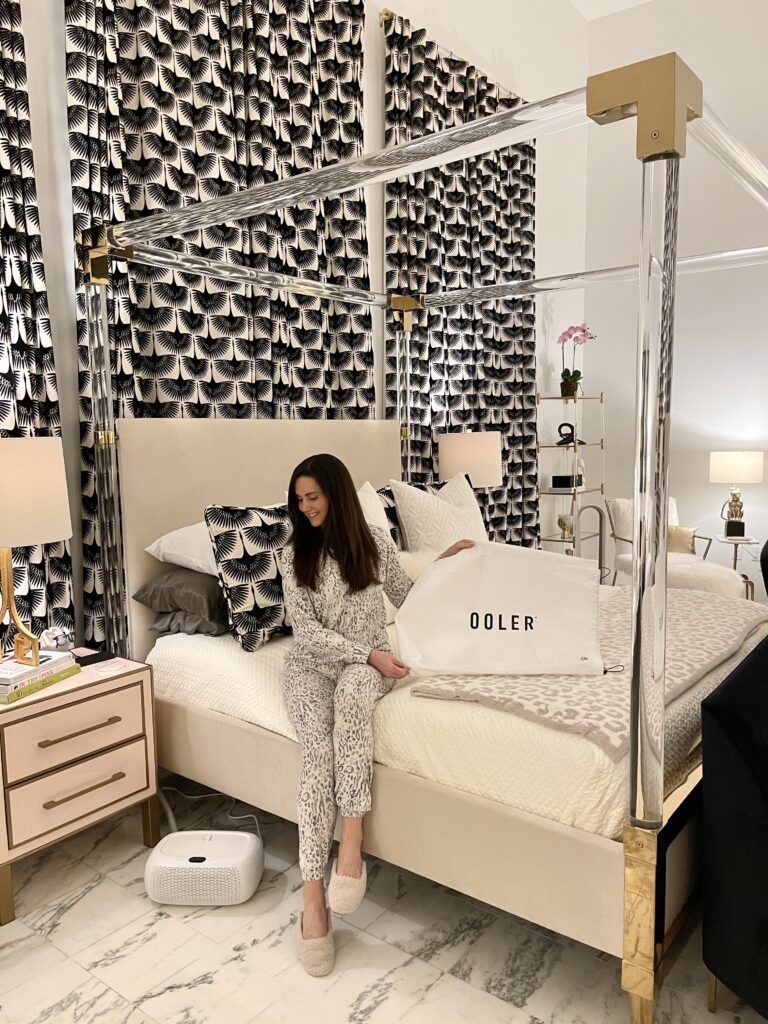 The ChiliSleep Ooler Sleep System has been a life-changer for both me and Bart this past year. It has helped give us both the quality of sleep that we need and also keep us cool! The Ooler Sleep System has helped me to sleep through the night without the dreadful night sweats and also has kept my temperature more controlled and….I even sleep with a blanket now!!
✨✨✨Get 25% off your First order of ChiliSleep products by using this LINK HERE
✨✨✨Mother's day is on May 9th and the ChiliSleep Ooler Sleep System or one of the other sleep systems would be an awesome present!✨✨✨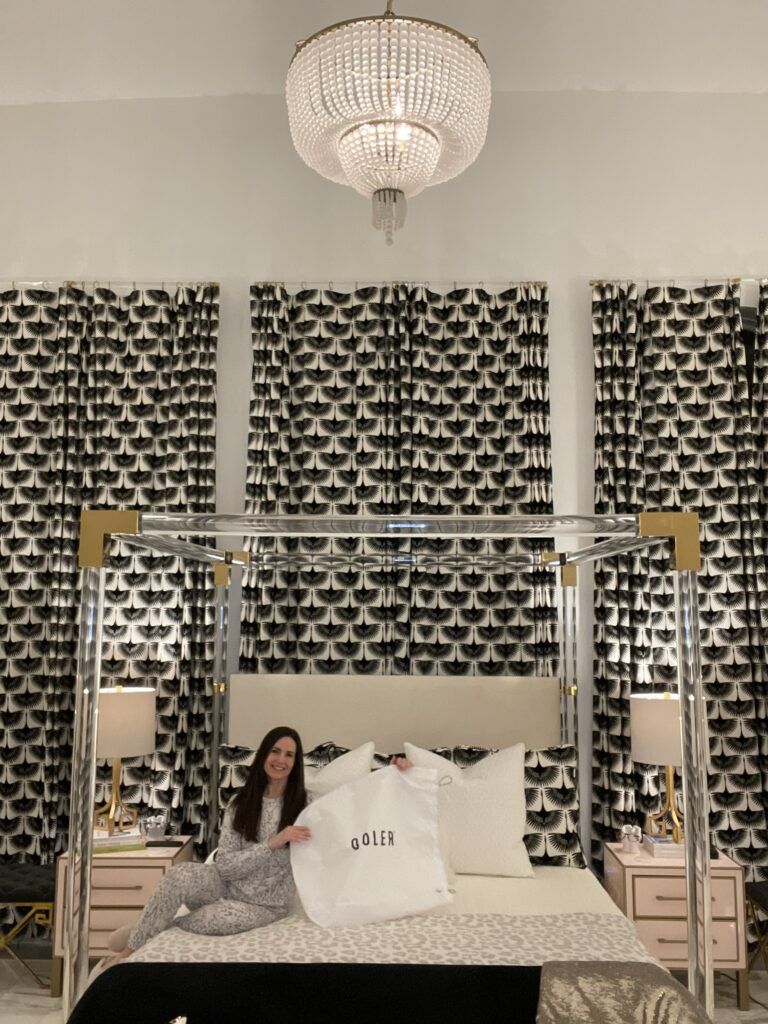 ????????????????????