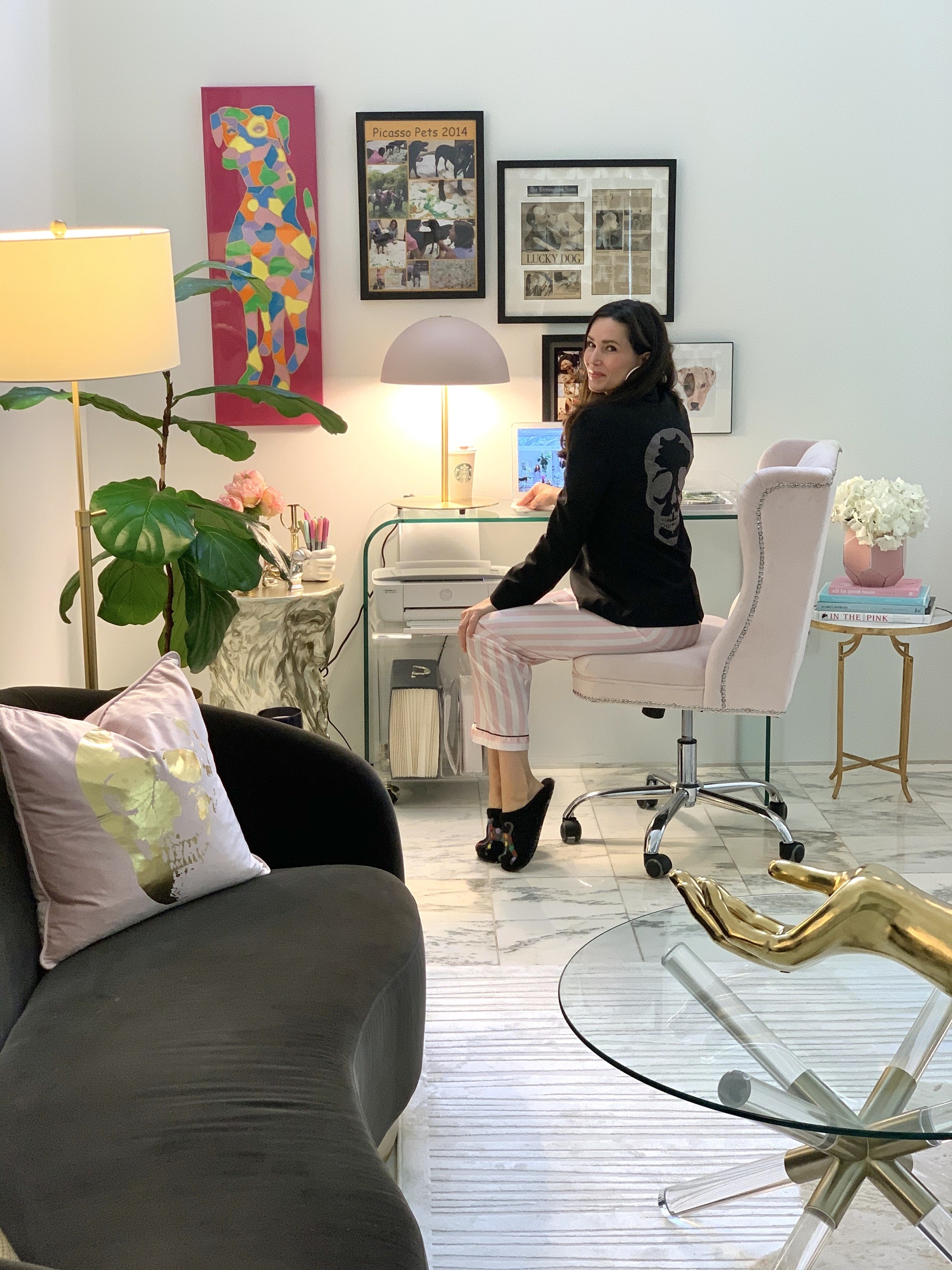 16 Apr

Glam Your Work From Home Space
Create a Fabulous WFH Space 
I wanted to create a work space that's pretty, but a great space to work and also spark a bit of creativity. I love this area of our bedroom, but rarely sit and utilize the space. I set out on a mission to clean and organize this area, add fun, chic desk accessories that also help in organization and the addition of a few decor accessories that I could enjoy.  I decided to tackle this area this week to glam up the space and utilize. Hope this will inspire you to organize and bring fresh new ideas to your WFH area, too!
Xoxoxo
D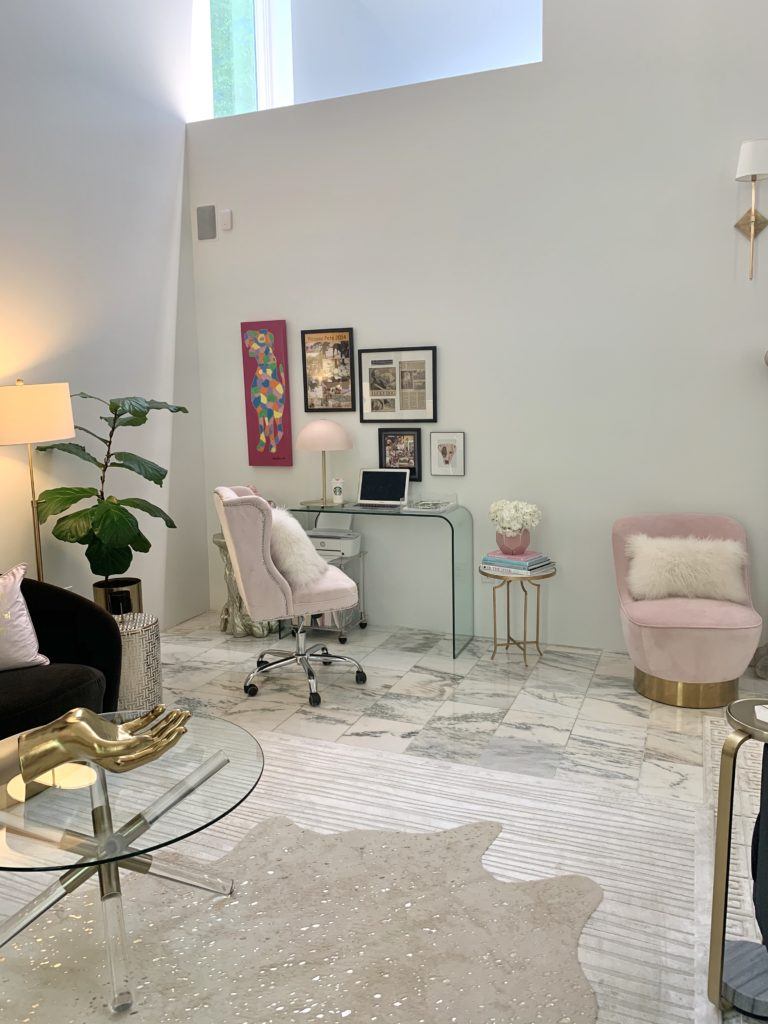 6 Tips for a Glam WFH Space
Add a Simple Table or Desk
Remove Clutter & Clean the Work Area
Add a Stylish & Comfortable Chair
Add Chic Desk Accessories & Storage
Add Light & Ambiance
Personalize Space with either Pictures, Organization Board, Art or Decor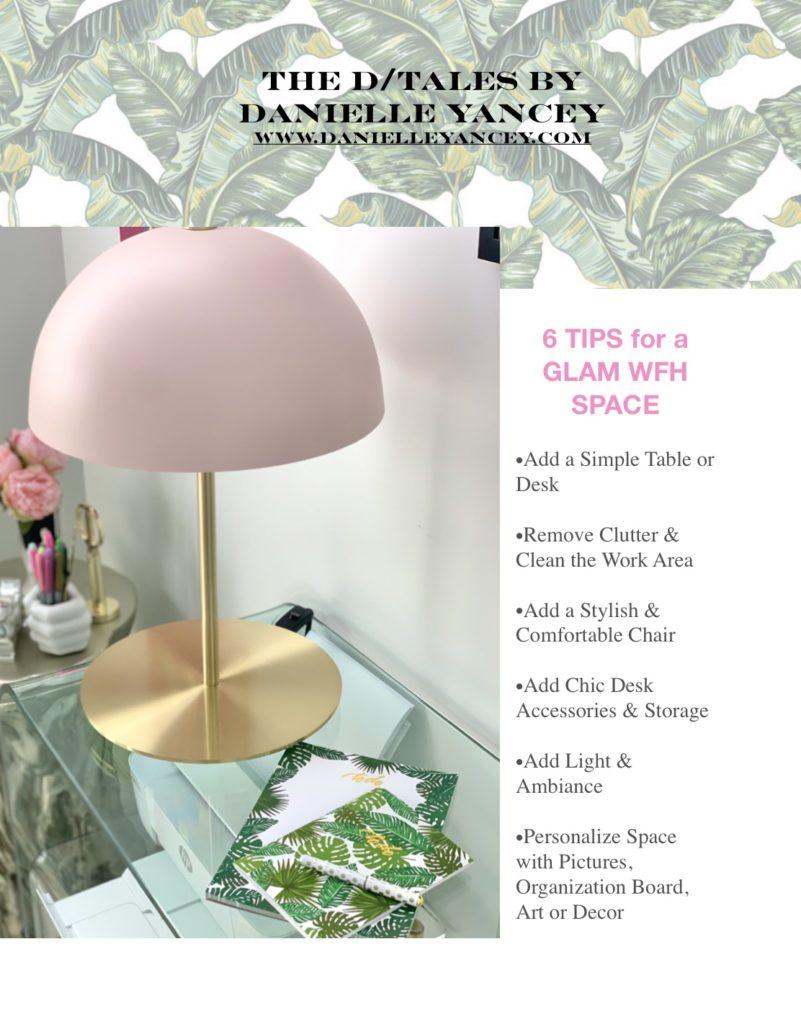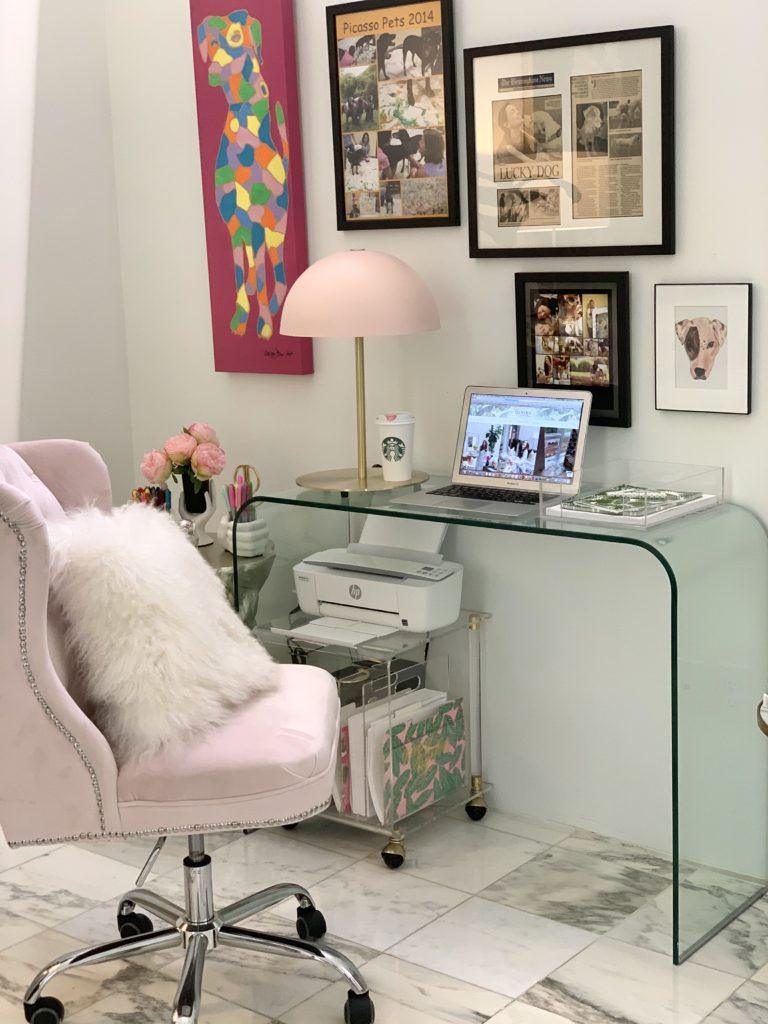 Add a Simple Table or Desk
I chose a glass waterfall console to use as my desk. It's narrow, doesn't take up a lot of space and gives a clean and simple look in the corner of the bedroom. Any sleek table or desk can really glam up a work space.
I also have a white wicker desk in a guest room that was mine growing up from middle school through high school.  It's an older desk, but I have simplified it with very few desk accessories because it has drawers to keep the clutter hidden. It still looks chic with the "less is more" approach and adding a glam lamp on top and a couple of chic accessories brings the dated desk up-to-date.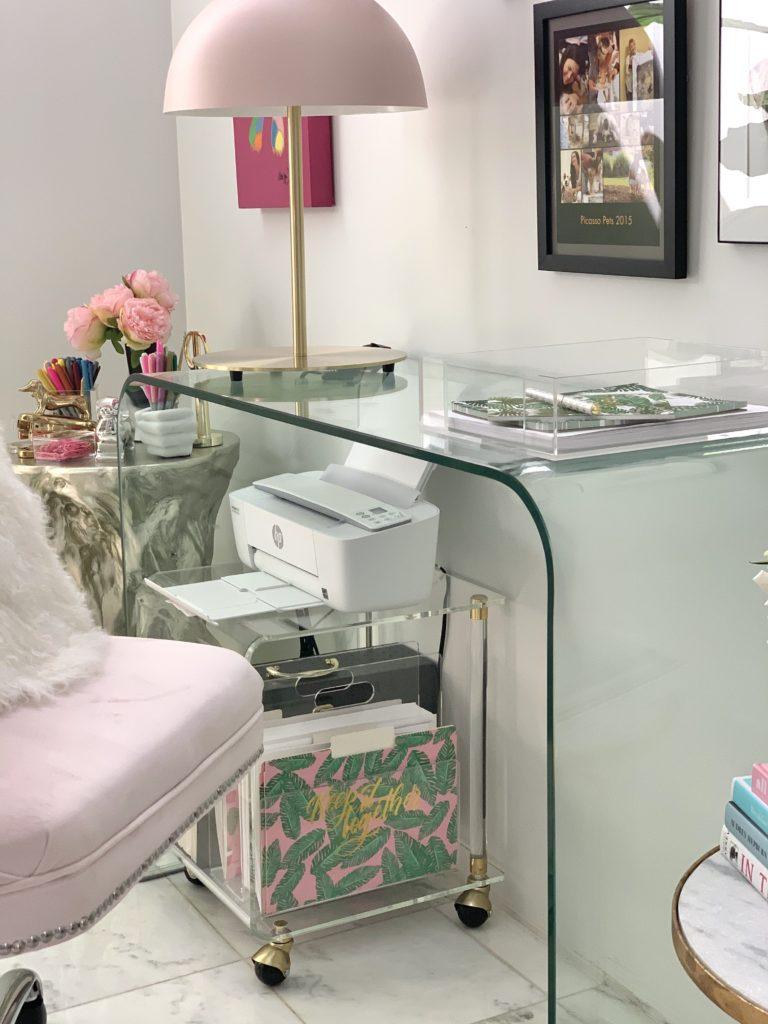 Remove Clutter & Clean the Work Area
My office space is small and there is not a lot of storage space. Keeping this space organized and free from clutter is important so it doesn't become a catch-all for mail, bills and papers.  Reducing as much clutter as possible can be an overwhelming project.
SHRED & RECYCLE – Start by going through paperwork, folders and files and reduce paperwork by checking to see what is already accessible electronically.
REMOVE or DONATE – Take away items that don't serve a purpose in this area, so that it doesn't distract from work and allows more space.
CLEAN – A glass desk is easy to clean with glass cleaner, but recently with the COVID-19 virus, I have been cleaning my laptop and phone regularly with Windex Electronics wipes.
Click HERE for the Electronics wipes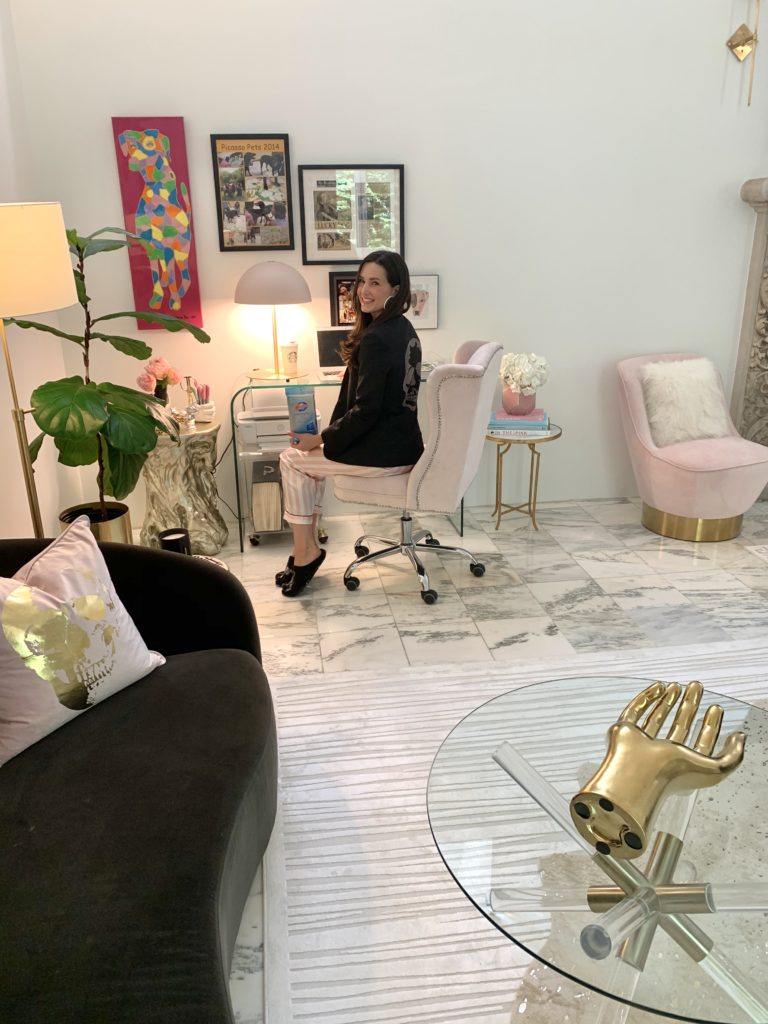 Add a Stylish & Comfortable Chair
A stylish and comfortable task chair really creates a place you can sit and stay for awhile. I found this plush pink velvet chair that fits perfectly with the decor and adds that touch of glam to the work area. The wheels make it easy to move around the area and turn. I added a Mongolian pillow to the chair to add more comfort when sitting and to add more style.
Click HERE for a similar task chair
Click HERE for the Mongolian pillow cover
Add Chic Desk Accessories & Storage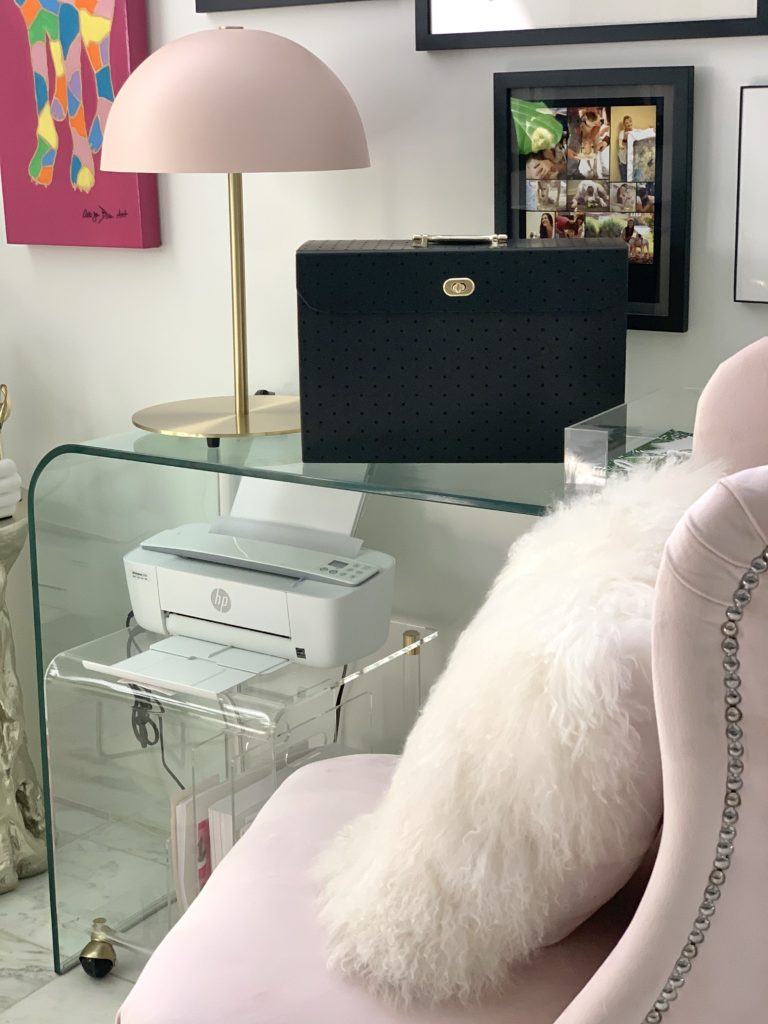 This expanding file organizer is perfect for staying organized and also looks chic with the black flocked dots on the exterior and with the gold handle on top. It stores easily underneath my desk and keeps any papers conveniently in one place.
Click HERE for the Expanding Black Dot File Box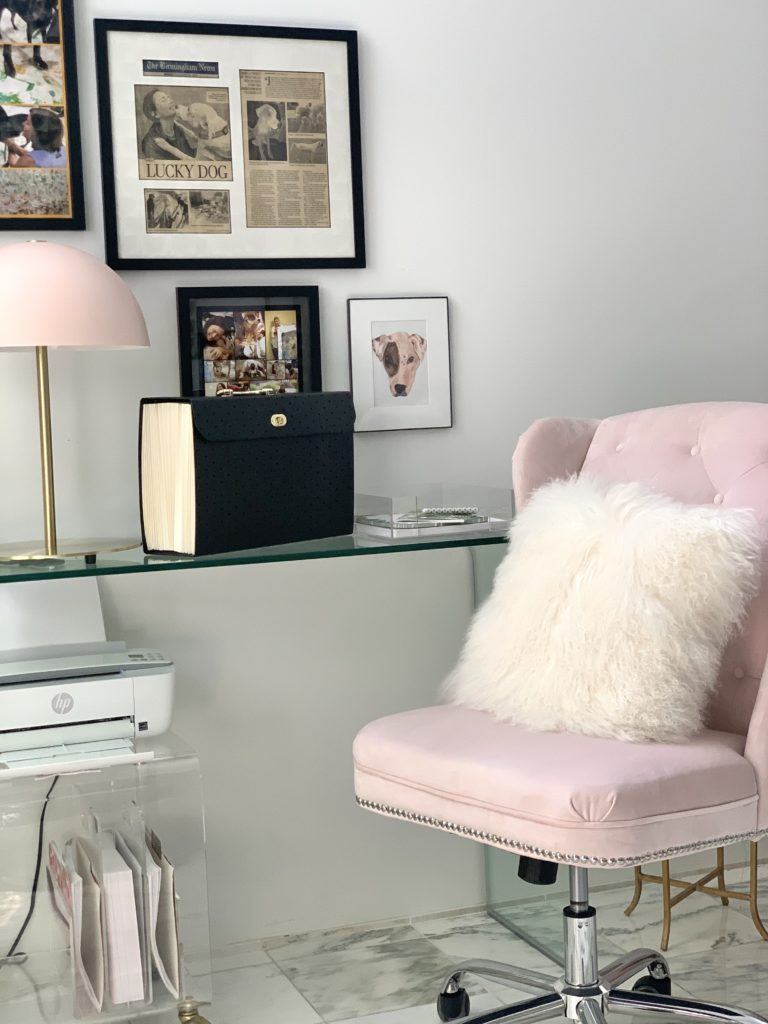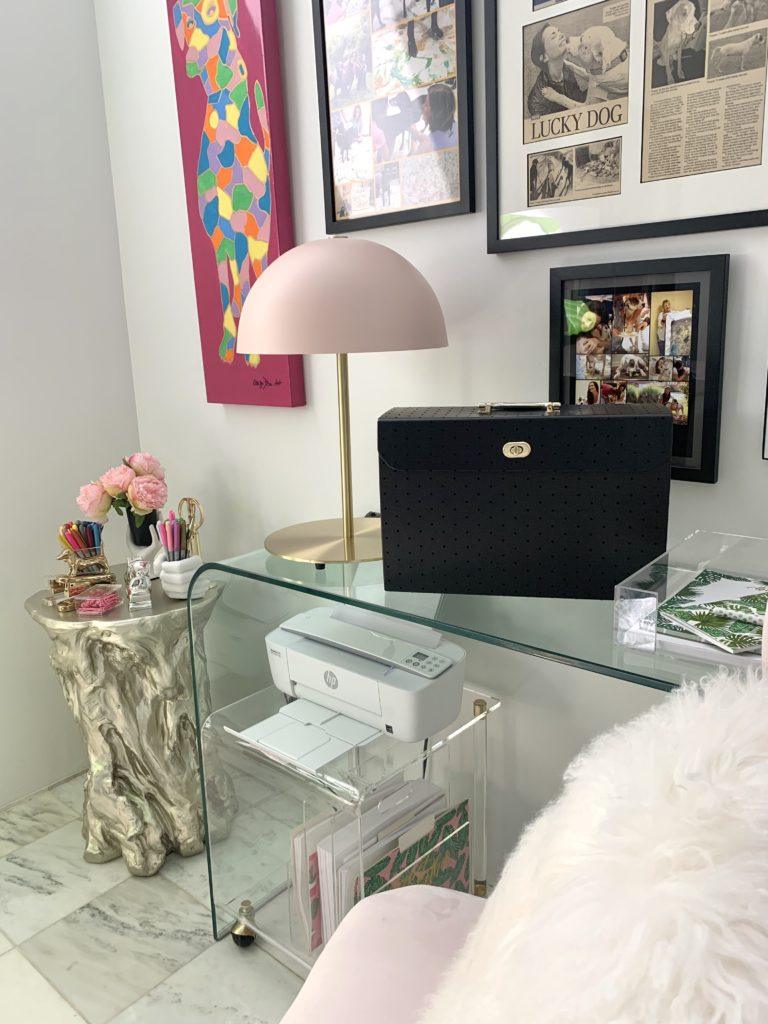 The clear, acrylic paper tray, acrylic pen holder and acrylic rolling cart serve as functional pieces but also visually do not take up much space. I found the rolling acrylic cart that fits underneath my desk at Homegoods. It was definitely a find and was unable to locate something like this online to link.
Click HERE for an acrylic paper tray holder
Click HERE for acrylic desk accessories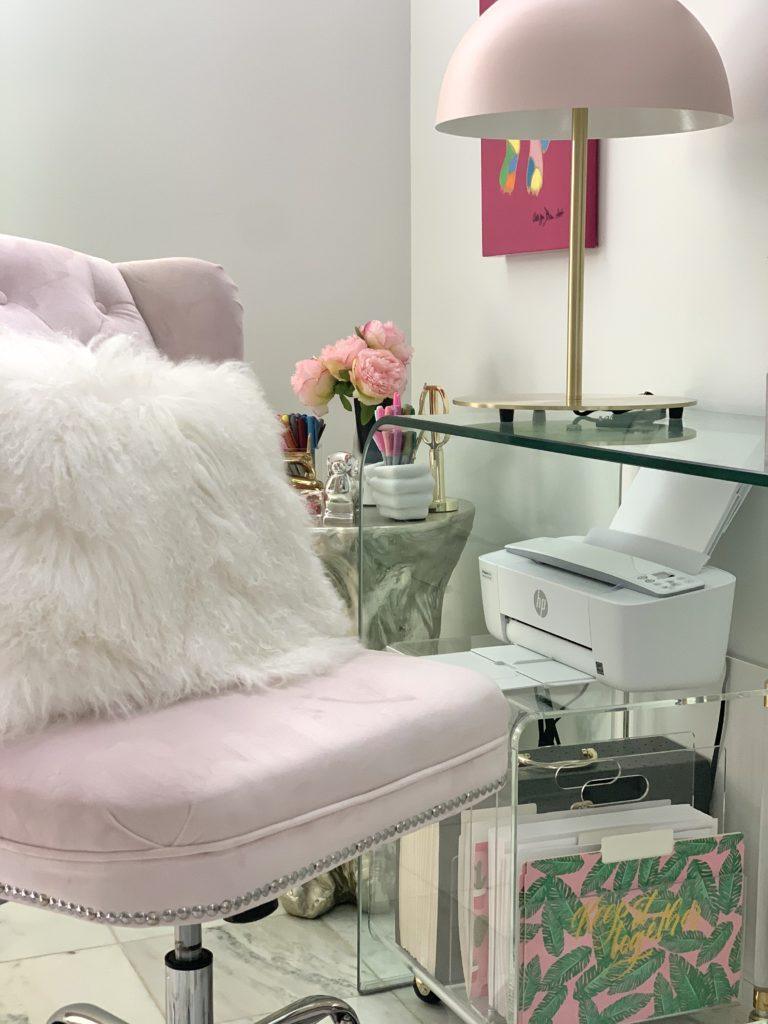 I didn't want to add a printer to this area that took up a lot of space. This printer is just the right size and also does the trick for printing small projects or those return labels for shipments!
Click HERE for the HP deskjet
More Glam, Fun Desk Accessories
I found a set of colorful sharpies and pens and added these in unique holders to bring simplicity and fun to my WFH area. The acrylic cup holder and the hand holder provides both of those!  A gold set of  scissors in a standing holder keeps these in a safe spot on the side table.
Click
HERE
for Hand Pen Holder
Click
HERE
for Gold Scissors with Stand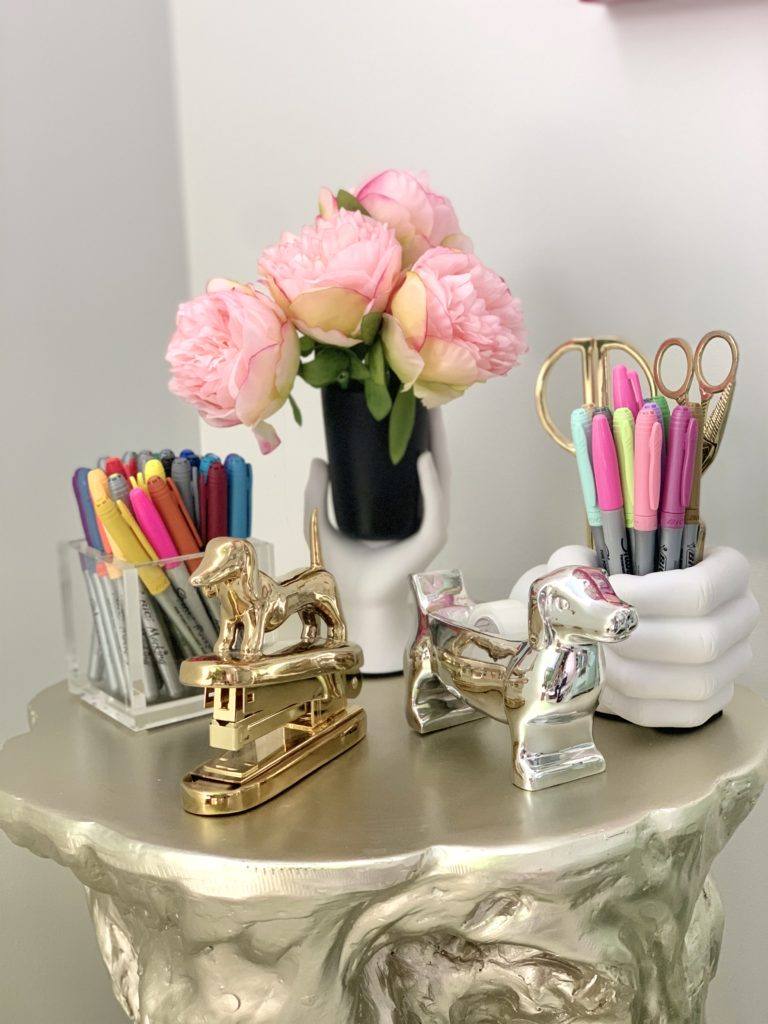 These faux peonies bring joy to this small area and a pop of color!
Click HERE for Faux Peonies
Add Light & Ambiance
I've always thought of light fixtures, sconces and lamps as an accessory or "jewelry" for your home.  Give your desk a warm glow by adding a task or table lamp and why not pick one that is chic and fabulous!  I found this unique lamp and could not resist adding it to this space to work alongside.  The dome-shaped, pink metal shade and gold base add shape and color to this space, but adds softness and glam all at the same time!
Click HERE for the pink table lamp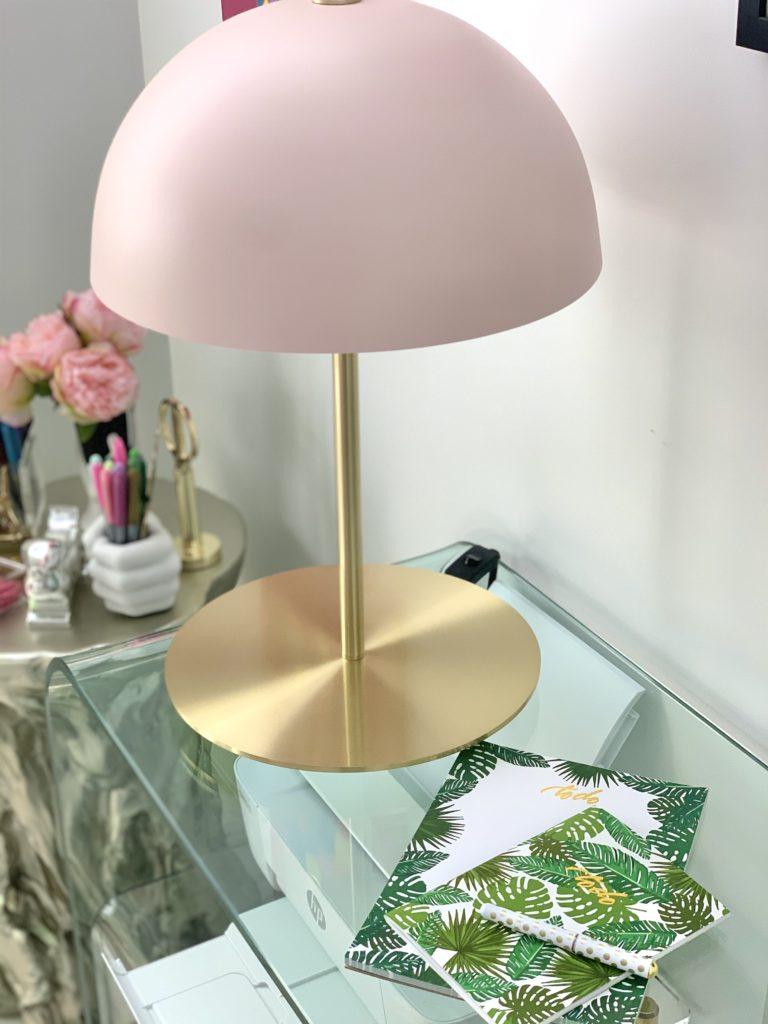 Personalize Space with Pictures, Organization Board, Art or Decor
I chose to put up framed pictures of my dogs and dog artwork above my desk. I thought this was a good area to enjoy looking at their smiling faces while I am working.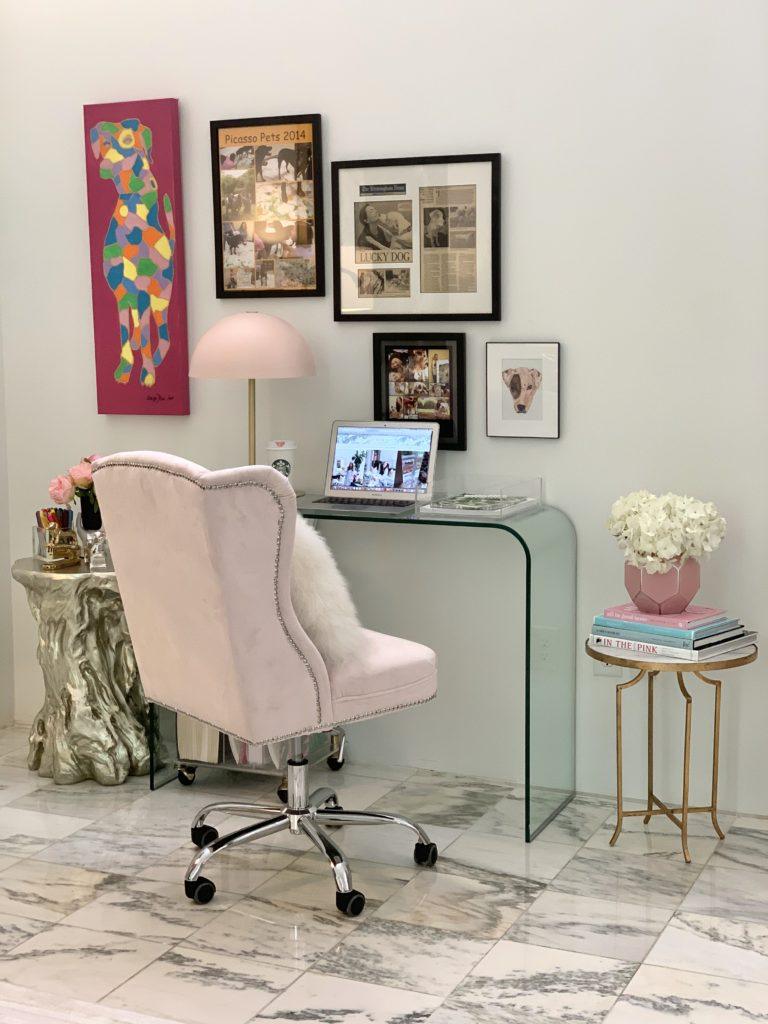 Flowers always add a touch of elegance, glamour and life to a space. I wanted to include this pink vase and added a stack of books on this marble and gold table. It keeps it very simple but these items added a feminine, chic touch along with a mix of soft colors.
Click HERE for pink geometric vase
Click HERE for side table with marble top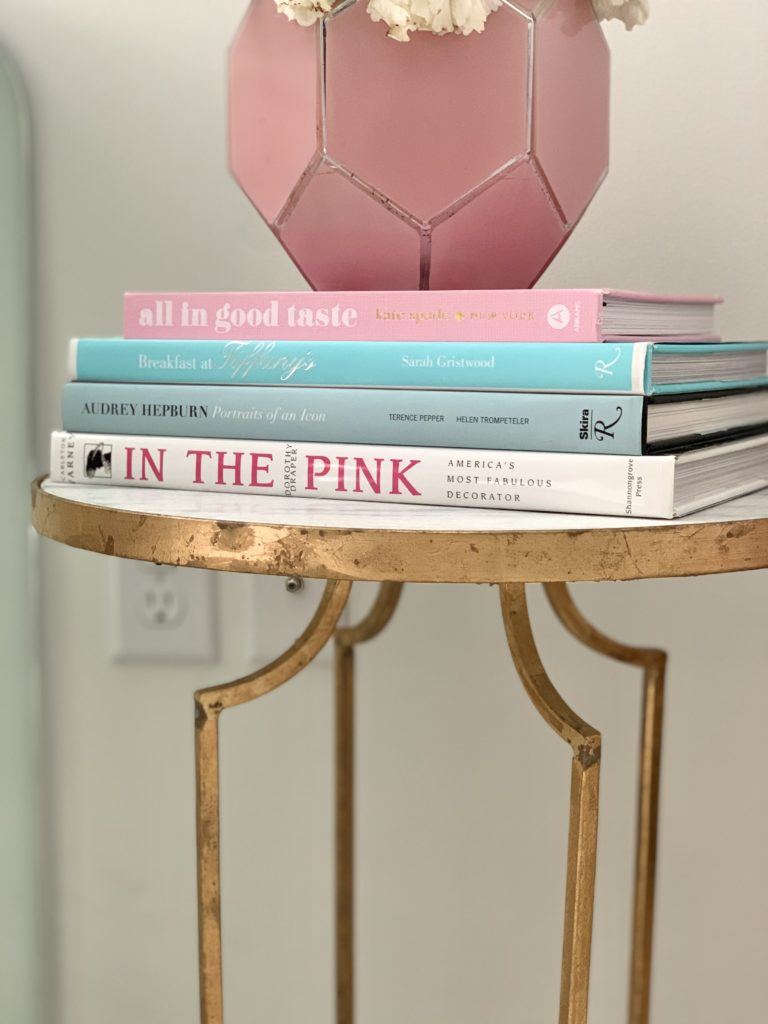 Click HERE for All in Good Taste: Kate Spade book
Click HERE for Breakfast at Tiffany's book
Click HERE for Audrey Hepburn: Portraits of an Icon
Click HERE for In the Pink: Dorothy Draper book