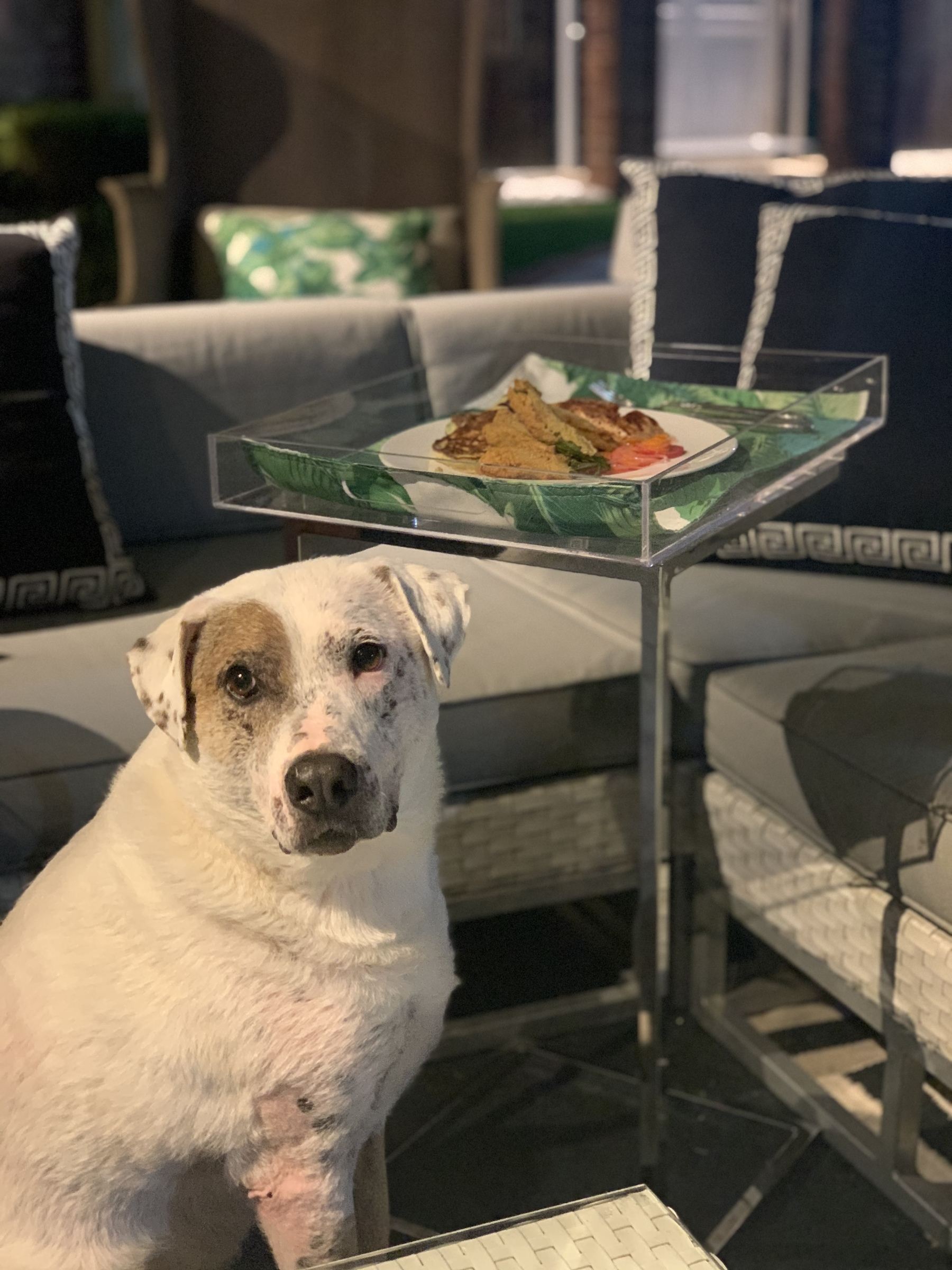 05 Jul

Glam TV Trays and Stands
Dinnertime Style with Glam TV Trays
Bart and I have sat together for meals more at our kitchen table during the past few months than we have ever in the past 3 years in our home! We learned a new pattern during stay-at-home orders due to COVID-19. However, with the beautiful Spring and Summer weather, we decided to take our meals outdoors to our covered patio! I put acrylic trays we had already together with acrylic side tables that we were currently in our family room to create a "TV stand" to enjoy eating our dinner and also watching TV on our patio. I've received messages of where to purchase these trays and stands and wanted to pass along what we've been using and also other ideas. Make your TV trays and stands glam and chic while you enjoy your next meal away from your kitchen or dining table!
Xoxoxo
D

Chic Trays
I've used these acrylic trays for a few years now. They fit most placemats almost perfectly at 14″ x 28″ and also easy to clean with soap and water. I prefer the cut-out handles of this tray over handles that extended above or beyond the side of the tray. This helps to eliminate any issues with stacking the trays and storing them after use in our pantry.
Click HERE
I also have these lacquered metallic wood trays and they also fit most placemats perfectly at 14″ x 28″.  These are more decorative with this lacquered look and come in this beautiful metallic Blush color. They also come in other colors: Metallic Gold, Metallic Silver and White.   They are very easy to clean with soap and water, but do not allow them to sit in water because the wood will expand and the paint will chip.
Click HERE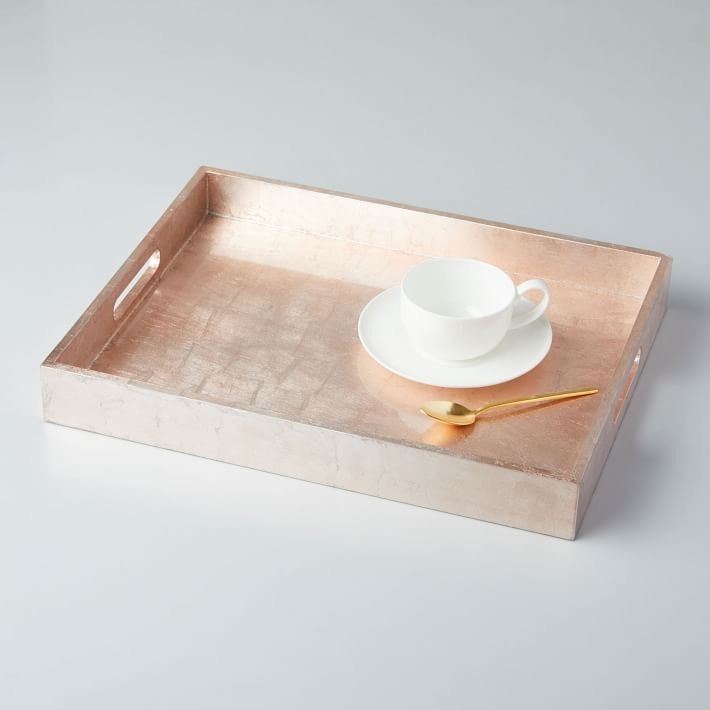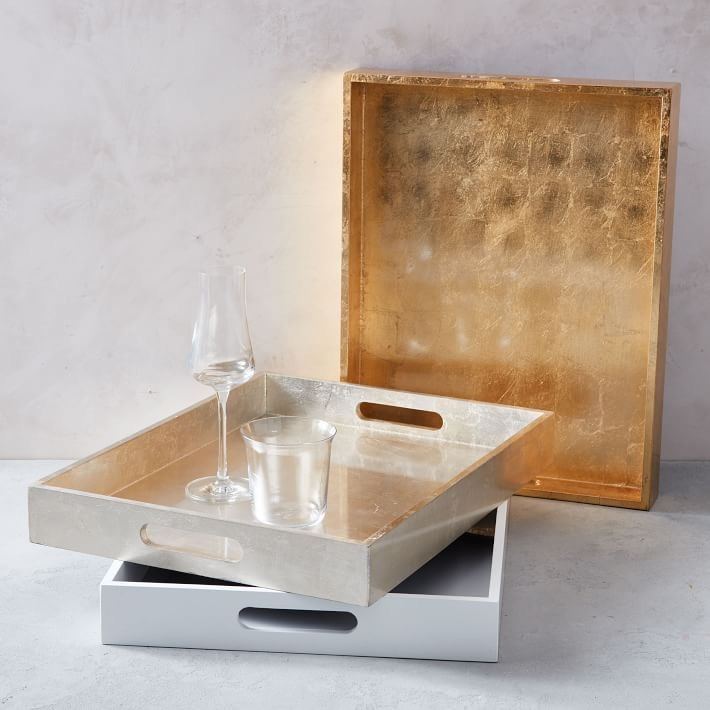 This acrylic tray has exterior gold metal handles and is super chic! This would be a personal preference of whether you want dimensional handles on the tray or not. I love the look of this tray but don't know if storing these would be as easy in our pantry drawer since the handles would take up additional space. This tray comes in different sizes and the 14″ x 28″ tray is linked below.
Click HERE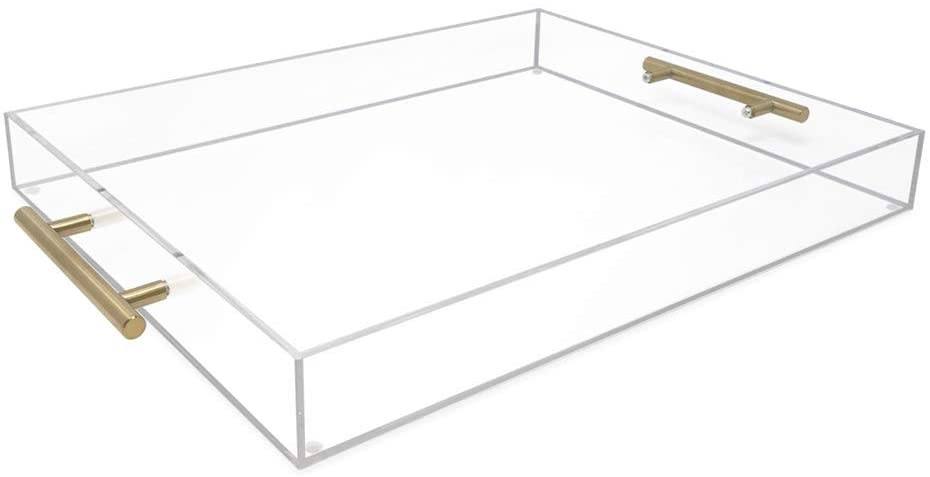 Glam Side Tables that Serve as a Tray Stand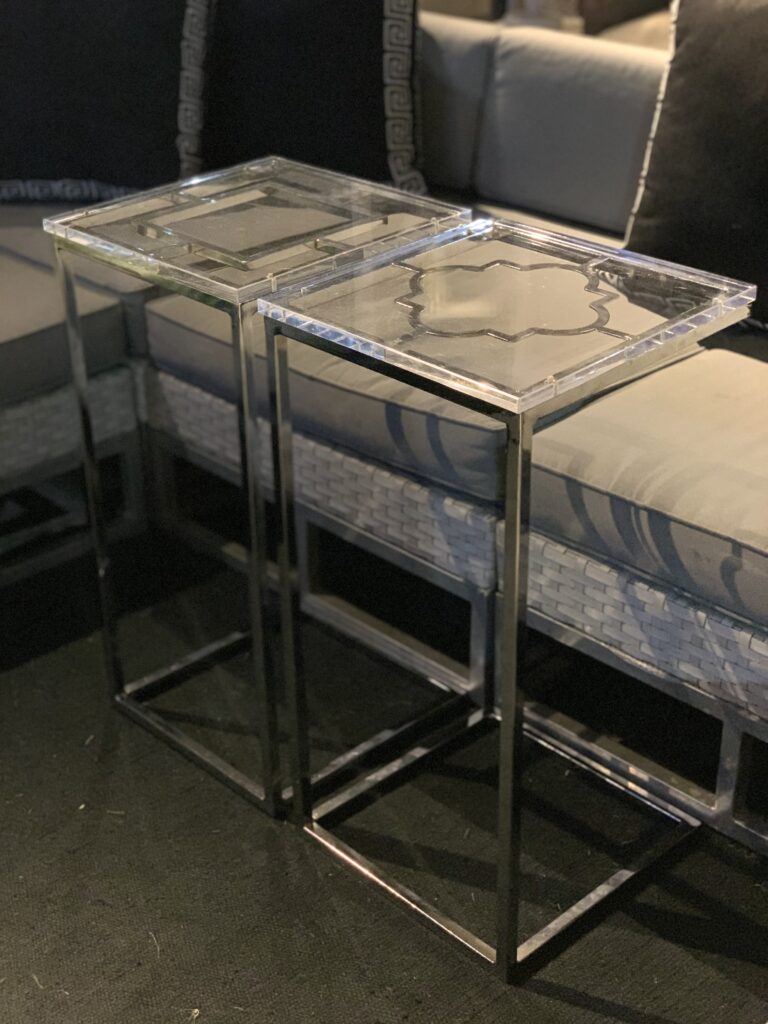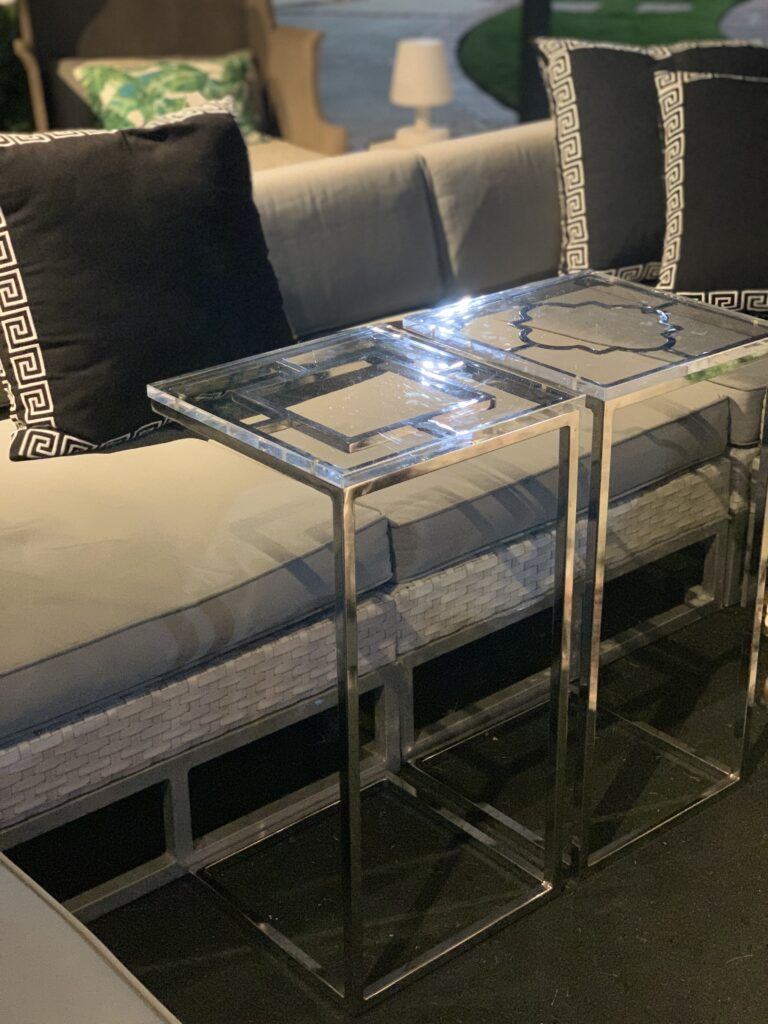 This Acrylic C-Shaped Side Table has an acrylic top with silver metal base that easily slides under your sofa or chair.  I like this functional aspect of this C-shaped table so that you can pull the table close to you with a tray on top of it to eat a meal in front of a tv. It's simple, functional and also has a fashionable flair!
Click HERE
Here are a few others that are also stylish & glam!
Acrylic Top and Brass base folding table is perfect to serve as a TV stand and also for entertaining. These fold up easily to store, but also make great end tables and nightstands.
Click HERE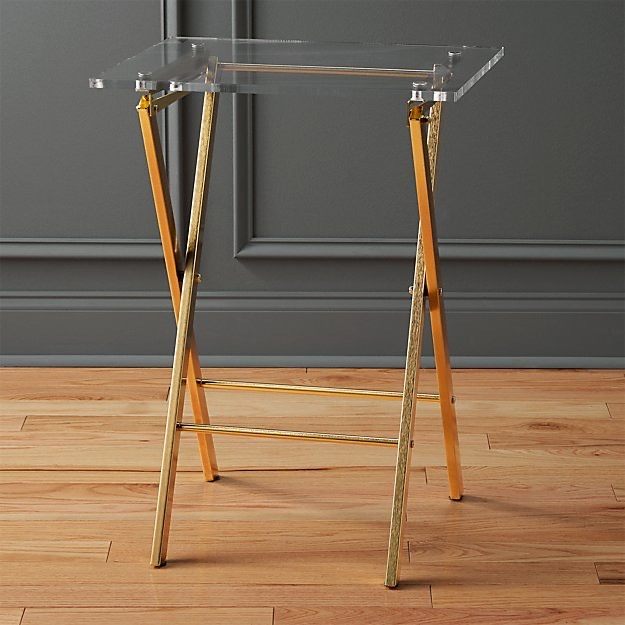 This is another similar folding art deco tray table and it comes in a set of two!! It easily tucks away when not in use and is chic and decorative with gold-tone frame and a characteristic art deco clear acrylic top….also comes in a silver metal finish.
Click HERE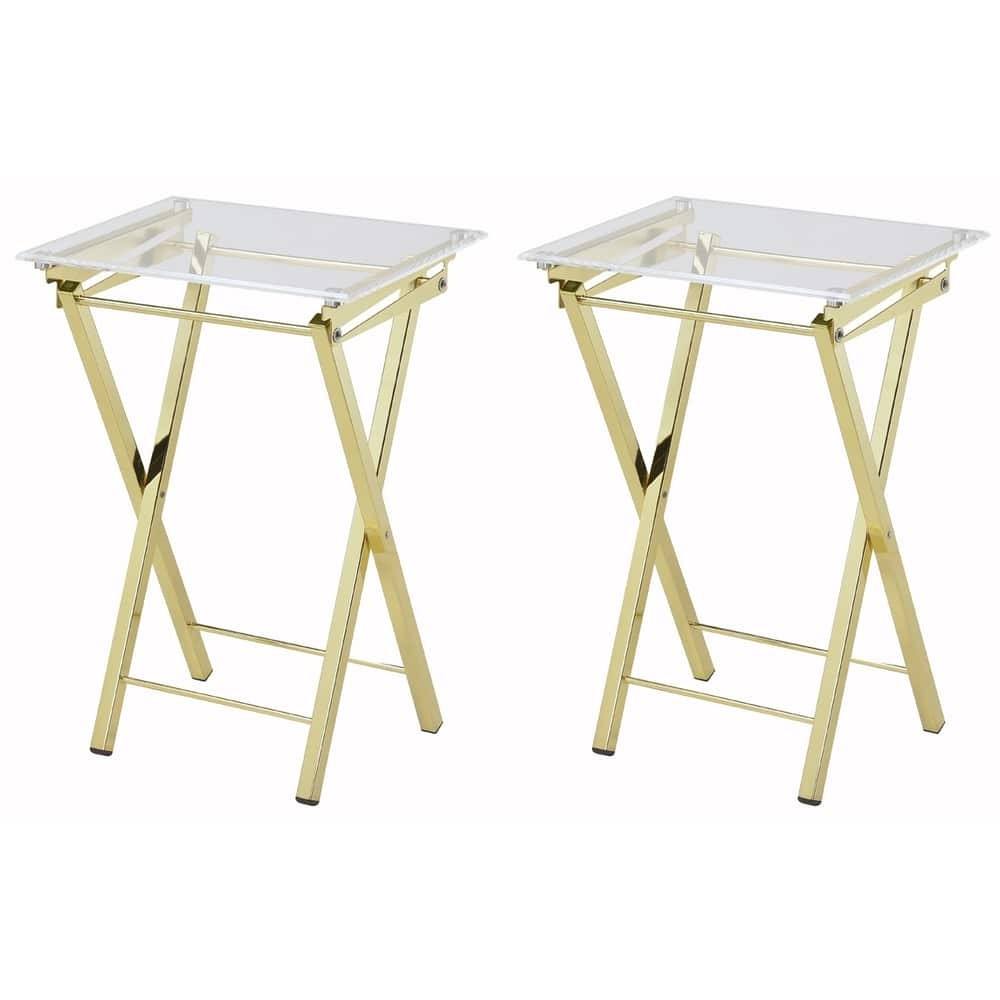 This hexagonal-shaped white marble top table is a laptop table. It's glamorous with gold legs and versatile to serve also as an occasional table, drink table, entryway catchall or nightstand. It's a great table to use as a tray stand in front of the TV, too!
Click HERE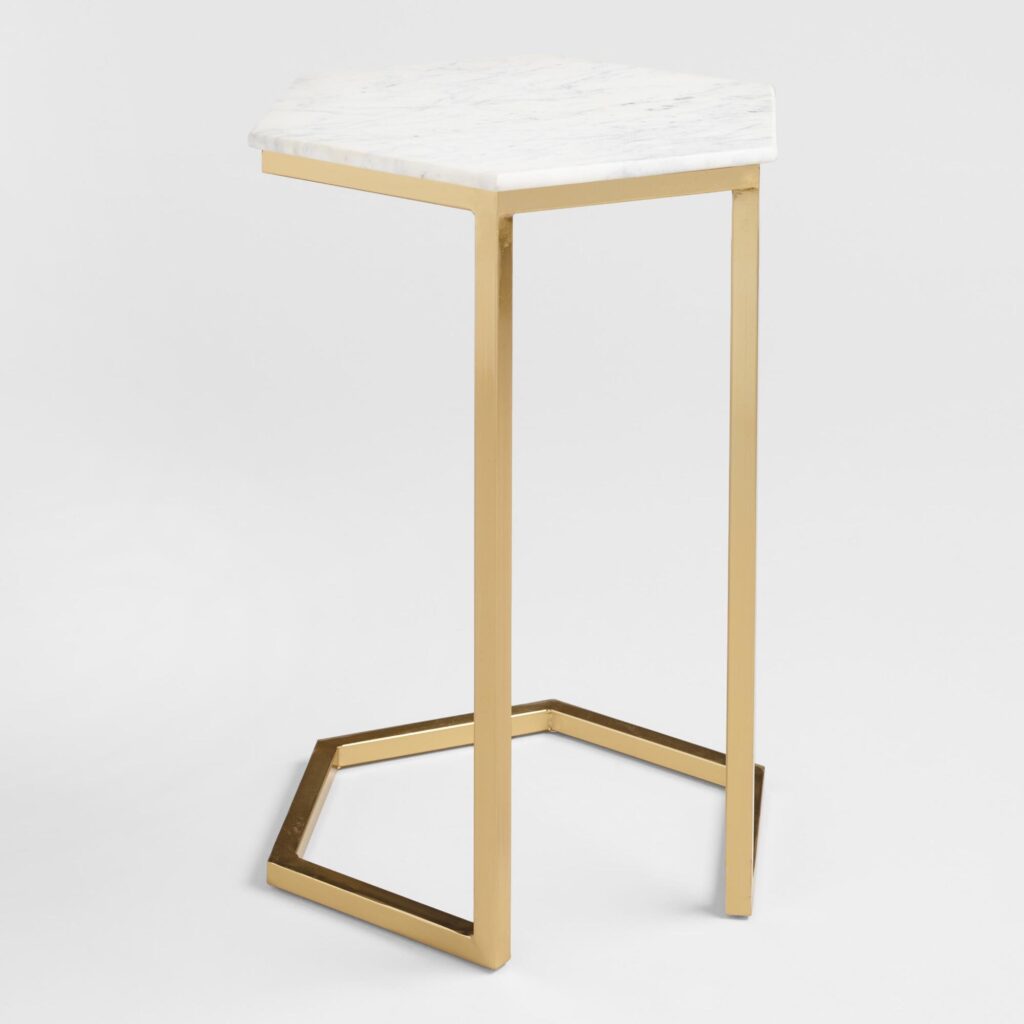 This accent table has a beautiful modern design with greek key shaped metal base and a glass table top. Perfect for use a side table and also for a beautiful TV stand to hold a tray!
Click HERE

This end table brings a simple and contemporary style to your room. The C-shaped silhouette has a glass top and is perfect for a laptop, coffee, cocktail and even a TV tray!
Click HERE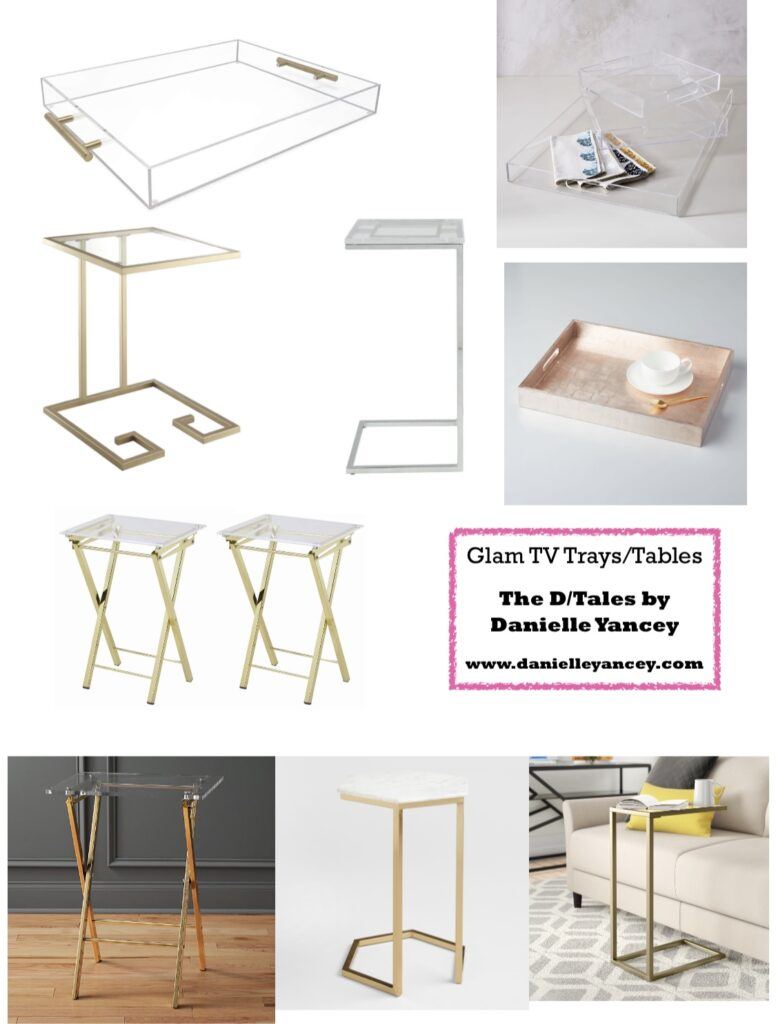 Click under Shop My Feed at the bottom of this blog post to click on these items!
Bon Appetit!