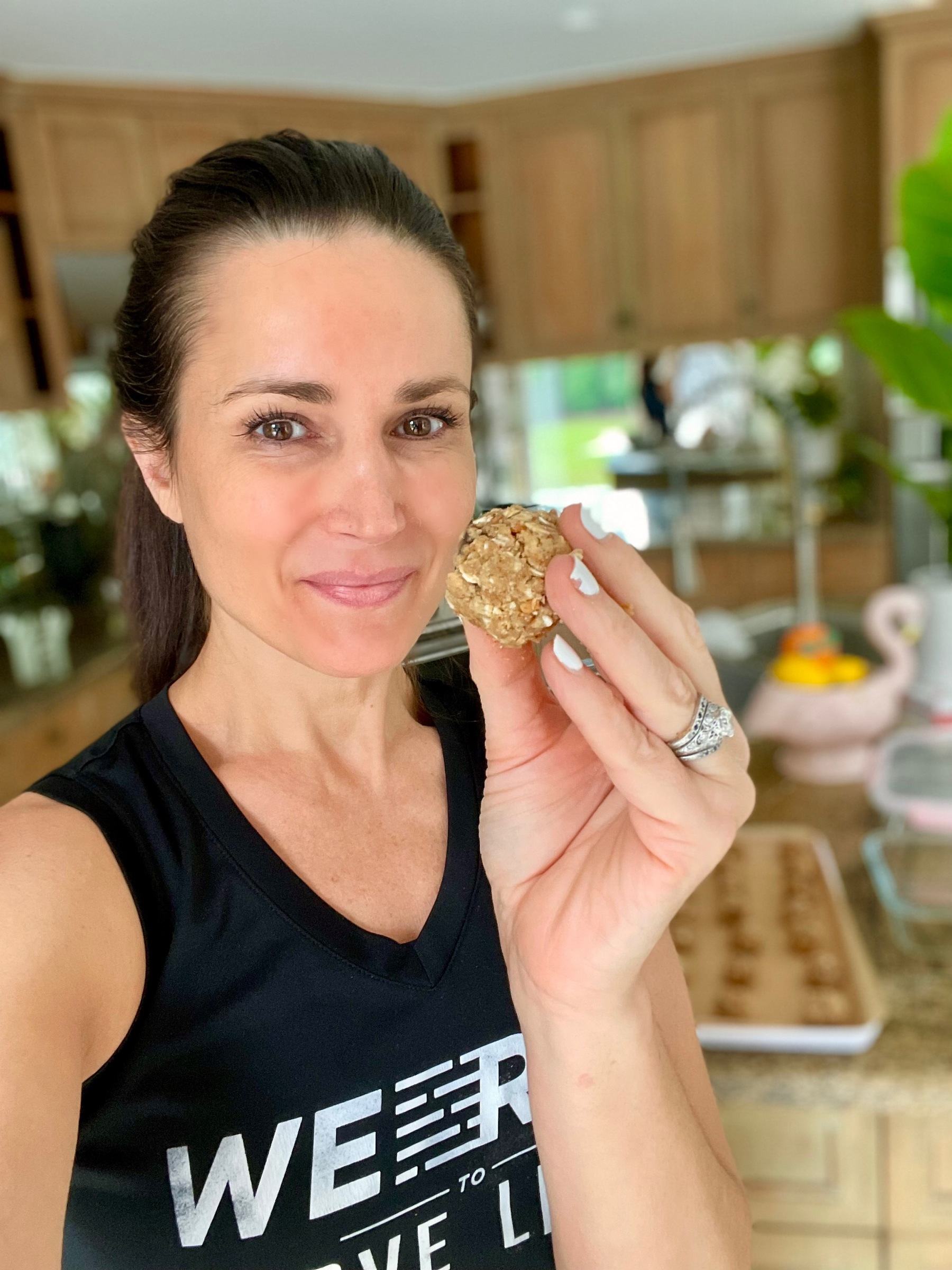 14 Aug

Chocolate Chip Cookie Dough Protein Balls
Chocolate Chip Cookie Dough Protein Balls
As I have been training for the NYC Marathon for KultureCity, I have been eating more healthy, nutritious snacks that have more protein.  I wanted to make something I've really enjoyed eating lately…Protein Balls!  I also wanted to make a recipe that tasted close to Cookie Dough. I tried a couple of recipes out first, then tweaked them to make my own recipe.  These bite-size snacks are a great way to include nutrition and protein and fuel your body before or after a workout. This recipe below is an easy and healthy recipe and one that doesn't take a lot of time to make.  Perfect for an already made, go-to breakfast, a between meal snack or a pre or post-workout snack. Enjoy!
Xoxoxo
D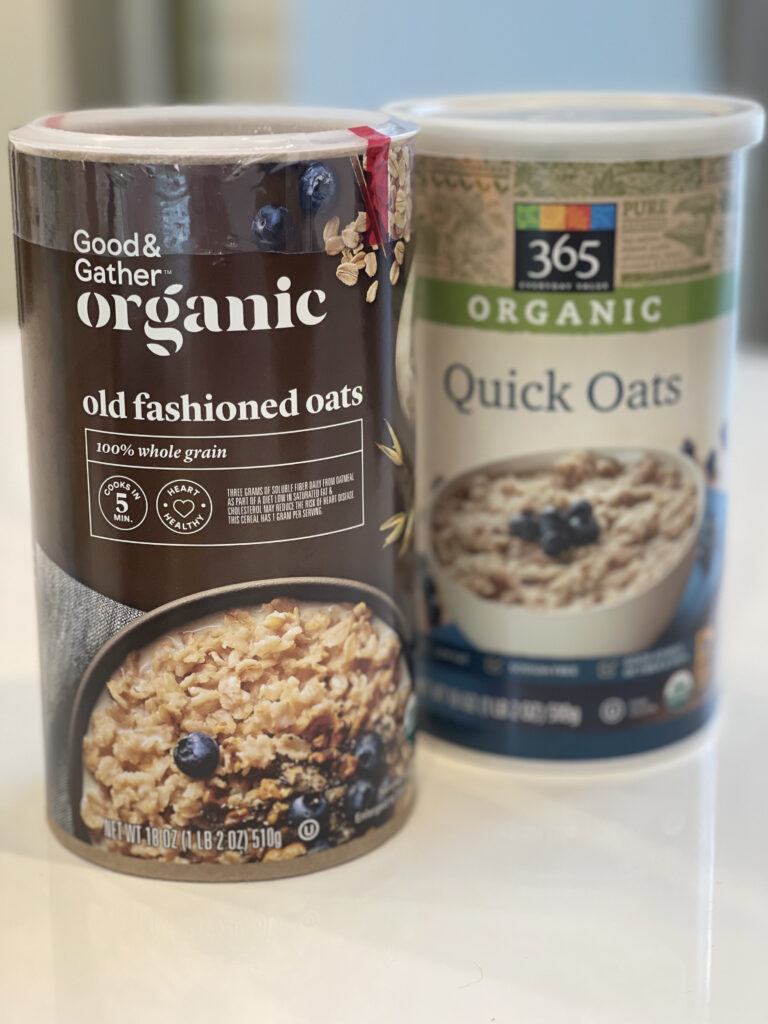 Health Benefits of Oatmeal
Oats are among the most Nutrient Dense Foods
May Lower the Risk of Heart Disease
Lowers Blood Pressure
Gluten-Free Whole Grain
Lowers Blood Sugar Levels
High in Fiber
Increased Feeling of Fullness May Help You Eat Fewer Calories & Help with Weight Loss
1/2 cup of Dry Oats Contains Approximately: 27 grams of carbs, 5 grams of protein, 2.5 grams of fat and 4 grams of fiber and 150 calories
Organic Plant-Based Protein Powder

Adding protein to your diet can help curb cravings and snacking throughout the day. I've been using Garden of Life Plant-Based Organic Protein Powders for my smoothies and protein balls. There are many to choose from and am using the Garden of Life Plant-Based Organic FIT Protein Powder because it has more protein per serving.
Making Oat Flour
Oat flour is super easy to make or it can be purchased at the store, too. I decided to make mine in my Vitamix. It's quick and easy to make and is also inexpensive.
Purchase "Old Fashioned Oats" or "Whole Rolled Oats" vs the Quick Oats for the Protein Balls recipe. If you want a Gluten free recipe, look for the gluten free oats to make the flour.
To make the Oat Flour, you can use a High Speed Blender or a Food Processor.  I used my Vitamix.
There are two containers for your Vitamix, wet and dry. I don't own the dry container for my Vitamix. If you aren't planning on using the dry container a lot, it is perfectly fine to use the wet container to make the flour for this recipe. It blends really well for the Protein Balls.
1 cup of Organic Old Fashioned Oats make approximately 1/2 to 1 cup of Oat Flour. Be sure to measure the oats after you make the flour to make sure the measurements are what you're looking for.
Blend the oats to a texture of what you want for your recipe: blend longer for a finer flour or blend less to get an oat flour with a bit more texture.
Make sure to pause the Vitamix or blender to move the dry goods around to product a finer flour. It may take only 45 seconds to blend the oats into a flour.
If you're using a food processor, don't overfill the container, pulse many times so that oats are chopped. Then, continue for a minute or more until oats are finely ground.
Unsweetened Almond Milk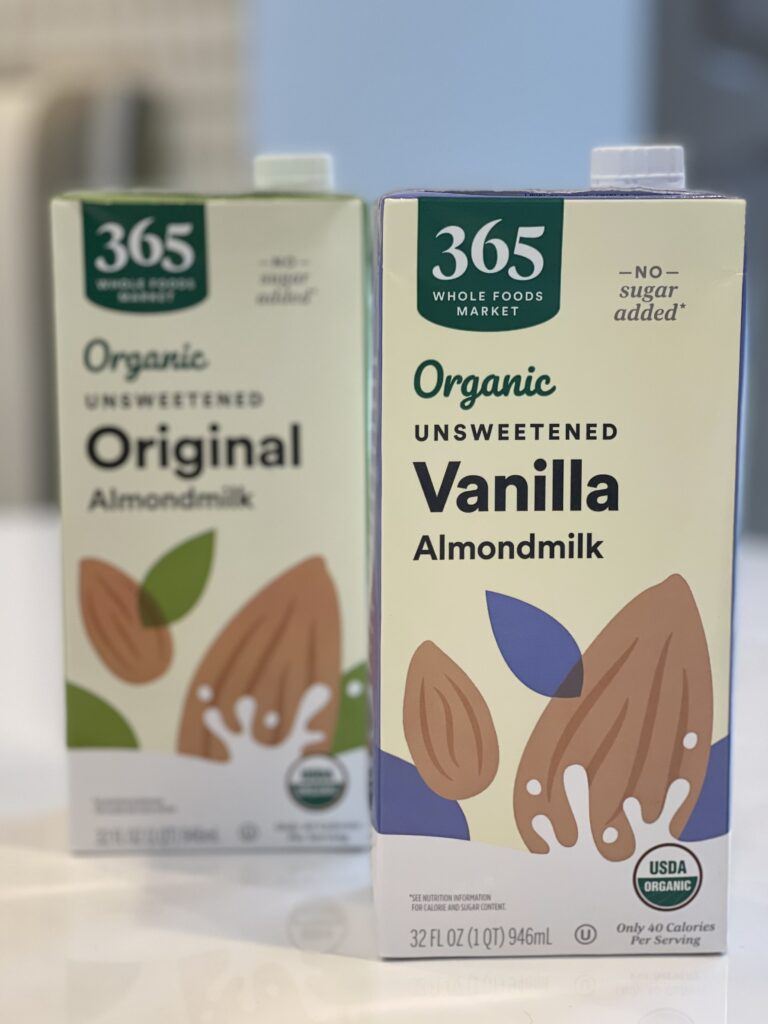 I like to use Organic Unsweetened Almond Milk or Organic Unsweetened Vanilla Almond Milk for my oatmeal, smoothies and protein balls. However, there are so many other options if you want to sub the almond milk for another type milk or plant-based milk.
Himalayan Salt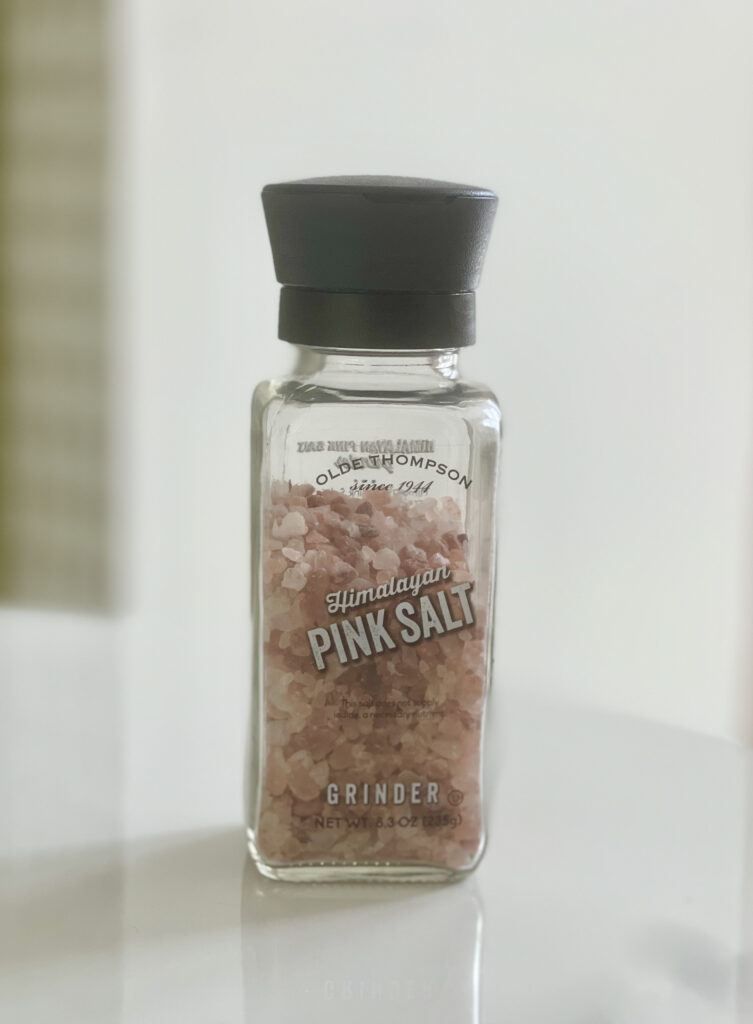 Doesn't adding a dash of Himalayan salt or Sea Salt to the Protein Bites sound good? Himalayan Salt is believed to be a healthier alternative to regular salt because it is minimally processed and free of additives and thought to be much more natural than table salt. The natural process also allows many other minerals and trace elements to remain that are not found in regular table salt like: Calcium, Potassium, Magnesium and Iron.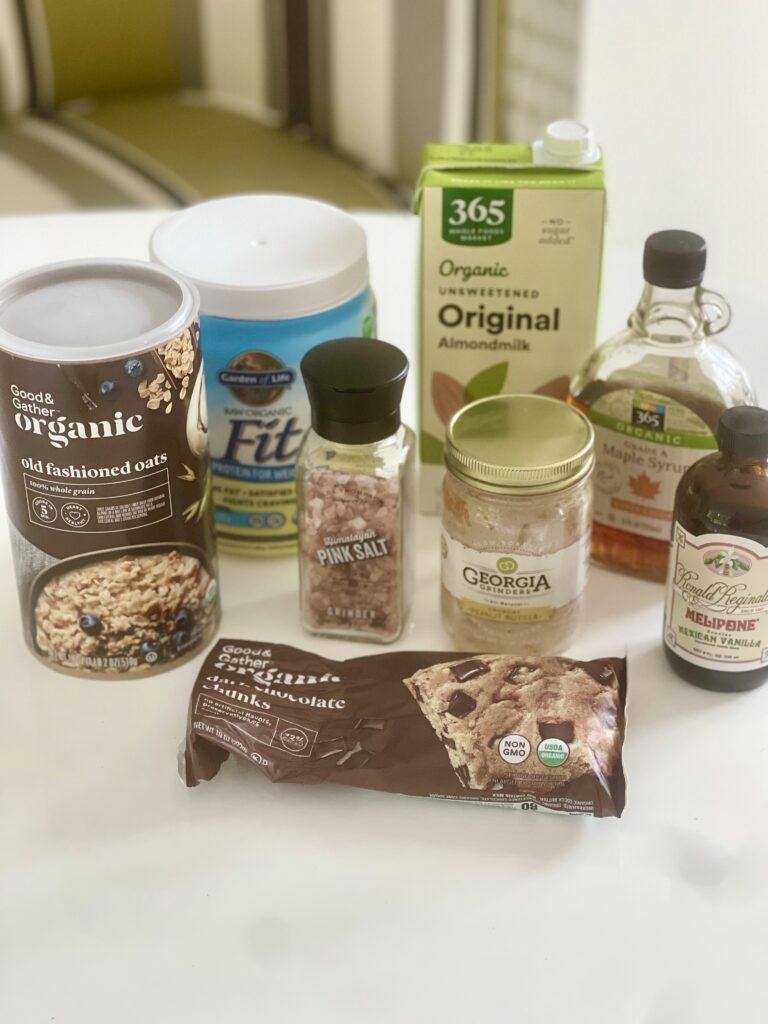 Check out the recipe below and hope you like these delicious and healthy bite-size snacks!
Chocolate Chip Cookie Dough Protein Balls
Makes approximately 28 Protein Balls that are 1 1/2″ diameter.
1 1/2 cups organic oat flour
1/2 cup organic old-fashioned oats (I tried this recipe with Old-Fashioned Oats not Quick Oats)
1/3 cup vanilla protein powder
1/2 – 1 tsp Himalayan salt or sea salt
1/2 cup unsweetened organic almond milk, or another milk
1/2 cup peanut butter or another nut butter (one with oil in it is better)
4 Tbsp maple syrup or honey
2 tsp pure vanilla extract
1/2 cup organic chocolate chips, or dark choc chip chunks
Line a baking sheet with parchment paper or a glass container to store in fridge. Set aside.

In a large bowl, whisk together dry ingredients: oat flour, oats, protein powder and salt.

Using a rubber spatula, stir in wet ingredients: almond milk, nut butter, maple syrup or honey and vanilla extract.

Fold in chocolate chips or chunks.

If the mixture is too dry, add another Tbsp of almond milk. Mixture should be like a cookie dough consistency and not sticky.

Using a scoop or spoon, roll the dough into small 1 1/2" balls and place on the baking sheet. I used a cookie scoop that measures about a 1 1/2″ diameter. The scoop gives you a more consistent shape. Here is a cookie scoop set

HERE

.

Ready to serve or store in the refrigerator a glass airtight container.

Store up to 1 week in the refrigerator or freeze for up to 3 months in an airtight container.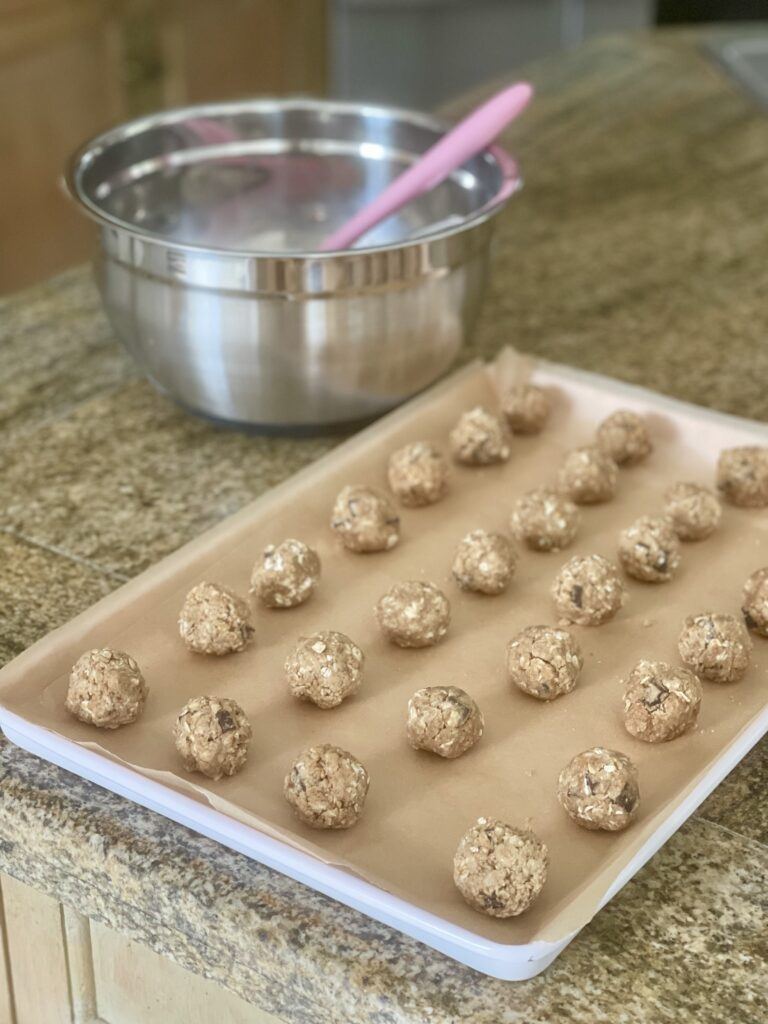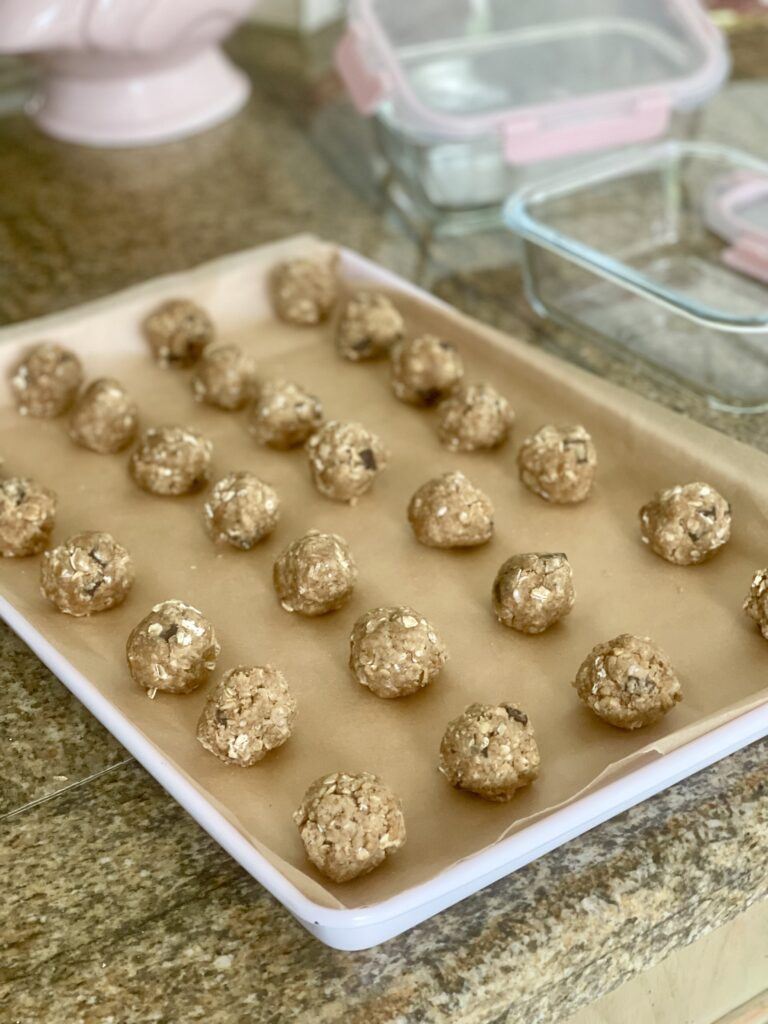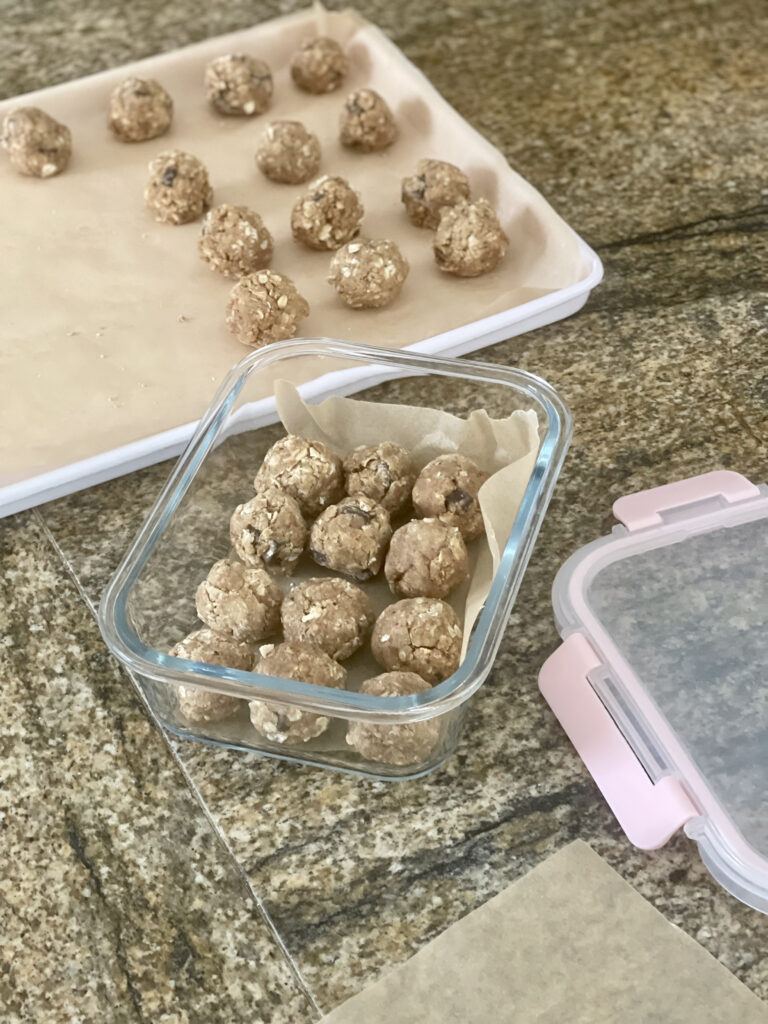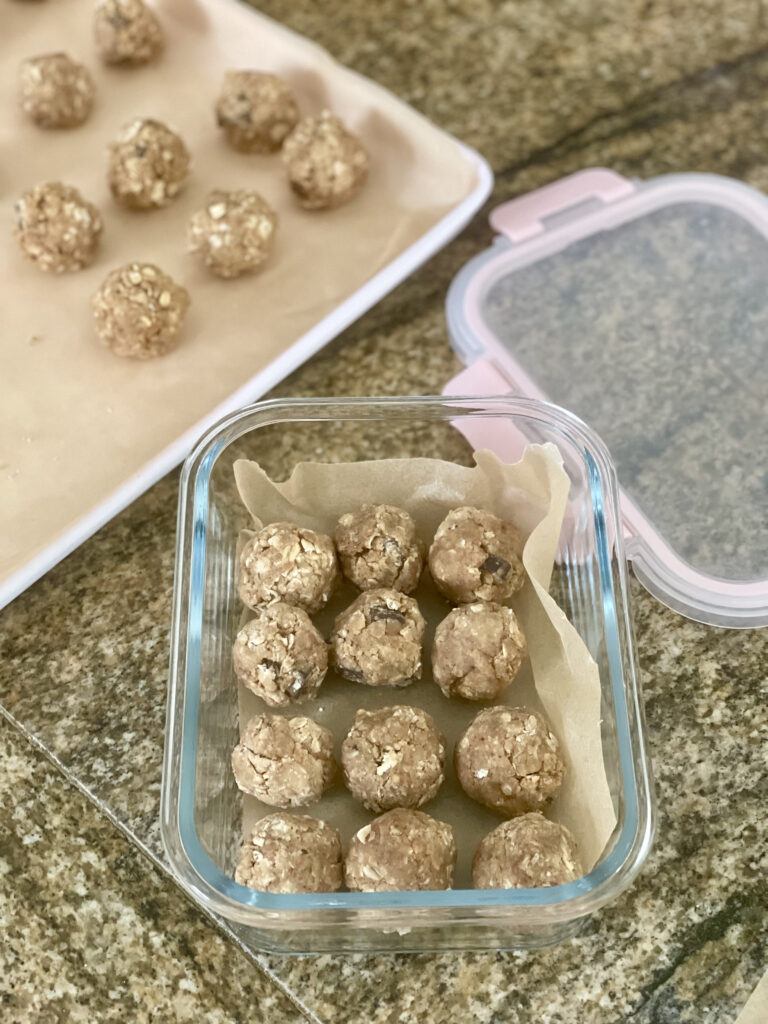 Glass Meal Prep Containers
I found glass meal prep containers and have loved to use these. They seal air-tight, can be used in the microwave, safe to put in the freezer and dishwasher safe. Also, they come in other colors.
The set of 10 glass containers + airtight lids is under $38.
To check them out, click HERE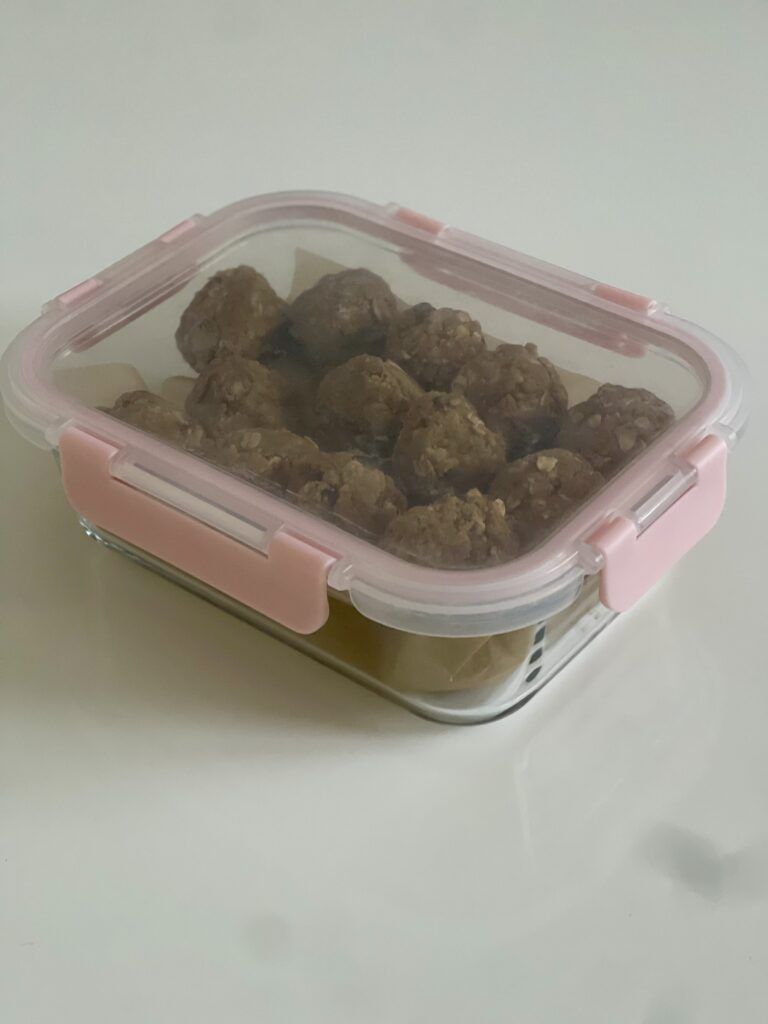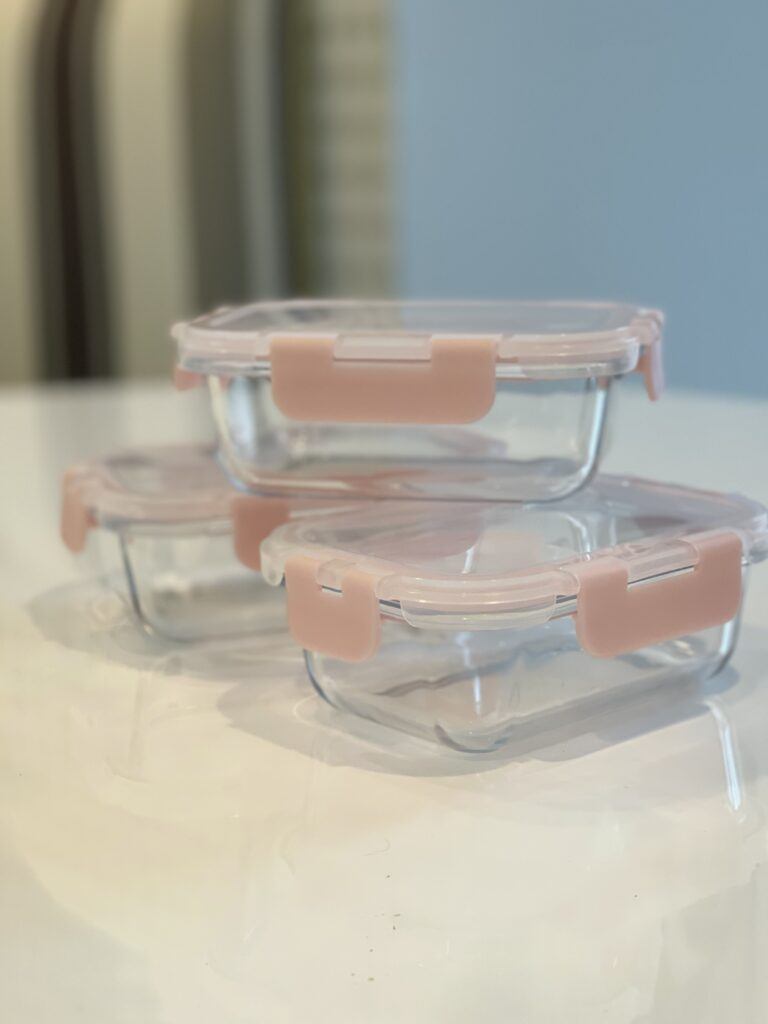 Hope you enjoy!