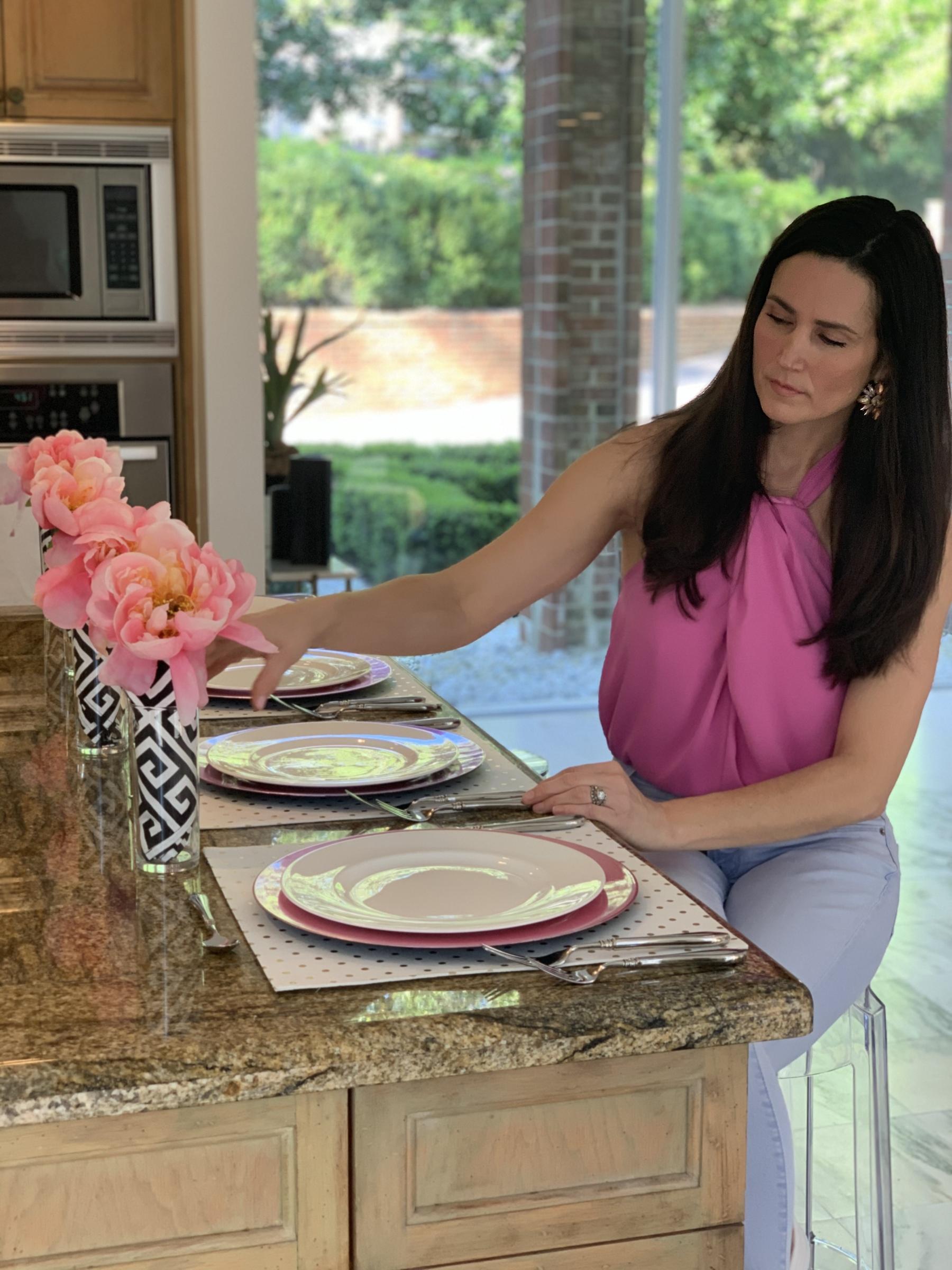 03 Apr

5 Simple Centerpieces
Simple Centerpieces for Spring
As we are entering this Spring season, much is filled with change. We are spending more time at home. While at home, I am trying to find ways to freshen up the house and bring more happiness and glam details to it. Here are a few ideas to freshen up your kitchen or dining table for Spring. Find items in your home to use in different ways: Punch Bowls, Vases, Faux Flowers, Cut Flowers, Herbs or Branches from your yard, Candles, Decor Accessories and more!
Xoxoxo
D
An unexpected vessel can serve as a great centerpiece. This gold swan mini-punch bowl is filled with faux tulip stems and a moss ball. 3 books sit underneath the swan bowl with a small preserved boxwood wreath.
Click HERE for the Small Boxwood Wreath & HERE for the Faux Tulip Bundle.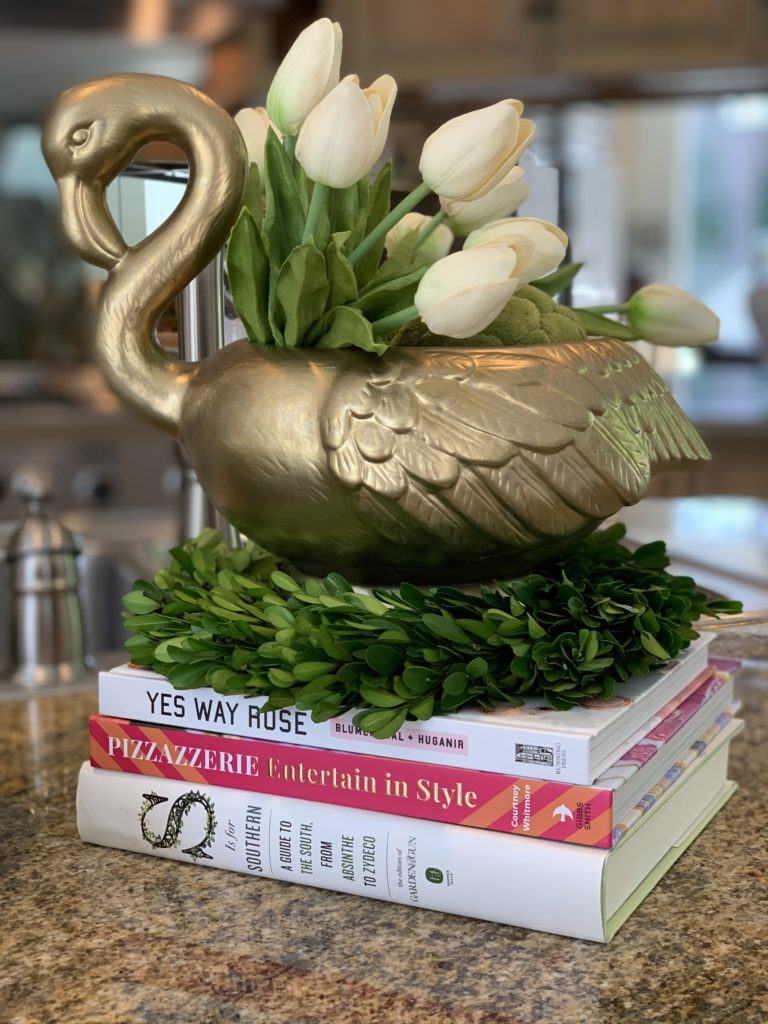 Another simple centerpiece idea is taking a large vase and filling with large branches. Below is the Jonathan Adler Dora Maar Urn filled with magnolia branches from our yard. There are many trees blooming this Spring that would be pretty to enjoy indoors. Before I brought the magnolia branches indoors, I washed and then sprayed a Gloss Shine on the leaves. The Gloss Shine is available HERE
Click HERE for the Dora Maar Urn.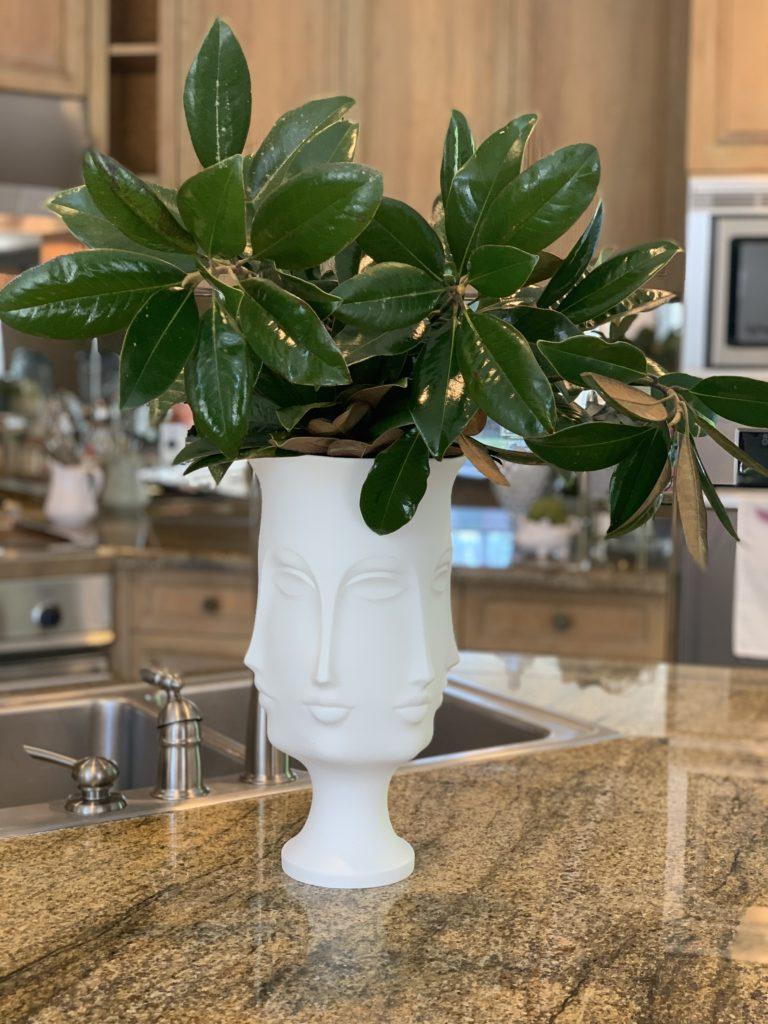 Yellow is happy & bright and a perfect color to brighten up the kitchen counter or table for Spring. A bright yellow vase filled with a branch of azalea blooms will bring a bit of happiness to your centerpiece. Adding lemons is an inexpensive addition to a centerpiece, too. The Jonathan Adler Eve Fruit Bowl is a unique way to display fruit or other decor accessories. Add a candle to bring a welcoming warmth to the room as well as a decor essential.
Click HERE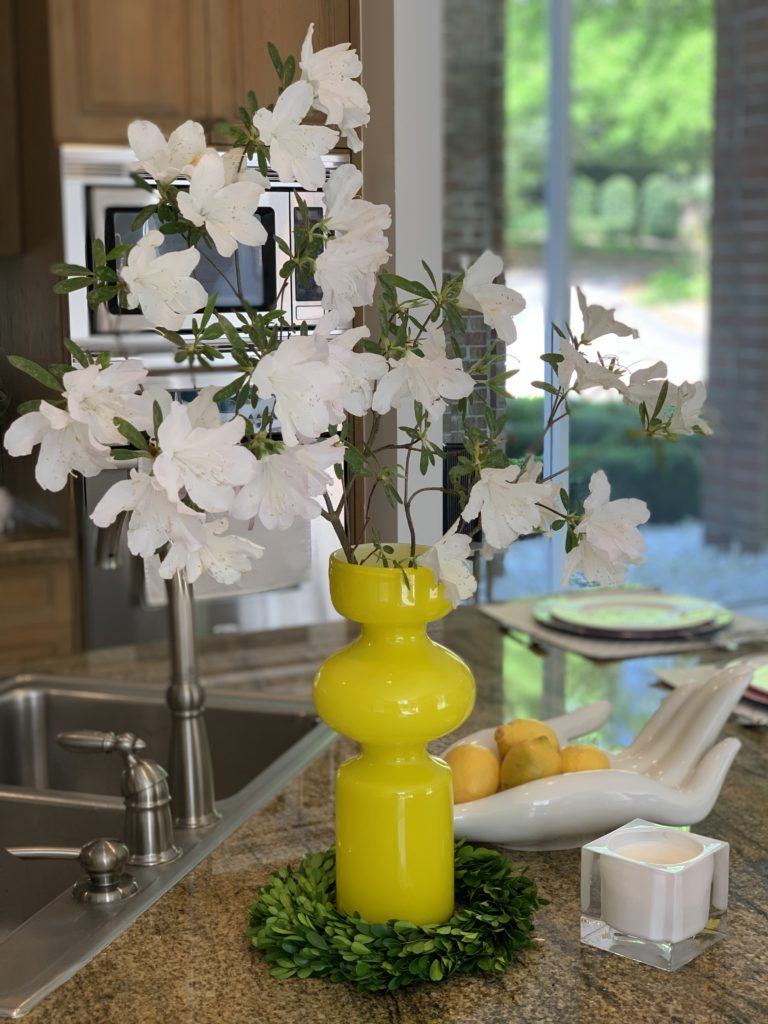 Bring Happiness to your Table or Counter
A trio of ceramic decor accessories on a tray include a small face vase filled with faux peonies, a Jonathan Adler lip bowl filled with apples and a face Muse Blanc candle. These items are simple but also bring unique and glam interest to the counter or table.
 Click below for some items featured:

Adding a few decor items along with a stack of cookbooks or books can change the look of a table. Here is a moss ball surrounded by the small Boxwood wreath again on top of a stack of books. Next to the books is a crystal biscuit barrel filled with pink Starbursts and then a small ceramic piggy bowl with a smaller moss ball sitting on top. Simple items but the combination is easily interchangeable.
For the Ceramic Piggy Bowl, Click HERE
For a Crystal Biscuit Barrel, Click HERE