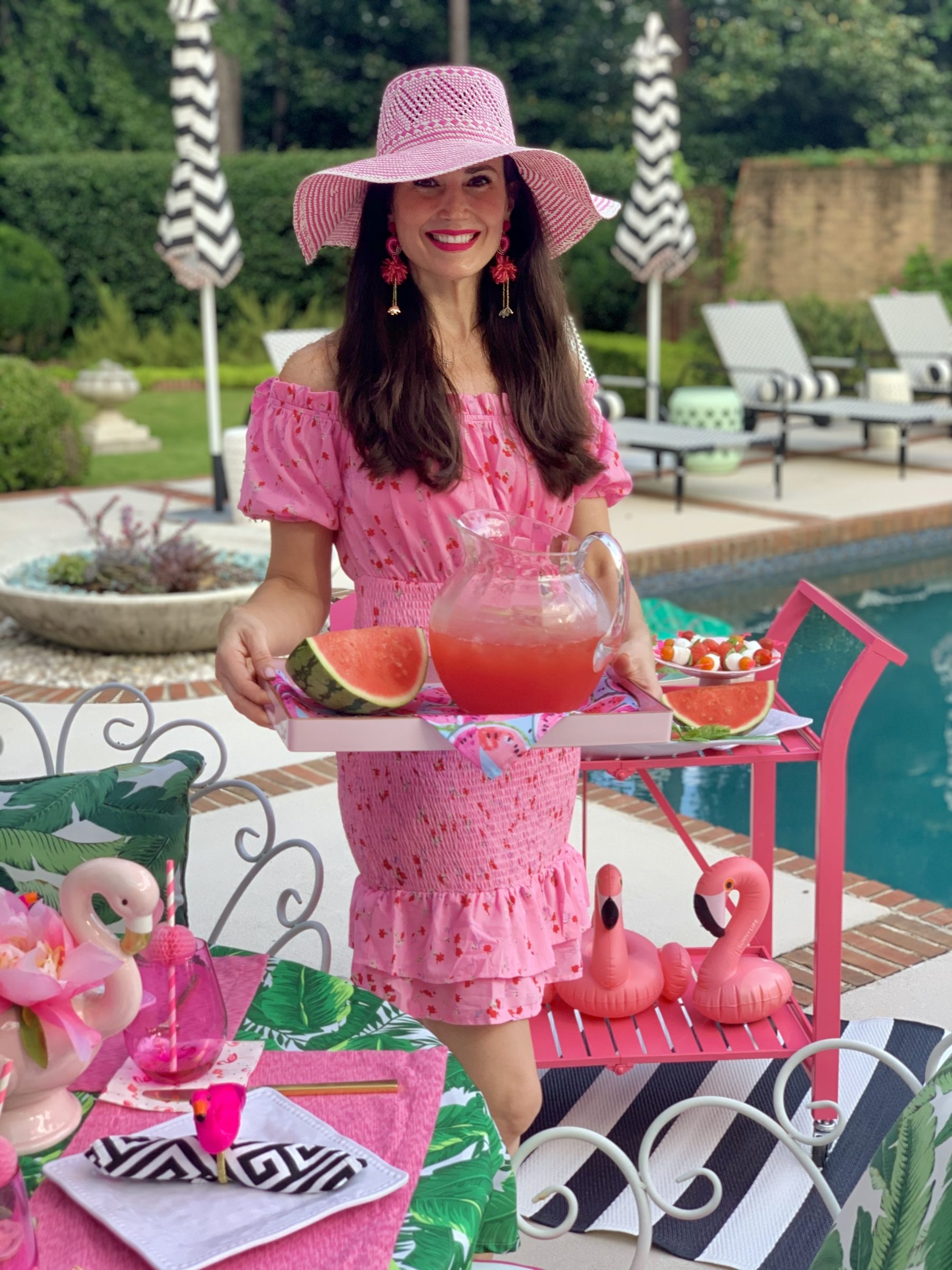 09 Aug

End of Summer Watermelon Recipes
End of Summer Watermelon Recipes
The summer is coming to an end soon and what a great way to say goodbye to summer with some end os summer watermelon recipes. I couldn't resist picking up a watermelon when grocery shopping this week. When it's hot outside, nothing is better than quenching your thirst with this sweet, juicy fruit! I love to add a bit of salt to my watermelon. I've done that since I was little. But recently love the twist of jalapeño to add a little heat to this sweet fruit. Check out a few of these watermelon recipes below!
Xoxoxo
D




Benefits of Eating Watermelon
Watermelons are mostly water (approximately 92%), which helps you hydrate and helps you feel full
Low calorie fruit with approximately 46 calories per cup
High in Vitamin C and significant levels of vitamins and minerals including: A, B6, Potassium and Magnesium
High in lycopene, beta-carotene and amino acids
Contains a compound Cucurbitacin E, an anti-inflammatory phytonutrient that may help prevent cancer
May improve heart health



Summer Watermelon Salad
You can make this salad with or without the heat! But a little bit of spice helps to balance the sweet in this salad. So healthy and full of flavor!
3 cups Arugula
1 mini watermelon, scoop into balls with a melon scoop
1 Jalapeño, sliced (remove the seeds, inner membranes & ribs) – optional to take out if not wanting the spicy heat
1 lime zested and juiced
fresh basil leaves
1 red onion, cut into wedges, sautéed and cooked on both sides for a few minutes each side (or another option is to use sliced pickled onions)
3 Tbsp extra virgin olive oil
Sea Salt or Himalayan Salt & Pepper to taste
In large bowl combine olive oil, lime zest, lime juice, jalapeño and basil. Stir to combine.

Add watermelon balls & lightly combine with dressing

Add arugula, red onion wedges, black pepper and gently combine again

Taste for seasoning; sprinkle with salt if needed.

Add to a dish and garnish with more basil
Add more flair to the salad by adding additional ingredients…feta, pistachios, pepitas (pumpkin seeds), more herbs and more!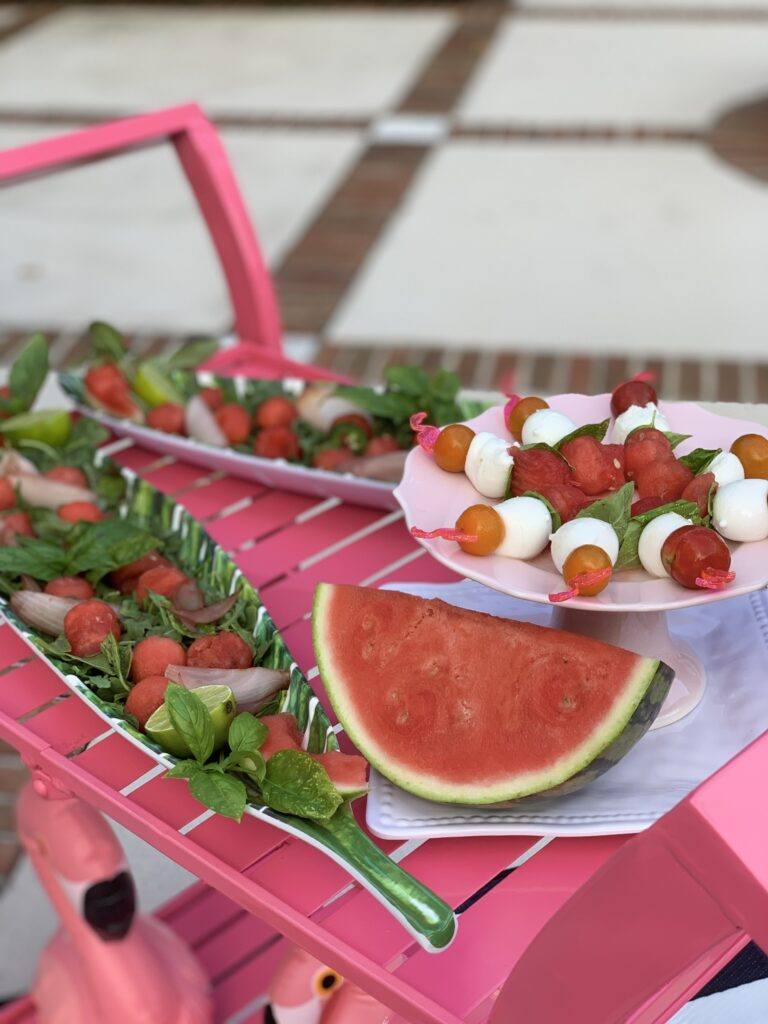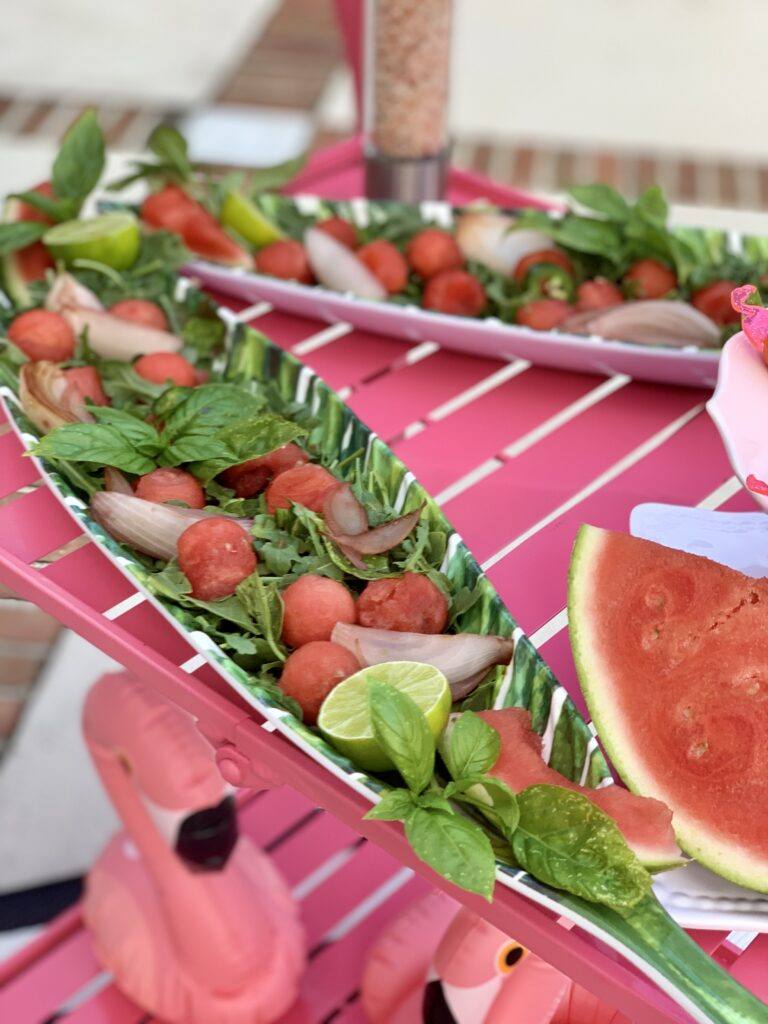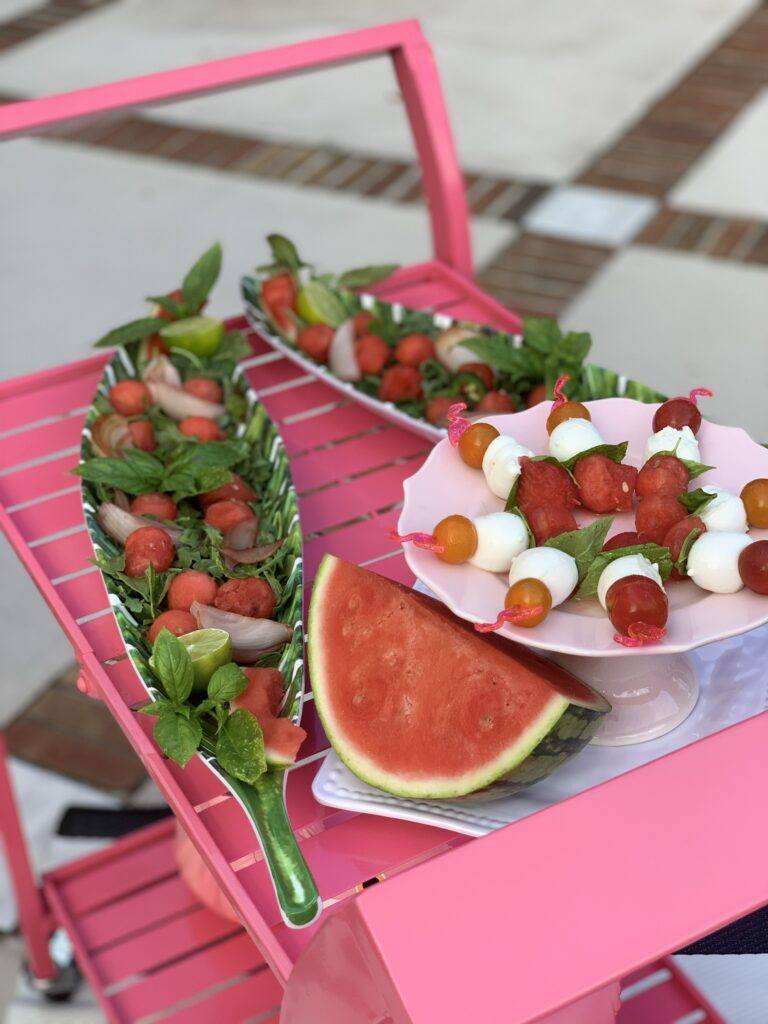 Watermelon Caprese Skewers
Love this quick and healthy salad on a skewer! Great snacks to have around for the Summer! Simple to make…fresh and delicious!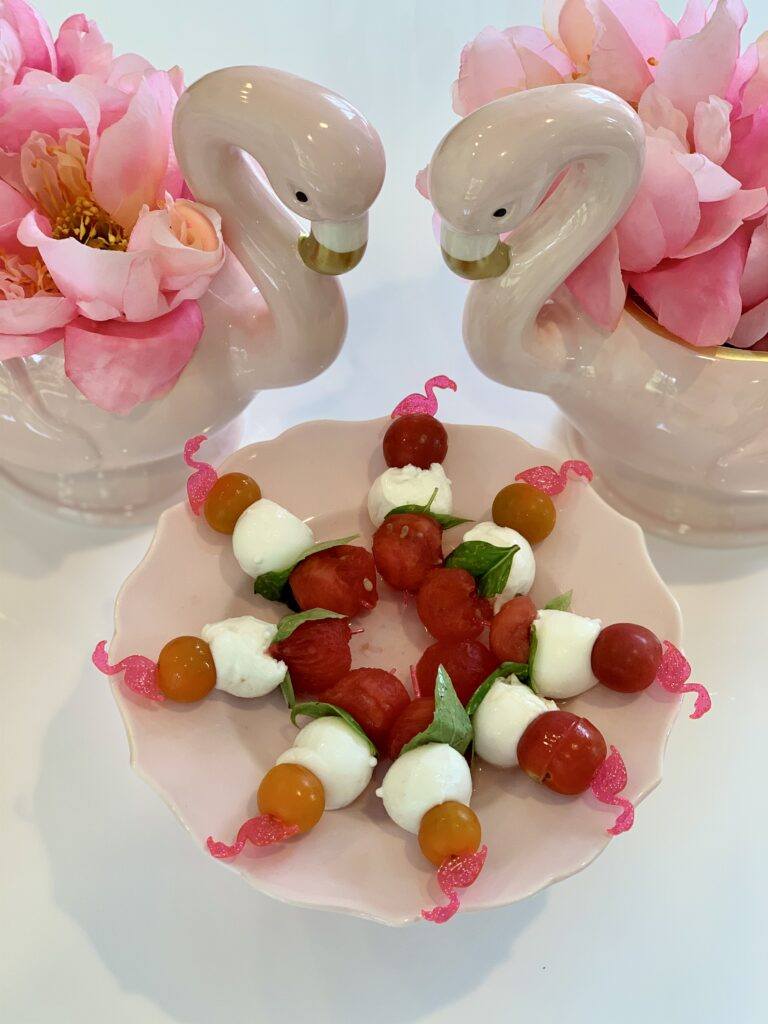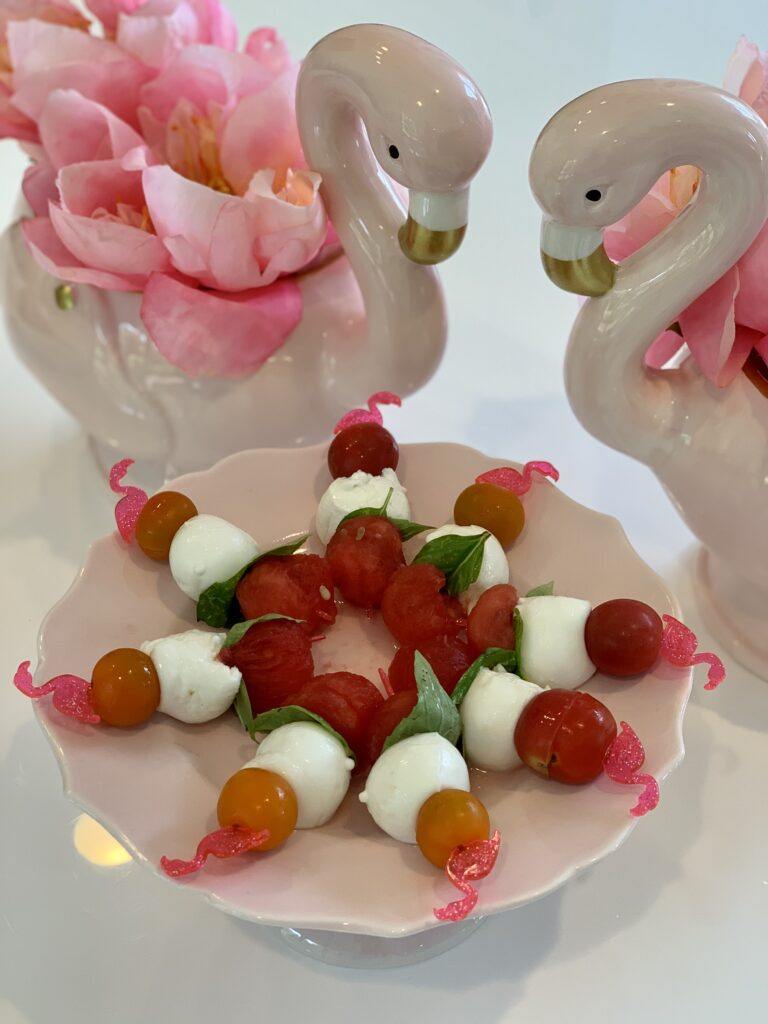 Scoop watermelon out with melon ball scoop, making into small round balls
Small cherry tomatoes in various colors of red, orange, yellow
Small buffalo milk mozzarella balls / bocconcini balls
Fresh basil
Olive Oil and white Balsamic Vinegar
Sea salt or Himalayan salt
Take hors' d'oeuvre, cocktail picks or skewers and add each of the ingredients above.
Started with the cherry tomato, then mozzarella balls, basil leaf and lastly the watermelon ball
Drizzle lightly with olive oil, white balsamic vinegar
Sprinkle with a little bit of salt
Decorate a platter with these cute apps in a fun pattern and enjoy!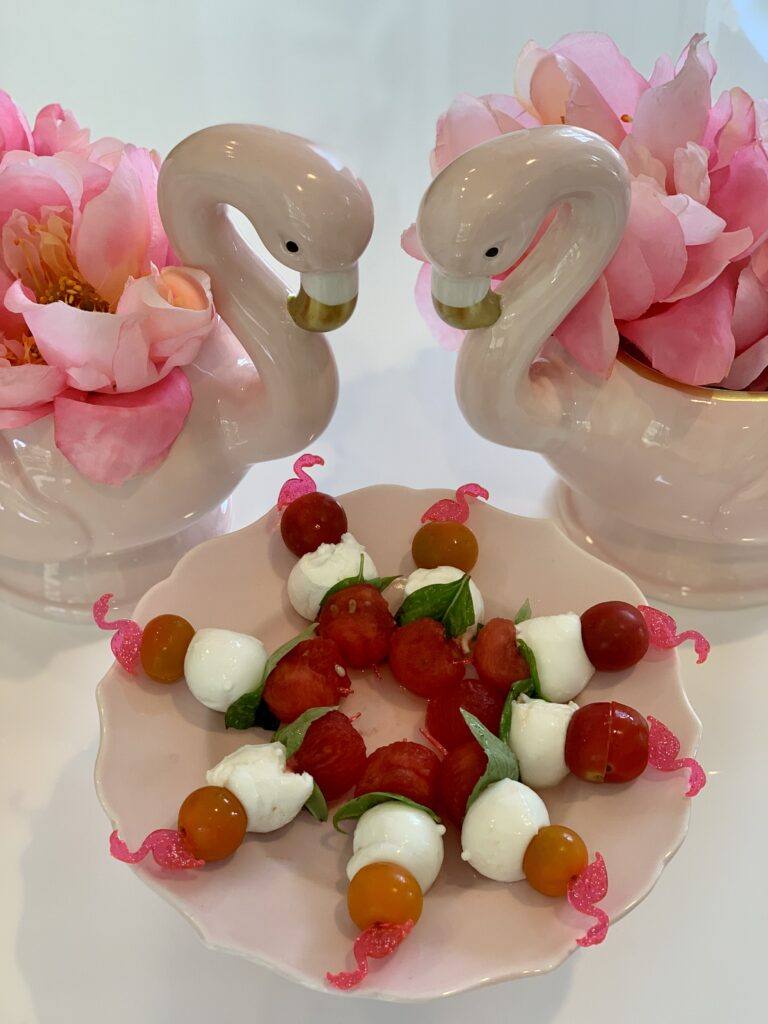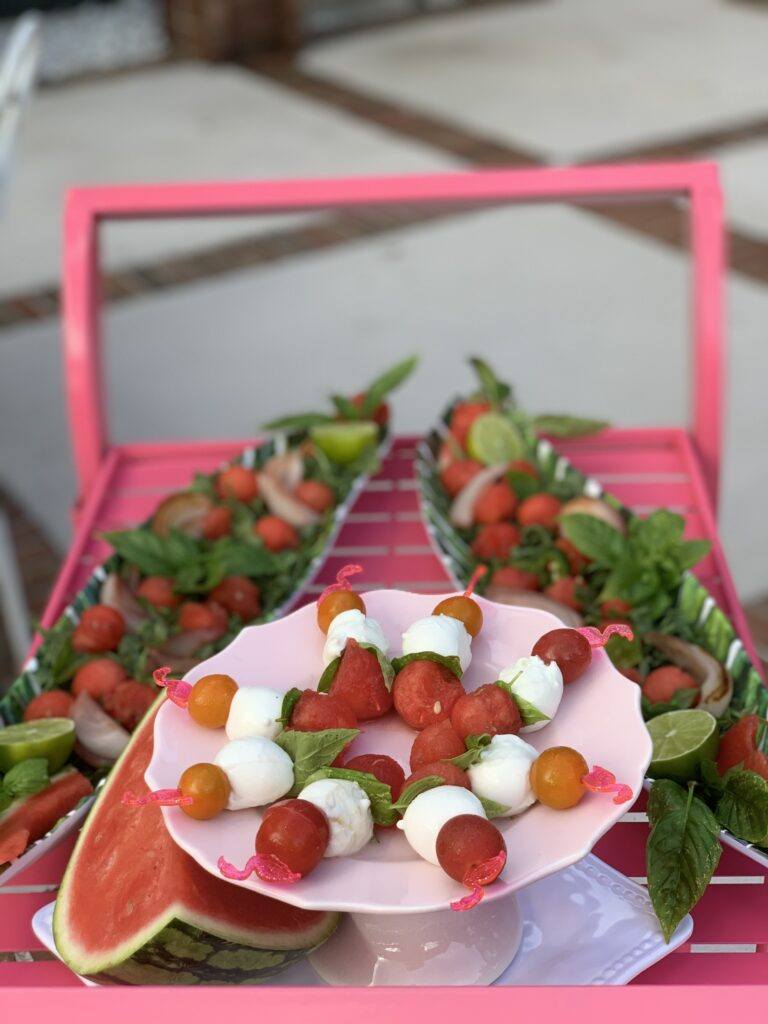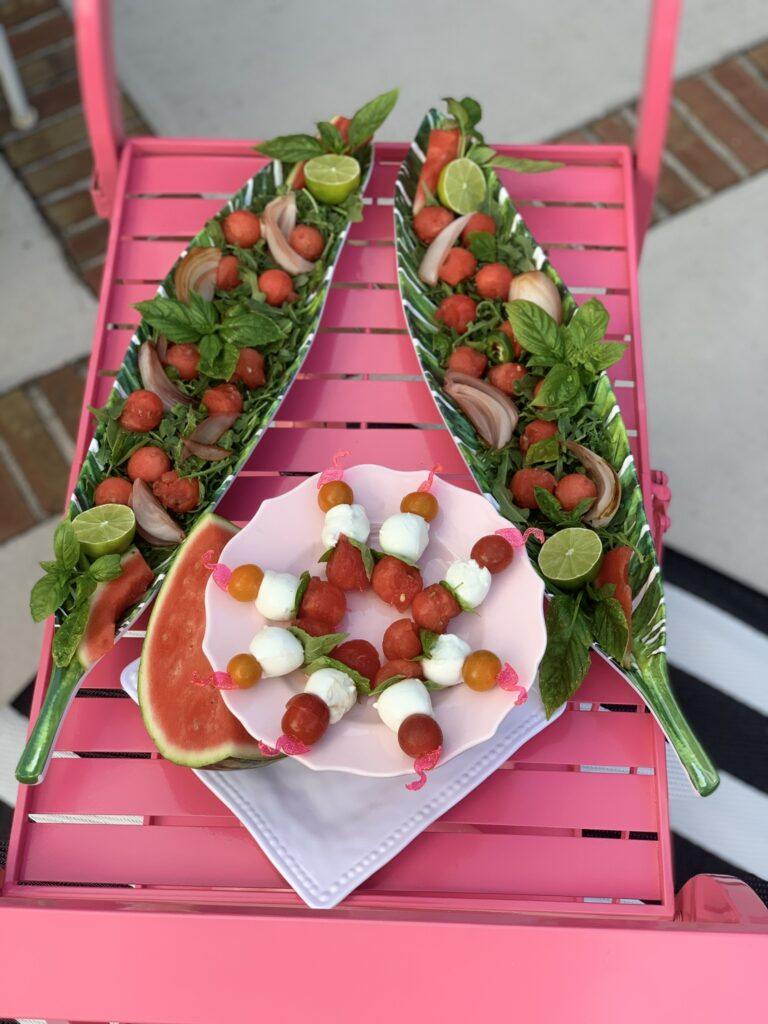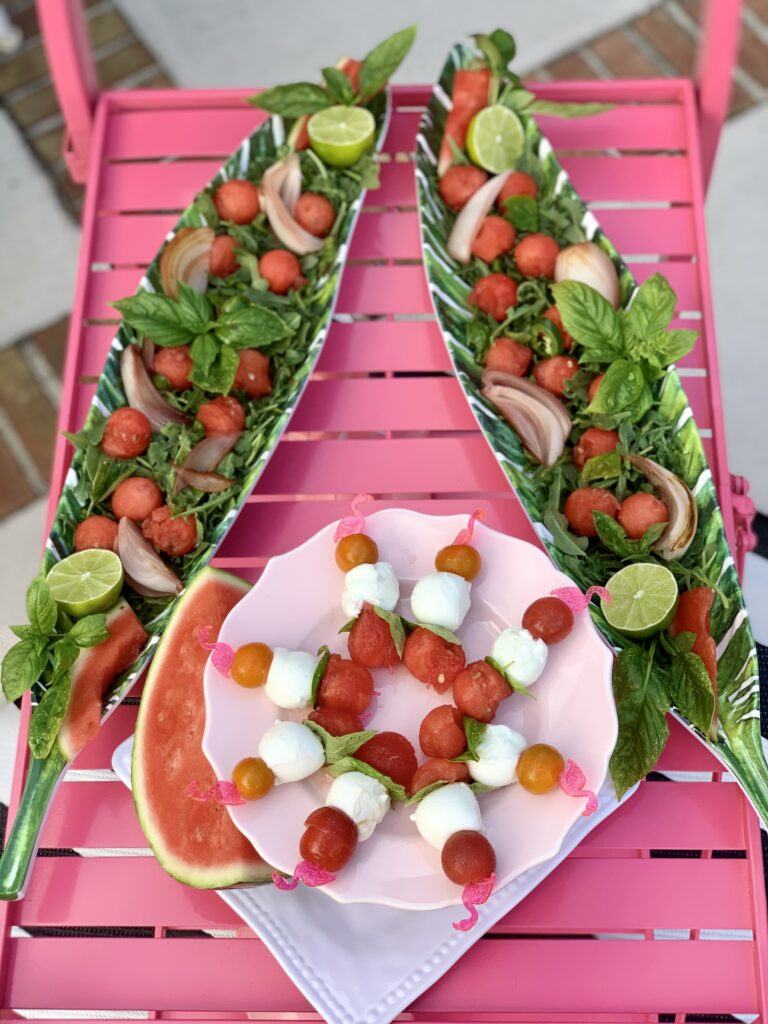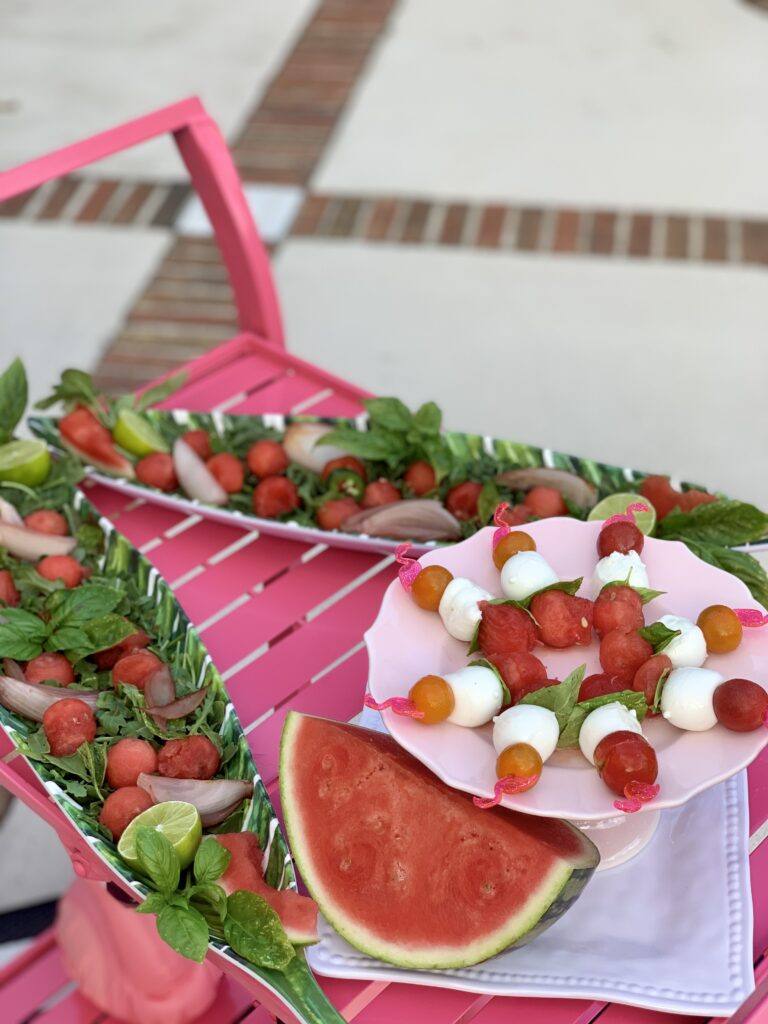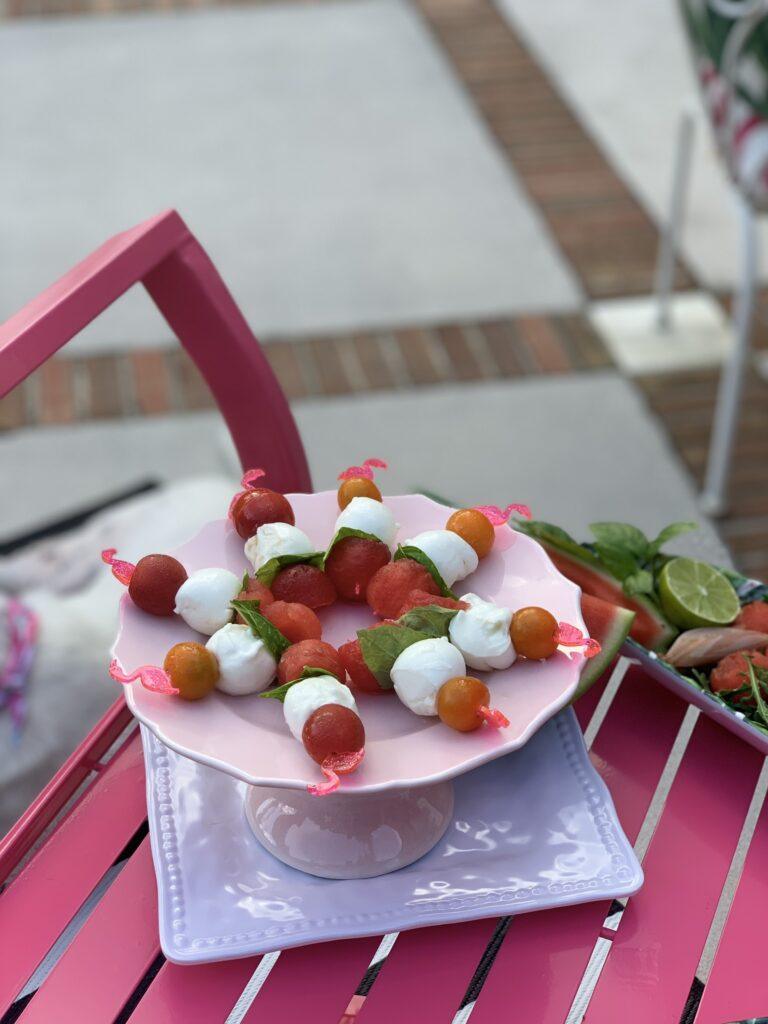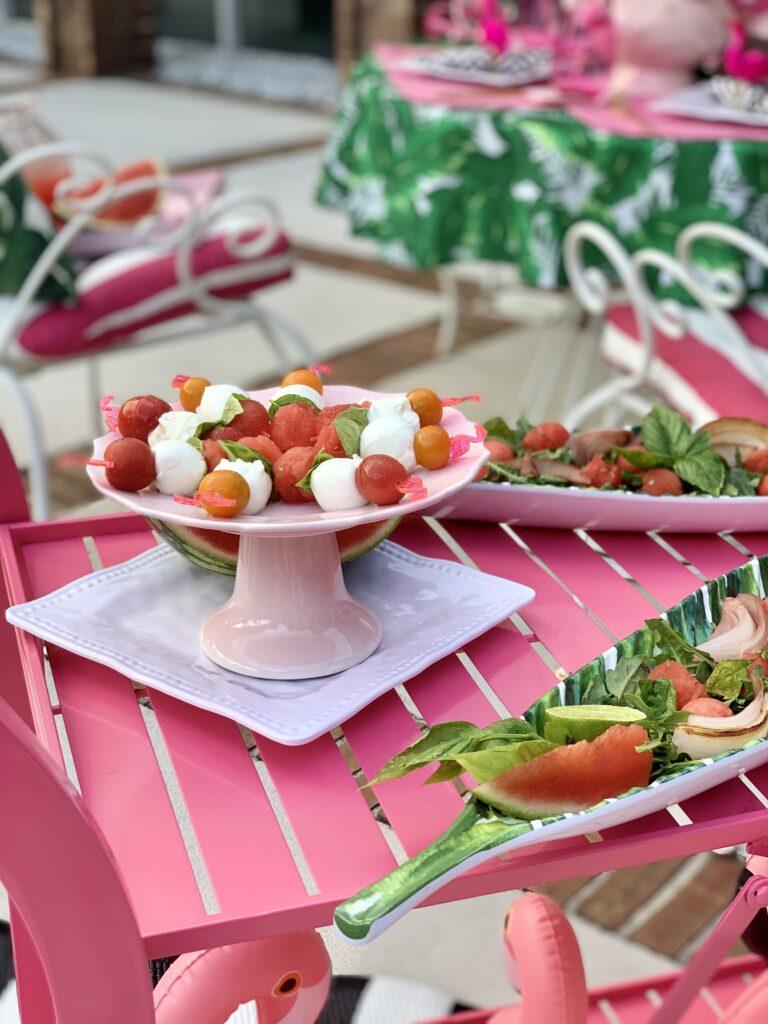 Spicy Watermelon Margarita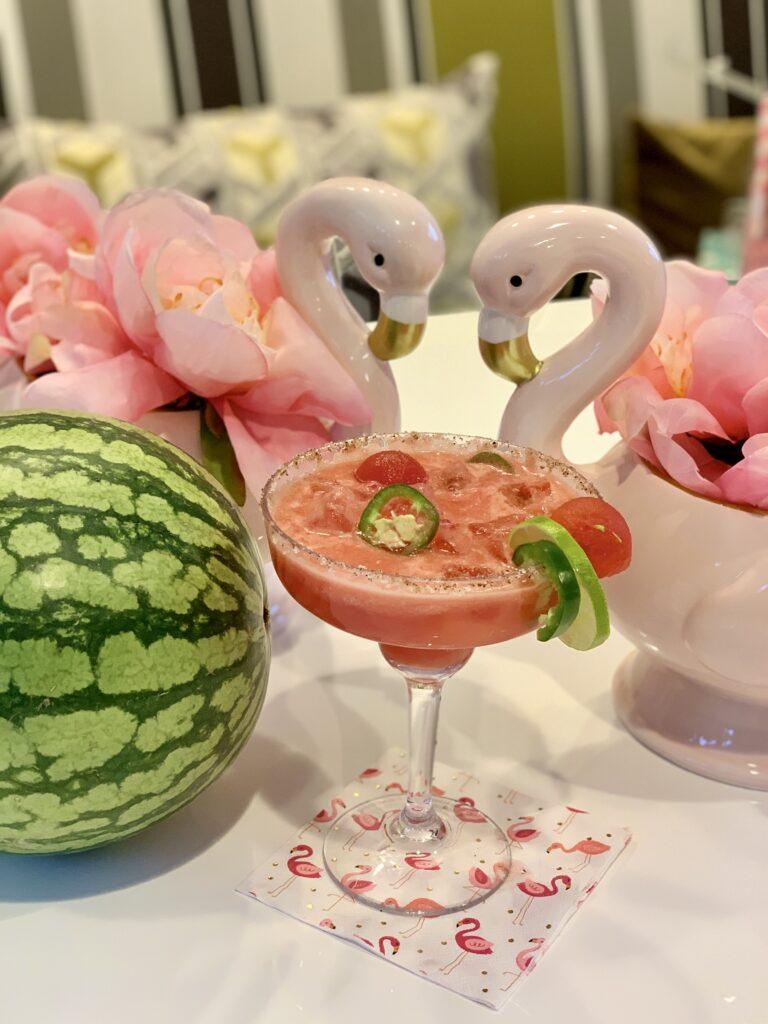 3 oz Watermelon juice, pureed & strained
2 oz silver tequila (infuse 1/2 of a jalapeño sliced in 1/2 cup tequila in freezer, 15 to 30 min…or longer if spicier desired
3/4 oz fresh lime juice
1/2 oz Cointreau or OJ
1/2 tsp agave to make it sweeter if desired
Rim glass with lime wedge
Combine salt and chili powder on a small plate. Rim glass with salt and chili powder
Add more ice into glass, if desired
Combine ingredients in a shaker with ice. Shake 15 seconds, pour into a rimmed glass
Garnish with watermelon, lime or jalapeño
This makes 1 Cocktail, but you can also make it into a larger batch!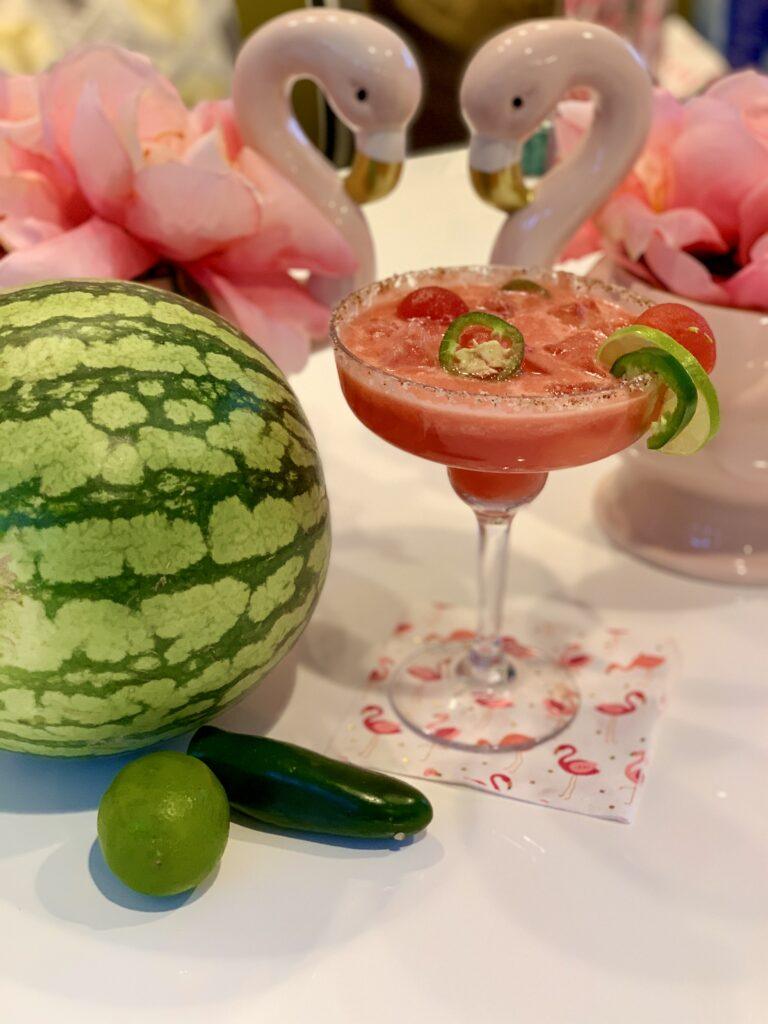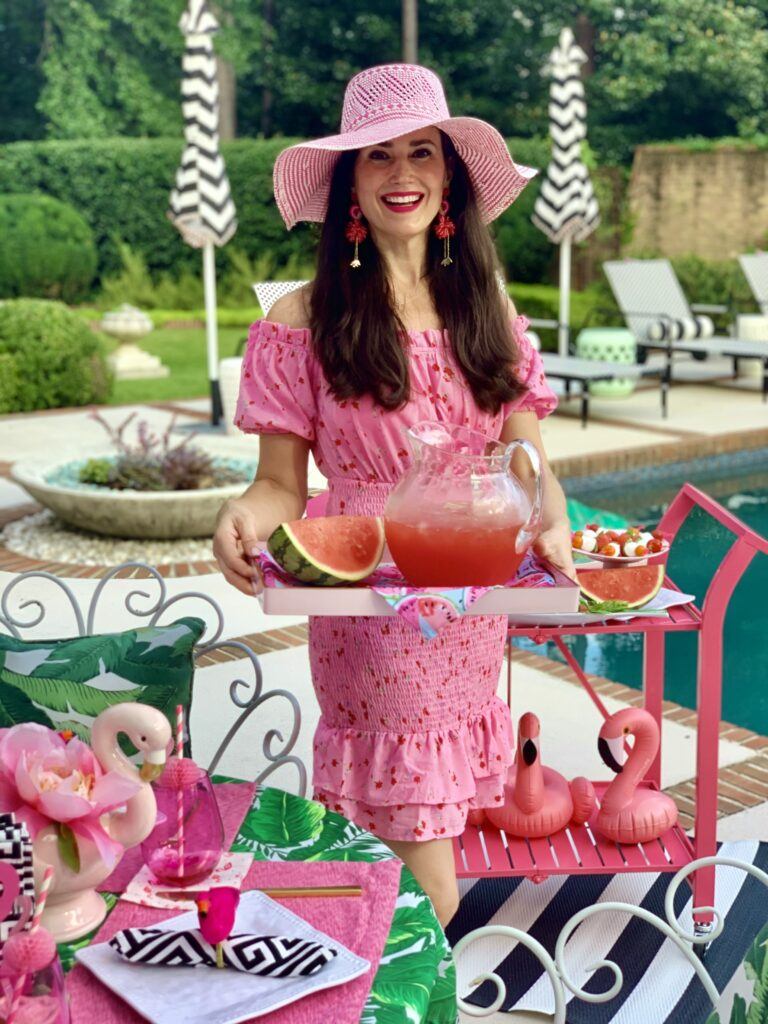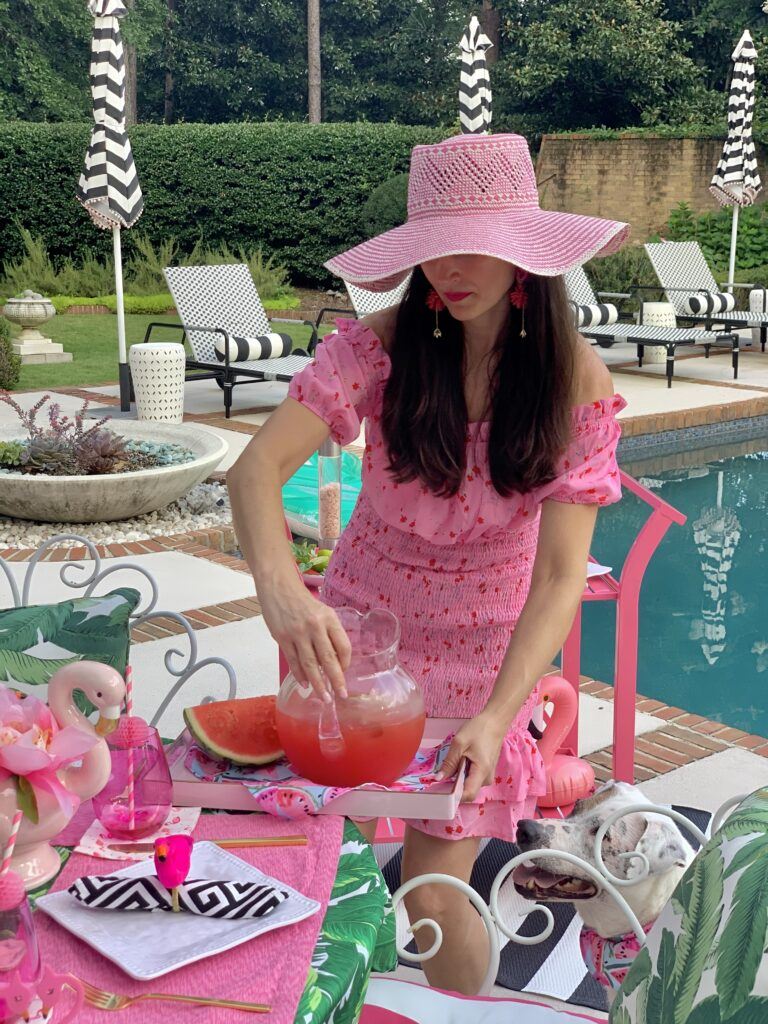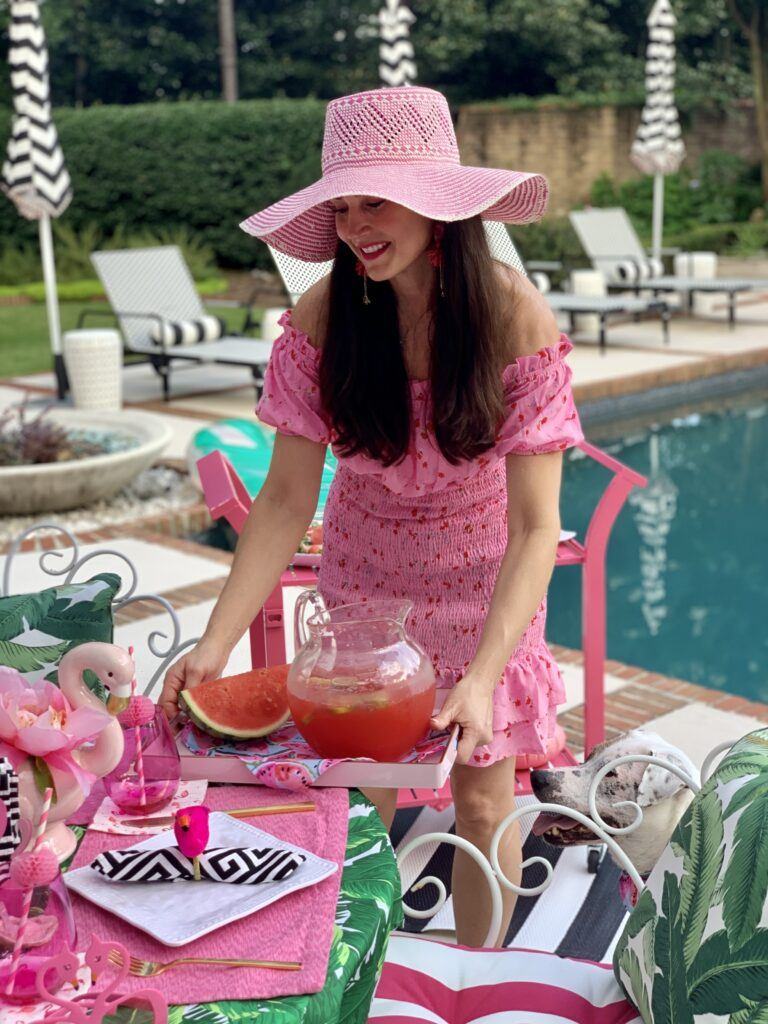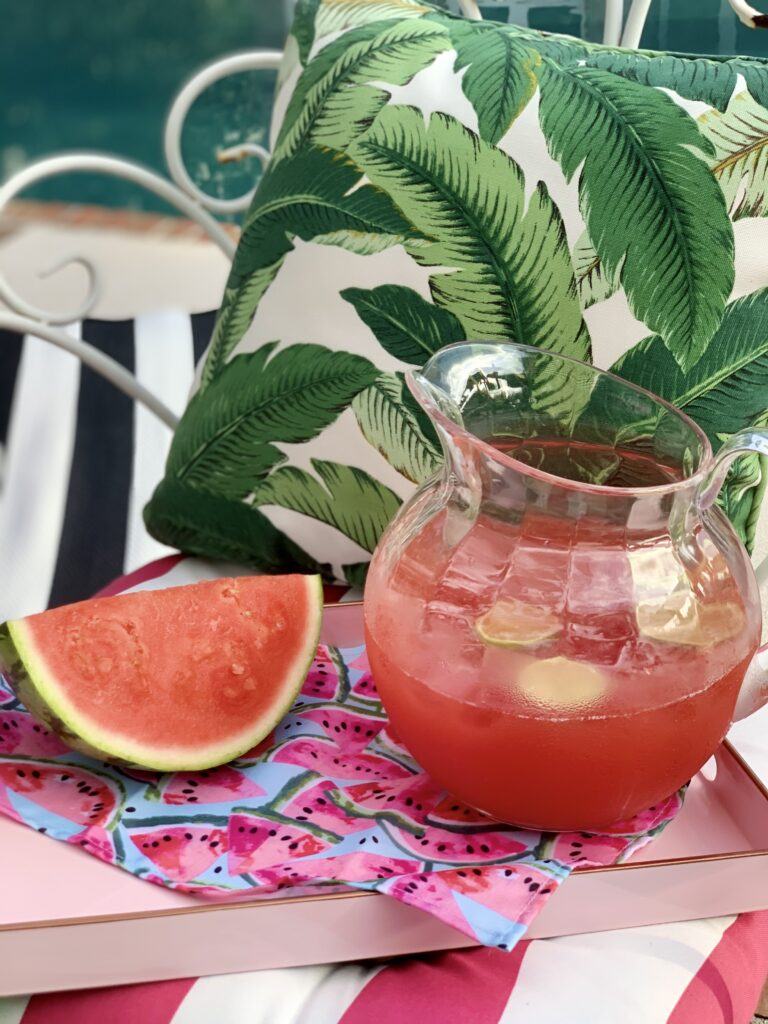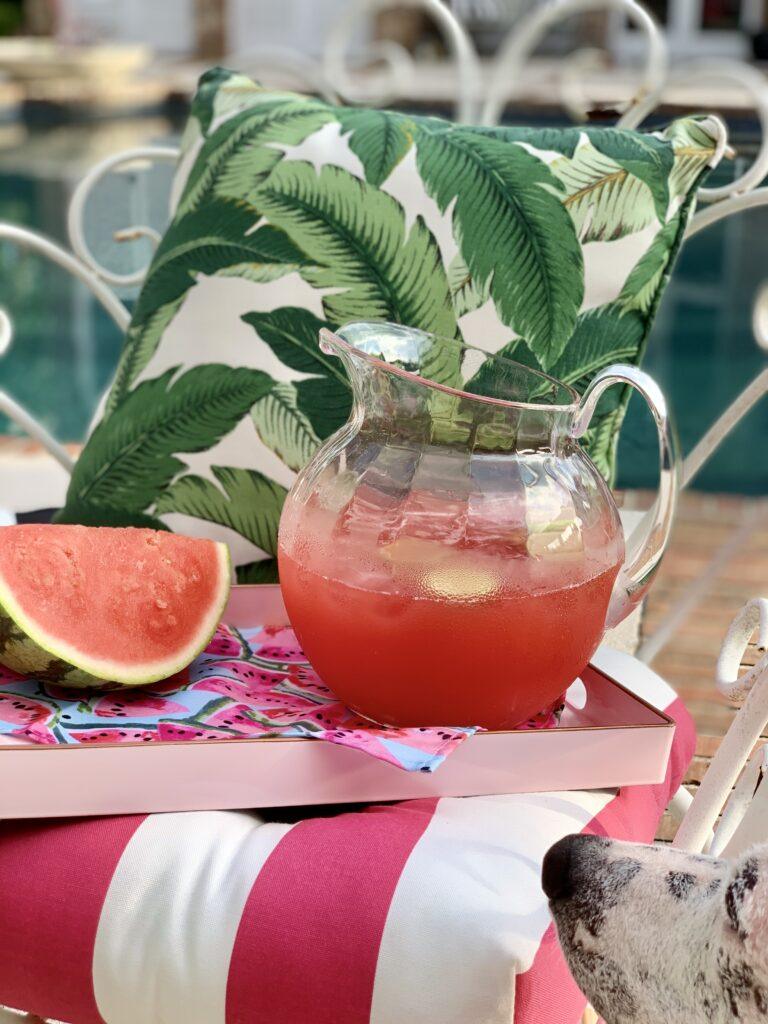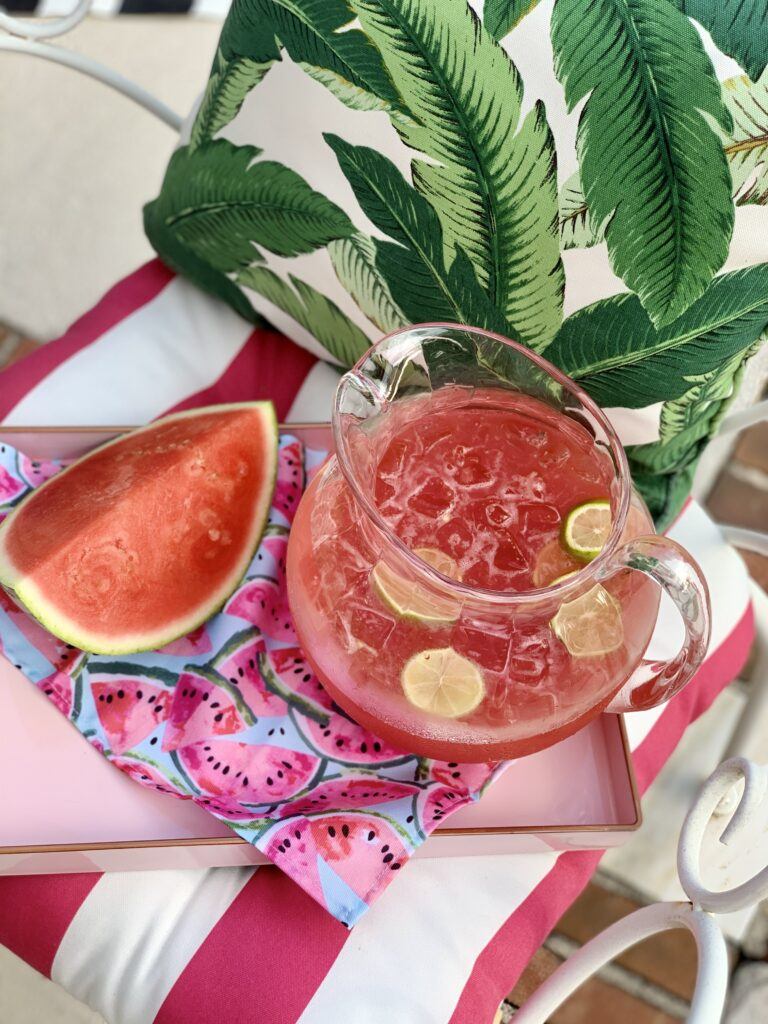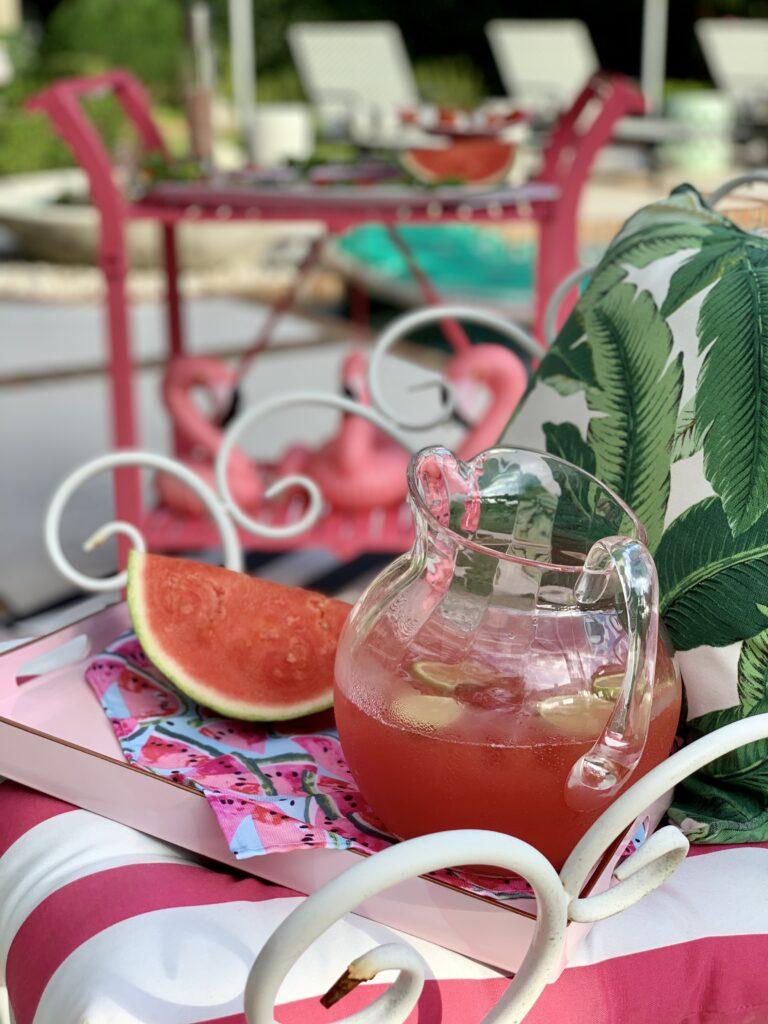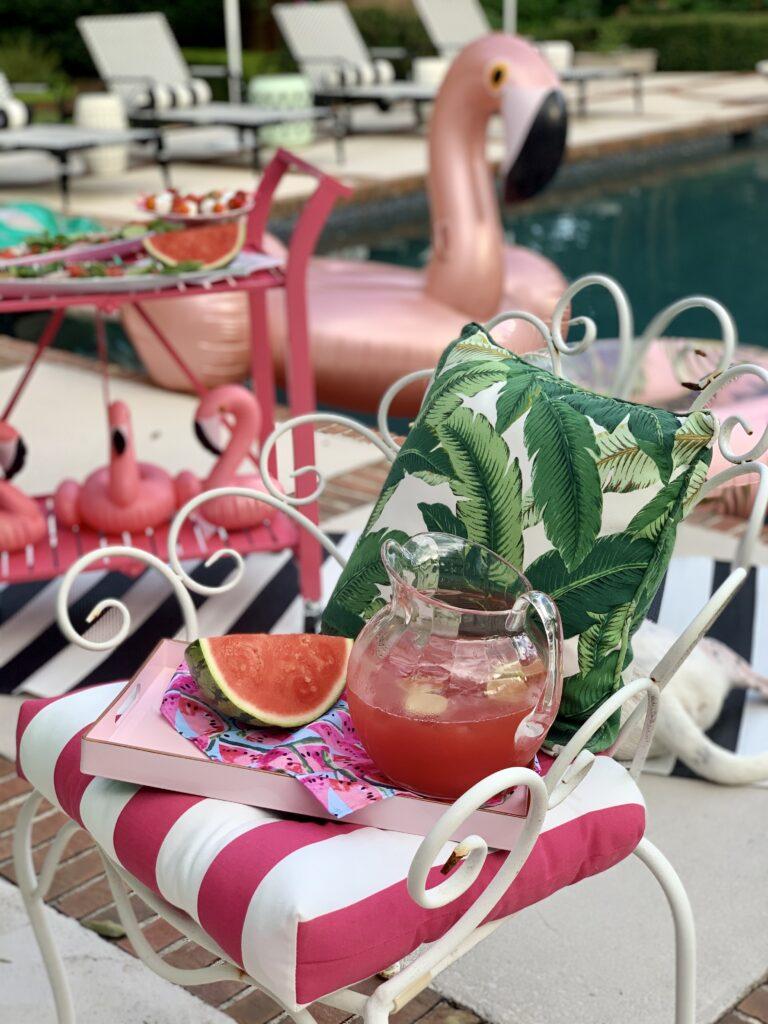 Watermelon Frosé Popsicles / Cocktails
It has been fun to make different Frosé recipes and wanted to share this refreshing watermelon Frosé recipe that you can add on top of a frozen Frosé cocktail as a garnish or enjoy on its own!  ???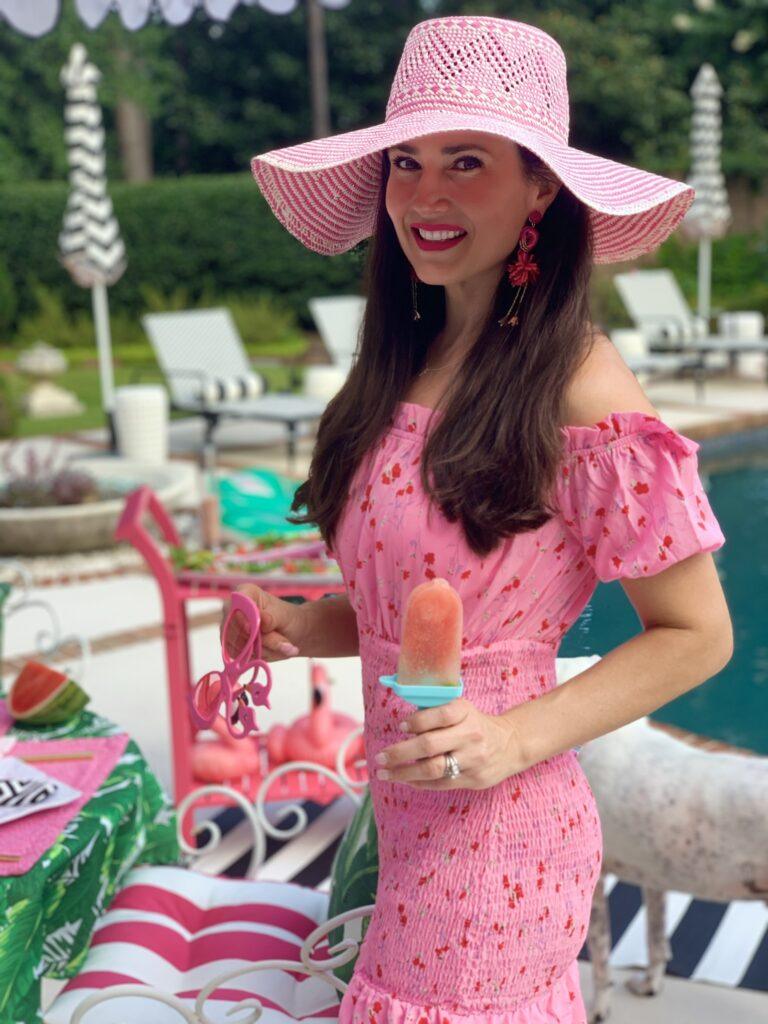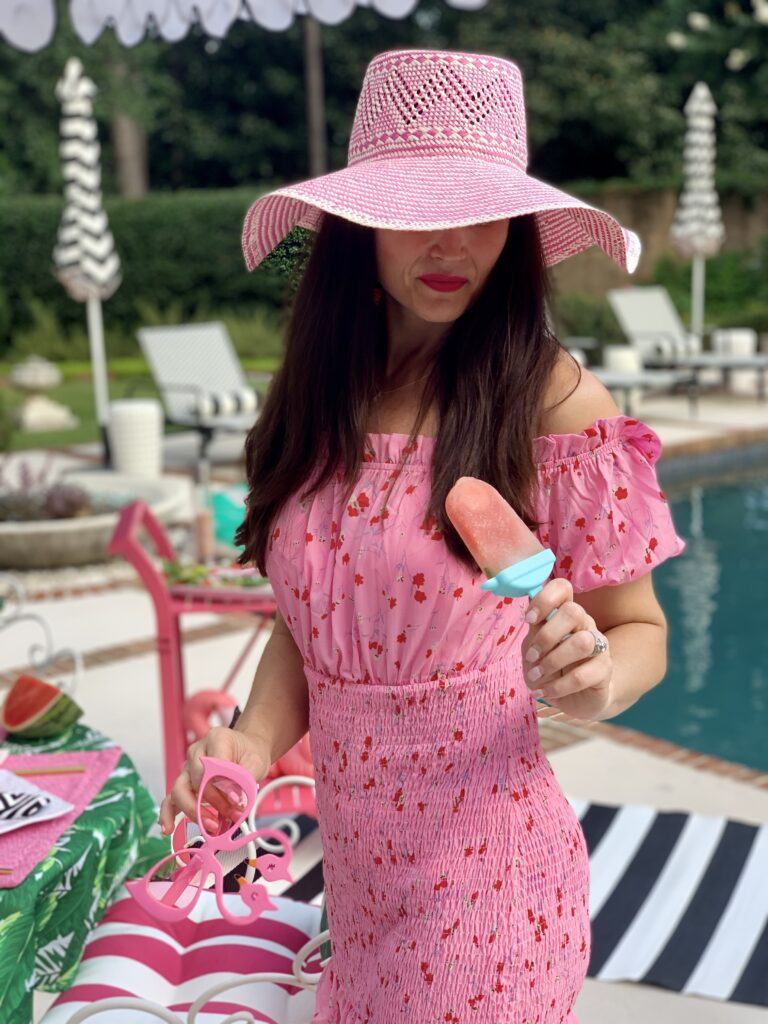 Spicy Jalapeño Watermelon Frose' Popsicles
Makes 8-10 pops, depending on size of popsicle molds
To make Jalapeño simple Syrup:
1/2 cup sugar
1/2 cup water
1 jalapeño, sliced
Bring 1/2 cup sugar and 1/2 cup water to a boil
Add the slices of 1 jalapeño to water
Take off heat and let simmer for 15 to 30 minutes or longer if you want the syrup spicier
Let cool completely before straining
Any syrup leftover can be kept in the fridge for up to 2 weeks
To Make Frosé Popsicles:
2 cups rosé
2 cups watermelon, cubed or use an ice cream scoop to scoop out watermelon
1/4 cup lime juice
1/4 cup jalapeño simple syrup
Add 2 cups watermelon to blender
Blend until smooth and juiced
For a smoother juice, strain the watermelon juice into a bowl with mesh sieve & pour strained juice back into blender
Add rosé, lime juice, jalapeño simple syrup into blender with watermelon juice
Blend until combined
Taste test if you need to add more simple syrup
Add a few pieces of watermelon and sliced jalapeños into the popsicle molds
Fill the popsicle molds with blended watermelon rosé mixture
Freeze overnight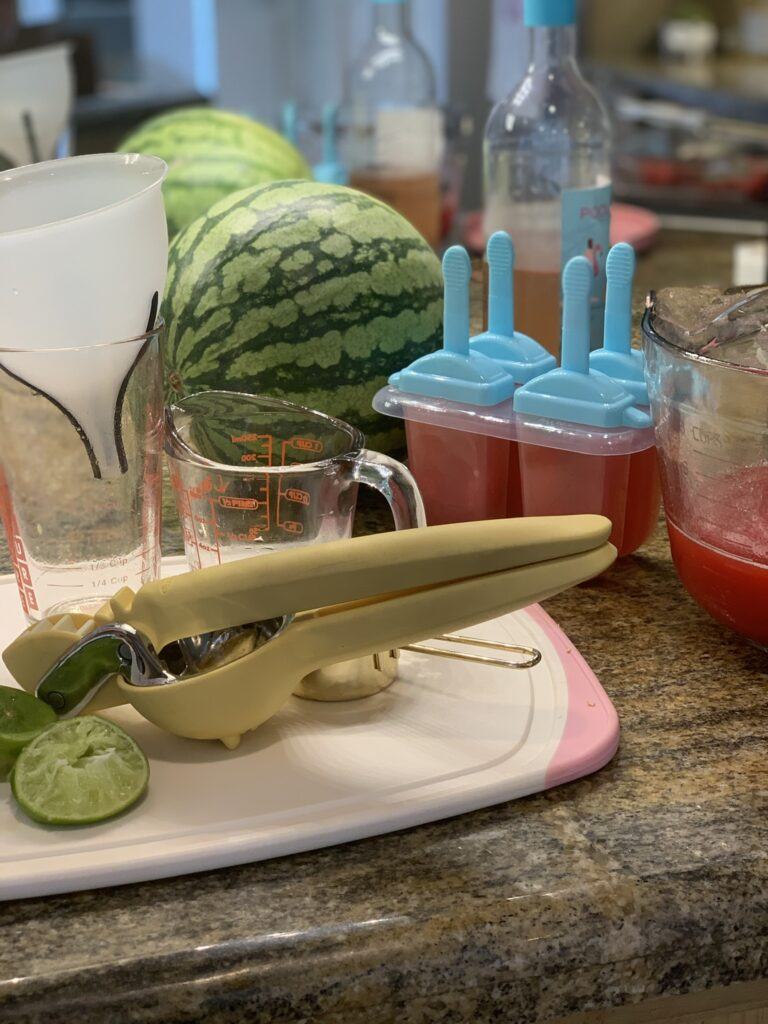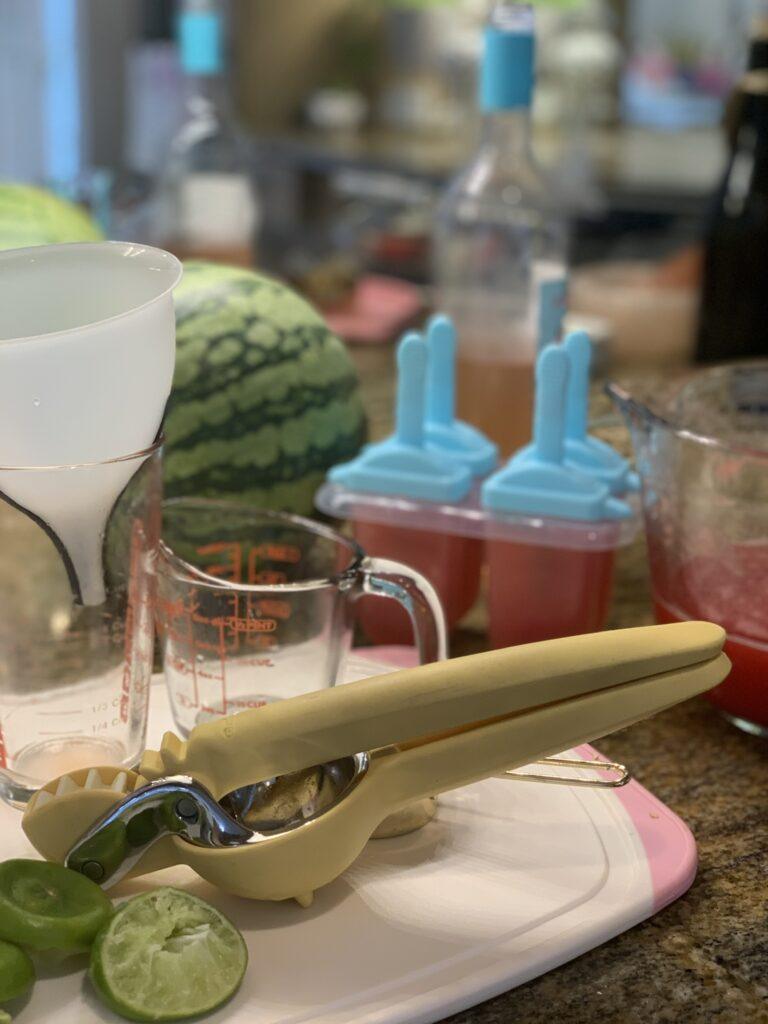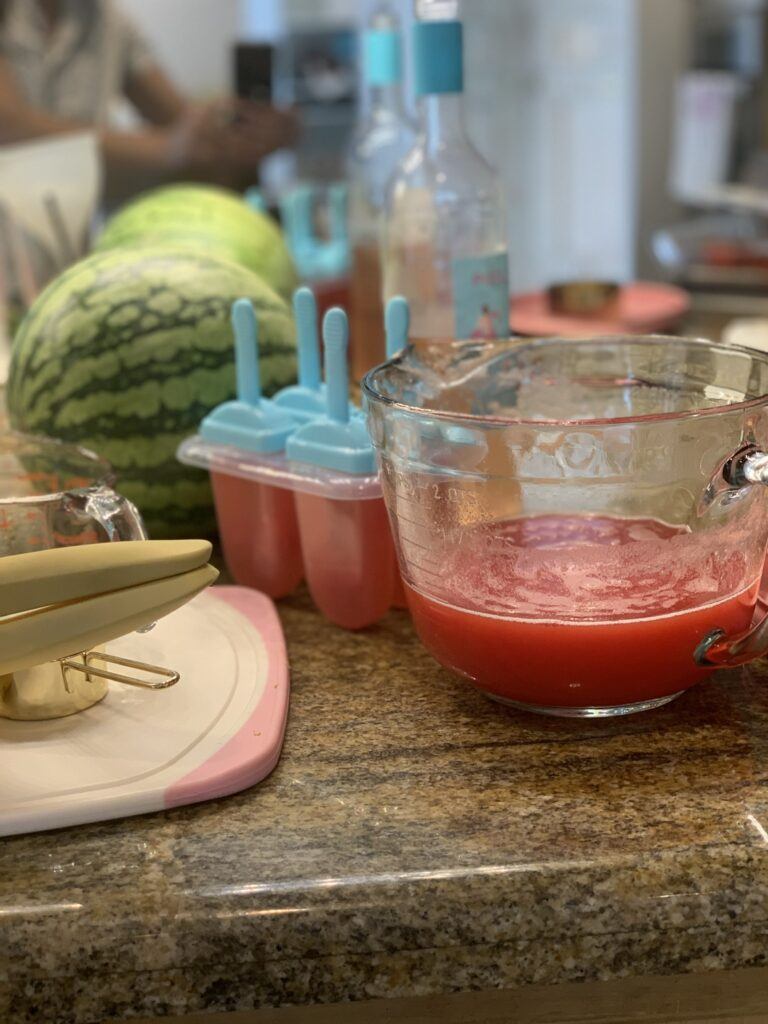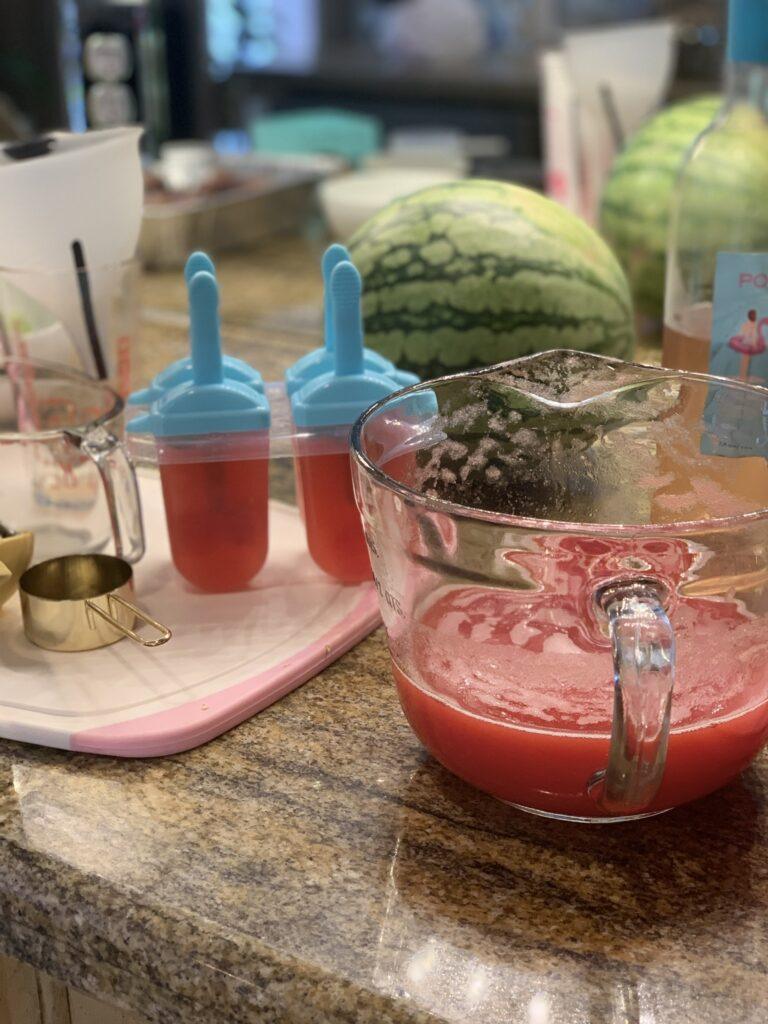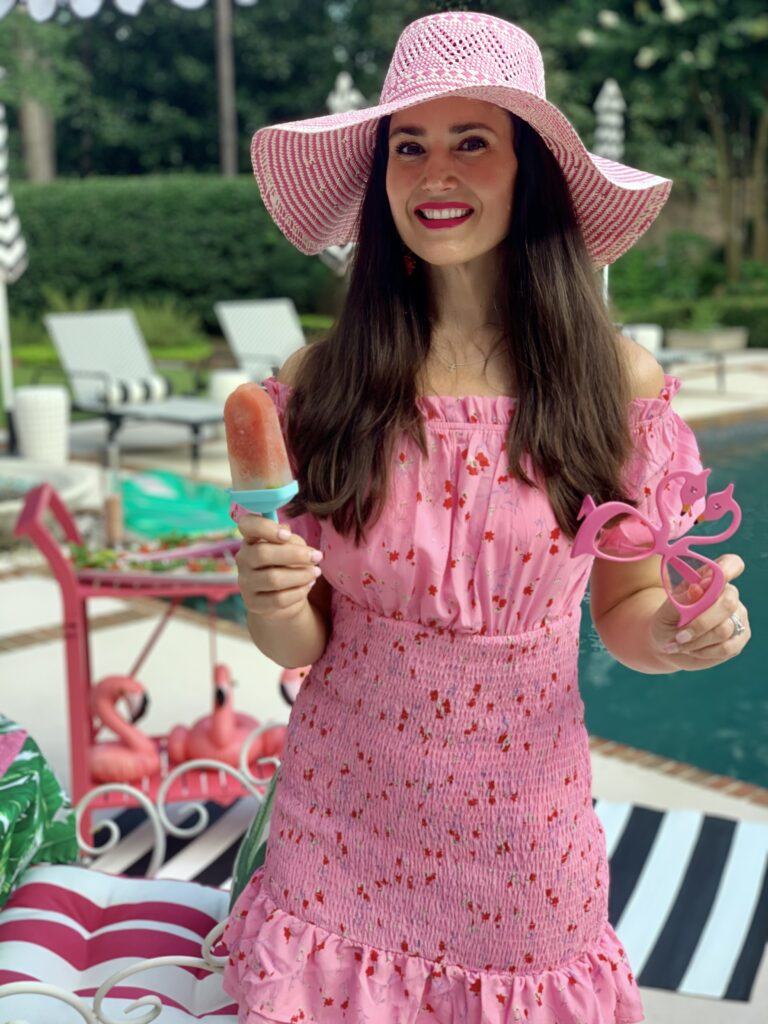 Enjoy these recipes and the rest of your Summer!